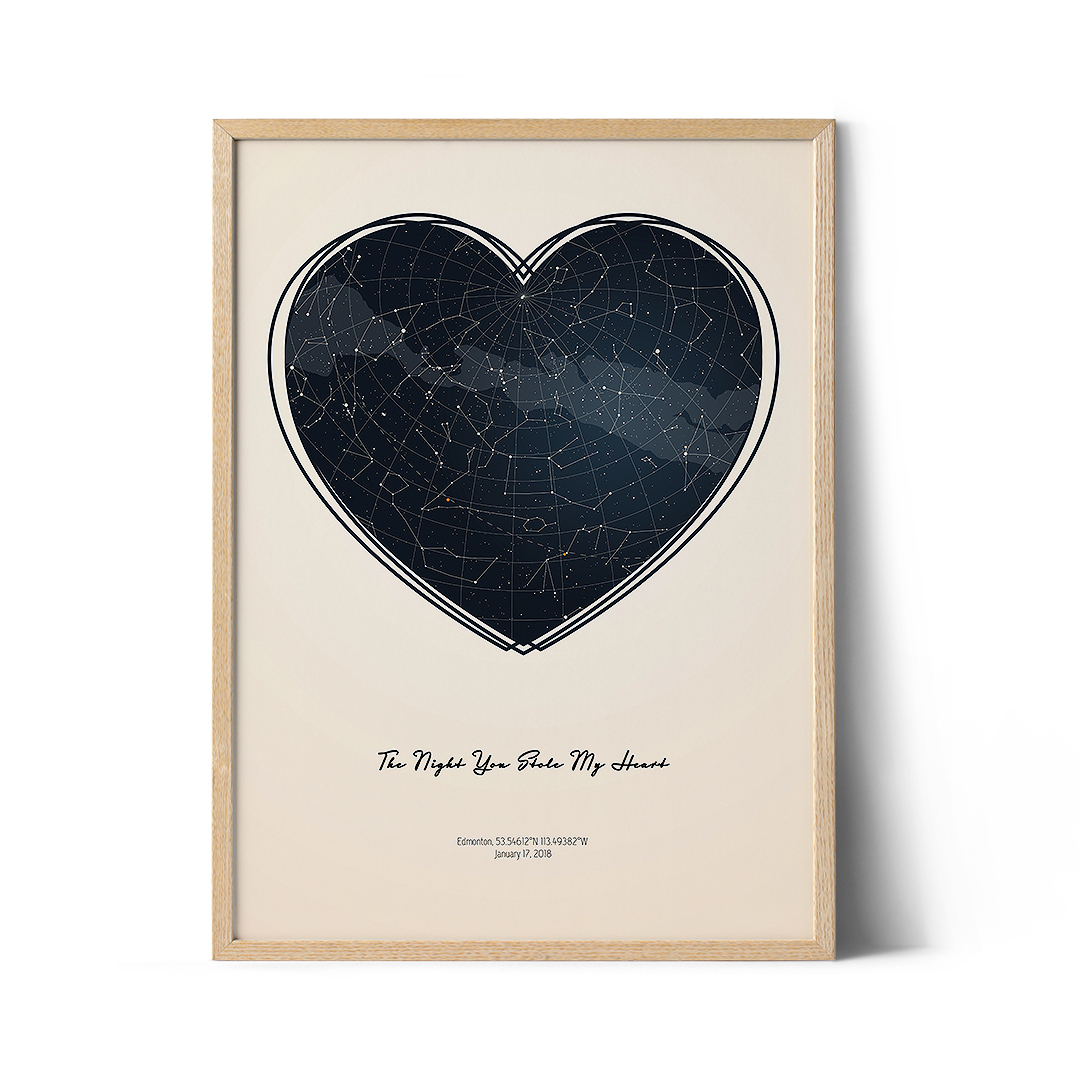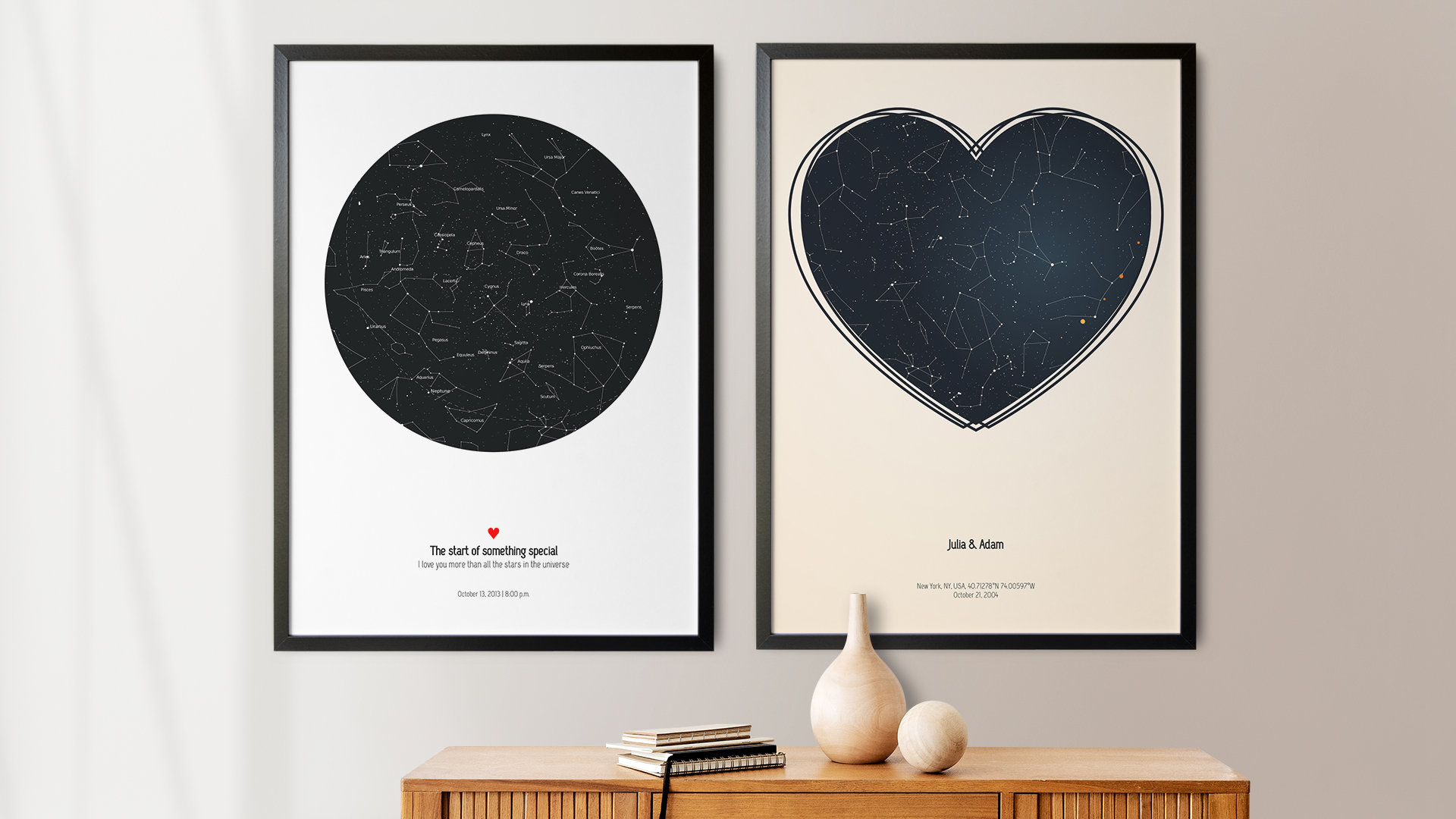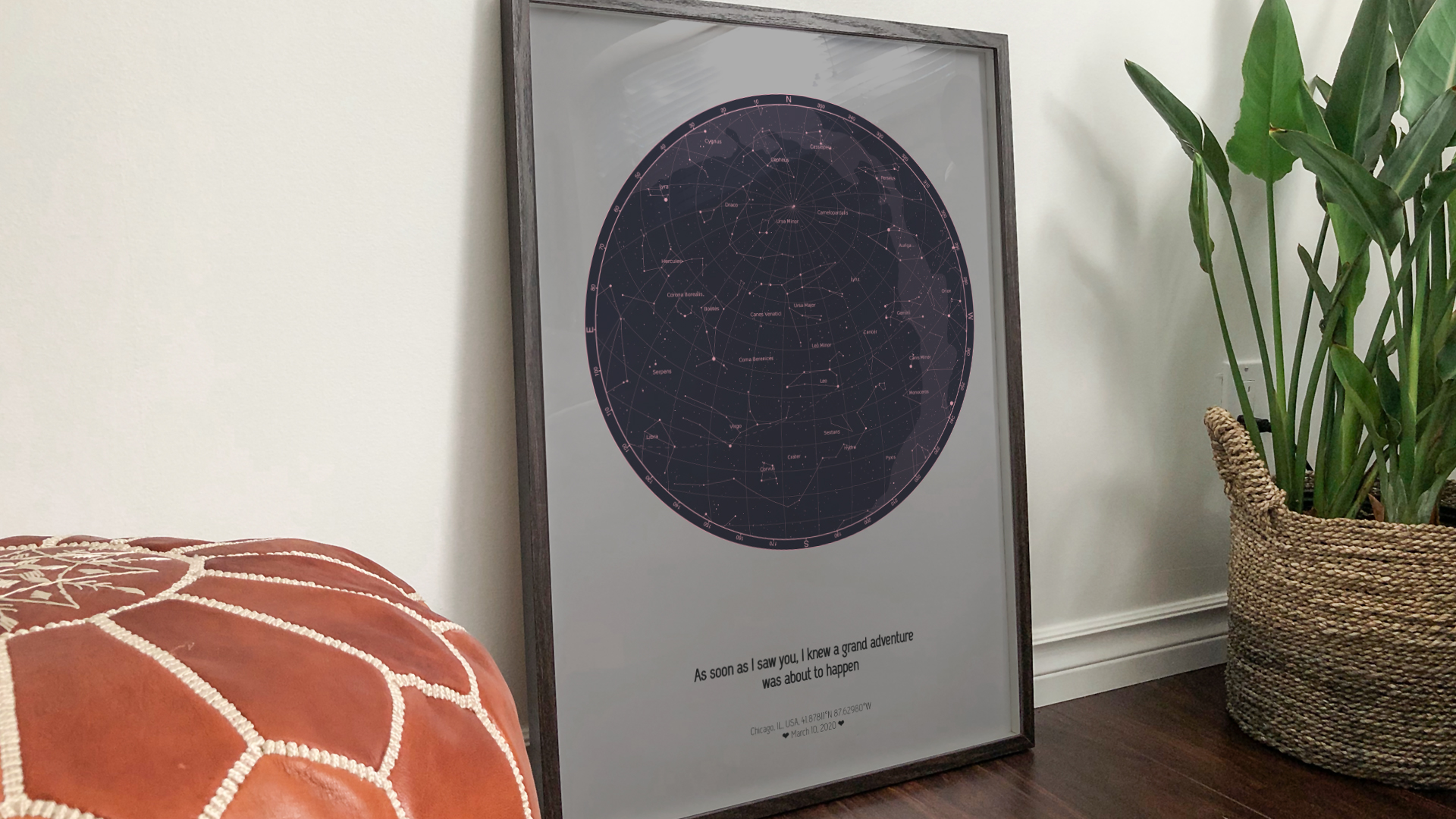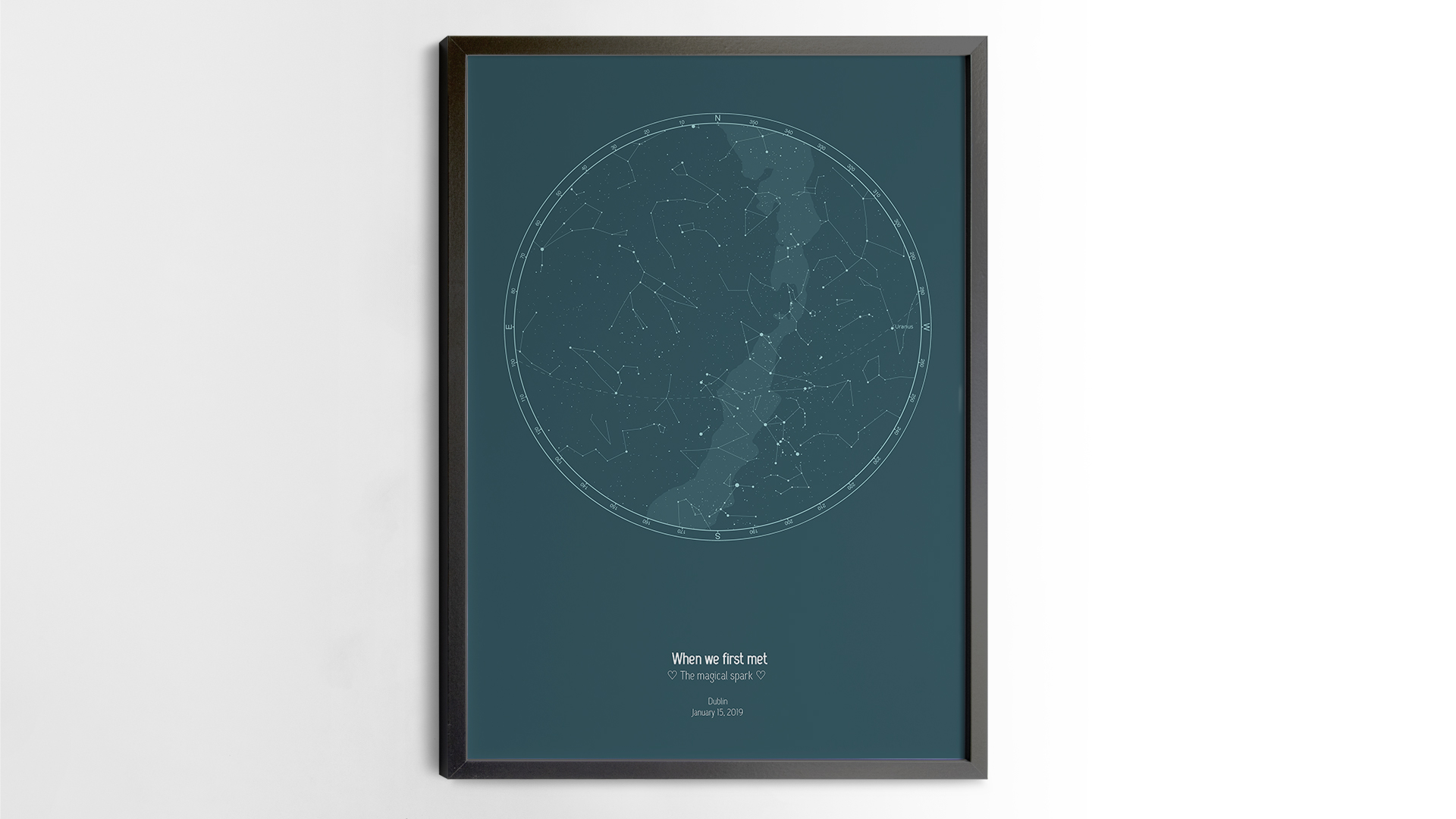 ⭐ Exact View Of The Night Sky From Any Location
✨ Detailed Design Including Planets, Constellation Names And The Milky Way
⭐ Interactive Stars the Night We Met Editor With An Instant Preview
✨ 100% Customizable
⭐ Choose From A Variety Of Printed Sizes Or Instant Digital Download
Magical moment captured by the stars
Think back to that moment in time when you met your soulmate. Think of all the decisions you both made in your life and the paths you both took that would lead to that single moment. Some may call it fate. Others call it destiny. No matter how you put it, it's a magical moment captured by the stars and the heavens. That's why a Stars the Night We Met poster is such a treasured gift.
Consider this: many of us don't realize we've met "the one" at that first meeting. Maybe it's a chance encounter that allowed your paths to cross. Or maybe a friend set you up on a blind date and you didn't know what to expect. While finding that special someone might feel like instant kismet, it can also take some time to realize that this feeling isn't just infatuation. This is why we don't always consciously think about all the events that led up to that chance meeting.
What is a poster of stars the night we met?
The night sky is an ever-evolving tapestry of stars, planets, constellations, and other celestial bodies. The sky you see in Spain will look different than the sky you see in Australia, even if two people are looking at the sky on the same day at the same time. Even from the same point on earth, the sky will not look exactly the same from night to night. This is what makes our Stars the Night We Met posters so unique.
Using our technology and custom star map creator, you can recreate what the night sky looked like on a date of your choosing from any location in the world. This gives you more flexibility and customization for your poster so that you can savor the moments that matter most to you.
Imagine bringing the night sky of your first date right into your living room or bedroom. Your poster will be an ongoing reminder of that one night that changed your lives forever.
Why create a Stars the Night We Met poster?
Many of our customers rely on Positive Prints as a single source for
personalized gifts
. The majority of our Stars the Night We Met posters are made for gifting. We've designed our maps to be easy to customize and show your loved one that you put extra time and thought into their gift.
Every star map poster is printed in professional, poster-grade material that's ready for framing. Likewise, we also offer prints on canvas and can even provide a frame for your artwork. The superior quality of our prints will rival the other framed artwork in your home or office, giving you a piece you'll be proud to display.
Our prints make the perfect gift for any occasion for him or her, including:
Engagements
Wedding anniversaries
Wedding gifts for newlyweds
Christmas
Valentine's Day
Just because!
There's never a wrong time to show your soulmate how much you love them and how grateful you are for the day you met.
How to turn a sky the night we met into a poster
Our custom Stars When We Met posters are artistically crafted and beautiful, but you don't have to be an artist yourself to get these results. Our simple three-step tool allows anyone to design their own custom poster and get a beautiful print.
Using our Star Map creator, you can choose the size of your print and the shape of your map. You can also choose how much detail appears on your map: planets and planet names, stars, constellations, and the Milky Way, for example.
You can also choose your specific location of where you first met, along with the date and time. This will ensure you get the most accurate representation of the night sky based on your experience.
Add a
custom message to your loved
one or details of your special day so that everyone who sees your art print will know its significance.
With every change you make in the custom editing tool, you can see those changes come to life in real time. Know exactly how your print will look when it comes to you!
Surprise your loved one with the Stars When We Met gift!
A Stars When We Met gift is one of a kind and truly an unexpected gift they'll treasure forever. It's easy to create and will look like you spent hours coming up with a gift that will wow them.
Tell your love story with a Stars the Night We Met poster - get started today!
Customer Reviews
Write a Review
Ask a Question
22/04/2021
Nathen M.

DE
War super schnell da! Gute Qualität und wirklich sehr hübsch!
22/04/2021
Adrianna M.

PL
Idealny i wyjątkowy prezent. Moment wręczenia był bardzo wzruszający. Dziękuję Positive Prints za świetną robotę! Bardzo dobra jakość, paczka genialnie zabezpieczona. Polecam, a sama wrócę do Was na pewno!
21/04/2021
Bartłomiej L.

PL
Wyjątkowy prezent, wykonanie bardzo dobrej jakości, szybki czas realizacji zamówienia , polecam !
20/04/2021
Sarah A.

FR
Magnifique carte du ciel ! Je suis ravie de la commande. Le résultat est superbe. Envoi rapide, ultra soigné. Je recommande, c'est une super idée cadeau pour célébrer une date particulière...
19/04/2021
Kasia B.

PL
Zamówienie w pełni spełniło moje oczekiwania ❤️ To świetny pomysł i perfekcyjne wykonanie :)
19/04/2021
Niamh N.

IE
Super beautiful quality and fast shipping. Beyond delighted
19/04/2021
Nicole R.

PL
Mapa gwiazd wyglada niesamowicie i pasuje do każdego wnętrza. Uwielbiamy wspominać dzień naszego spotkania, a patrząc na ten obrazek wspomnienia wracają jeszcze mocniej. Dziękujemy!
16/04/2021
Paulina N.

PL
Piękny pomysł na prezent! Samo zamówienie poszło bardzo sprawnie, przyszlo w 3 dni. Sam proces tworzenia prezentu na stronie posiada wiele opcji, więc można go dostosować idealnie pod siebie. Polecam plakat gwiazdozbioru to cos pięknego i sentymentalnego jednocześnie.
15/04/2021
Katarzyna P.

PL
Pomysłowy prezent, który łatwo i w piękny sposób można spersonalizować. Polecam. A czas realizacji - ekspresowy!
15/04/2021
Ewa K.

PL
Projekt w 100% taki jak to sobie wyobrażałam :) Polecam z czystym sumieniem, naprawdę warto!!! :)
14/04/2021
Agata M.

PL
It was great, the order was as expected and came quickly.
13/04/2021
Josefine B.

SE
I'm so happy with my order from Positive Prints. Great service, fast delivery and a beautiful print! :)
13/04/2021
Kathleen H.

US
This turned out amazing! Thank you
13/04/2021
Vasso K.

GR
12/04/2021
Nadia W.

PL
prezent trafił w gusta solenizanta w 100%