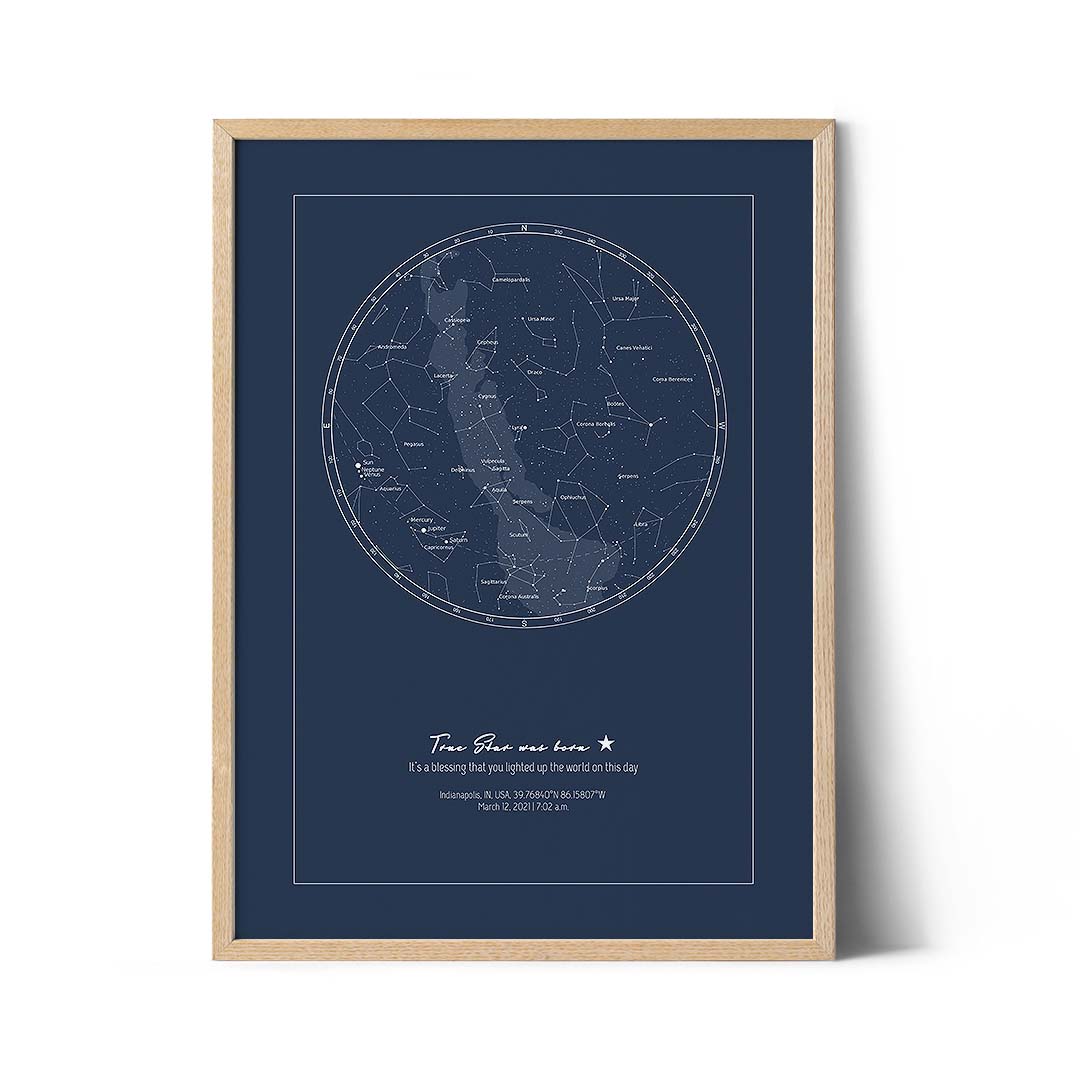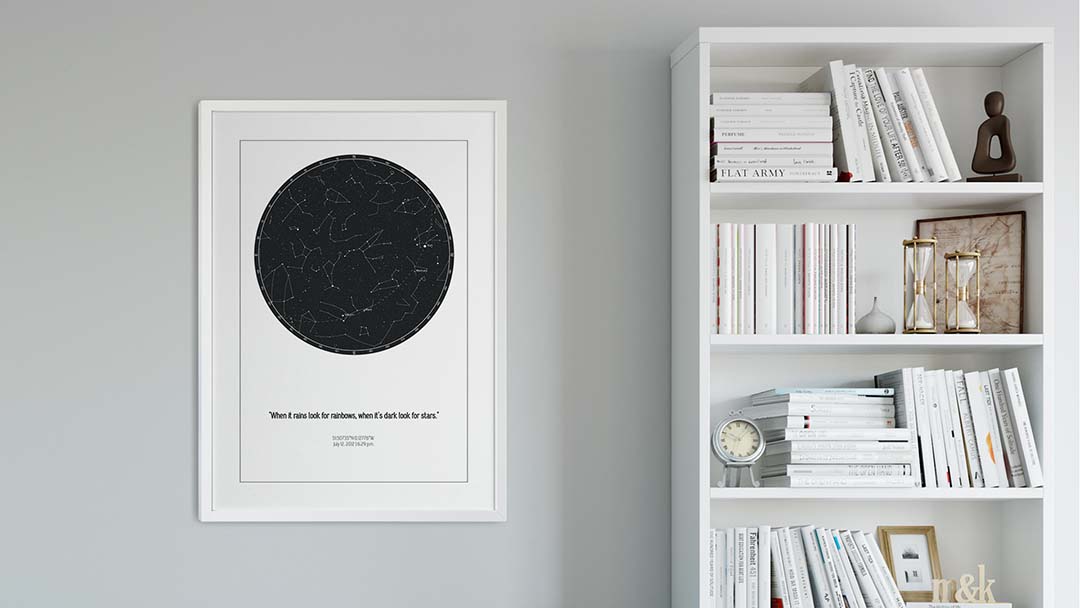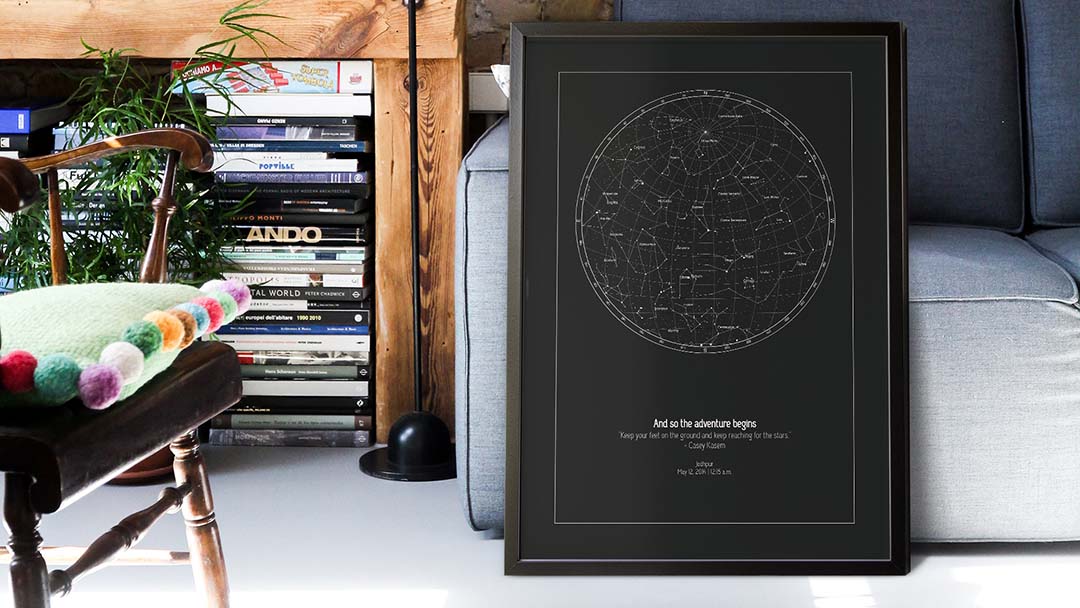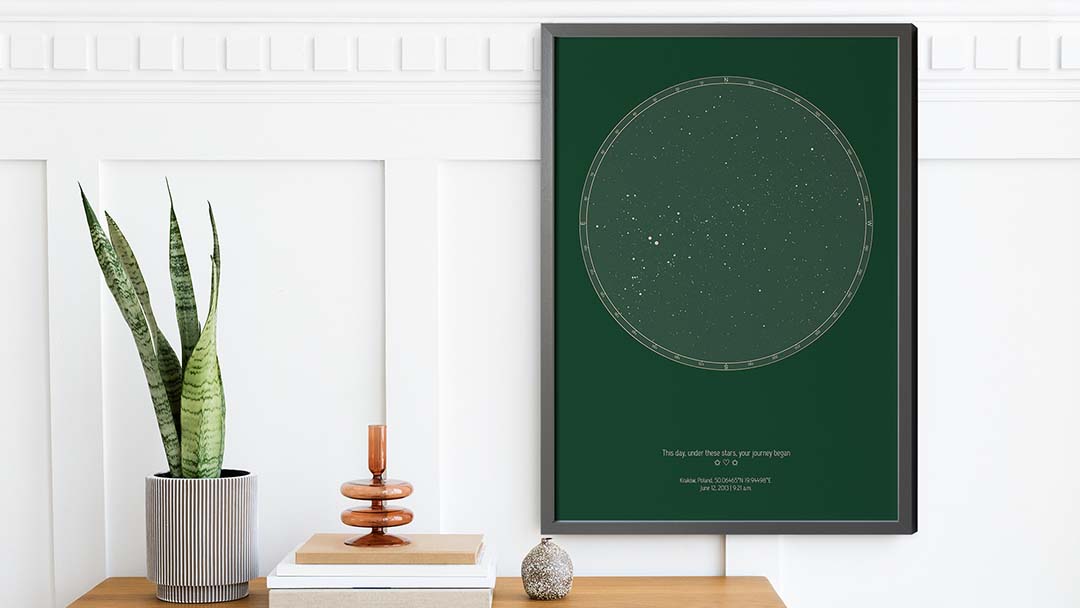 ⭐ Exact View Of The Night Sky From Any Location
✨ Detailed Birthday Star Map Design Including Planets, Constellation Names And The Milky Way
⭐ Interactive Birthday Star Map Editor With An Instant Preview
✨ 100% Customizable
⭐ Choose From A Variety Of Printed Sizes Or Instant Digital Download
Sky on the night you were born
Life truly is a gift. Science has long told us that the chances of us being born at all are about one in 400 trillion chance. Those are amazing odds, and they put in perspective just how special it is to celebrate our birthday each year. When you want to show a loved one just how glad you are they were born, a birthday star map makes a stunningly beautiful and heartfelt gift.
A birthday star map is a printed representation of what the night sky looked like from a specific location on earth on a given date and time. This is why no two birthday star maps are quite the same. Each map is based on a person's unique birthday details to ensure the most accurate recreation.
This is a very unique birthday gift that your loved ones will never expect but will cherish forever. It's not something you can simply walk into a store and buy off the shelf. It takes time and thought to even think of giving a star map as a birthday gift, and a little more time and effort to create the map have it printed for your loved one. All that extra effort won't go unnoticed, and it's likely the star map will be the favorite gift they'll unwrap.
What makes the birthday star map so special?
When you look up at the night sky tonight, it's not going to look the same as the sky you saw last night, even if you're standing in the same spot. That's because our universe is constantly on the move. It's the same reason why we can only see certain stars, planets, and constellations on certain dates or seasons.
The sky on the night you were born is special because that's how the universe aligned when you entered this world. The positioning of stars, planets, and other celestial bodies on this day is unique to you.
Naturally, you were too young to notice how the sky looked on that momentous occasion, so consider a birthday star map like a look back in time. It's an illustration that supports your life story. It begins telling your story from Day 0, setting the scene for the life you've lived up to this moment.
How do you make a birthday star map?
At Positive Prints, we believe everyone should be able to design a birthday star map without the need for artistic skills and technical savvy. We use a simple three-step system with smart technology to craft your star map and make it truly yours. Here's how we take the guesswork out of creating your birthday star map:
Step One: Select Your Design
Positive Prints offers 7 pre-set designs for your birthday star map, including a heart-shaped frame and multiple color combinations. However, if you prefer a little more customization, we also offer a Custom option that lets you design your own color scheme.
In addition, you can also specify the level of detail for your star map. Add the names of constellations, planets and planet names, and even the Milky Way. As you're making changes to your design, you can see your poster update in real time so you can craft the precise look you want.
Step Two: Enter Your Details
In Step Two, you will get to enter your selected location or coordinates, as well as the date and time of birth. We use location and date-related data to recreate as accurate of a depiction of the night sky as possible so that what you see is akin to looking up at the night sky on that date.
You also have the option of including up to three lines of text (a title, a subtitle, and a footnote). Many of our customers choose to use these lines for a personal message to your gift recipient so that everyone who sees the star map will know its significance. Alternatively, you can include a favorite quote, song lyrics, or anything that makes your poster more personalized.
Step Three: Choose Your Format
On the last step, you get to decide the size of your star map birthday poster and how to receive your print. Many of our customers choose to leave the printing up to us because we can print on canvas or high-quality poster-grade paper. We can also include a frame that's perfect for gifting and allows your recipient to hang it immediately. Shipping is free, no matter where you live.
If you are looking for a last-minute gift option, Positive Prints can help. We offer a digital download option and will email you the poster within minutes of checkout. You can take the digital file to your local print shop for fast service and skip the shipping.
Bring the life of the party to every birthday with a star map birthday gift!
Ready to surprise your loved one with a birthday gift for the ages? Start creating your custom birthday star map gift today!
Customer Reviews
Write a Review
Ask a Question
22/04/2021
Nathen M.

DE
War super schnell da! Gute Qualität und wirklich sehr hübsch!
22/04/2021
Adrianna M.

PL
Idealny i wyjątkowy prezent. Moment wręczenia był bardzo wzruszający. Dziękuję Positive Prints za świetną robotę! Bardzo dobra jakość, paczka genialnie zabezpieczona. Polecam, a sama wrócę do Was na pewno!
21/04/2021
Bartłomiej L.

PL
Wyjątkowy prezent, wykonanie bardzo dobrej jakości, szybki czas realizacji zamówienia , polecam !
20/04/2021
Sarah A.

FR
Magnifique carte du ciel ! Je suis ravie de la commande. Le résultat est superbe. Envoi rapide, ultra soigné. Je recommande, c'est une super idée cadeau pour célébrer une date particulière...
19/04/2021
Kasia B.

PL
Zamówienie w pełni spełniło moje oczekiwania ❤️ To świetny pomysł i perfekcyjne wykonanie :)
19/04/2021
Niamh N.

IE
Super beautiful quality and fast shipping. Beyond delighted
19/04/2021
Nicole R.

PL
Mapa gwiazd wyglada niesamowicie i pasuje do każdego wnętrza. Uwielbiamy wspominać dzień naszego spotkania, a patrząc na ten obrazek wspomnienia wracają jeszcze mocniej. Dziękujemy!
16/04/2021
Paulina N.

PL
Piękny pomysł na prezent! Samo zamówienie poszło bardzo sprawnie, przyszlo w 3 dni. Sam proces tworzenia prezentu na stronie posiada wiele opcji, więc można go dostosować idealnie pod siebie. Polecam plakat gwiazdozbioru to cos pięknego i sentymentalnego jednocześnie.
15/04/2021
Katarzyna P.

PL
Pomysłowy prezent, który łatwo i w piękny sposób można spersonalizować. Polecam. A czas realizacji - ekspresowy!
15/04/2021
Ewa K.

PL
Projekt w 100% taki jak to sobie wyobrażałam :) Polecam z czystym sumieniem, naprawdę warto!!! :)
14/04/2021
Agata M.

PL
It was great, the order was as expected and came quickly.
13/04/2021
Josefine B.

SE
I'm so happy with my order from Positive Prints. Great service, fast delivery and a beautiful print! :)
13/04/2021
Kathleen H.

US
This turned out amazing! Thank you
13/04/2021
Vasso K.

GR
12/04/2021
Nadia W.

PL
prezent trafił w gusta solenizanta w 100%