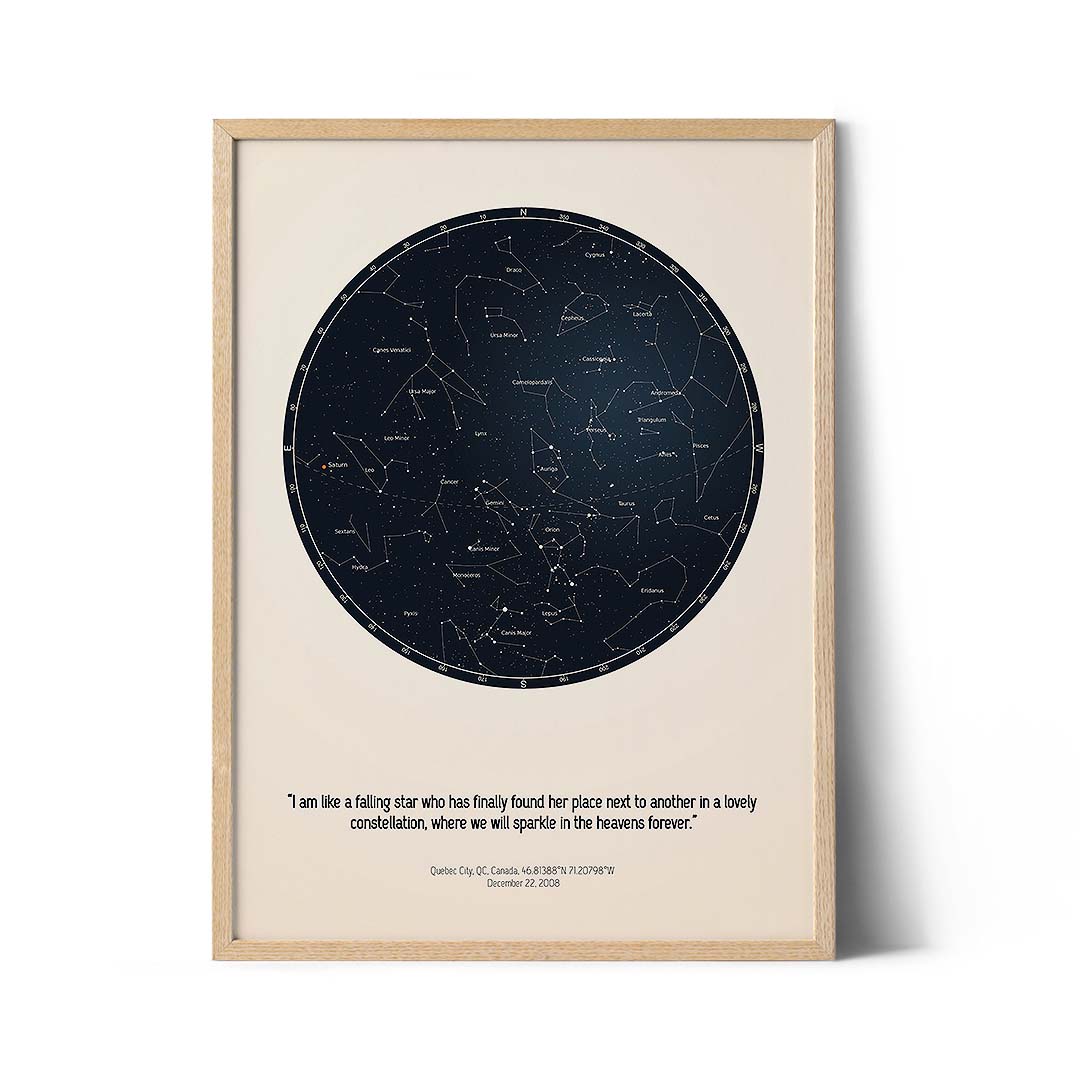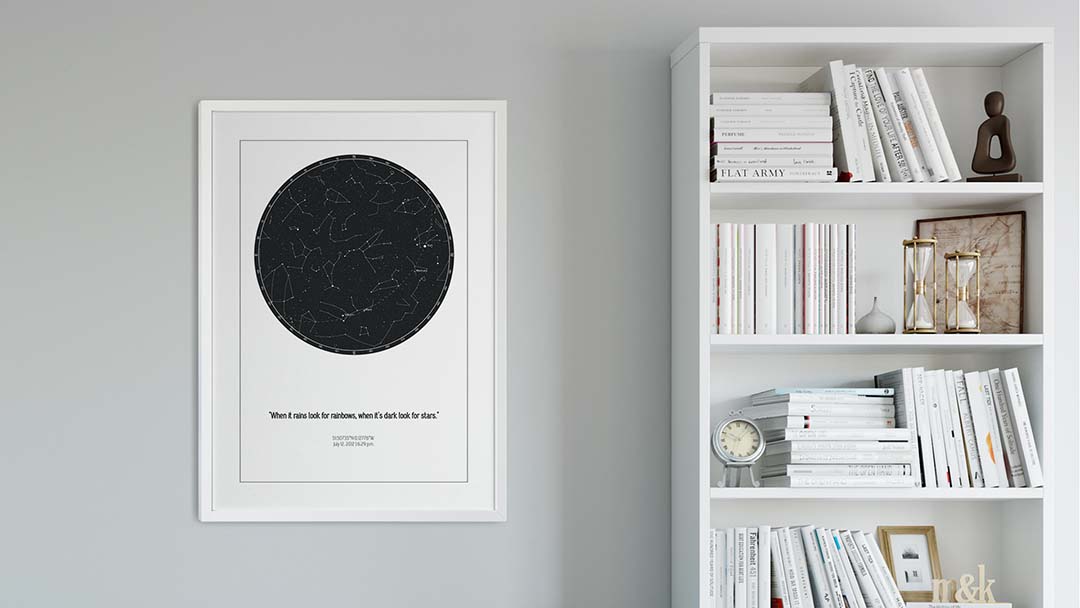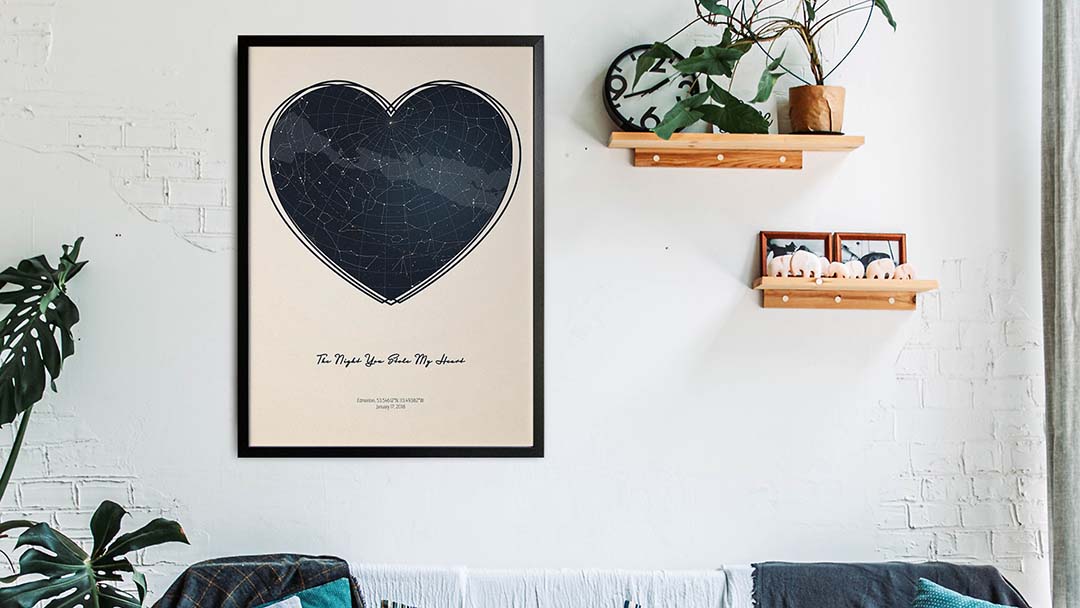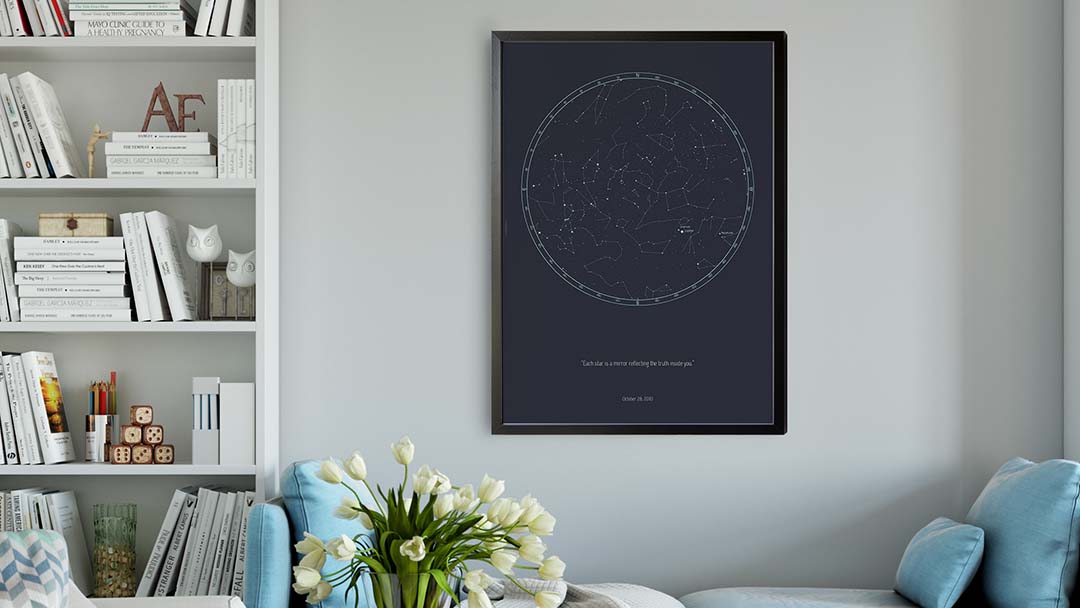 ⭐ Exact View Of The Stars From Any Location
✨ Detailed Star Map Design Including Planets, Constellation Names And The Milky Way
⭐ Interactive Star Map Editor With An Instant Preview
✨ 100% Customizable
⭐ Choose From A Variety Of Printed Sizes Or Instant Digital Download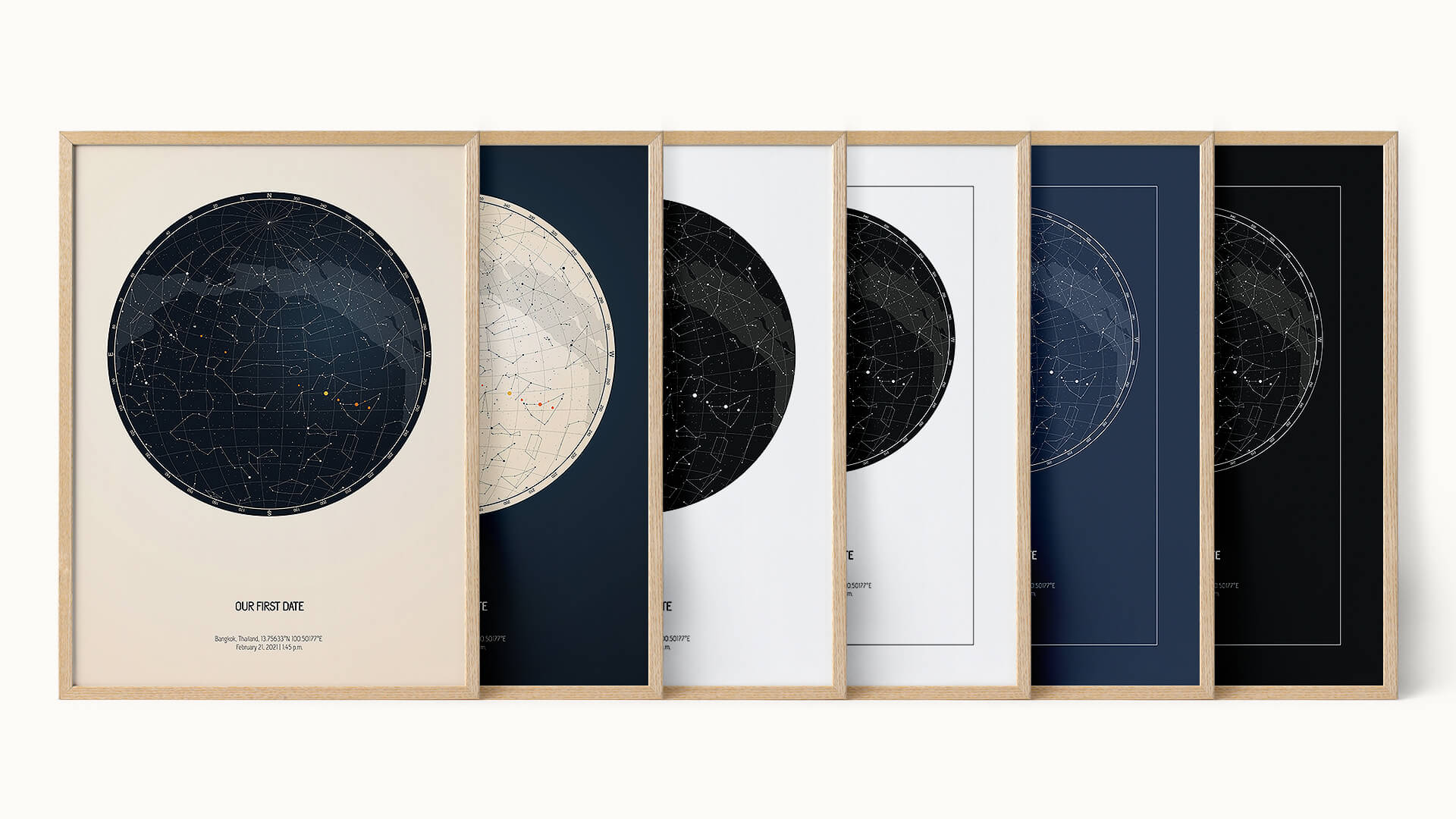 Personalized Star Map by Date and Location
Is your fate written in the stars? Design a personalized star map poster. You can remember how the night sky looked during the most memorable evenings of your life. Try our easy-to-use, interactive star map editor. It makes it easy to find the stars from any date and location. And even labels planets, constellations, and the Milky Way. A Custom Star Map makes for a great, personal gift for anyone who might share a special date with you.
Scientifically Accurate Star Maps
In 1989, the European Space Agency launched the Hipparcos satellite to create highly-accurate measurements of the celestial bodies in our night sky. From planets and stars to constellations and galaxies, we use data from the
Hipparcos
to create accurate star maps to precisely display the sky from any night - past, present, or future! - from any position in the world.
Custom Star Map Poster - Make it Personal!
The star-map editor makes your gift personal! With the star map editor, you can select the view of the stars as it appears on any date from anywhere in the world. Every map can be supplemented with additional information. The date, time, location of the star map is visible from. You can even
add a personalized message
! With a few clicks, you can add descriptions to your chart so anyone can identify their favorite stars, planets, and constellations.
A Uniquely Unforgettable Star Map Gift
The cosmos is billions of years old. We want your memories to last just as long. Select a custom star map poster to commemorate the birth of a child or the night you met your loved one. A personalized star map is a great way to spur the curiosity of a future astronomer. Or to show a loved one how much you mean to them.
Printed star map posters are available in portrait orientation. We accommodate most poster sizes, including 16X12, 36X24, and 24X18 inches or 100X70, 70X50, and 40X30 cm. Posters are printed on high-quality poster stock to make framing a snap.
Instant downloads are delivered as JPEG files. Most professional printers will be able to work with the provided ratios to scale your custom personalized star map print to your ideal size. We recommend printing on 180 gsm. matte paper for the best results.
Customer Reviews
Write a Review
Ask a Question
11/05/2021
Jessica D.

US
10/05/2021
Julia H.

DE
Super Geschenk gewesen, es wurde sich sehr gefreut ☺️
10/05/2021
YASMIN M.

JP
A really lovely gift that is so easy to customise! Delivery was as stated and arrived without a scratch.
08/05/2021
Kinga B.

PL
Zamówiłam plakat z okazji narodzin bratanka. Niesamowita niespodzianka i pamiątkana lata. Produkt bardzo wysokiej jakości, szybka dostawa.
08/05/2021
Stéphanie T.

CH
06/05/2021
Agata G.

PL
Fantastyczna obsługa klienta, szybka dostawa, bardzo gorąco polecam. Buziaki dla całego zespołu!!!!!
05/05/2021
Thérèse B.

FR
Magnifique c'est un superbe cadeau !
05/05/2021
Gabriela P.

PL
Piękny design, obraz wygląda wspaniale w rzeczywistości! Jako prezent sprawdził się idealnie! Piękna pamiątka pierwszego spotkania czy innego romantycznego wydarzenia :)
04/05/2021
MORGANE R.

FR
Un magnifique poster ! Tout de suite affiché ! Notre maman était ravie. Envoi rapide et de très bonne qualité
04/05/2021
Kamil C.

PL
Najładniejszy układ mapy nieba. Sprawna realizacja.
02/05/2021
Lisette F.

AT
Sehr schöner Druck. Schönes Geschenk!
02/05/2021
Hector S.

ES
Si. me pido llego satisfactoriamente temprano, es precioso y esta todo correcto. muchas gracias.
01/05/2021
Elżbieta Z.

PL
Jestem bardzo zadowolona z produktu. Przesyłka dotarła w bardzo krótkim czasie. Polecam!
30/04/2021
Klaudia G.

PL
Realizacja zamówienia bardzo szybka. Jakość wydruku na płótnie świetna, na pewno będzie pamiątką na lata. Strona internetowa i proces personalizowania projektu bardzo prosty i intuicyjny. Z ręką na sercu polecam! 😎❤️
30/04/2021
Karel D.

BE
Fast service (I used the pdf generator) - especially loved the editor too, which has many options.