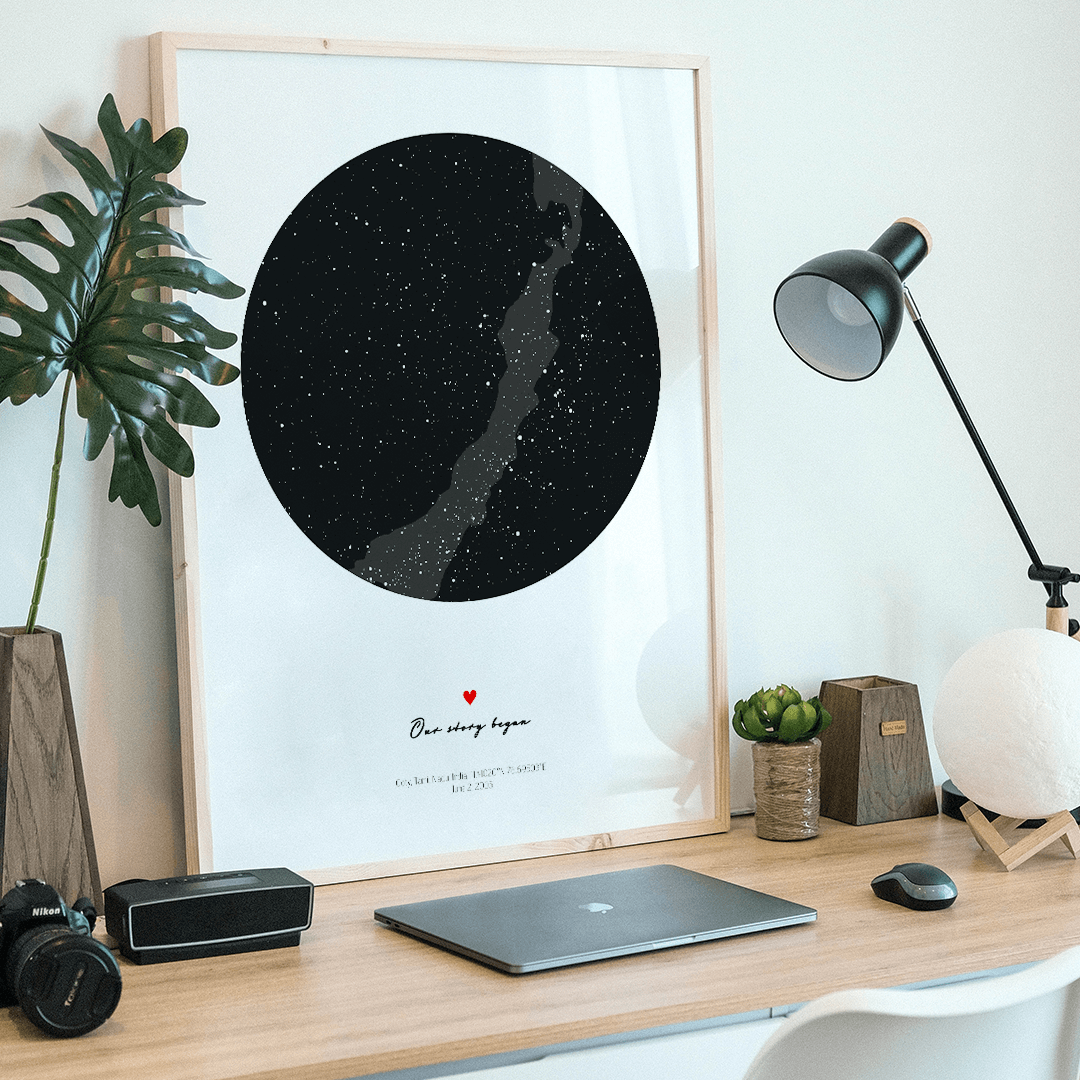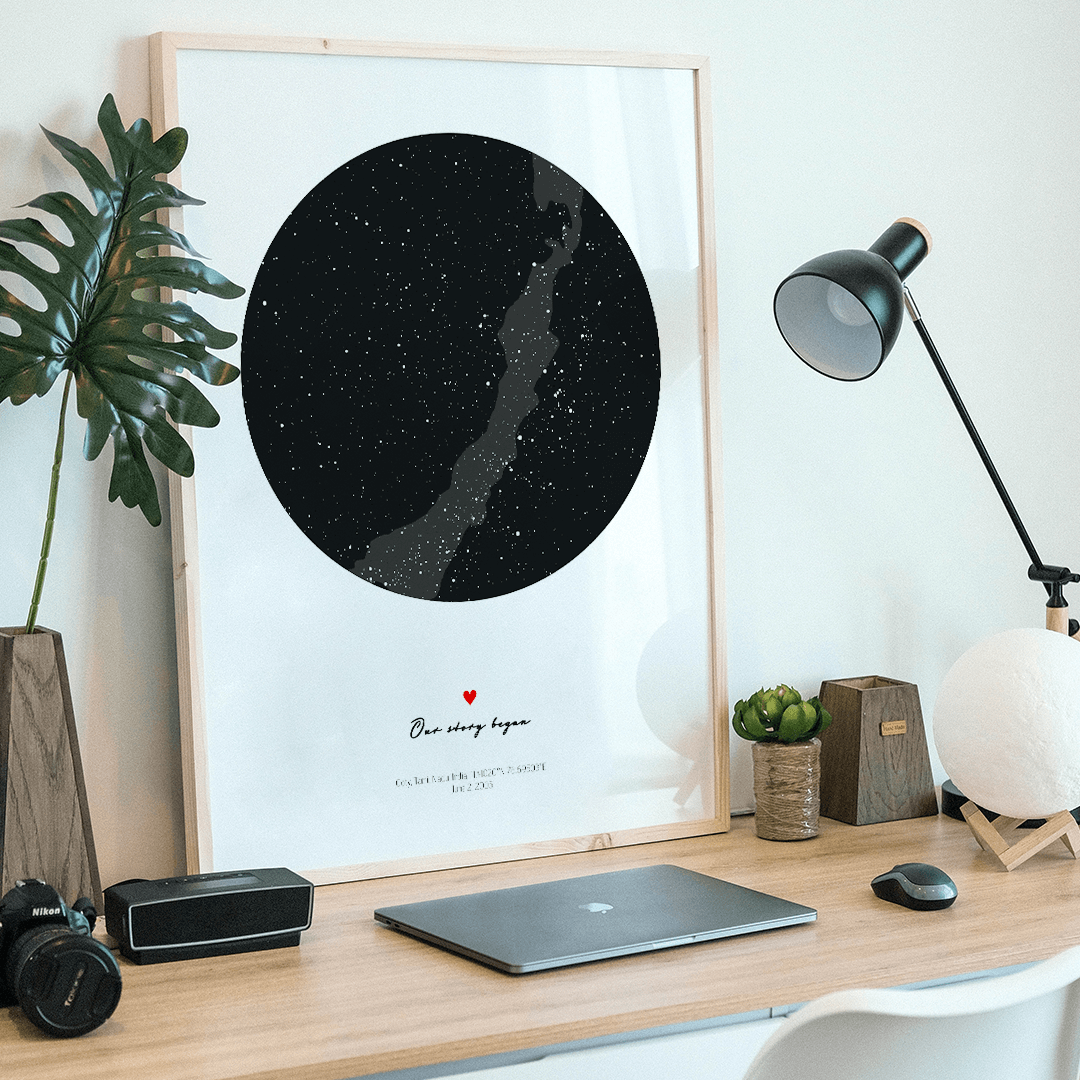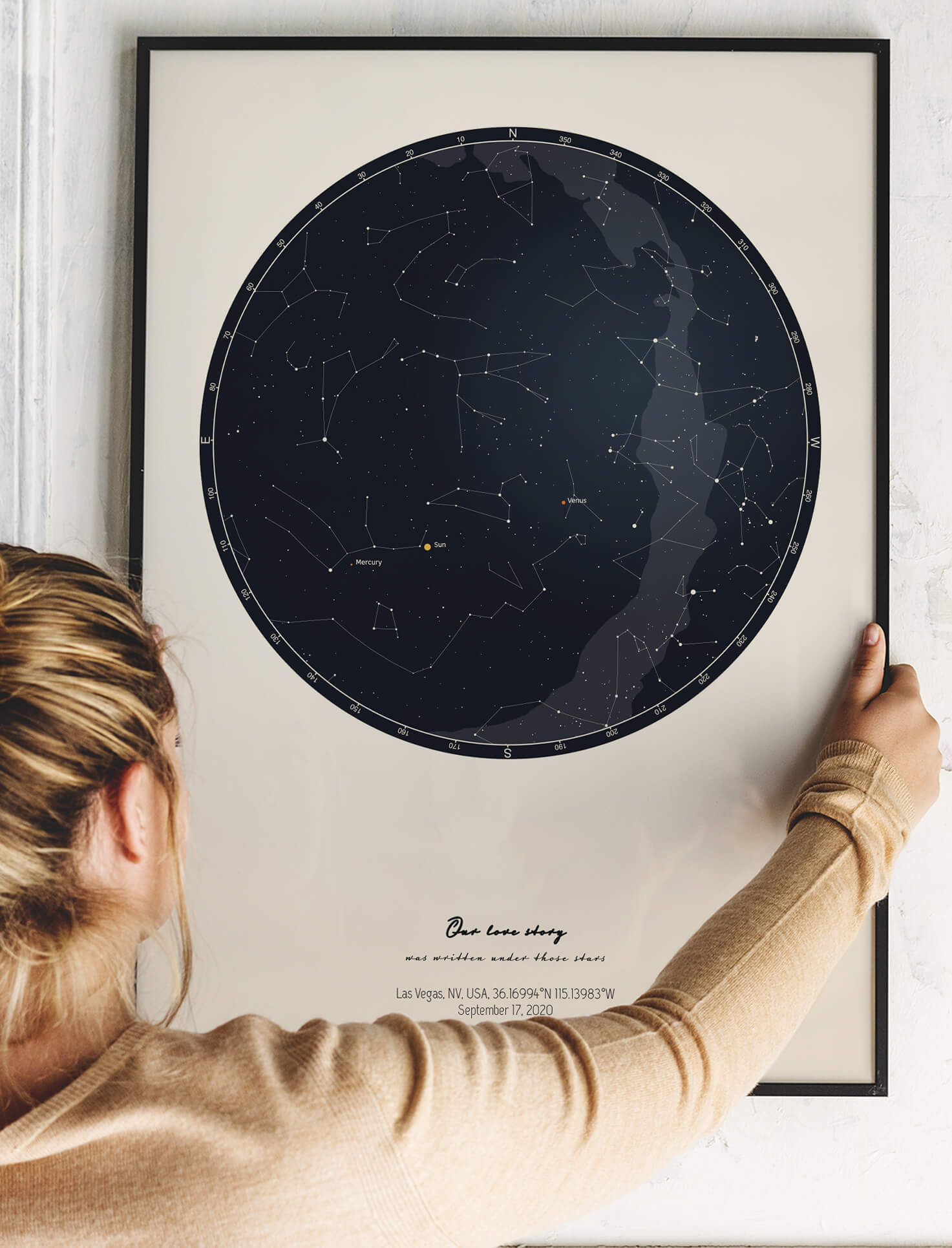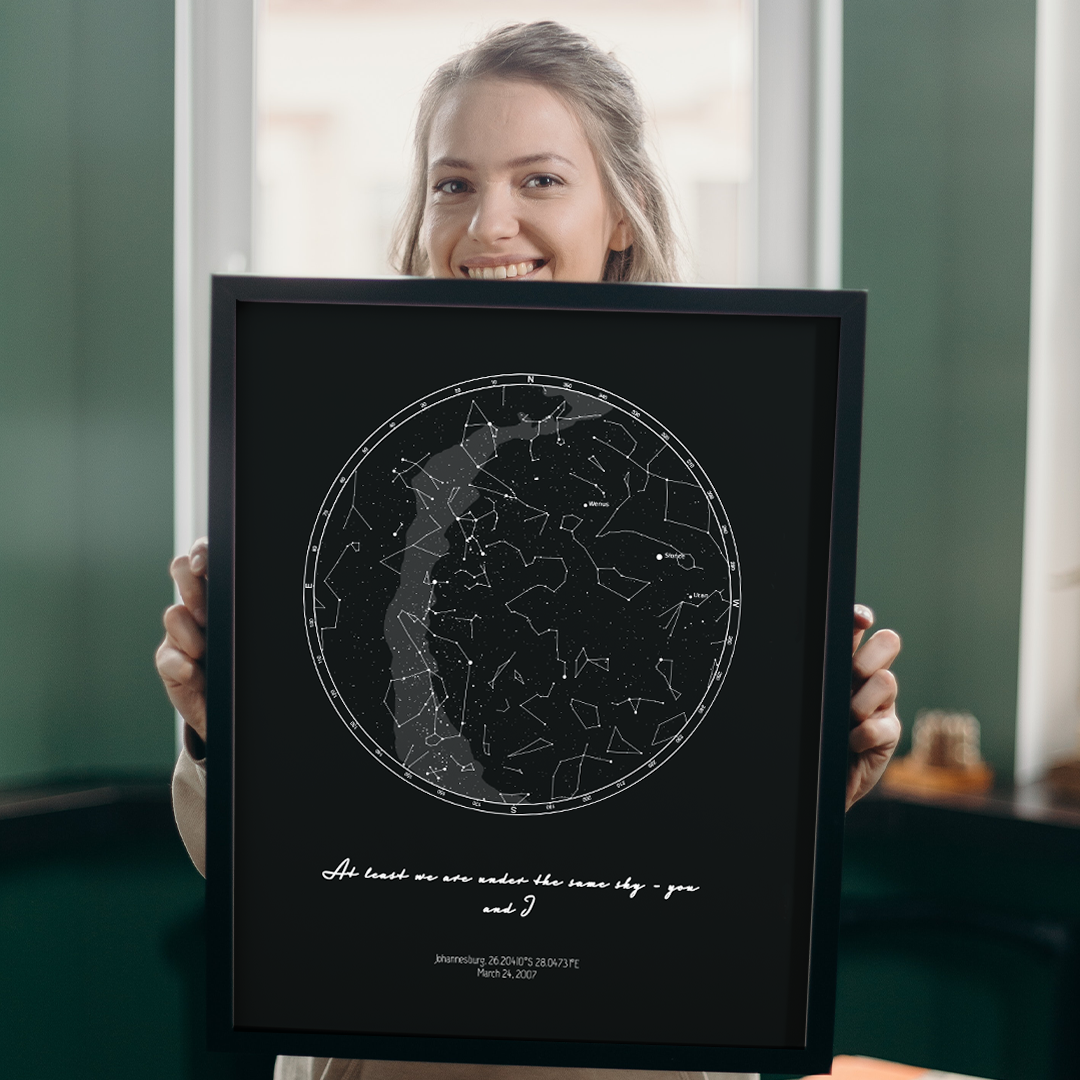 PERSONALIZED STAR MAP
With a personalized star map, you can recreate the night sky during the most memorable evenings of your life. Our interactive star map editor makes it easy to find the night sky from any date and location.
From 65.00 zł
Too see an Instant Preview
Available as
Digital
Printed
Framed
Canvas
⭐ Exact View Of The Night Sky From Any Location
⭐ Detailed Star Map Design Including Planets, Constellation Names And The Milky Way
⭐ Interactive Star Map Editor With An Instant Preview
⭐ 100% Customizable
⭐ Choose From A Variety Of Printed Sizes Or Instant Digital Download
Personalized Star Map by Date and Location
Is your fate written in the stars? Design a personalized star map poster. You can remember how the night sky looked during the most memorable evenings of your life. Try our easy-to-use, interactive star map editor. It makes it easy to find the night sky from any date and location. And even labels planets, constellations, and the Milky Way. A Custom Star Map makes for a great, personal gift for anyone who might share a special date with you. And it looks amazing when paired with a
moon phase poster
.
Custom Star Map - Make it Personal!
The star-map editor makes your gift personal! With the star map editor, you can select the night sky as it appears on any date from anywhere in the world. Every map can be supplemented with additional information. The date, time, location of the star map is visible from. You can even add a personalized message! With a few clicks, you can add descriptions to your chart so anyone can identify their favorite stars, planets, and constellations.
How to make a star map
Scientifically Accurate Star Maps
In 1989, the European Space Agency launched the Hipparcos satellite to create highly-accurate measurements of the celestial bodies in our night sky. From planets and stars to constellations and galaxies, we use data from the
Hipparcos
to create accurate star maps to precisely display the sky from any night - past, present, or future! - from any position in the world.
A Uniquely Unforgettable Star Map Gift
The cosmos is billions of years old. We want your memories to last just as long. Select a custom night sky map to commemorate the birth of a child or the night you met your loved one. A personalized star map is a great way to spur the curiosity of a future astronomer. Or to show a loved one how much you mean to them.
Printed star map posters are available in portrait orientation. We accommodate most poster sizes, including 16X12, 36X24, and 24X18 inches or 100X70, 70X50, and 40X30 cm. Posters are printed on high-quality poster stock to make framing a snap.
Instant downloads are delivered as JPEG files. Most professional printers will be able to work with the provided ratios to scale your custom personalized star map print to your ideal size. We recommend printing on 180 gsm. matte paper for the best results.
Customer Reviews
Write a Review
Ask a Question
04/03/2021
Emilie G.

FR
EM
03/03/2021
Eleanor M.

US
03/03/2021
Bartlomiej Z.

PL
The product is high quality and beautiful design. I'm glad with the effect.
03/03/2021
Mario C.

ES
Un detalle precioso, muy bien hecho
03/03/2021
Ivaylo Z.

GB
Bought as a Valentines Day gift. Great art, shipping (arrived on time) and cost - overall very satisfied. Would definitely recommend Positive Prints and will most probable order another one soon.
03/03/2021
Heyasiz K.

AZ
02/03/2021
florian d.

FR
Tableau et qualité impecable
02/03/2021
Mikołaj G.

PL
Very good quality of product. Recommend as a gift.
02/03/2021
Emilie C.

RE
Amazing ! It's a super memory that my boyfriend loved it ! Moreover it's an atypical gift !
02/03/2021
Paulina P.

PL
Beautiful! I think I ordered a "coffee" colour background, not a white one, and I got a white one, although now I'm not so sure. The picture looks beautiful and I wouldn't trade it for any other.
03/03/2021
Positive Prints
Hi Paulina, Thank you for your kind review! We've checked the file of your print and we can now confirm that your star map has a Cosmic Latte background. The background color in this color version is light cream. It's a tricky color to show but we do our best to portray it adequately. After receiving your message we've double-checked our printers to make sure that the color settings are correct: and they were :). If you put a white piece of paper next to your map, you'll notice the color difference. Color calibration on different screens can cause the colors to look slightly different. The light cream color on the white website background looks darker because of the high contrast. We're happy that you still love it with a slightly less background than you were expecting :)
01/03/2021
Mackenzie M.

CA
The final product turned out great! The only room for improvement would be if the picture itself would come inside the frame already, and the hanging pieces would be installed as it was difficult to do with such a small frame and tiny nails. But other than that, easy ordering process, high quality, fast shipping and a beautiful gift that is loved all for an affordable price!
03/03/2021
Positive Prints
Hello Mackenzie, Thank you for your kind review! We're really happy that you love your map :). The experts from our printing houses assured us that unmounted posters are much less likely to suffer damage during transport. We want our products to feel cozy and comfortable in their packages, before they arrive at their loving homes :).
01/03/2021
Agnieszka D.

PL
Everything was verrryyyyy gooodddd:)))
01/03/2021
Vincent G.

CA
Beau produit et livraison rapide
01/03/2021
Monika G.

PL
Super
Piękne kolory wydruku. To super pomysł na prezent
28/02/2021
Antonia B.

SE
I love the print, it is uniqe and beautiful. I didn't get the beige poster like I ordered, instead it was white. A bit weird but I still like it.
01/03/2021
Positive Prints
Hello Antonia, Thank you for your kind review! We've checked the file of your print and we can now confirm that your star map has a Cosmic Latte background. The background color in this color version is light cream. It's a tricky color to show but we do our best to portray it adequately. After receiving your message we've double-checked our printers to make sure that the color settings are correct: and they were. If you put a white piece of paper next to your map, you'll notice the color difference. Color calibration on different screens can cause the colors to look slightly different. The light cream color on the white website background looks darker because of the high contrast. We're happy that you still love it with a slightly less background than you were expecting :)