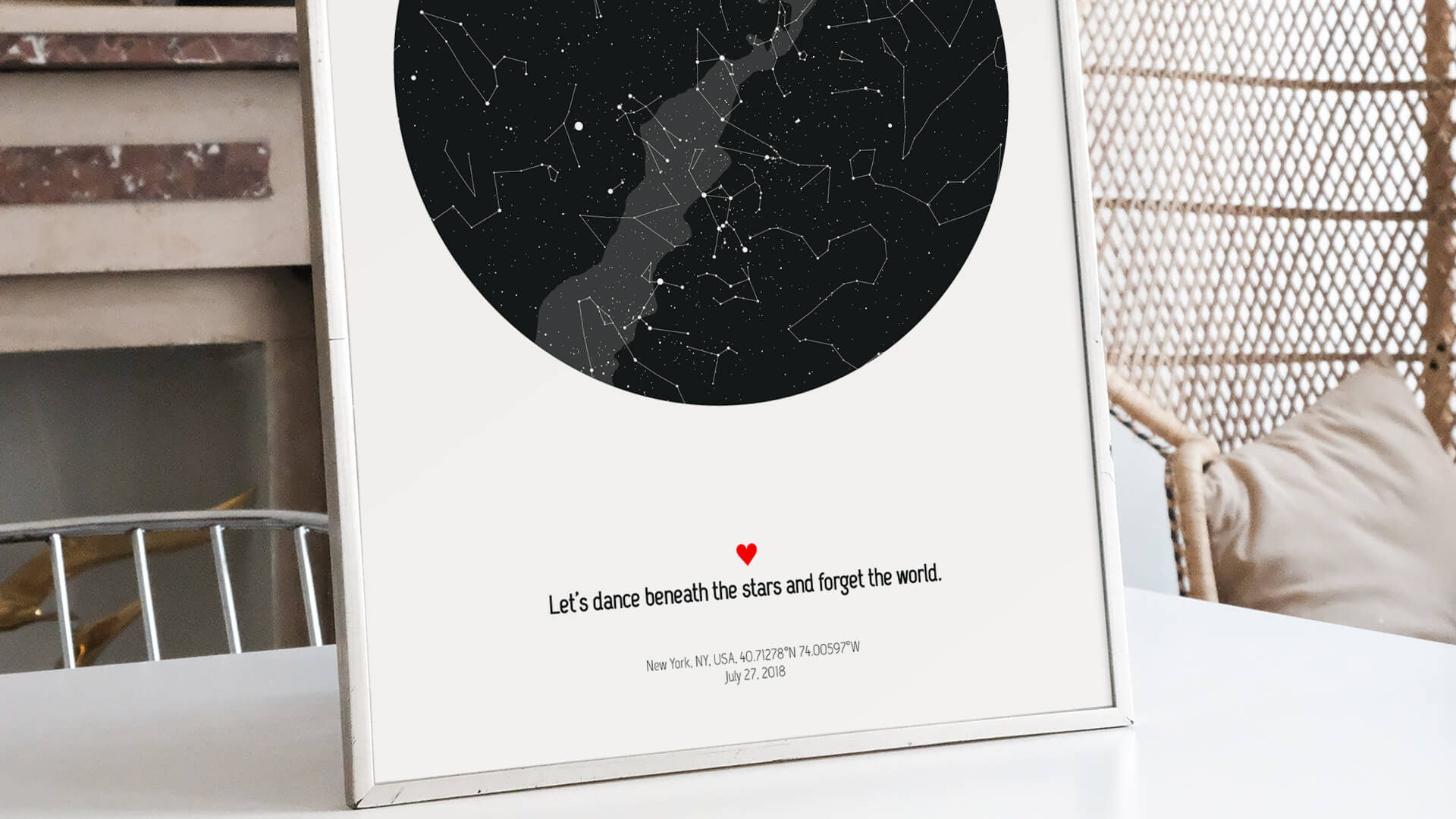 A special event is just around the corner. You've done your gift-giving homework and you've decided that a custom star map is the gift with the most wow factor. You're ready to sweep them off their feet with something so thoughtful and unique that no one else will think of it. The next question: what do you write on a personalized star map? What to choose from among all the star map quotes ideas you can think of?
This is a question that doesn't come with a one size fits all answer. The crowning jewel of a star chart poster is the personalization aspect, something that comes from the heart and highlights the importance of a certain date.
Only you can really decide what to write on a star map. But if you need a little inspiration, we suggest including a star map quote that fits with your special occasion. Here are some star map quote ideas to get the creative juices flowing:
Romantic Star Map Quotes Ideas
For weddings, engagements, Valentine's Day, Christmas, or any other special occasion where you're celebrating the love of your life, a star map with a romantic quote will become an instant priceless treasure.
Adding a famous romantic quote is an excellent way to express your sentiments, especially if you're not good with your own words. Find a quote that's perfect for the moment you've captured in time with your star map, then include it in your design.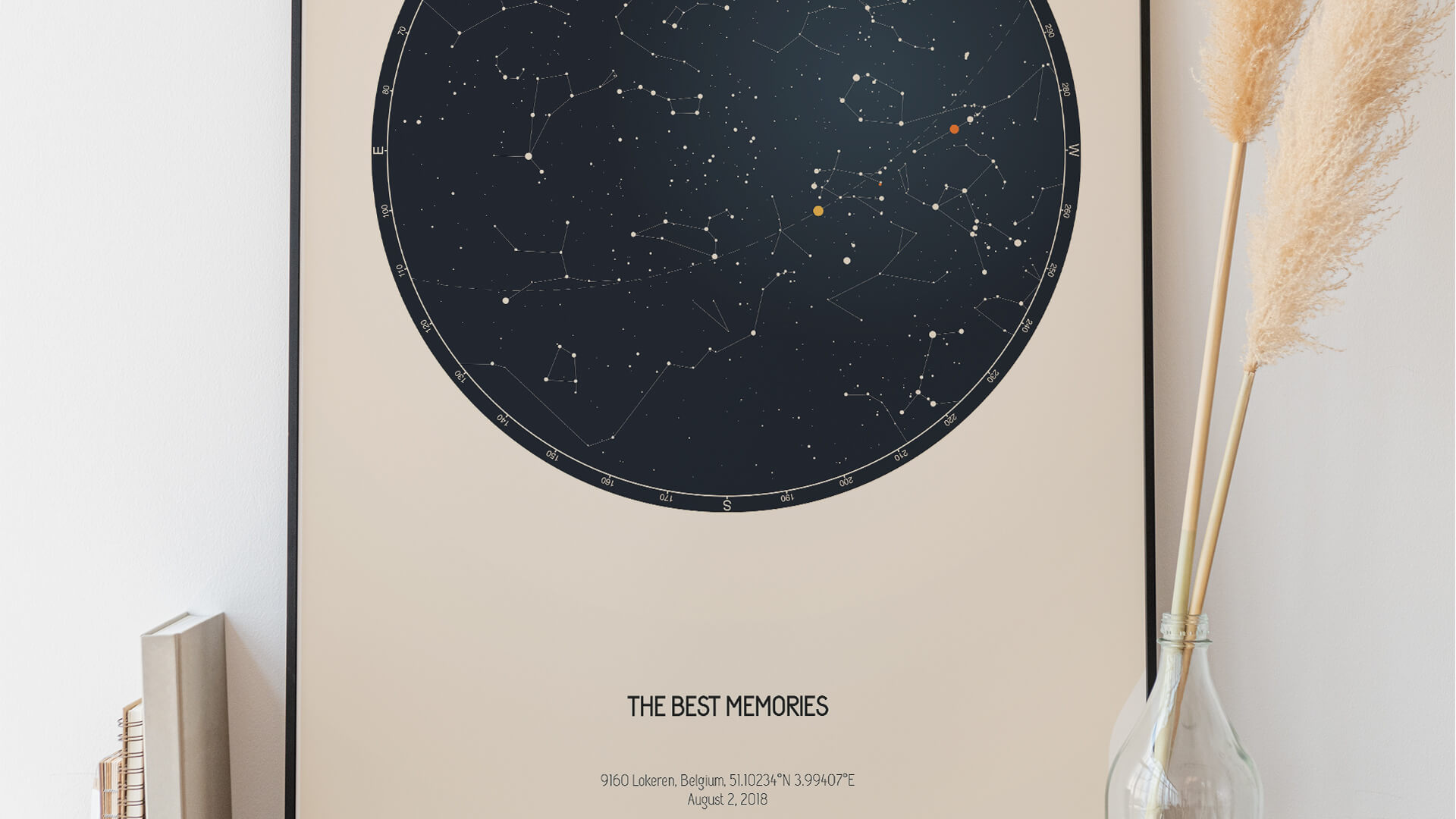 Take inspiration from Shakespeare, Jane Austen, Nicholas Sparks, William Blake, Lord Byron, or countless other romantic writers that are skilled at putting feelings into words. We've started your research for you with the following quotes:
There are many stars in the sky tonight. But only one shines through my heart. And that is you.

Let's dance beneath the stars and forget the world. 

Under the blanket of stars, as her night met his day. She fell in love, with his love. 

If kisses were stars, I would give you the sky. 

Out of all the stars in the world, yours shone the most. 

"Our love is like moon and star, so close yet so far." – Susmita Boro

"Oh, don't let's ask for the moon. We've already got the stars." – Bette Davis

"Be glad of life because it gives you the chance to love, to work, to play, and to look up at the stars." – Henry Van Dyke

"Do not complain beneath the stars about the lack of bright spots in your life." – Bjørnstjerne Bjørnson

"You can be the moon and still be jealous of the stars." – Gary Allan

"From which stars have we fallen to meet each other here?" – Friedrich Nietzsche

"Look at the stars. See their beauty. And in that beauty, see yourself." – Draya Mooney

"It's the kind of kiss that inspires stars to climb into the sky and light up the world." – Tahereh Mafi

Star Map Quotes for Anniversary Gift
Every anniversary is truly an occasion to remember. It signifies another trip around the sun together and proves how your love has endured through a year's worth of events. A lot can happen in a year – just think of all the happy memories you've created together!
To celebrate this occasion, consider making an anniversary star map your anniversary gift of choice. Your star map can use your wedding date, or even your first date or day of engagement as the primary artwork. Then, add a special anniversary star map quote or message to give your star map more context.
Feel free to use one of these popular messages for your star map anniversary gift:
Grow old along with me. The best is yet to be. 

Once in a while, right in the middle of an ordinary life… love gives us a fairytale

You are my today and all of my tomorrows

I love you not only for what you are, but for what I am when I am with you

I'd never lived before your love

Love is the master key that opens the gates of happiness

Everything is better together

All that you are is all that I'll ever need

Here's to another year of being great together

If I had a do-over and I had to choose again, I would choose you

You are more than my number one. You are my only one. 

If I could turn back the clock I would find you sooner and love you longer

Lucky I'm in love with my best friend

"I saw you were perfect and so I loved you. I saw that you were not perfect and I loved you even more." – Angelita Lim

Because of you, I laugh a little harder, cry a little less and smile a lot more. 

And so the adventure continues!

Thanks for showing me year after year what it takes to make love last. 

Anyone can fall in love, but not everyone can stay in love

"True love doesn't come to you, it has to be inside you." – Julia Roberts

"Real love stories never have endings." – Richard Bach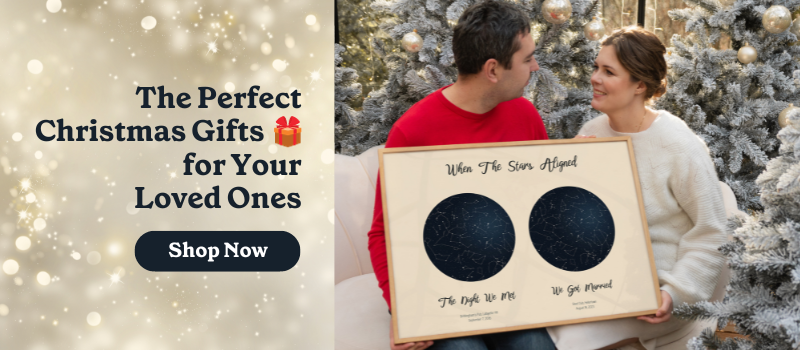 Best Birthday Quotes for Star Map
There is no better occasion to order a birthday star map than the birthday of your beloved one! Aren't we all a bit curious how was the day we were born? Create the Star Map for your significant other, sibling, or parent showing them all the constellations on the sky. No doubt that's the most original gift of all but also a great wall art decoration. We can assure you – there is no same Star Map poster across the galaxy!
Take some inspiration on quotes and messages which make a perfect combination with the minimalistic Star Map.
"Keep your feet on the ground and keep reaching for the stars." – Casey Kasem

"There was a star danced, and under that was I born." ― William Shakespeare

"For my part I know nothing with any certainty, but the sight of the stars makes me want to dream." ― Vincent Van Gogh

"When you reach for the stars you may not quite get one, but you won't come up with a handful of mud either." – Leo Burnett

"Remember to reach for the stars, and they won't be able to resist flying into your hands!" – Katherine McNamara

The moon danced with the stars on the night you were born.

"Good friends are like stars. You don't always see them, but you know they're always there." ― Christy Evans

"It is not in the stars to hold our destiny but in ourselves." – William Shakespeare

"Shoot for the moon. Even if you miss, you'll land among the stars." ― Norman Vincent Peale

"After you grow as an adult, the age is just not a number, but a mind set." ― Shesh Nath Vernwal

"Keep your eyes on the stars, and your feet on the ground." – Theodore Roosevelt

"You're only young once, but you can be immature forever." ― Germaine Greer

"Count your age by friends, not years. Count your life by smiles, not tears." ― John Lennon

Life is a journey. Enjoy every mile.

Time to celebrate. You made the trip around the sun one more time. It's a birthday revolution.

"There are two great days in a person's life — the day we are born and the day we discover why." – William Barclay

"Don't just count your years, make your years count." – George Meredith
Quotes for Newborn Baby
There is no occasion more special than bringing a baby into your family. It's a moment you spend nine months preparing for, and once your little bundle of joy finally arrives, you'll want to capture every moment possible. Babies grow so quickly, so taking time to soak in their most special milestones is something you'll appreciate for years to come.
Some parents (or other family members) commemorate the occasion by ordering a night sky poster. Once the baby is born, you can use our star map creator to input the baby's birth date and recreate what the night sky looked like on the night they were born.
To make it even more special, you can add a line or two of custom text, such as a special quote or your baby's birth stats (e.g. name, weight, length, etc.).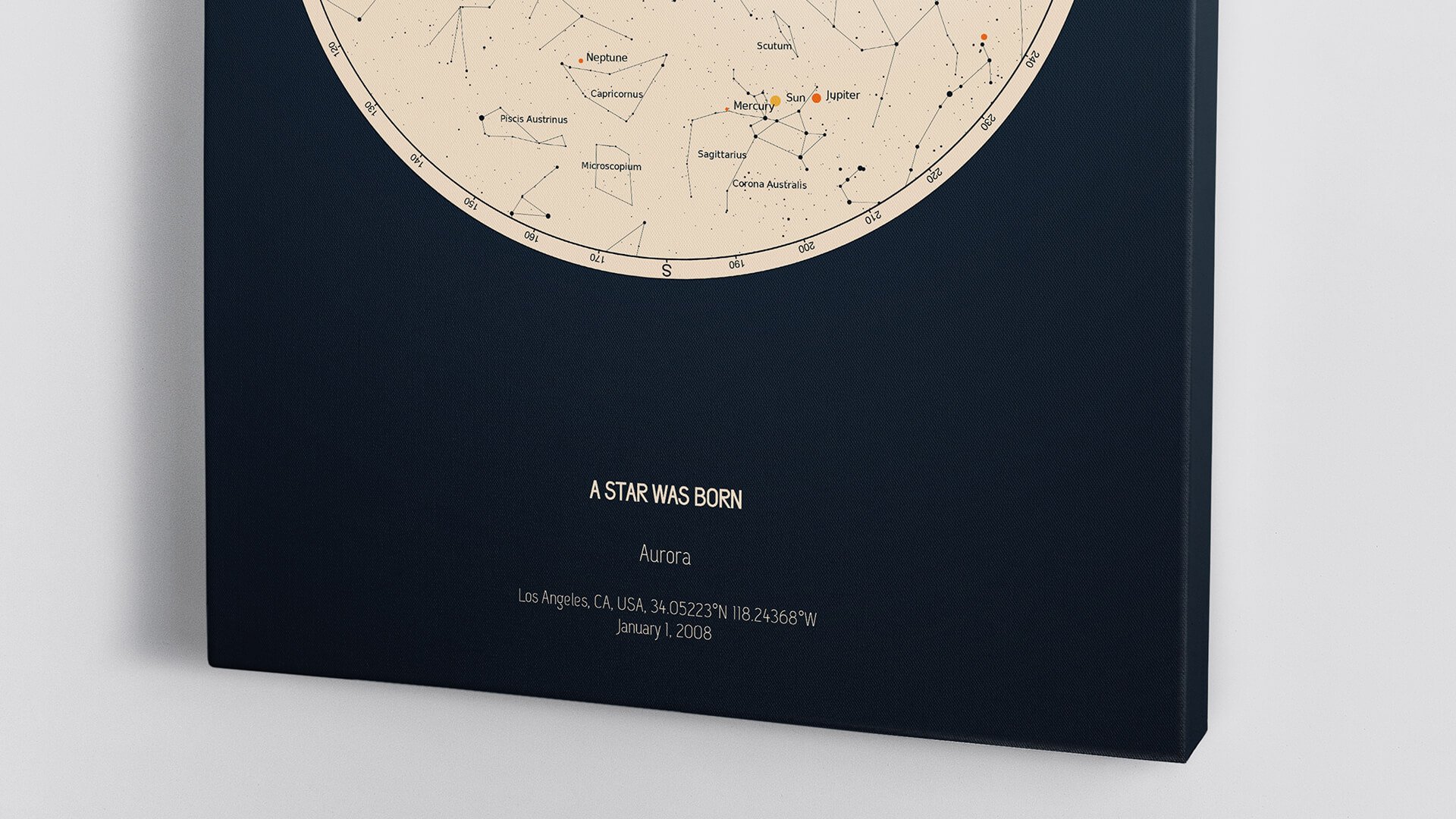 If you choose a quote or special text, you'll have no shortage of options. Many parents love the inspiring musings of Dr. Seuss. Countless other children's authors have also penned noteworthy quotes that are fitting for a star map poster. Check out our suggestions on what you can say on a star map for your new baby:
A new baby is like the beginning of all things – wonder, hope, a dream of possibilities.

May you always know, Little One, that you were wished for, longed for, prayed for and will be forever loved. 

The littlest feet make the biggest footprints in our hearts. 

Just when you think you know love, someone so little and precious comes along to remind you just how big love really is. 

You will always be the miracle that makes my life complete. 

So tiny, so small, so loved by all…

And suddenly you were my everything…

Baby – a little bit of heaven sent down to earth

For all the things my hands have held the best by far is you. 

I love you from the tip of your toes to the top of your head. 

The first day of your life was the best of mine!

"A baby is God's opinion that life should go on." – Carl Sandburg

"With every newborn baby a little sun rises." – Irmgard Erath

"Sometimes the smallest things take up the most room in your heart." – Winnie The Pooh

From the moment they placed you in our arms, you snuggled right into our hearts. 

A sweet new blossom of humanity. 

In the eyes of a child… there is joy, there is laughter… there is hope, there is trust, a chance to shape the future. 

May you touch fireflies and stars, dance with fairies and talk to the man in the moon. May you grow up with love and gracious hearts and people who care. 

"Everything grows rounder and wider and weirder, and I sit here in the middle of it all and wonder who in the world you will turn out to be." – Carrie Fisher

First we had each other. Then we had you. Now we have everything.

A dream is a wish your heart makes… our dream was You

It was the tiniest thing I ever decided to put my whole life into.

Let me love you a little more before you're not little anymore

Quote Ideas about the Night Sky, Stars and Love – A Tribute to a Newlywed Couple
Maybe you're not the one getting married this time. Maybe you have a special couple in your life, such as your own son or daughter getting married for the first time, or even your parents finding a new happily ever after. Whoever is walking down the aisle will love having a special star map with night sky message to remember their magical day.
Newlywed couples might not agree on home decor and style, but they'll both agree that hanging their stars the night we met poster in their new home is a must. They'll feel those same emotions from their wedding every time they look at it and will be eager to show it off to their house guests.
Here are some ideas to help you customize your star map poster:
Under this sky we became Mr. and Mrs. X.

I do!

Happily ever after.

The night we got married.
Let Us Help You Find the Right Words!
There are countless other milestone moments in a person's life that are worth observing. Graduations, promotions, buying a new home, adoptions, and other big events deserve to be remembered. You can give every moment the tribute it deserves with a star map gift and a fitting star map quotes.
Not sure if your own words will hit home? Need a little inspiration to complete your custom star map? Positive Prints has you covered.
In Step 2 (details) of the star map editor, you'll discover our ideas for titles and subtitles. Feel free to explore them by selecting the exact occasion you're seeking inspiration for.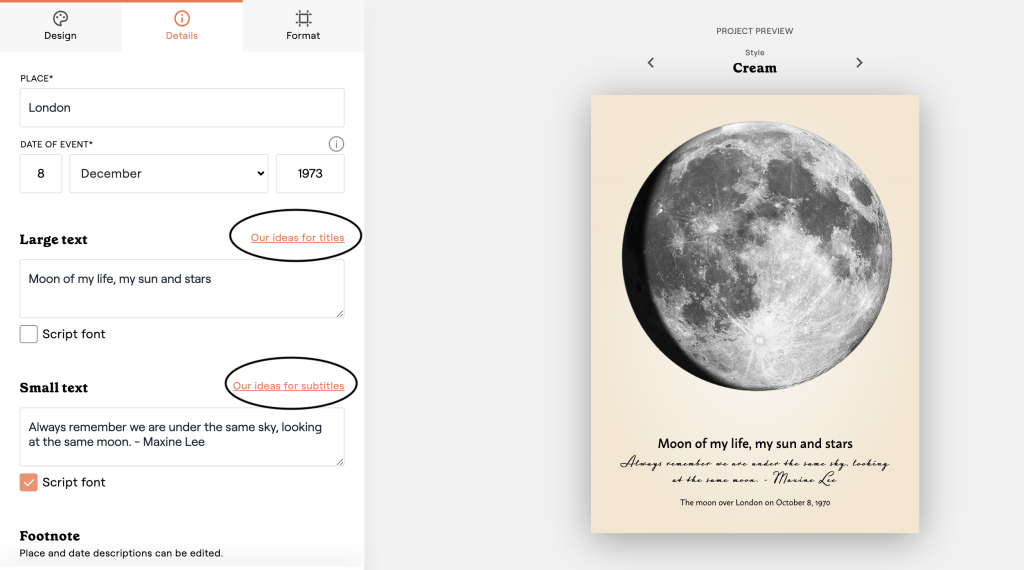 You'll see a variety of options that have been hand selected by our team to represent every occasion with the deepest sentiments. Select the quote you desire for your title or subtitle and Positive Prints will automatically insert it into the star map editor.
Say the perfect thing with every star map, no guesswork required.