Personalized Retirement Gifts
Celebrate your retiring coworkers and loved ones with our special personalized retirement gifts. At Positive Prints, we know how important this time is, and we have printed posters, framed posters, and canvases to help you remember the good times you shared. Give them a gift that shows you care and appreciate them as they start a new chapter in life. Make their retirement unforgettable with a thoughtful present that reminds them of all the fun memories.
4.81

/ 5 of Our Customers Loved Their Gift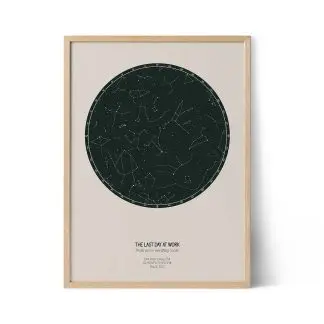 The Last Day at Work
Price from $49.00
(628)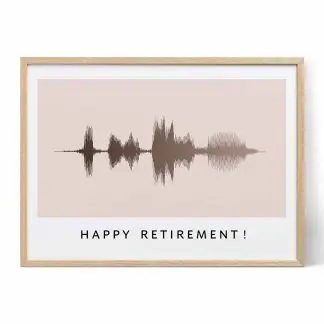 Happy Retirement Soundwave Art
Price from $49.00
(10)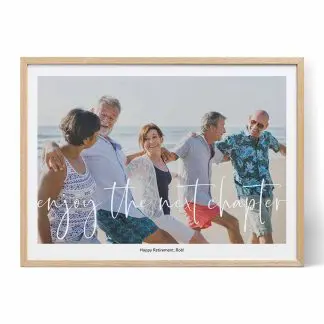 Retirement Photo Gift
Price from $49.00
(3)
Your loved one has spent their entire lives working toward retirement. When that day finally comes, it's time to celebrate the end of one chapter and the start of the next. Positive Prints helps you share in the excitement with custom artwork to wow your loved one.
Unique Retirement Gifts
Looking for unique retirement gifts for a loved one or coworker? Positive Prints has you covered. Our beautiful designs and intuitive editor help you create custom wall art they're sure to love but never expect. Transform their life's achievements into a stunning piece of memorabilia that will show them every early morning, late night, missed holiday, and tireless effort was worth it.
There are lots of ways to make these gifts for retirement uniquely you. Choose from our pre- designed color schemes or create your own. Add text, dates, or other fun elements that help to tell your loved one's story. The options are endless!
Celebrate the Next Chapter in Life
Retiring from a lifelong career isn't the end — rather, it's a beginning of sorts. Your loved one will finally have time to pursue their passions, do things they love, travel, and spend time with the people most important to them. It truly is something to celebrate, and it deserves a wow- worthy gift that commemorates a job well done.
Coworkers, friends, family members, managers, and others whose lives they've touched can all show their appreciation with a retirement gift. No matter what the gift is, it will be appreciated and cherished by the retiree for years to come.
Congratulate a Job Well Done with Positive Prints!
For the one who's worked hard their entire adult life, a retirement should never go overlooked. Celebrate this lifetime achievement with a custom gift that brings happy memories every time they see it. Start crafting your Positive Prints today!