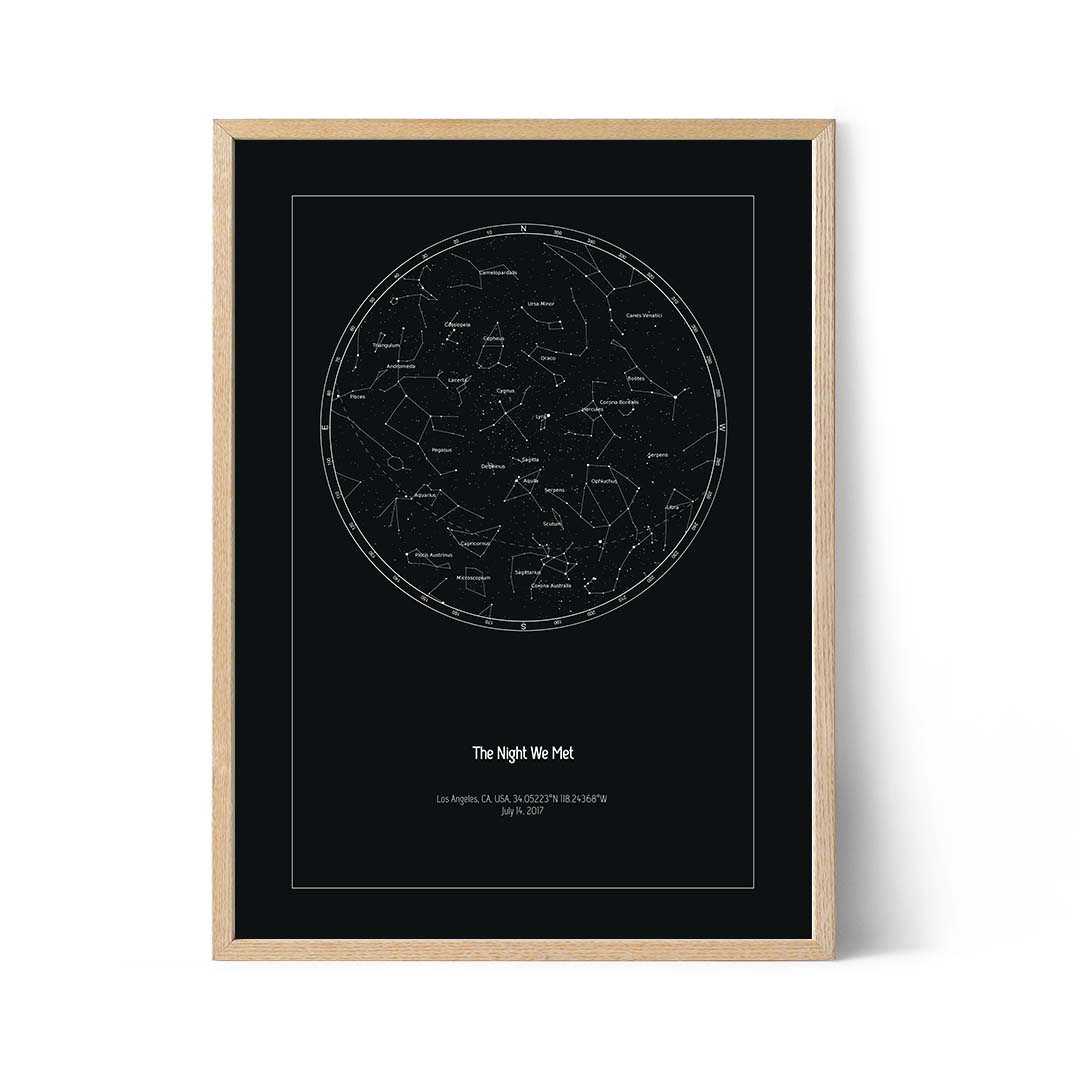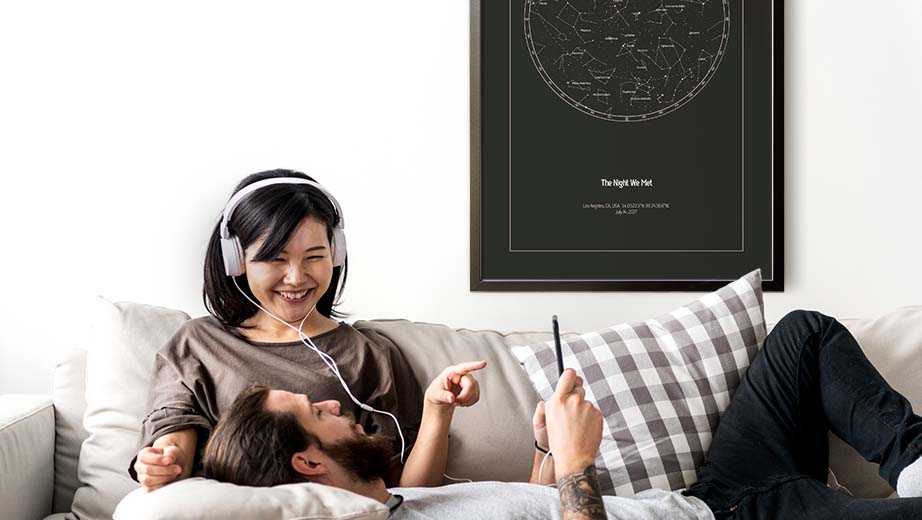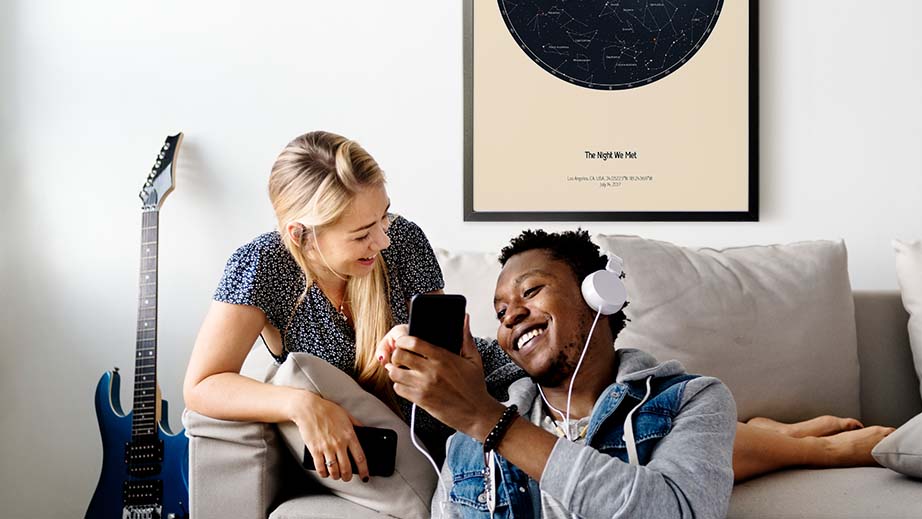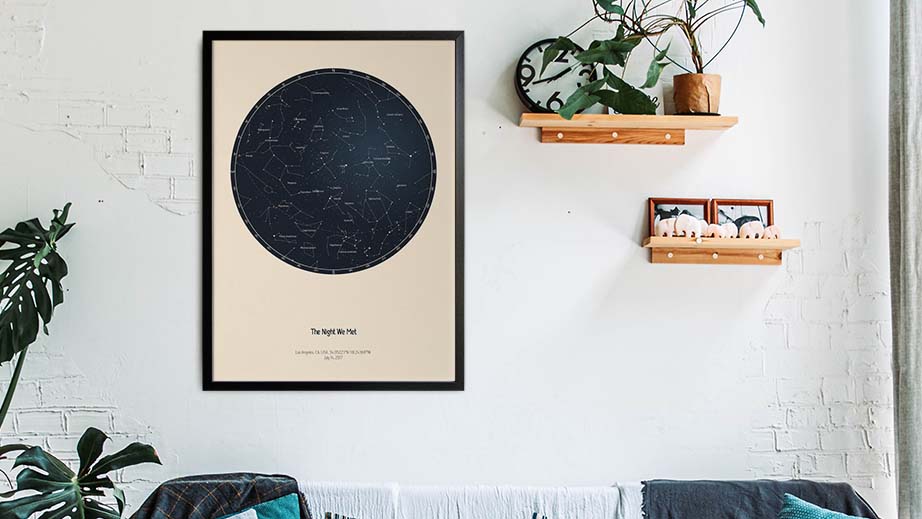 ⭐ Exact View Of The Night Sky From Any Location
✨ Detailed Design Including Planets, Constellation Names And The Milky Way
⭐ Interactive Stars the Night We Met Editor With An Instant Preview
✨ 100% Customizable
⭐ Choose From A Variety Of Printed Sizes Or Instant Digital Download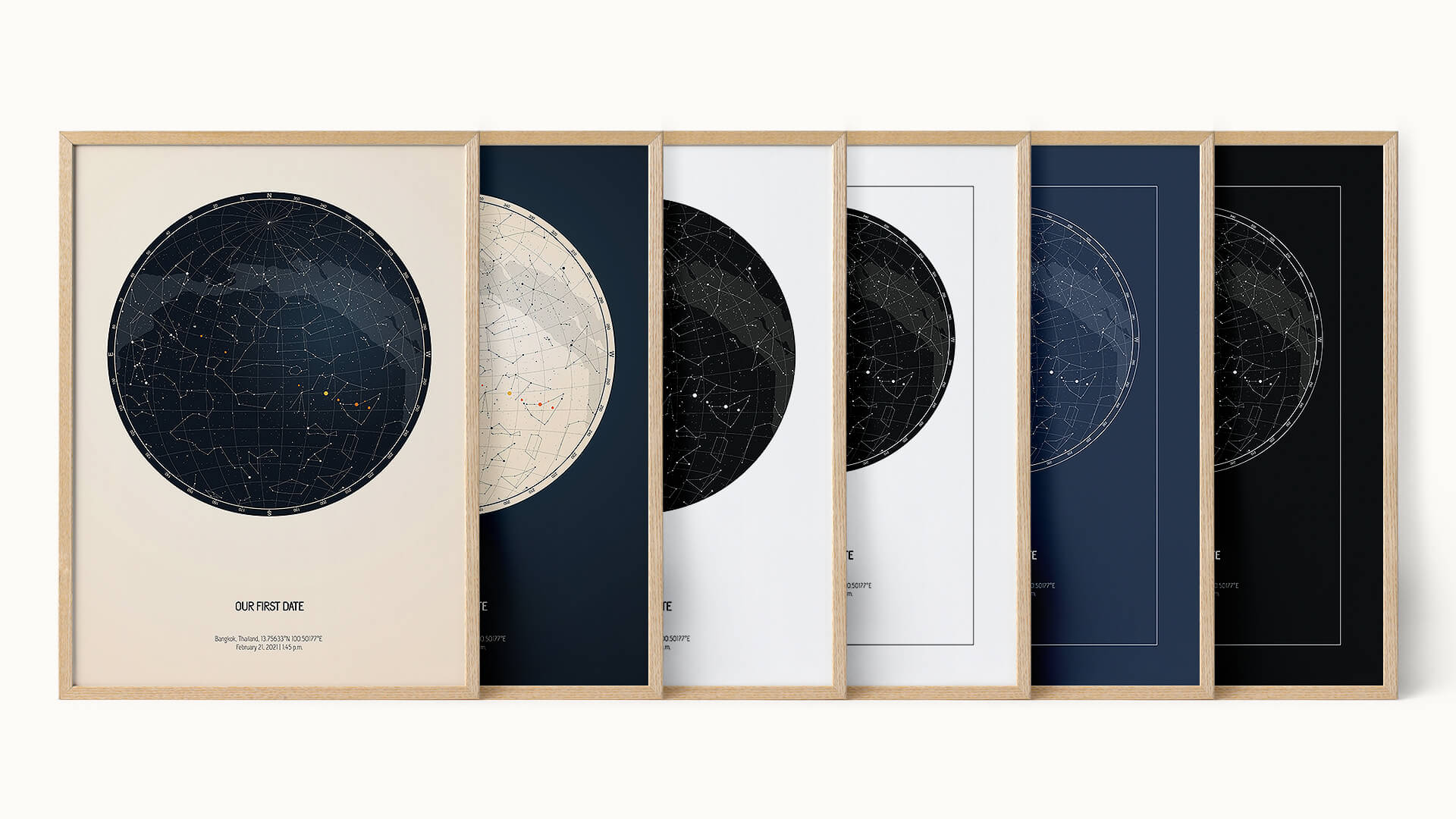 Magical moment captured by the stars
Think back to that moment in time when you met your soulmate. Think of all the decisions you both made in your life and the paths you both took that would lead to that single moment. Some may call it fate. Others call it destiny. No matter how you put it, it's a magical moment captured by the stars and the heavens. That's why a Stars the Night We Met poster is such a treasured gift.
Consider this: many of us don't realize we've met "the one" at that first meeting. Maybe it's a chance encounter that allowed your paths to cross. Or maybe a friend set you up on a blind date and you didn't know what to expect. While finding that special someone might feel like instant kismet, it can also take some time to realize that this feeling isn't just infatuation. This is why we don't always consciously think about all the events that led up to that chance meeting.
What is a poster of stars the night we met?
The night sky is an ever-evolving tapestry of stars, planets, constellations, and other celestial bodies. The sky you see in Spain will look different than the sky you see in Australia, even if two people are looking at the sky on the same day at the same time. Even from the same point on earth, the sky will not look exactly the same from night to night. This is what makes our Stars the Night We Met posters so unique.
Using our technology and custom star map creator, you can recreate what the night sky looked like on a date of your choosing from any location in the world. This gives you more flexibility and customization for your poster so that you can savor the moments that matter most to you.
Imagine bringing the night sky of your first date right into your living room or bedroom. Your poster will be an ongoing reminder of that one night that changed your lives forever.
Why create a Stars the Night We Met poster?
Many of our customers rely on Positive Prints as a single source for personalized gifts. The majority of our Stars the Night We Met posters are made for gifting. We've designed our maps to be easy to customize and show your loved one that you put extra time and thought into their gift.
Every star map poster is printed in professional, poster-grade material that's ready for framing. Likewise, we also offer prints on canvas and can even provide a frame for your artwork. The superior quality of our prints will rival the other framed artwork in your home or office, giving you a piece you'll be proud to display.
Our prints make the perfect gift for any occasion for him or her, including:
Engagements
Wedding anniversaries
Wedding gifts for newlyweds
Christmas
Valentine's Day
Just because!
There's never a wrong time to show your soulmate how much you love them and how grateful you are for the day you met.
How to turn a sky the night we met into a poster
Our custom Stars When We Met posters are artistically crafted and beautiful, but you don't have to be an artist yourself to get these results. Our simple three-step tool allows anyone to design their own custom poster and get a beautiful print.
Using our Star Map creator, you can choose the size of your print and the shape of your map. You can also choose how much detail appears on your map: planets and planet names, stars, constellations, and the Milky Way, for example.
You can also choose your specific location of where you first met, along with the date and time. This will ensure you get the most accurate representation of the night sky based on your experience.
Add a custom message to your loved one or details of your special day so that everyone who sees your art print will know its significance.
With every change you make in the custom editing tool, you can see those changes come to life in real time. Know exactly how your print will look when it comes to you!
Surprise your loved one with the Stars When We Met gift!
A Stars When We Met gift is one of a kind and truly an unexpected gift they'll treasure forever. It's easy to create and will look like you spent hours coming up with a gift that will wow them.
Tell your love story with a Stars the Night We Met poster - get started today!
Customer Reviews
Write a Review
Ask a Question
06/09/2021
Emilia K.

PL
06/09/2021
Vakhmintceva T.

RU
I received my order. Everything is good.
05/09/2021
Daniel G.

SE
Gave it as a wedding present and the bride and groom were so happy!
03/09/2021
Stefan K.

SE
Fast delivery and very nice product! Like it very much!
03/09/2021
Nadine B.

DE
Das Geschenk kam sehr gut an. Die Sendung war pünktlich und sorgsam verpackt. Herzlichen Dank für die tolle Idee und die wertige Umsetzung.
03/09/2021
Małgorzata D.

PL
Plakat przepiękny, jestem bardzo zadowolona. Polecam w 100% :)
03/09/2021
Blanca a.

ES
Muy buena calidad de impresión. Ha quedado genial.Y el tiempo de espera ha sido más corto de lo que decían en principio. Todo estupendo
02/09/2021
Gerda H.

DE
Es ist das 2. Mal, dass ich den Sternenhimmel bestellt habe. Danke für die schnelle Lieferung. Ich bin sehr zufrieden und hoffe, dass für den Beschenkten auch so ist. Danke !!!
02/09/2021
Delphine O.

FR
Parfait souvenir d'une très bonne qualité
02/09/2021
Sandra B.

DE
Ist gut angekommen und sieht sehr schick aus! Danke
02/09/2021
Cristina G.

FR
Hello! Thanks Positive Prints! My sister just... loved it :)
02/09/2021
Magdalena S.

PL
Super jakość, perfekcyjna dostawa pięknie zapakowany idealny prezent! 😍
02/09/2021
Rosina W.

AT