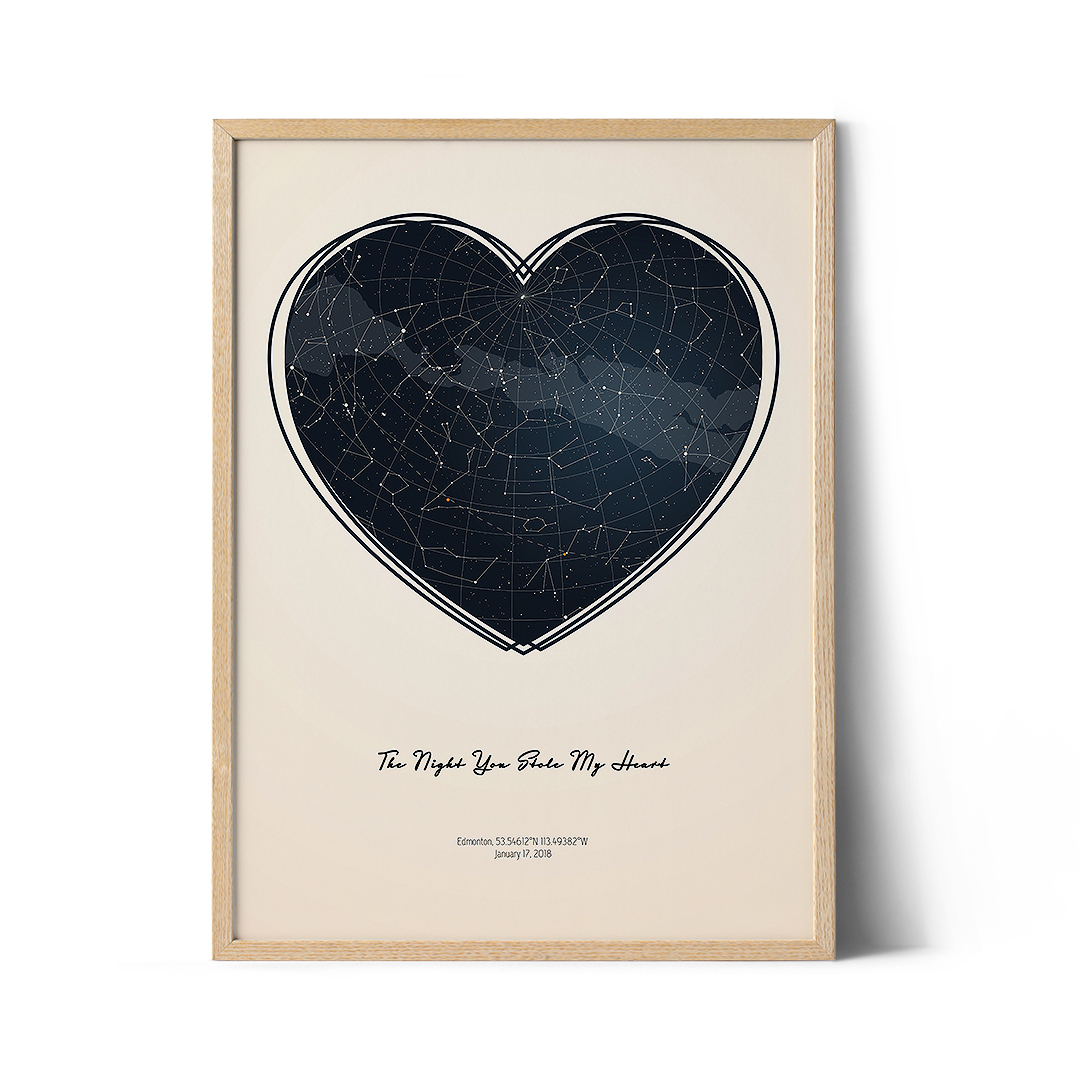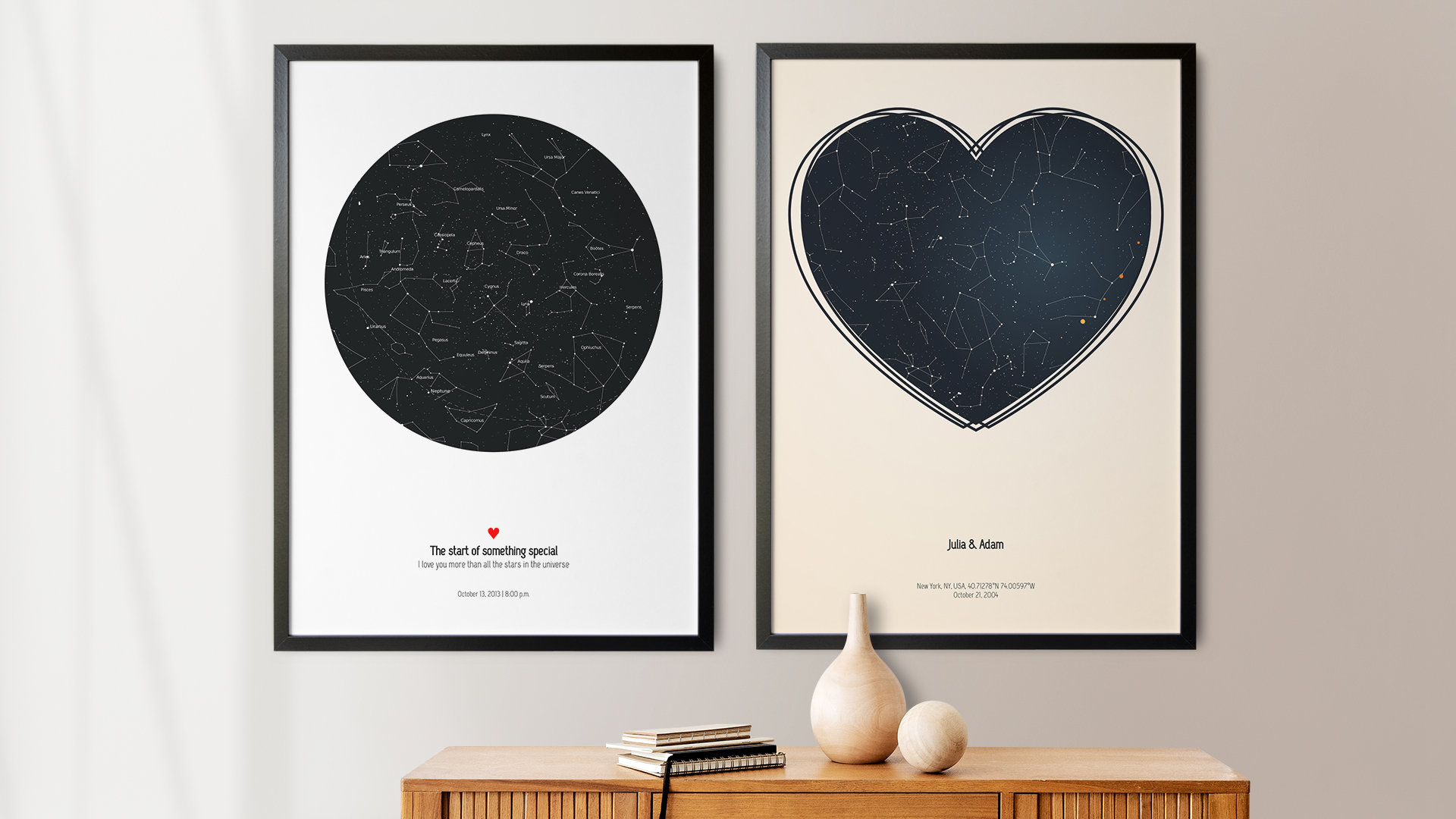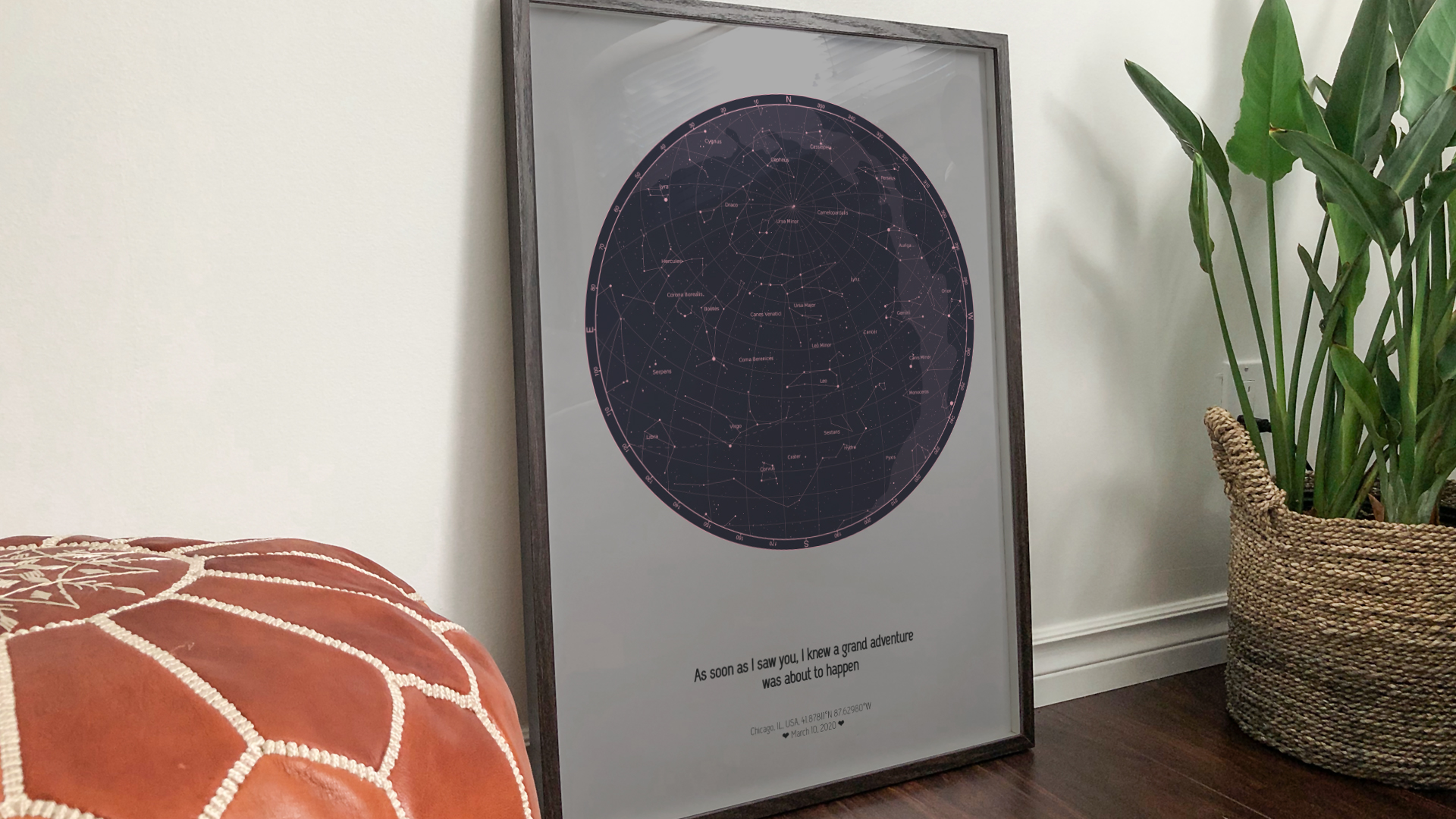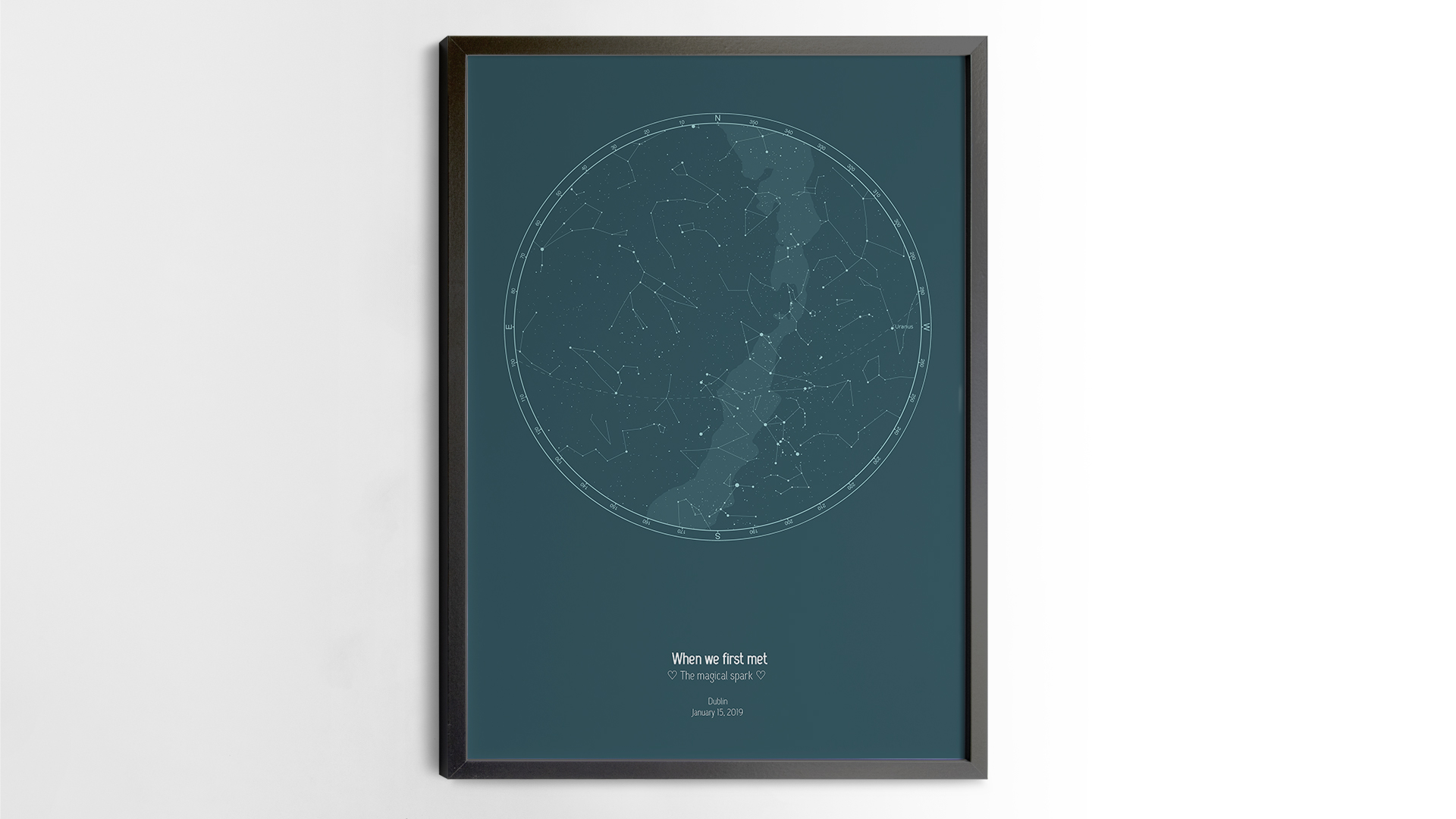 ⭐ Exact View Of The Night Sky From Any Location
✨ Detailed Design Including Planets, Constellation Names And The Milky Way
⭐ Interactive Stars the Night We Met Editor With An Instant Preview
✨ 100% Customizable
⭐ Choose From A Variety Of Printed Sizes Or Instant Digital Download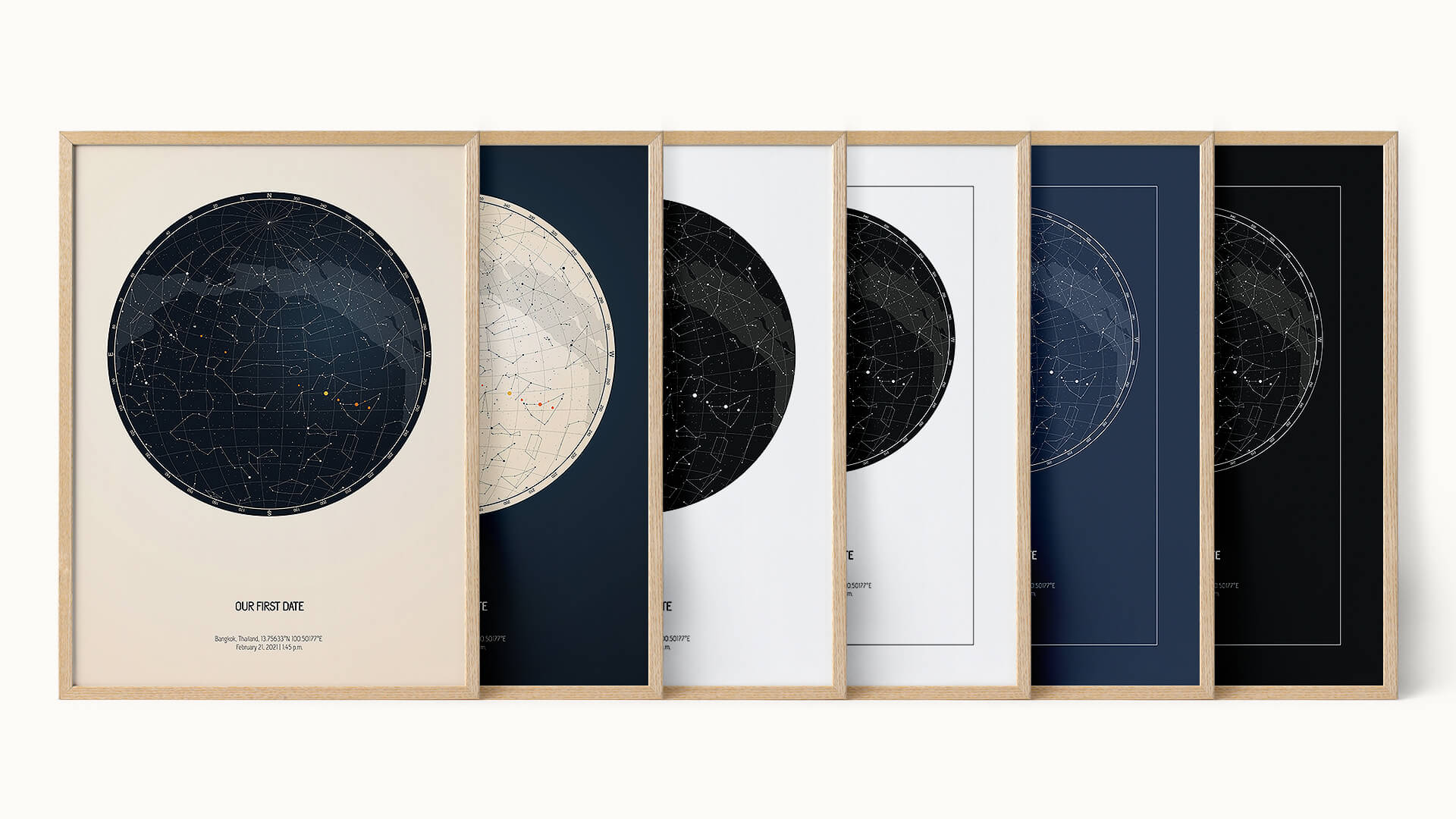 Magical moment captured by the stars
Think back to that moment in time when you met your soulmate. Think of all the decisions you both made in your life and the paths you both took that would lead to that single moment. Some may call it fate. Others call it destiny. No matter how you put it, it's a magical moment captured by the stars and the heavens. That's why a Stars the Night We Met poster is such a treasured gift.
Consider this: many of us don't realize we've met "the one" at that first meeting. Maybe it's a chance encounter that allowed your paths to cross. Or maybe a friend set you up on a blind date and you didn't know what to expect. While finding that special someone might feel like instant kismet, it can also take some time to realize that this feeling isn't just infatuation. This is why we don't always consciously think about all the events that led up to that chance meeting.
What is a poster of stars the night we met?
The night sky is an ever-evolving tapestry of stars, planets, constellations, and other celestial bodies. The sky you see in Spain will look different than the sky you see in Australia, even if two people are looking at the sky on the same day at the same time. Even from the same point on earth, the sky will not look exactly the same from night to night. This is what makes our Stars the Night We Met posters so unique.
Using our technology and custom star map creator, you can recreate what the night sky looked like on a date of your choosing from any location in the world. This gives you more flexibility and customization for your poster so that you can savor the moments that matter most to you.
Imagine bringing the night sky of your first date right into your living room or bedroom. Your poster will be an ongoing reminder of that one night that changed your lives forever.
Why create a Stars the Night We Met poster?
Many of our customers rely on Positive Prints as a single source for personalized gifts. The majority of our Stars the Night We Met posters are made for gifting. We've designed our maps to be easy to customize and show your loved one that you put extra time and thought into their gift.
Every star map poster is printed in professional, poster-grade material that's ready for framing. Likewise, we also offer prints on canvas and can even provide a frame for your artwork. The superior quality of our prints will rival the other framed artwork in your home or office, giving you a piece you'll be proud to display.
Our prints make the perfect gift for any occasion for him or her, including:
Engagements
Wedding anniversaries
Wedding gifts for newlyweds
Christmas
Valentine's Day
Just because!
There's never a wrong time to show your soulmate how much you love them and how grateful you are for the day you met.
How to turn a sky the night we met into a poster
Our custom Stars When We Met posters are artistically crafted and beautiful, but you don't have to be an artist yourself to get these results. Our simple three-step tool allows anyone to design their own custom poster and get a beautiful print.
Using our Star Map creator, you can choose the size of your print and the shape of your map. You can also choose how much detail appears on your map: planets and planet names, stars, constellations, and the Milky Way, for example.
You can also choose your specific location of where you first met, along with the date and time. This will ensure you get the most accurate representation of the night sky based on your experience.
Add a custom message to your loved one or details of your special day so that everyone who sees your art print will know its significance.
With every change you make in the custom editing tool, you can see those changes come to life in real time. Know exactly how your print will look when it comes to you!
Surprise your loved one with the Stars When We Met gift!
A Stars When We Met gift is one of a kind and truly an unexpected gift they'll treasure forever. It's easy to create and will look like you spent hours coming up with a gift that will wow them.
Tell your love story with a Stars the Night We Met poster - get started today!
Customer Reviews
Write a Review
Ask a Question
22/06/2021
Weronika K.

PL
Śliczne, doskonałej jakości, dokładnie takiej jak oczekiwałam. Jestem bardzo zadowolona z zakupu! Niezwykle oryginalny prezent.
22/06/2021
Andrea G.

IL
Je n'ai pas vu le résusltat final mais la personne à qui j'ai offert le cadeau a beaucoup aimé et l'a trouvé très beau. C'était urgent et j'ai envoyé un mail pour que le cadeau soit livré au plus vite. J'ai eu une réponse très rapide du service client qui a été très gentil et à l'écoute. La livraison express n'aurait pas servi parce que les délais étaient trop courts mais finalement le paquet a été reçu en quelques jours seulement. Merci beaucoup pour le service.
20/06/2021
Milena M.

PL
Jestem zachwyconą samym prezentem, jak i dbałością o klienta. Bardzo szybko dostawałam odpowiedzi na moje zapytania i uzyskałam pomoc. Polecam już innym znajomym i z entuzjazmem podaje Positive Prints jako rzetelną, konkretną i wyjątkową firmę. Dziękuję bardzo!
20/06/2021
Marika T.

PL
Super jakość, dobra komunikacja. Jestem zachwycona!
20/06/2021
Ester F.

ES
17/06/2021
Amanda V.

CA
17/06/2021
Karolina B.

PL
Kupiłam w prezencie na chrzest i wszystkim bardzo się spodobał. Siostra była zachwycona, że maluch będzie miał ładną pamiątkę i świetny plakat równocześnie (szczególnie mapa gwiazd ją zachwyciła). A do tego dodałam życiowy cytat i naprawdę wyszło coś pięknego (i w dobrej cenie) :) Bardzo polecam !!
16/06/2021
Mahesh g.

DE
Amazing
Thank you so much. Today my print got delivered and i was awe struck. You did an amazing work. My girlfriend love it a lot. Best gift so far from me to her. Thank you again!
16/06/2021
NOEMIE S.

FR
La livraison était plus rapide que prévu ! La qualité est superbe mais le cadre est en plastique... j'aurais voulu qu'il soit en verre.
17/06/2021
Positive Prints
Merci beaucoup pour votre gentil retour ! Nous sommes heureux que vous aimiez votre impression. Bien qu'il soit communément admis que le verre est un matériau supérieur au plexiglas, ce n'est en fait pas le cas (du moins en ce qui concerne les cadres d'affiches). Le plexiglas a une résistance aux chocs plus élevée que le verre, ce qui signifie qu'il nécessite plus de force derrière lui pour se briser. Il n'est pas non plus sujet à la corrosion, ce qui est malheureusement le cas pour le verre. Il n'y a rien de plus ennuyeux qu'une œuvre d'art ou une photo obscurcie à cause de la lumière réfléchie. Le verre, contrairement au plexiglas, a tendance à être plus sensible à l'éblouissement. La clarté des cadres photo a tendance à être reflétée par la quantité de lumière qu'il laisse passer. Le verre laisse passer en moyenne 80 % de la lumière et le plexiglas laisse passer environ 90 % de la lumière. Nous réfléchirons à vous offrir la possibilité de choisir le matériau. Merci pour cette nourriture de réflexion ! Passez une bonne journee.
16/06/2021
M. Zonneveld-Boer

NL
My daughter was very happy with her starry night on her birth date and the quote of Peter Pan! Quick and good delivery. Thumbs up!
15/06/2021
Szymon T.

PL
Wszystko super, obraz piękny.
14/06/2021
Sabine H.

AT
Alles hat perfekt geklappt!!!
13/06/2021
Gaby S.

DE
Danke der Nachfrage - meine zwei Bestellungen wurden super ausgeführt! Beide waren für eine Hochzeit gedacht, die (wegen Corona) immer wieder verlegt wurde! Und ich werde auch ein drittes Mal bestellen müssen, da der Tag nochmals verlegt wurde! Jetzt aber hat die Traumhochzeit stattgefunden und ich kann in Ruhe (nach)bestellen. Auf jeden Fall: Ein tolles Geschenk!
13/06/2021
Franziska G.

DE
Sehr schönes Geschenk zur Hochzeit meiner Schwester. Viele Auswahlmöglichkeiten an Designs. Gerne wieder
12/06/2021
Magda D.

PL
Super produkty! Piękna pamiątka świetnej jakości! Zamówiłam już dwa razy i z pewnością jeszcze po nie wrócę...