Maybe you're about to celebrate one whole year of blissful marriage. Or perhaps you and your partner have been together for what seems like a lifetime. Or maybe a special couple in your life will soon tie the knot or celebrate a milestone anniversary. Whatever the case, you want to ensure that your personalized wedding anniversary gifts are ones that will make an impact.
For the most important moments in life, personalized wedding anniversary gifts are experts in making sentimental statements. No love story is quite the same. And a personalized gift is a great way to illustrate what makes a relationship special.
At Positive Prints, we've designed all of our custom art prints to represent the moments in life that matter most to you. We can appreciate that every couple has a unique story to tell. We're also here to help you illustrate your story and preserve your memories together in the best possible way. Our prints make excellent additions to your home decor. It allow others to share in the milestones that you've enjoyed together.
If you need some inspiration to get you started, consider the following ways to commemorate your milestone anniversaries: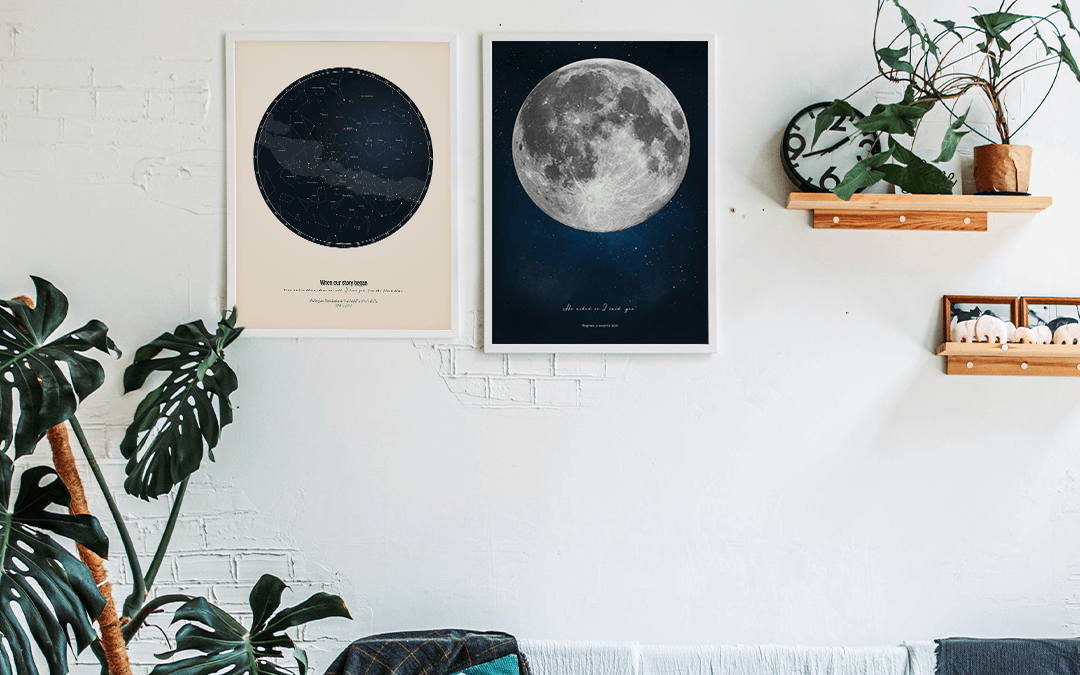 The Most Important Dates to Remember
The weight of a relationship isn't just about how long you've been together, but rather how many special moments you've shared together. Every milestone in a relationship is another special date worth remembering. Your first kiss, first trip together, the night of your proposal. Your wedding night, your first home, and countless other momentous occasions.
No matter the event or when it occurs, personalized wedding anniversary gifts can illustrate the occasion.
Our moon phase poster is a great way to remember exactly how the moon appeared on the night of your most magical moments. Each custom moon phase poster is created based on your chosen date and location to create an exact replica. Now, when you look at your moon poster, you'll be looking at the same moon that beamed down on you on an important day of your life.
Similar to our moon posters, our custom star maps recreate the entire night sky on your most important dates. Based on your location and date, as well as star mapping data, your unique star map illustrates how the universe came together for your important events.
With each poster, you can include important details like dates, locations, and custom text. Add your favorite quote, your names, or any other information that will make your poster truly one of a kind.
The Most Important Places to Remember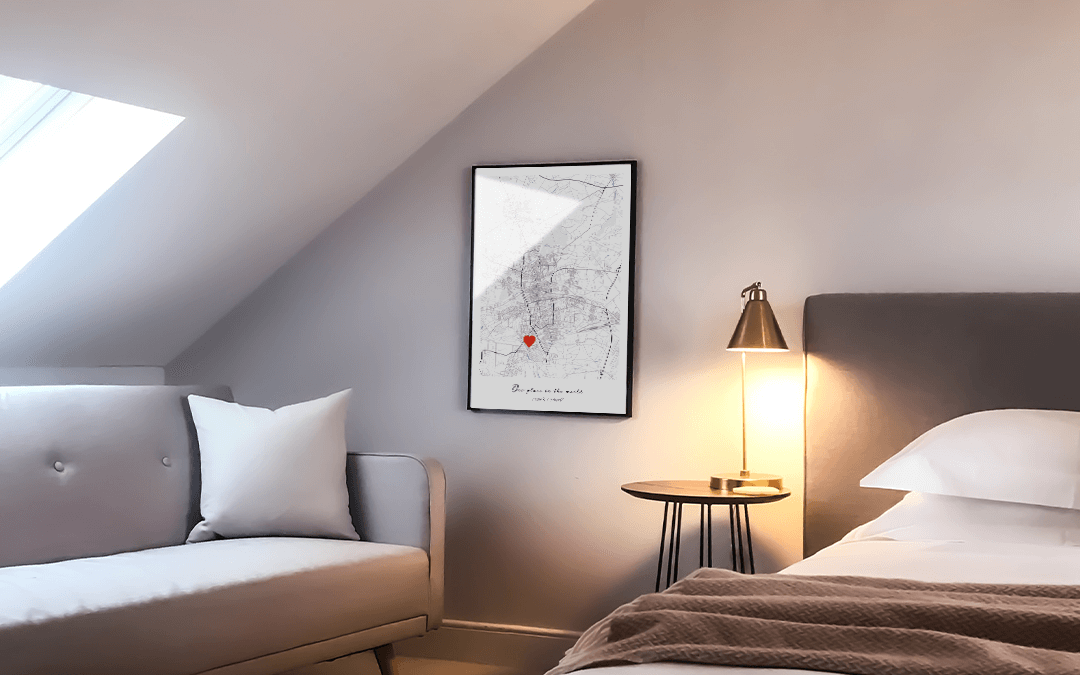 Where did you go for your very first date? Where were you when you first fell in love? How about the place where you said I Do, or where you decided to buy a house and turn it into a home?
It's not just about the place, but rather the experience of doing things together. To celebrate all of your most important milestones, our custom map art prints illustrate the places that matter most to you.
Every map is a detailed depiction of the places that have shaped your love story. From cities you've lived in to cities you've traveled to. Your maps can decorate your home and highlight just how far you've come together. Some couples even start a custom map collection to keep track of the places they've seen. And over the course of a lifetime of love and adventures. Your unique map collection could be endless!
If you want to think farther outside of the box, consider creating several map prints to make a timeline of your love story. From the first date to the first kiss to the first wedding dance and more, our custom maps can help you relive the journey you've taken together.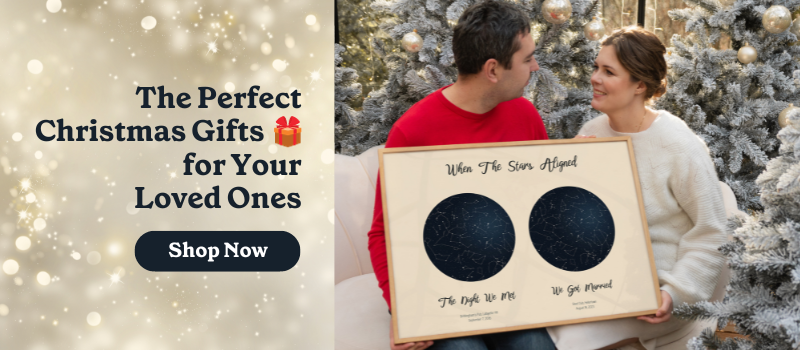 Get Personalized Wedding Anniversary Gifts from Positive Prints!
There's no doubt that the best wedding anniversary gifts are the memories you've created together and the time you've invested in your relationship. The right personalized prints can help to bring your most special moments to life and preserve those memories for a lifetime.
At Positive Prints, we've removed the barriers and complexities of creating custom artwork to ensure quality prints are within everyone's reach. Our easy to use online print creator takes you through each step and allows you to order custom prints within minutes. Simply choose your colour scheme, size, orientation. Fill in few other details, add your custom text, and preview what your print will look like before you order it.
Opt for a hardcopy print that's perfectly sized for easy framing. Or a digital download that makes an excellent last minute wedding anniversary gift. And new to the Positive Prints collection, you can also add your moon phase or city map art to a decorative pillow.
Get started creating your personalized wedding anniversary gifts today. Remember forever the moments that built your relationship.