Personalized Moon Phase Print

✓ Recreate The Moon Phase On Your Chosen Date And Place
✓ Interactive Moon Phase Editor With An Instant Preview
✓ Choose Between 6 Beautiful Designs
✓ Add a personal message
✓ Select Between Printed Poster, Canvas Print Or Instant Digital Download

FREE SHIPPING
We send worldwide with no extra cost
MADE TO ORDER
Created just for you
GREENER PRINTING
Using sustainably sourced, FSC-certified paper and wood
How it works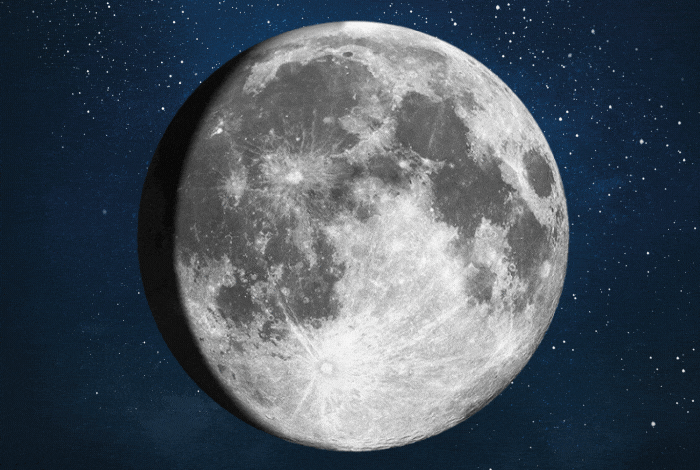 Discover the moon phase.
Select date and place to discover how the moon looked during that moment in time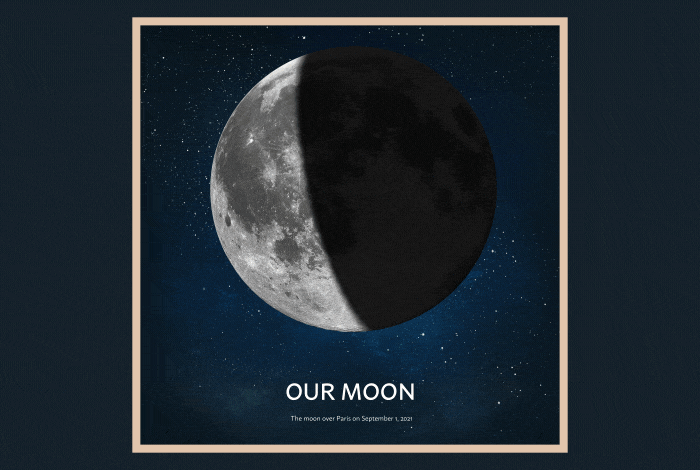 Choose your design.
Our creative team carefully selected 6 most beautiful designs to choose from.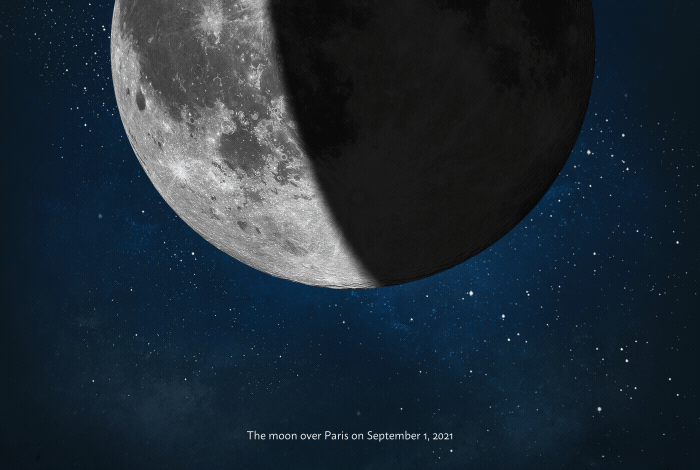 Write a personal message.
Add some personal touch by customizing the title with your own words.
Customer Reviews
Write a Review
Ask a Question
11/12/2021
David J.

US
The moon picture arrived safe and sound. I love it, and come Christmas morning I think my wife will too. Thank you very much. Dave Jackson
05/11/2021
Lilian A.

US
02/11/2021
Emilie L.

CA
I received my order. I love it and it looks fabulous! The only comment I would make is with the packaging. The print was rolled but sort of flattened so it has folds in it now. I'm laying it flat with weight on it to try and get the folds out. Not a big issue but room for improvement. Thanks again!
04/11/2021
Positive Prints
Hello Emilie, I'm happy to hear that you love your poster! I'm sorry if your map has folds! That's not in keeping with our shipping practices. Could you please send us pictures of what you received at [email protected]? I will do everything I can to help you! We take your review seriously and will do our best to ensure that we learn from it and improve. Thanks in advance for your reply!
02/11/2021
Emilie L.

CA
I received my order. I love it and it looks fabulous! The only comment I would make is with the packaging. The print was rolled but sort of flattened so it has folds in it now. I'm laying it flat with weight on it to try and get the folds out. Not a big issue but room for improvement. Thanks again!
02/11/2021
Menegatti C.

FR
Très bonne qualité d'impression. Petit regret de ne pas avoir pu régler la position et taille de la Lune. Pouvoir varier les nuances de couleurs de fond de la galaxie serait un plaisir. Merci pour l'idée de cadeau original !
04/11/2021
Positive Prints
Bonjour, Merci pour votre avis! Je suis heureux d'apprendre que vous aimez votre affiche :) Malheureusement, nous ne sommes pas en mesure d'ajuster la position et la taille de la Lune pour le moment. Ce serait une fonctionnalité incroyable et nous espérons pouvoir l'intégrer à l'avenir ! Merci d'être notre précieux client. Je te souhaite le meilleur!
24/10/2021
Levaillant C.

FR
22/10/2021
Sara

PL
05/10/2021
Mansi P.

US
Wonderful quality and exceptional customer service!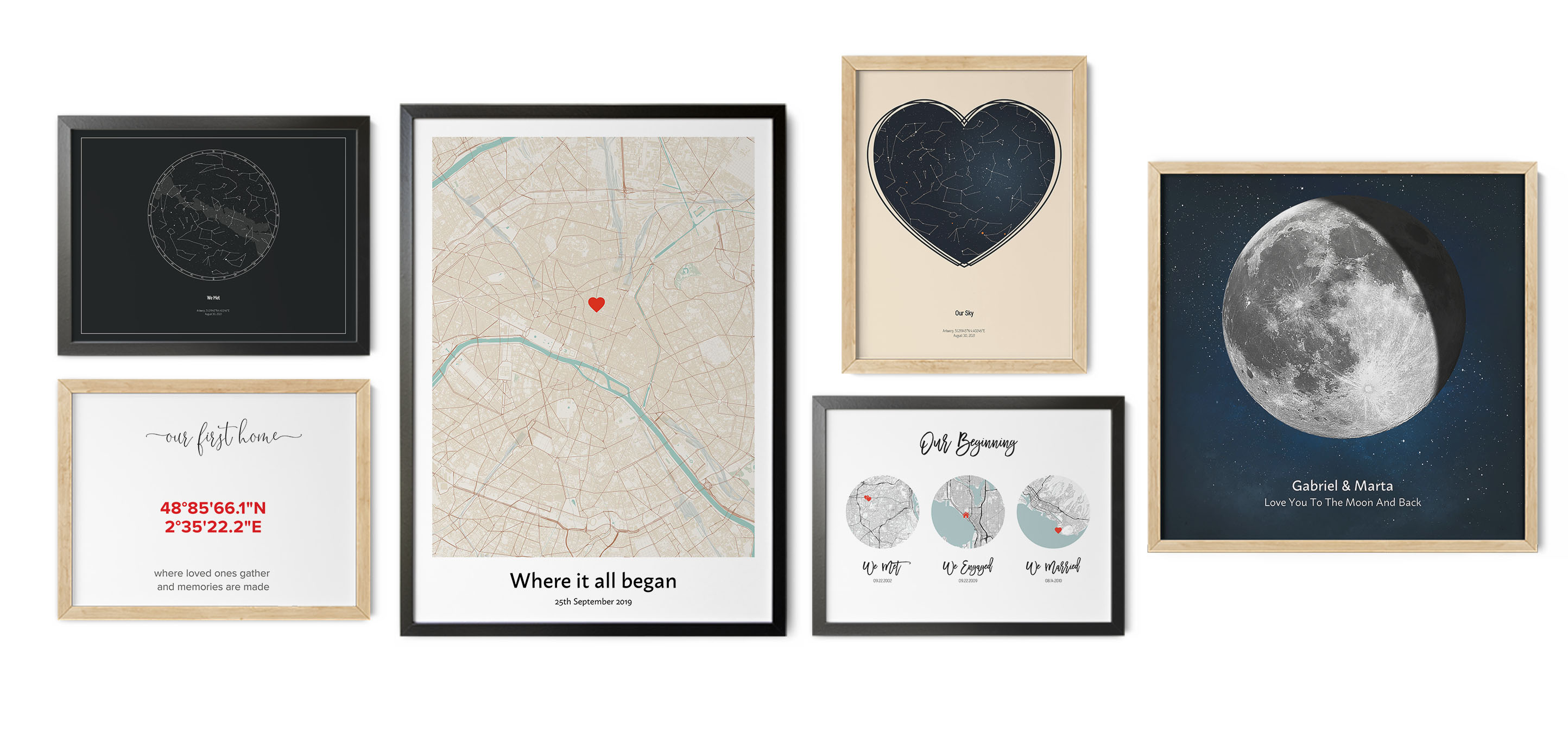 You found The Perfect Gift
Personalized prints make a lasting, meaningful gift.
✔ Printed on elegant, matte art paper of 200 gsm or beautiful 340 g/m² canvas fabric ✔ Choose from over 100+ themes and styles to fit any occasion ✔ Pick between a small size print or a statement decor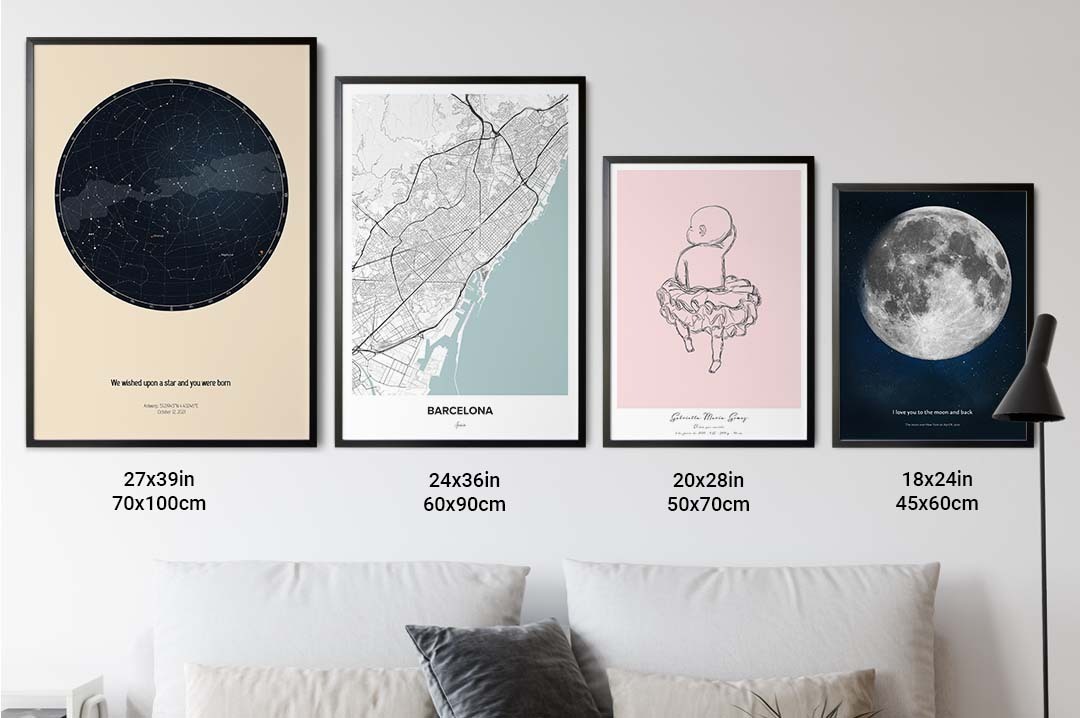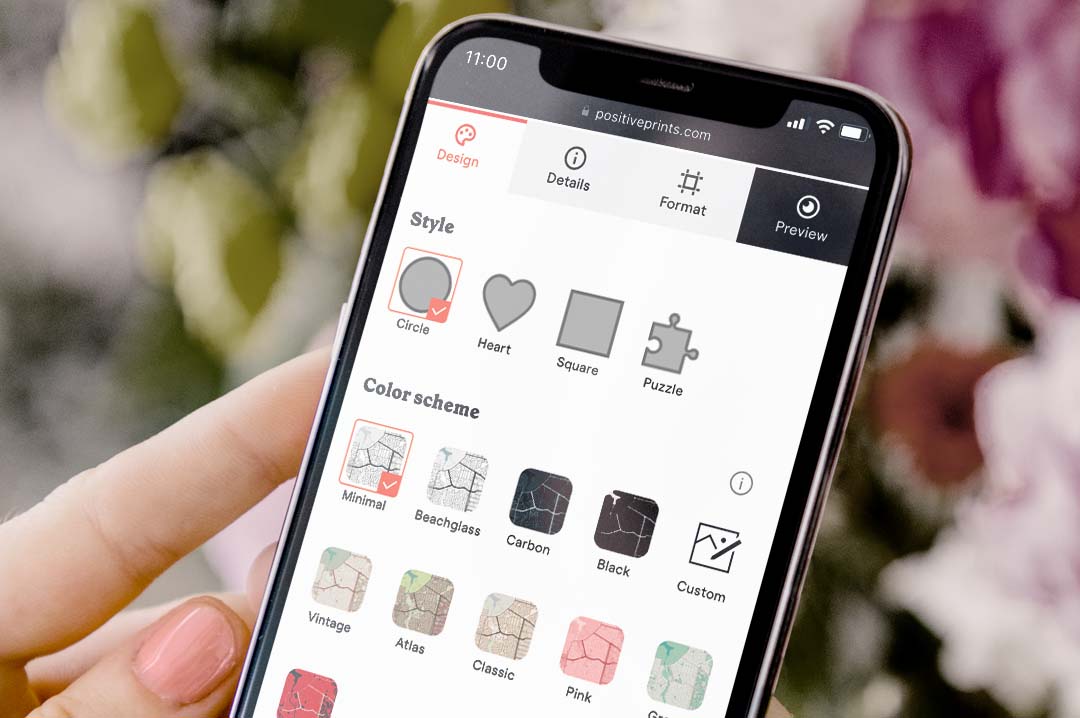 Or choose a last minute digital download
✔ Available immediately after purchase ✔ Can be printed in the format of your choice ✔ High quality JPEG files of 300dpi
Create digital file now
Custom moon phase poster will bring back memories from your favorite nights. Now you can cherish your brightest moments and best memories under an identical sky! Truly unique moon phase gift.
Moon poster with a personal touch
Honor the brightest spot in the night sky with a personalized moon poster! Galileo said as he peered through his telescope: "It is a beautiful and delightful sight to behold the body of the Moon." Now you can share the beauty of the moonscape with our moon wall art. The moon plays a powerful role in our lives, from controlling the flow of the tides to casting light into the dark. Using astronomical data, you can create a moon print based on any date and location.
Want to remember what the moon was like on your wedding night? Or the sky when your child was born? Or you wonder what the moon looked like on your birthday? Try our free moon phase calculator to learn how the moon looked during your most special milestone moments! A custom moon map makes is one of the most amazing moon gifts with a personal touch.
Suprise your loved ones with a personalized moon print
Are you struggling to find a meaningful gift for your loved one who happens to be a moon lover? Then you may want to consider moon phase gifts. The moon phase shape corresponds to the form of the moon at a specific time during the moon's cycle. For example, you might have a full moon or crescent moon. For many people, seeing different phases of the moon can help them remember special events.
To make this easier, we are able to help you find the right moon phase, with two simple steps. First, enter the location where your special memory occurred. Next, put in the date. Then, the moon phase can be calculated. Let's take a more comprehensive look at this idea, and see why a custom moon poster might make a great present.
On your way to the hospital to welcome a new family member into the world? Now, you can always remember the night when someone was born with their moon art print. With just a few clicks, your custom lunar print will be ready to ship anywhere in the world within a few days. Need it right away? Select an printable digital moon so you can have your local print shop put your design on glass, wood, or even a t-shirt!
How to make custom moon poster
From the Sea of Serenity to the Man in The Moon. Our nearest celestial neighbor tells a different story to everyone who takes the time to look up. Using highly-targeted astronomical data with our poster-building app, you can select your moon date and location, one of eight background color schemes (night sky, black, white, navy, beige, emerald, purple galaxy or shooting stars), and even add a custom message to your moon print. You will never forget how beautiful and meaningful the moon was that night!
To make certain that you get the best design, you might want to change a few features. For instance, you might want to customize the phase of the moon. Alternatively, you might want to alter the background, to better highlight the beauty of the moon. By doing this, you'll be able to re-create the special night more faithfully. This customization is sure to trigger some memories for the recipient.
The tools offered by Positive Prints will make this easy for you. By featuring an interactive moon phase design tool and several different sizing options, you'll be able to get a gift that will delight the recipient. Also, you will be able to determine the format that you want to use. You can elect to have the image printed as a portrait, square, or landscape.
Moon artwork can trigger memories
The moon phase can be a great way to recreate memories of good times in a relationship. For example, you might want to make a poster showing the moon phase when you or your partner first kissed. Alternatively, you might want to create a moon canvas to commemorate the moon phase on the night of your child's birth. Another suggestion is creating a moon phase gift of the night you and your partner were married or got engaged. As we said, all you need to do is input the date and location where the event occurred to find the right moon phase. These wedding or engagement gifts are an excellent way of capturing and sharing those precious memories, strengthening your bond.
A moon artwork is one of the most meaningful presents that you can get. The moon and the stars can trigger our memories, causing your loved ones to think of the time that you've spent together. Whether you want to get it as an anniversary moon gift or wedding gift for your partner or a way of celebrating your child's first birthday, a custom-made moon phase present is the perfect gift for any occasion.
There are also choices to think about to pick the type of moon phase product that you want to use. There are three different options for you to explore. You can get a printed poster (or framed), which is perfect for hanging in your home or your office. A digital download of the design is also an option, which you can later print yourself. Finally, you can choose to turn your moon phase into a canvas. This choice will make an excellent decoration for your home. Or, you might want to use the pillow as a way of comforting your child on camps or school trips.