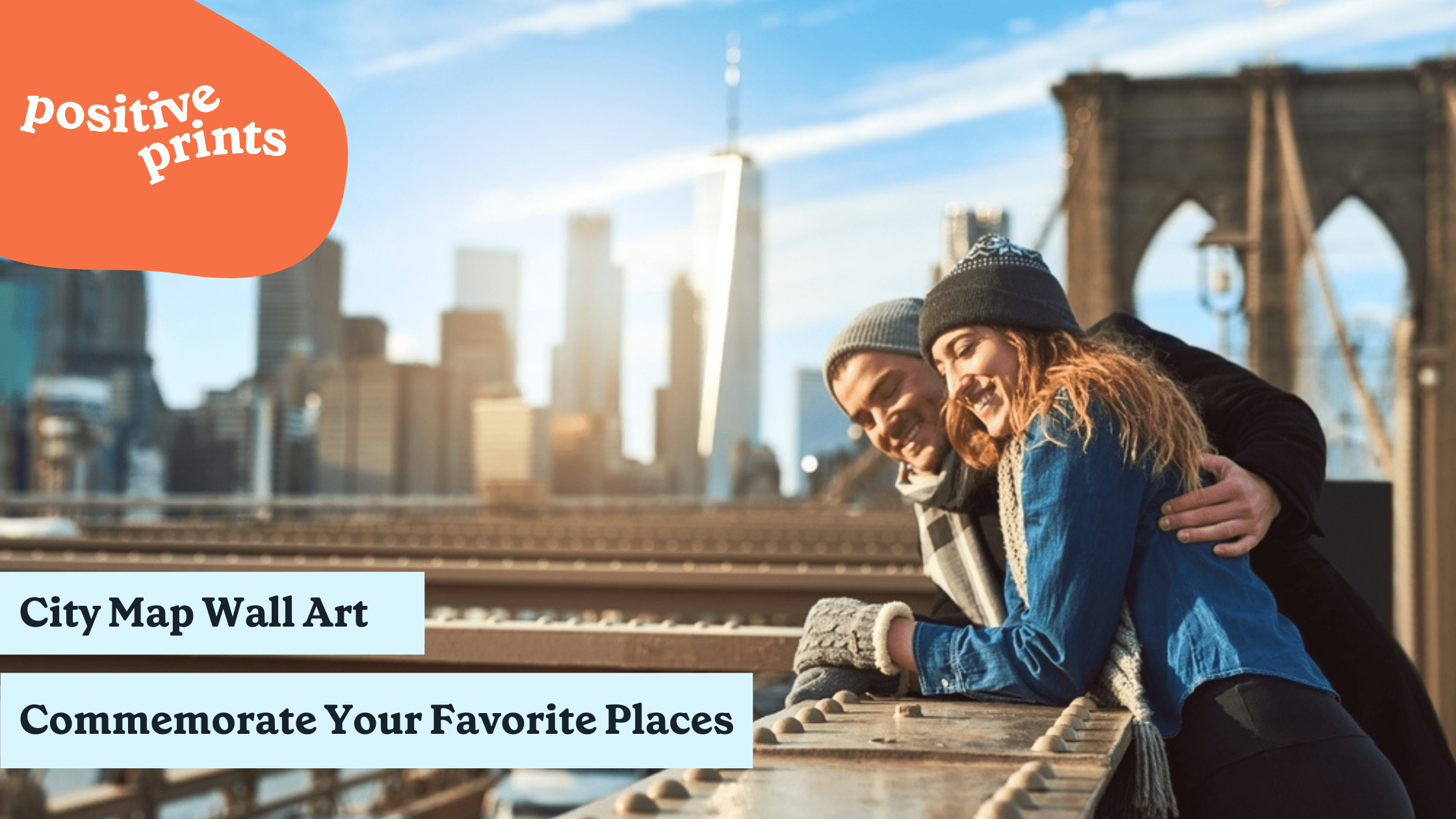 Updated Septemeber 2023
Everyone knows a special place. Maybe it's the city you grew up in or the place you used to visit on family vacations. Or perhaps you've fallen in love with the city you live in today. Wherever makes your heart smile, city map wall art is a great way to commemorate your favorite places and make them part of your home or office.
What's So Special About City Map Wall Art?
More than a map or a mass-produced piece of wall art, city map wall art puts you in the role of designer to create a truly custom work of art. What's more, you get to select a city that means something special to you or the person you're creating it for.
Aside from practicalities, there's always something comforting about knowing where you are in the world or even recalling a special place you once were. It's no surprise that city maps have been around for centuries — pretty much since humans began living in larger, organized collectives that became permanent and growing dwellings.
It is no surprise that the earliest city map discovered was carved on a fragment of clay tablet and depicts the ancient Sumerian city of Nipper, which you would now find in southeast Iraq. It's 3,500 years old and clearly shows important temples, the city park, canals, and the protective city walls and their entrance gates.
Even today, in the USA, no two cities are quite alike, and whether you love traveling between states or across oceans, there's always something unique to explore and discover. A Custom City Map Print is a great way to find all the hidden gems that add character and intrigue to the places you visit.
Your custom city map wall art is created using the latest GPS technology to create a scale replica of your chosen city's major highways, side streets, and back alleys. Much like the vessels in our own bodies, streets are what give every city its life. They carry travelers to their destinations and allow the city to thrive. And every time you look at your Custom Map Print, you'll be inspired to start planning your next adventure.
If you're searching for a unique, unexpected gift, a high-quality print of a beautiful city certainly doesn't disappoint. Anyone can go to a store and grab a gift off the shelf, but this does little to personalize the experience. What's more, there's always the risk that they already have what you bought them.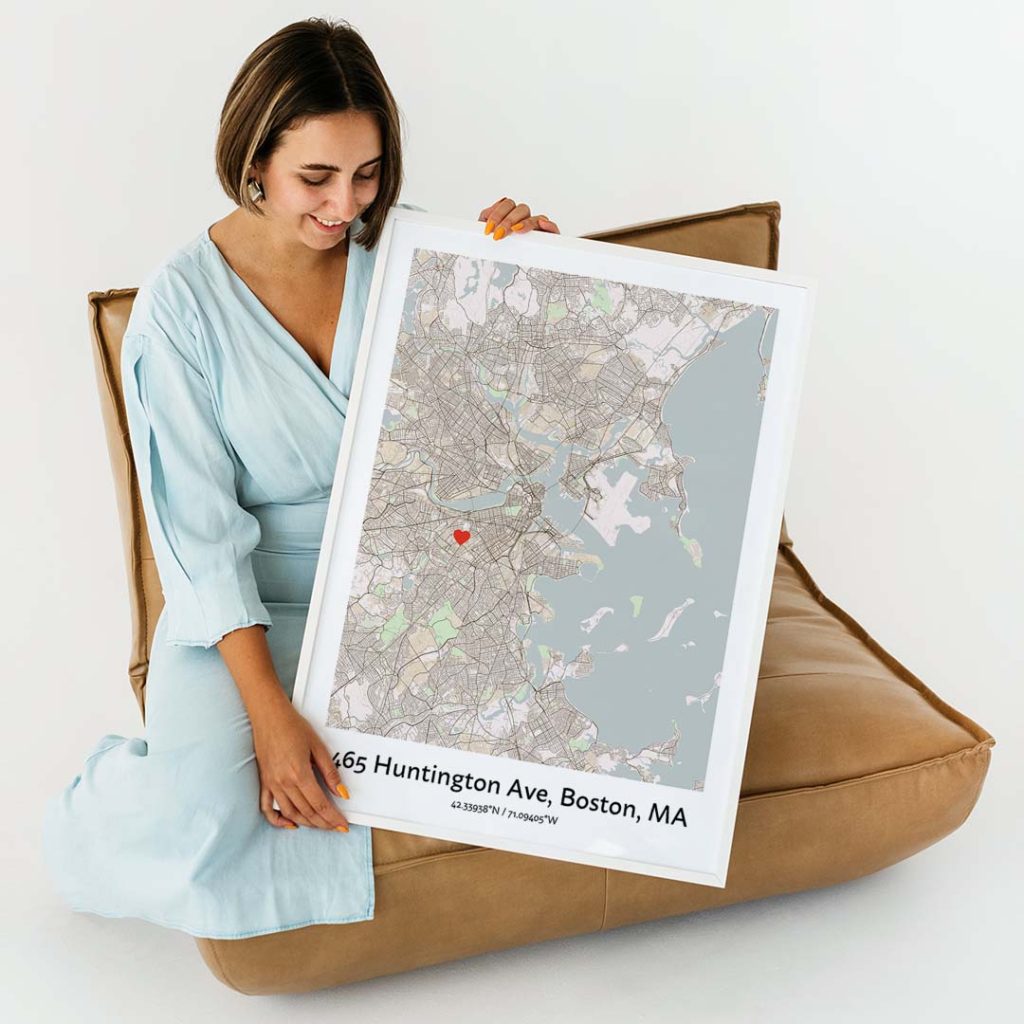 The Perfect Occasion to Gift a Custom Map Print
Opting for a unique piece of custom City Map Wall Art brings personalized sentiment to a gift. It shows you know a person well and are more than prepared to put extra care and thought into creating a special present just for them. Thanks to the versatility of city map art, with clever and appropriate personalization, it makes the ideal gift for a wide range of occasions.
Imagine surprising your significant other with a city map depicting exactly where you met for the first time, whether it was a favorite restaurant, a local bar you shared, or even the street corner where you accidentally ran into each other!
For a wedding or anniversary gift, how about a bespoke Met, Engaged, Married Map? This wonderfully versatile piece of wall art offers the opportunity to reproduce maps for three separate locations: where a couple may have first met, the special spot where the proposal was made, and finally, the venue of the wedding.
With special symbols to choose from to mark each address and the option to add text and messages, it's hard to think of a more personal, special, and heart-warming gift to give or receive. A bespoke cartographic depiction of a unique romantic journey that will undoubtedly take pride of place in a couple's home forever.
Yet city map prints prove to be thoughtful gifts for many other occasions, especially ones where getting an appropriate gift might otherwise be a headache. For example, a beautiful piece of wall art will always make a welcome housewarming present, but how about a print that elegantly maps just where you are in the neighborhood you moved to?
For a graduation at one end of working life or retirement at the other, custom maps depicting a city with a university where so many memories were made or a fondly remembered workplace make a special present that's sensitive and appropriate as a gift from friends or colleagues.
Even as an inspirational gift designed to spark wanderlust in an aspiring traveler or a present for those who've already journeyed around the globe, a personalized map of a city they dream of seeing or even spending a while living in, or a place that became a favorite destination, is certain to be received as a wonderful, personal memento. City map art makes excellent gifts for all ages and all occasions.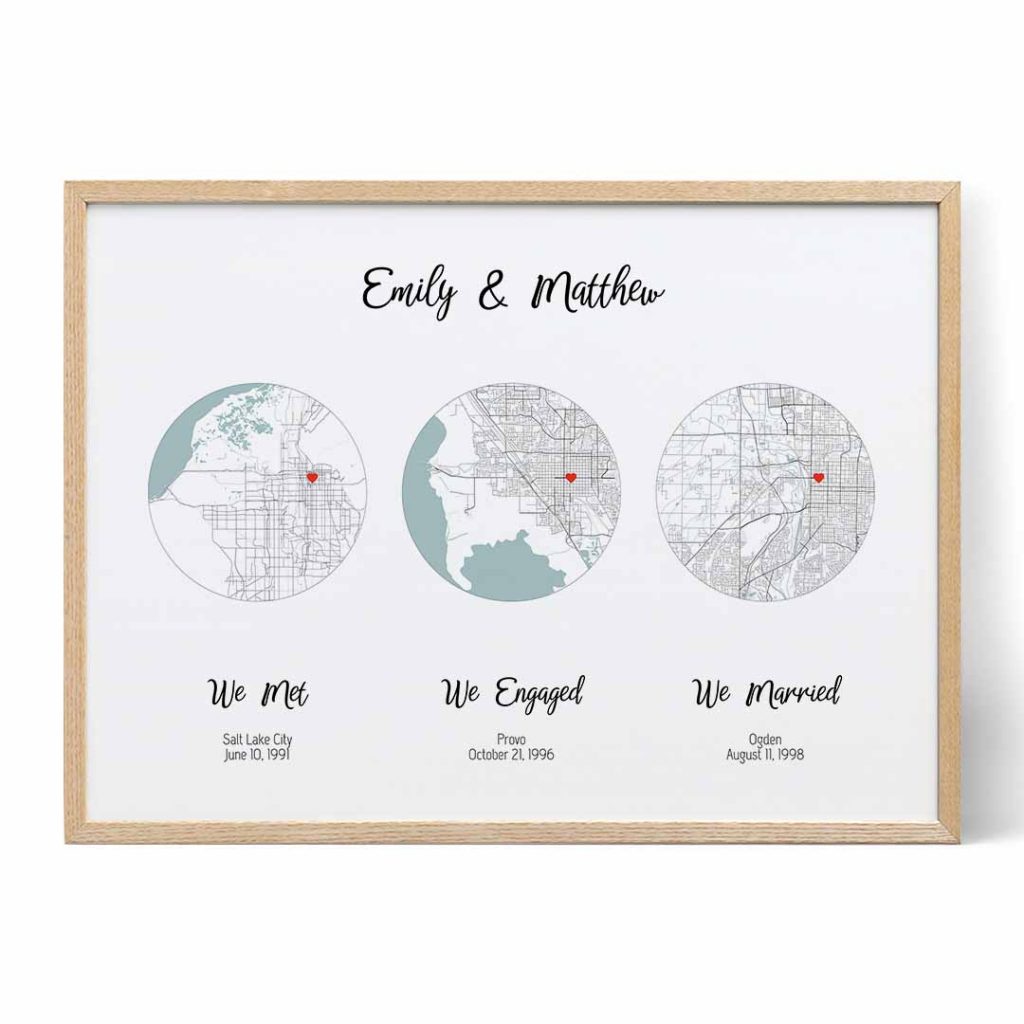 How to Personalize Your City Map Wall Art
One of the benefits of buying a personalized city map instead of one that's mass-produced is the opportunity to fully customize your print. It's not just a matter of getting a map of your chosen city printed on paper. It's also about choosing a color scheme that speaks to your personal tastes, dialing in on a specific area of a city, and choosing the size and shape of your map. And most importantly, it allows you to add custom text to your print that makes it truly unique to you.
How about giving a gift that travels through time? For history enthusiasts, or those who have roots and generations of family in a certain location, how about a map montage, using the latest GPS technology to generate a map of the city they live in as it is today, laid out alongside scans of older maps, depicting how a city looked fifty or even a hundred years ago delivering a fascinating snapshot of how the place a person loves has thrived and grown.
Include a message for your gift recipient to make it even more special. Or, add a special date or name of a place to mark a specific occasion in your favorite city. This is a great way to commemorate your wedding day, an anniversary trip, first dates, where you grew up or went to college, or any milestone events in your life. The only limit is your imagination!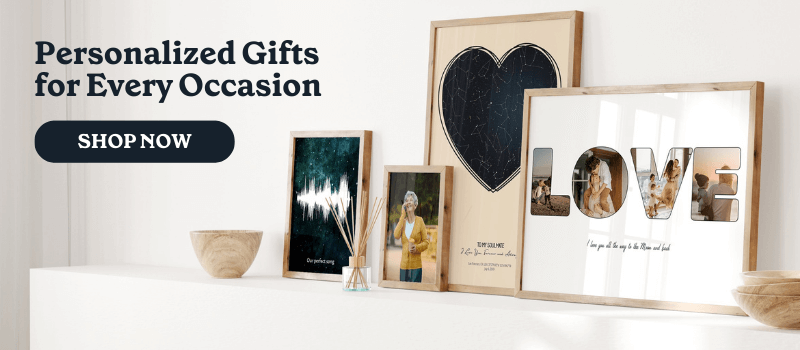 Tips for Displaying Your City Map Wall Art
Finding a special place for your city map wall art is just as important as the map itself. These beautiful maps are just as artistic and creative as they are informative, and you'll want to choose a spot in your home or office where you can share their beauty with others.
First, you'll want to choose a nice frame to protect your print and complement its design. If you've ordered a print from Positive Prints, you'll notice we offer several standard sizes that should make framing your print a breeze.
Another fun design tip is to create multiple city maps and display them in the same frame. This allows you to create a unique patchwork of your travels and allows a single piece of art to tell a rich story of your life.
Though installing a gallery spotlight isn't required to capture your custom wall map's beauty, good lighting is always a good idea. The right lighting can help all the little details of your city map art shine and ensure no street or feature goes overlooked.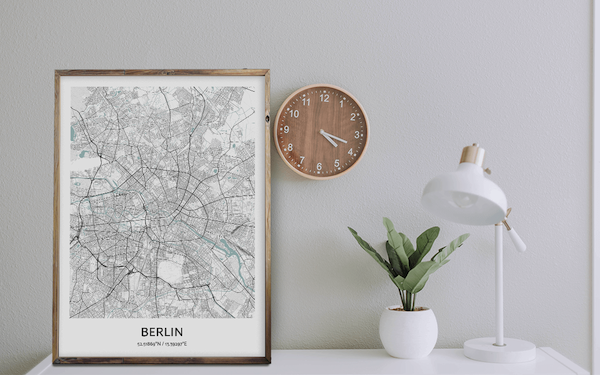 Create Your City Map Wall Art that's Special to You!
There's a story behind every custom map. No matter where you've traveled or where you dream of visiting next, a custom city map wall art poster is a beautiful piece of your journey.
Get started today with our easy-to-use city map wall art poster creator and commemorate your favorite cities in a fun, creative way!
Get Creative Now with City Maps for Special Memories and All Occasions