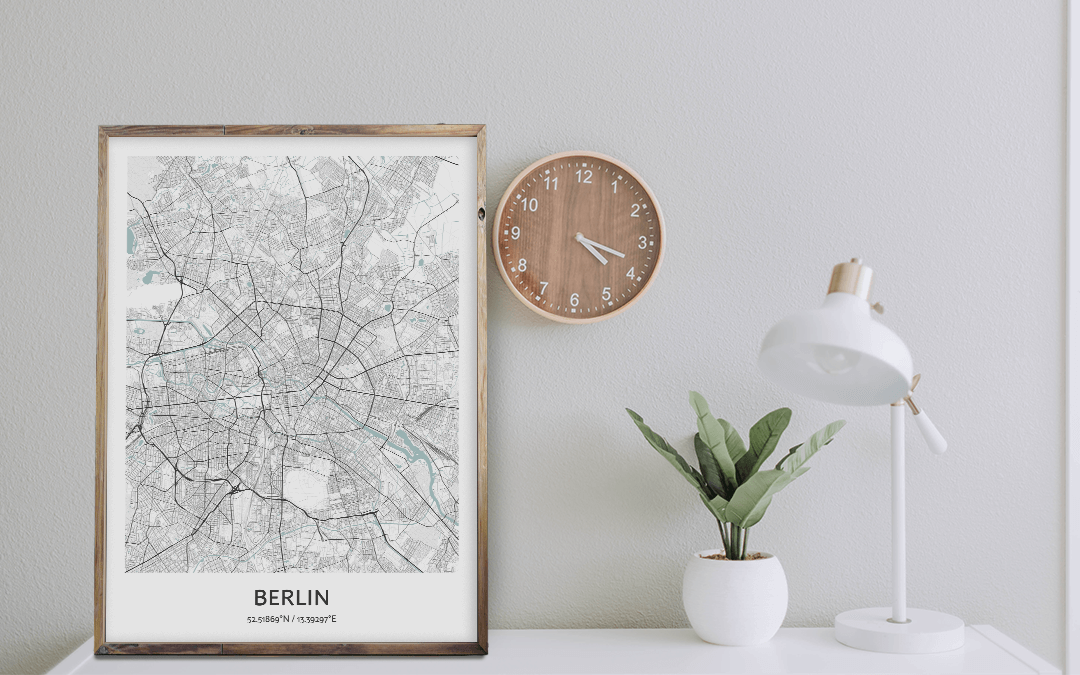 Everyone knows a special place. Maybe it's the city you grew up in, or the place you used to visit on family vacations. Or perhaps you've fallen in love with the city you live in today. Wherever makes your heart smile, city map wall art is a great way to commemorate your favorite places and make them part of your home or office.
What's So Special about City Map Wall Art?
More than a map or a mass-produced piece of wall art, city map wall art puts you into the role of designer to create a truly custom work of art. What's more, you get to select a city that means something special to you or the person you're creating it for. 
No two cities are quite alike, whether you love traveling between states or across oceans. There's always something unique to explore and discover, and a custom city map print is a great way to find all the hidden gems that add character and intrigue to the places you visit.
Your custom city map wall art is created using the latest GPS technology to create a scale replica of all the major highways, side streets, and back alleys of your chosen city. Much like the vessels in our own bodies, streets are what gives every city its life. They carry travelers to their destinations and allow the city to thrive. And every time you look at your custom city map, you'll be inspired to start planning your next adventure.
Custom City Map Art Makes Excellent Gifts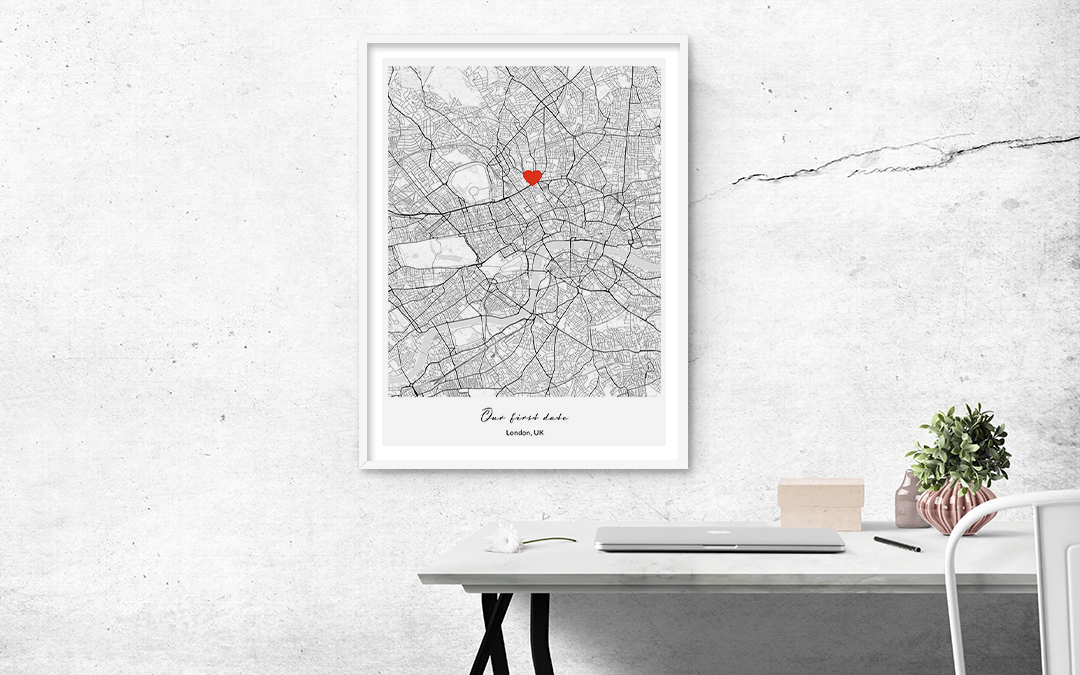 If you're on the hunt for a unique, unexpected gift, a custom city map print doesn't disappoint. Anyone can go to a store and grab a gift off a shelf, but this does little to personalize the experience. What's more, there's always the risk that they already have what you bought them.
Opting for a custom city map wall art print brings a personalized sentiment to the gift that shows you know a person well and put extra care and thought into their gift. Imagine their surprise and delight when they open a custom map made just for them!
City map art makes excellent gifts for all ages and occasions, including:
Anniversaries
Weddings
Birthdays
Retirements
Housewarming parties
Holiday gifts
Baby showers
Graduations
Promotions
Corporate events
Special accomplishments
Whether you know someone who is well-traveled or want to spark your own sense of wanderlust, custom city maps are designed to inspire.
How to Personalize Your City Map Wall Art
One of the benefits of a personalized city map instead of buying one that's mass produced is the opportunity to fully customize your print. It's not just a matter of getting a layout of your chosen city printed on paper. It's also about choosing a colour scheme that speaks to your personal tastes, dialing in on a specific area of a city, and choosing the size and shape of your map. And most importantly, it gives you the opportunity to add custom text to your print that makes it truly unique to you.
Include a message to your gift recipient to make the gift even more special. Or, add a special date or name of a place to mark a specific occasion in your favourite city. This is a great way to commemorate your wedding day, an anniversary trip, first dates, the place you grew up or went to college, or any milestone events in your life. The only limit is your imagination!
Tips for Displaying Your City Map Wall Art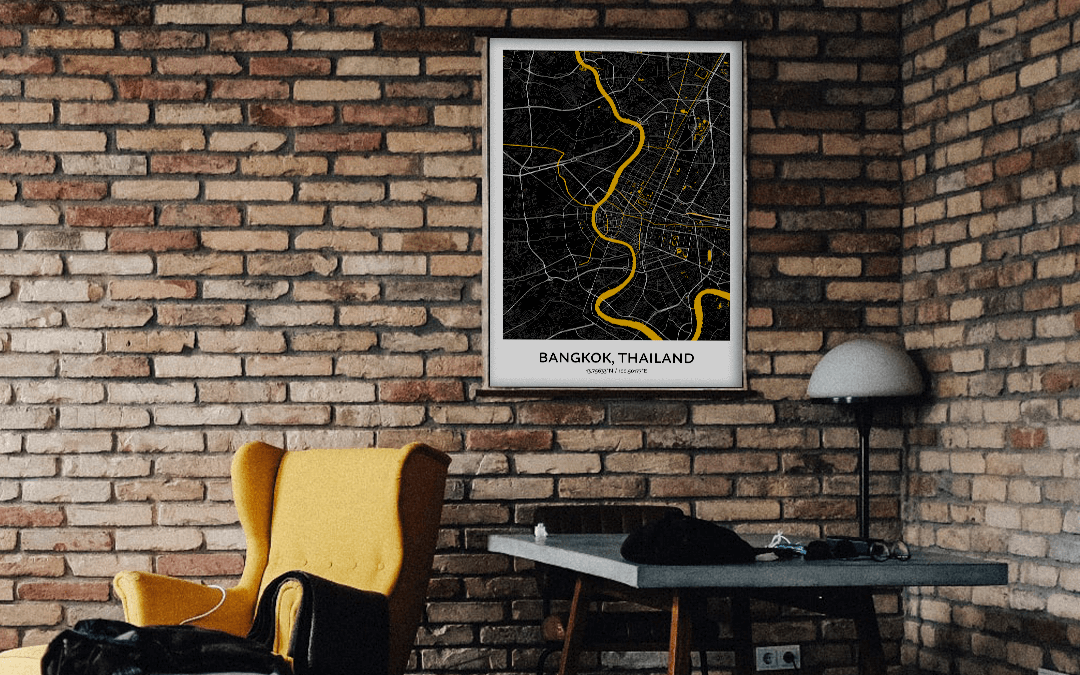 Finding a special place for your city map wall art is just as important as the map itself. These beautiful maps are just as artistic and creative as they are informative, and you'll want to choose a spot in your home or office where you can share the beauty with others.
To start, you'll want to choose a nice frame to protect your print and complement its design. If you've ordered a print from Positive Prints, you'll notice we offer several standard sizes that should make framing your print a breeze.
Another fun design tip is to create multiple city maps and display them within the same frame. This allows you to create a unique patchwork of your travels and allows a single piece of art to tell a rich story of your life.
Though installing a gallery spotlight isn't required to capture your custom wall map's beauty, good lighting is never a bad idea. The right lighting can help all the little details of your city map art shine and ensure no street or feature goes overlooked.
Create Your City Map Wall Art that's Special to You!
There's a story behind every custom city map. No matter where you've traveled or where you dream of visiting next, a custom city map wall art poster is a beautiful piece of your journey.
Get started today with our easy-to-use city map wall art poster creator, and commemorate your favorite cities in a fun, creative way!