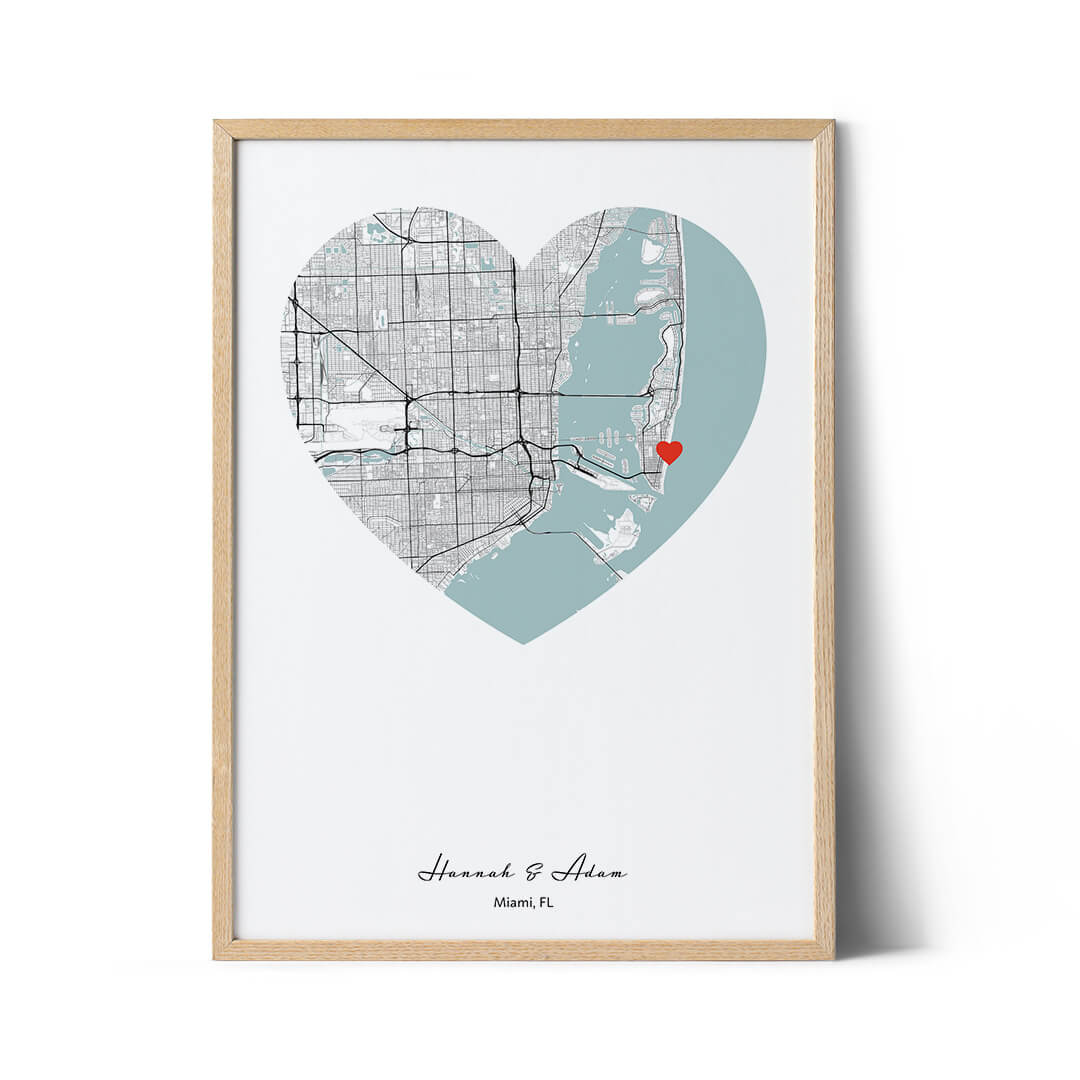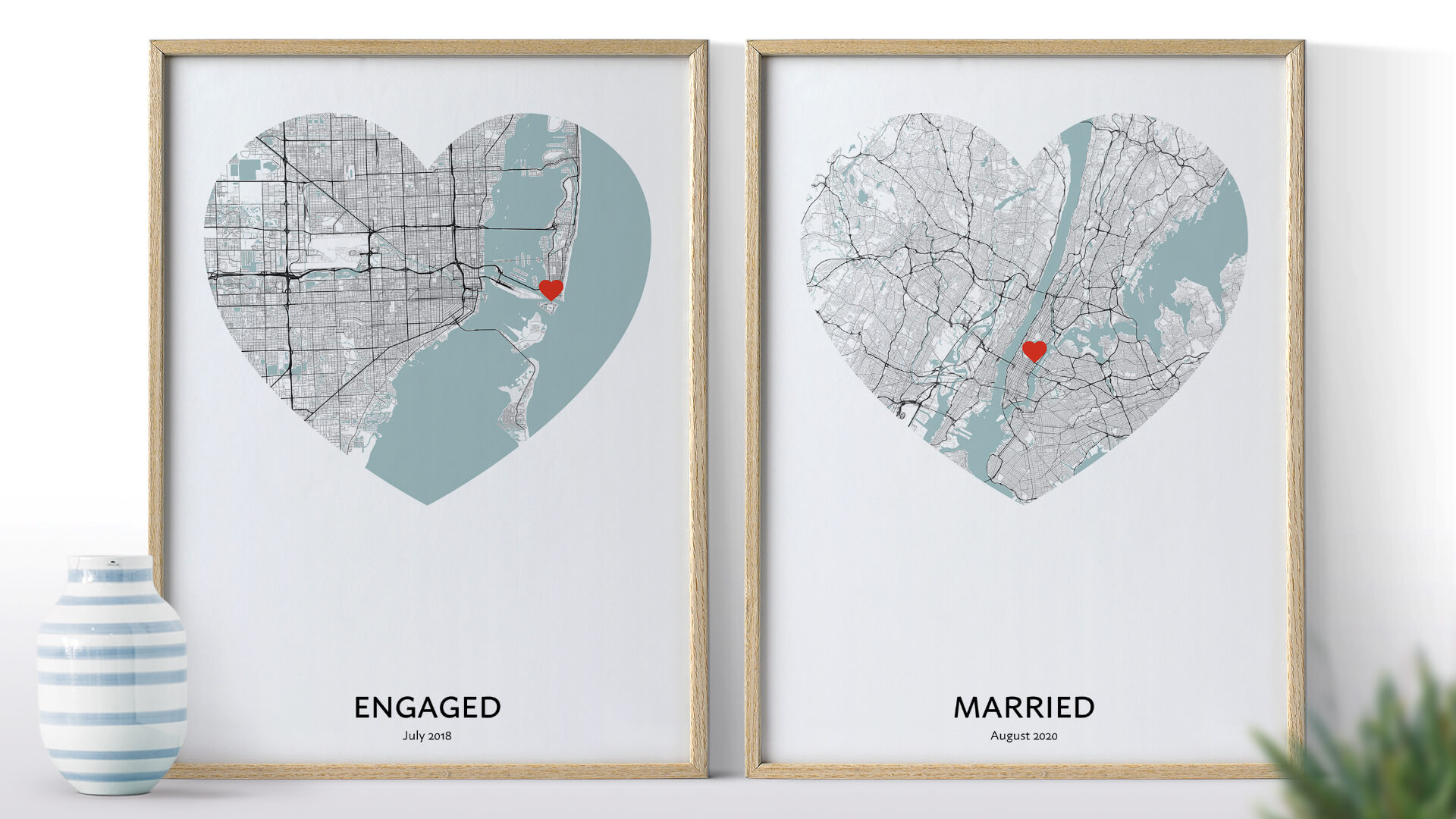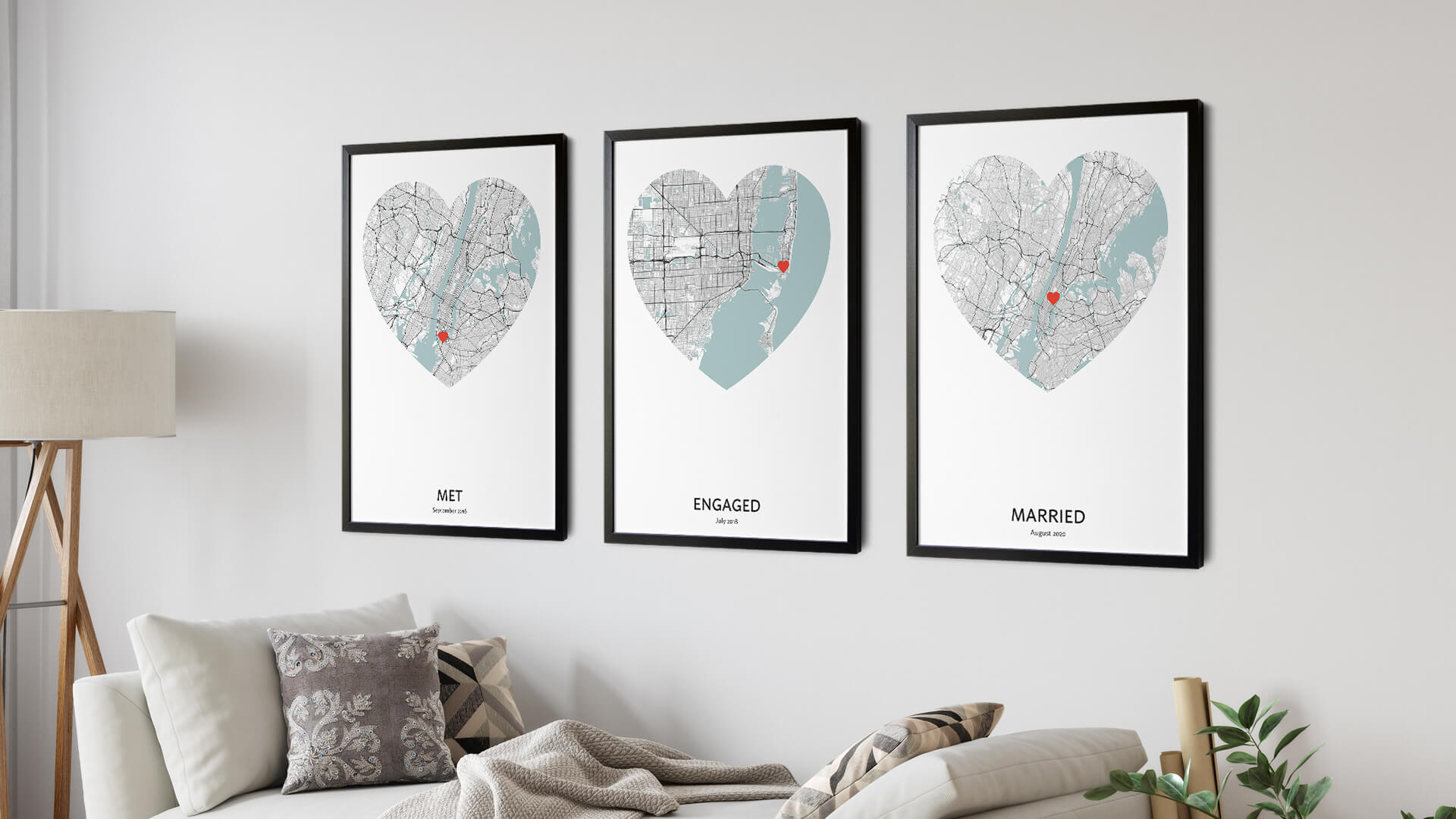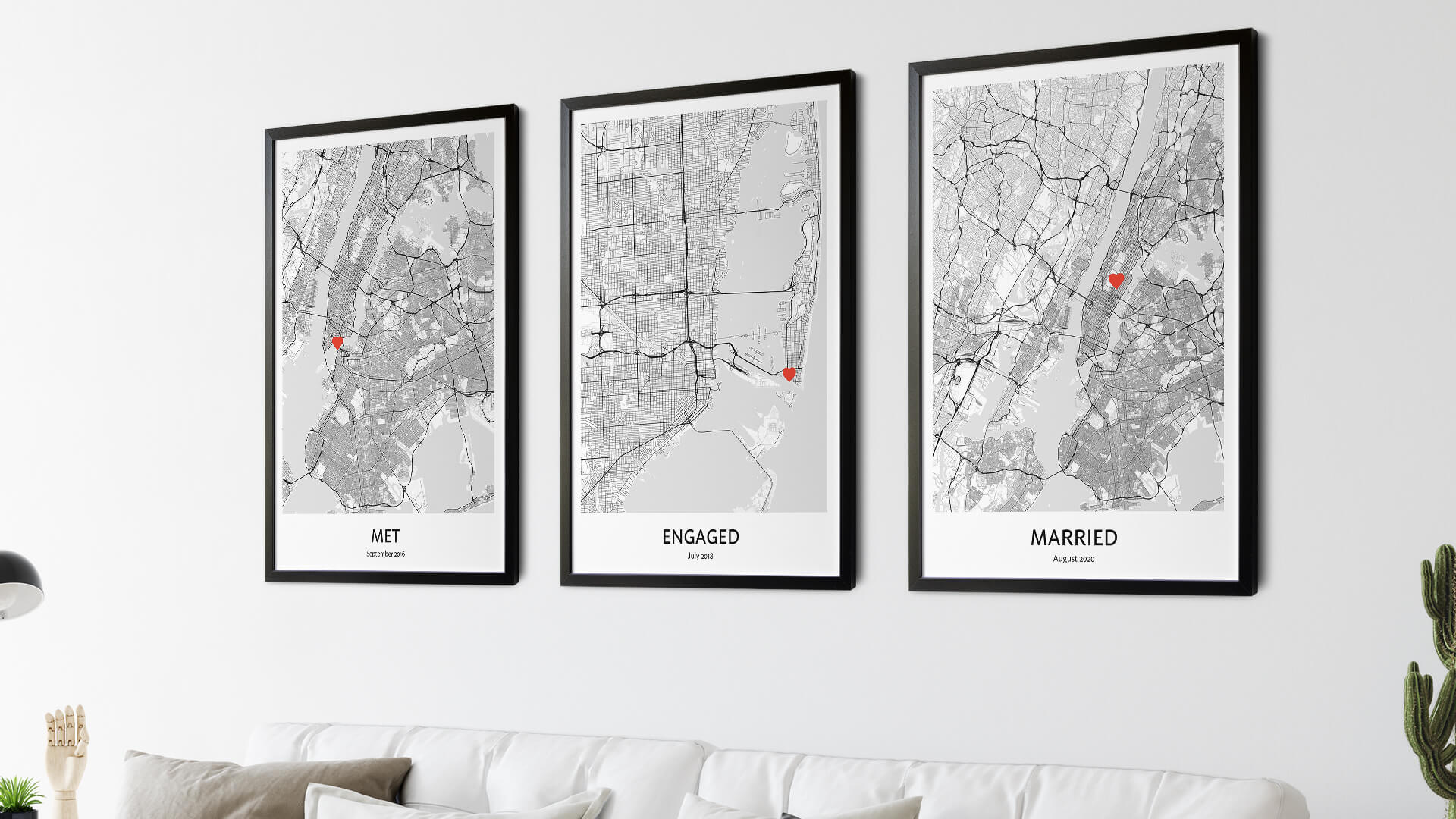 Met Engaged Married Map
One way to tell your unique love story is by capturing your most special milestones with a Met, Engaged, Married map.
From
Too see an Instant Preview
Available as
Digital
Printed
Framed
Canvas
❤️ Personalized Print The Will Help You Remember The Important Dates And Places Of Your Relationship
💖 You Can Create a Map of Any Place in the World
❤️ Mark An Exact Address With A Heart Symbol
💖 Choose From Several Color Combinations
❤️Select Between Instant Digital Download, Canvas Or Printed Poster
First you met. Then you fell in love. And once you decided you didn't want to spend your life with anyone else, you became engaged. And now that you're married, you love looking back throughout your love story and retelling it over and over. This is a process that looks the same, yet so different, for couples everywhere. One way to tell your unique story is by capturing your most special milestones with a Met, Engaged, Married map.
What is a Met, Engaged, Married map?
Much like a diary is a map of our journey through life, a Met, Engaged, Married map is a roadmap of your journey with your soulmate. The map highlights three of the most important milestones in your story: the place you met, the place where you became engaged, and the place where the two of you said I Do.
This is a beautiful, artistic illustration of your love's journey and can help you retell and relive your story through the years. A Met, Engaged, Married map makes an excellent gift for your better half or for a special couple in your life. Most importantly, this map is unlike any other because it focuses on you.
Why create a Met, Engaged, Married map
Let's be honest: it doesn't take much creativity to go to a store, find a gift, wrap it, and give it to your loved one. There's nothing wrong with giving a store-bought gift if it's something they want or will use.
But gifts that are personalized, custom, and take conscious thought and effort are the same gifts that will stand out in their memory. The symbolic gesture behind the item is just as much a part of the gift as the item itself. And when that item is a Met, Engaged, Married map, you'll earn more brownie points with your partner than you can count.
Many of our customers rely on Positive Prints to help them expand their gift-giving creativity. They want to offer something unexpected, surprisingly, and made just for that special someone. Because of the level of personalization that goes into every Met, Engaged, Married map, every map is truly one of a kind.
How to make a Met, Engaged, Married map
Our Met, Engaged, Married maps at Positive Prints are crafted as a single image but represent three special moments in your love story. We use cutting-edge GPS technology to accurately pinpoint each location, giving you the most accurate depiction of where you first said hello, I will, and I do.
Here's how you can step into the role of the artist and create your own Met, Engaged, Married map:
Step One: Select Your Design
When it comes to giving personalized gifts, there simply isn't a one size fits all. That's why we offer multiple design options for your Met, Engaged, Married map. You can choose from one of our expertly designed templates. Or, if you're feeling extra creative, select the Custom option to choose your own color combination.
As you make your selections, all details are updated in real time so you can see your map coming to life.
Step Two: Enter Your Details
More than just images on a map, your Met, Engaged, Married map also includes multiple lines of text for each location so you can caption each moment. Include dates for when you first met, became engaged, and finally wed. Add a quote that best represents each moment in time. Or simply share more details about the location and what made it so special. The options are infinite!
Step Three: Choose a Format
As with many of our art pieces at Positive Prints, you can choose from multiple formats and delivery options. For orders being printed and shipped in-house, we print every map on professional-quality poster paper that will maintain your colors and look great in a frame on your wall. We can also print on canvas if you prefer, as well as include a frame so that your print is ready to give to your loved one immediately.
If you're looking for a last-minute gift idea, we recommend our digital download option. You will receive your Met, Engaged, Married map in a digital file via email, which you can take to your local print shop for faster turnaround.
We also offer multiple sizes and orientations so you can choose the one that best fits your space.
Surprise your loved one with a Met, Engaged, Married map today!
Met, Engaged, Married maps make the perfect gift for birthdays, weddings, anniversaries, holidays, or any time where you want to celebrate love. It's a gift for the person who has everything, needs nothing, or simply craves something unique, fun, and unexpected.
Customer Reviews
Write a Review
Ask a Question
23/07/2021
Charles B.

US
This is a wonderful addition to our 100 year old house in Galveston. I was born on the island and lived there my first five years. Now I live there again after sixty nine years. We love the Galveston print.
20/07/2021
Catherine R.

US
Fast delivery time and we absolutely love our print!!
20/07/2021
Amy S.

US
It is amazing! The only thing is I wish it showed some of Lake Erie and I should have ordered a smaller size, it's huge! That was my fault though, but love the quality.
20/07/2021
Sandra K.

PL
Super jakość i pięknie się prezentuje!
19/07/2021
Anne L.

FR
19/07/2021
Aleksandra G.

PL
Wydruk starannie wykonany, szybka realizacja. Prezent się bardzo podobał. :)
19/07/2021
Cherie V.

US
I am very happy with my product from you and was so pleased with your customer service helping expedite my order in time for my anniversary!! Thank you!!
23/07/2021
Positive Prints
Thank you for your kind review, Cherie! Wish you all the best :)
19/07/2021
Robert L.

PL
Bardzo dobre wykonywanie, jestem bardzo zadowolona z zakupu. Napewno kupię coś ponownie przy najbliższej okazji. 😊
18/07/2021
AURORE L.

FR
Magnifique. Envoie rapide
17/07/2021
Paulina S.

PL
Przemiła pomocna i cierpliwa obsługa, Pani pomogła wyjaśniła każde pytanie :) Plakat cudowny ! O darowana przeszczęśliwa i zaskoczona ! Na pewno jeszcze zrobię dla siebie. Polecam serdecznie
16/07/2021
Monika P.

PL
14/07/2021
Brett B.

US
After placing my order, I got an email explaining there was a inventory issue with the frame I had chosen. The customer service team (Adrianna) reached out and was super kind and immediately helped rectify the situation with other frame options. I'm very pleased with the print and with the frame. Great quality! I will definitely recommend them to friends.
14/07/2021
VALERIE G.

FR
Tres belle idée cadeau, ultra personnalisable!
14/07/2021
Rachael M.

US
Beautiful and wonderful quality.
14/07/2021
Clara L.

FR
Super joli et livré très vite! Seul petit bémol le prix juste pour l'impression papier un peu cher mais très contente du résultat