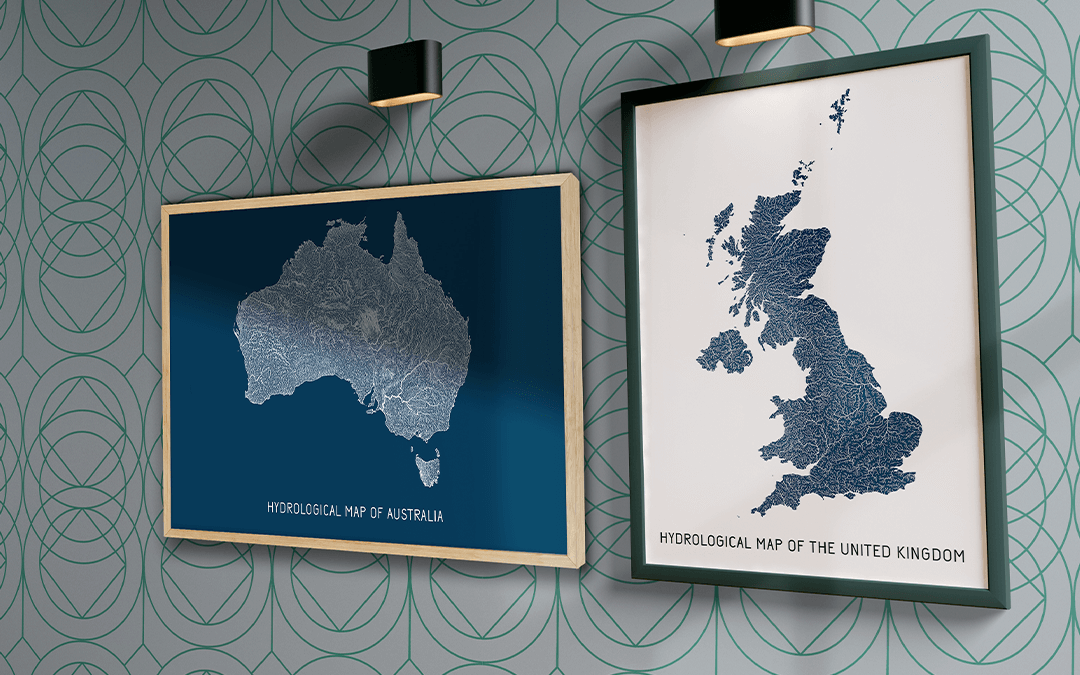 Ask 10 different people what art means to them, and you'll likely get 10 different answers. That's because the true definition of art isn't a definition at all, but rather a sentiment that is as unique as we are. We're each attracted to different colors, shapes, and places, so it's no surprise that many of us view our art choices as reflections of our own personal style.
When it comes to artistic maps, only a custom map will do. Custom maps of countries or states are taking flight as the artwork of choice for homes and businesses. Because they can be personalized for any occasion or use, each artistic map can truly fit the space they're displayed in.
Why Decorate Your Home with Artistic Maps?
Your home is a blank canvas that's waiting for you to bring your sense of style and taste to its walls. No matter what you display in your home, be it artistic maps, sports memorabilia, antiques, or religious symbols, anyone that enters your home can better understand who you are by the way you've chosen to decorate.
In other words, your art choices set a specific tone for your space. Let's face it, no one hangs art on their wall that they don't like. Your home's decor is something you have to look at and live with every day, so why wouldn't you choose pieces that speak to a special part of you?
That's the beauty in using artistic maps to decorate your home. Each map represents a place that means something special to you. Maybe it's a map of the town or state you grew up in, the place you went to college, or even the place where you got married. No matter where your map takes you, you can feel a sense of nostalgia and familiarity every time you look at it.
The Benefits of a Custom Artistic Map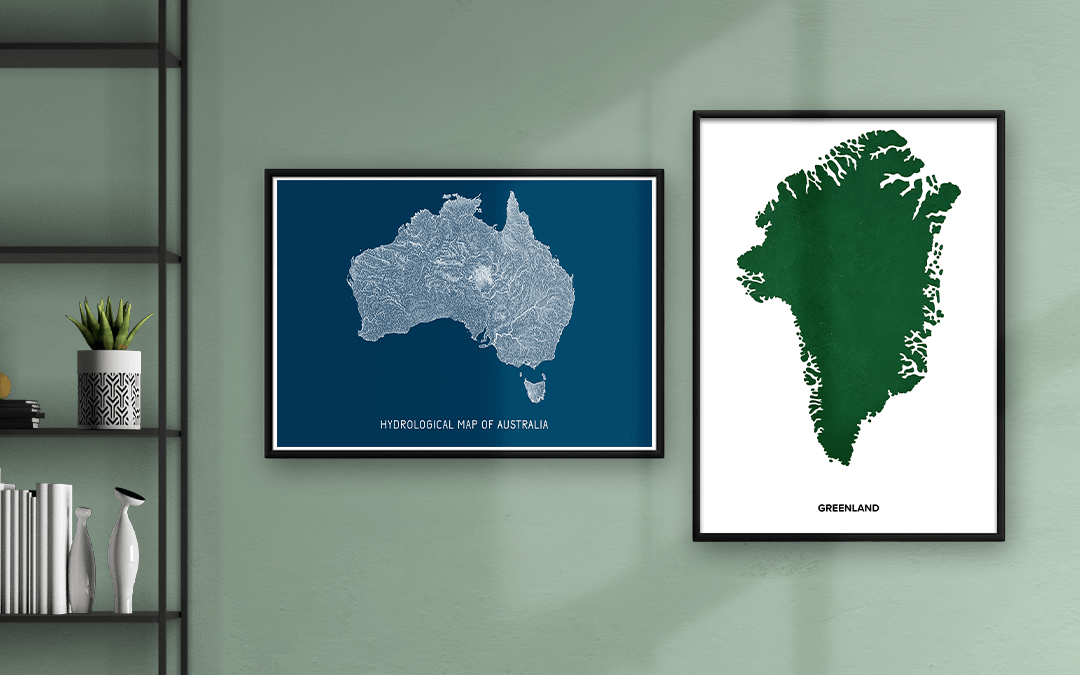 Opting for a custom map art offers similar benefits as any type of custom art or decor. For starters, you get greater control over the design process so that your art print works for your space. You can voice your input on things like color scheme, size, and shape to add nuances of your personality in a single image.
At Positive Prints, we also include custom lines of text to give you another way to personalize your prints. Include your favorite quote, a special date or occasion, or names of cities, states, or loved ones to illustrate the significance of your map art.
Every map is different, because no two styles are quite alike. You can enjoy hanging a map in your home that truly was made for you and know there isn't another one quite like it anywhere else.
Not to mention that decorating with custom maps can help you take the guesswork out of sprucing up your home. They're easy to order and customize, so you can avoid spending countless hours scouring art galleries and stores searching for art prints to bring your home to life.
How to Create Country or State Map Art
When planning any type of artistic improvement to your home or office, it's a good idea to explore your options first. To start, we recommend making a list of potential countries or states that you'll want to display in your home. This could be the state you're currently living in, a state you grew up in, or even a collection of states where you've lived or visited.
You may also want to consider your favorite countries to travel to or countries you've lived in. Combining multiple map prints under a single frame can also be a great way to tell a story of your travels or history.
From there, it's a matter of fine details. At Positive Prints, we offer several customization options to make your map print truly yours. Select from five pre-set colour combinations or choose your own colours. You can also include custom text that adds insight into your map selections.
We also offer multiple sizes and orientations so that you can choose the one that best fits your space. We recommend picking out a place in your home for your print prior to ordering so that you can get the appropriate size and colours.
Get Artistic Maps with Positive Prints!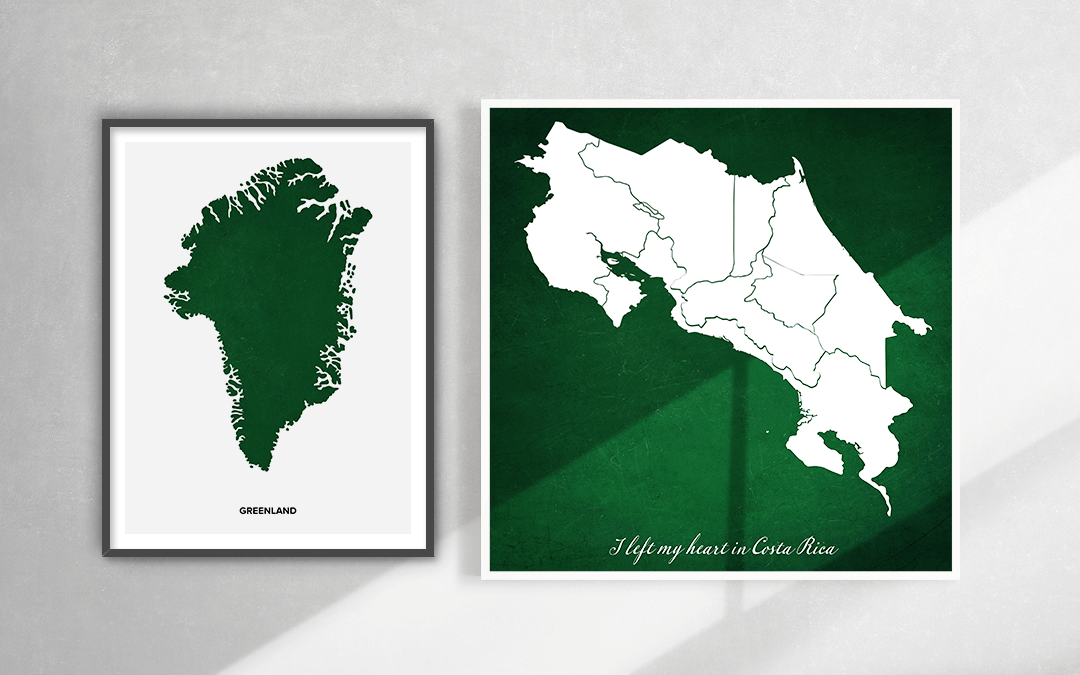 At Positive Prints, we've made it our mission to put high-quality custom artwork within everyone's reach. You can create your own personalized poster. Our online map builder walks you through a simple, three-step process to create a map print that means something special to you. You choose your location, colors, shape, and size, and we'll handle the rest.
Our artistic maps make great home decor for yourself or gift ideas for others. Choose from a hardcopy print on the finest art paper, a digital download for last-minute gift giving, or a decorative pillow to complement any decor.
Get started today and enjoy a custom artistic map that adds impact to your home!