In a world where we often get caught up in the hustle and bustle of our daily lives, it's easy to forget the power of a simple "thank you." Yet, expressing gratitude can be a truly transformative experience for both the giver and the recipient. It reminds us of the beauty in our connections with others, the kindness that surrounds us, and the importance of acknowledging those who make a positive impact on our lives.
Gratitude is more than just polite manners; it's a powerful emotion that can foster stronger relationships, boost mental well-being, and create a sense of connection with the people who matter most to us. When we take the time to express our thanks, we not only brighten someone else's day but also enhance our own sense of happiness and fulfilment.
At Positive Prints, we understand the profound significance of gratefulness and are dedicated to helping you say "thank you" in the most special and memorable ways possible. Our unique collection of personalised thank you gifts allows you to convey your appreciation in a meaningful and heartfelt manner, making the act of saying thank you an art form.
1) The Start of Something Special Custom Map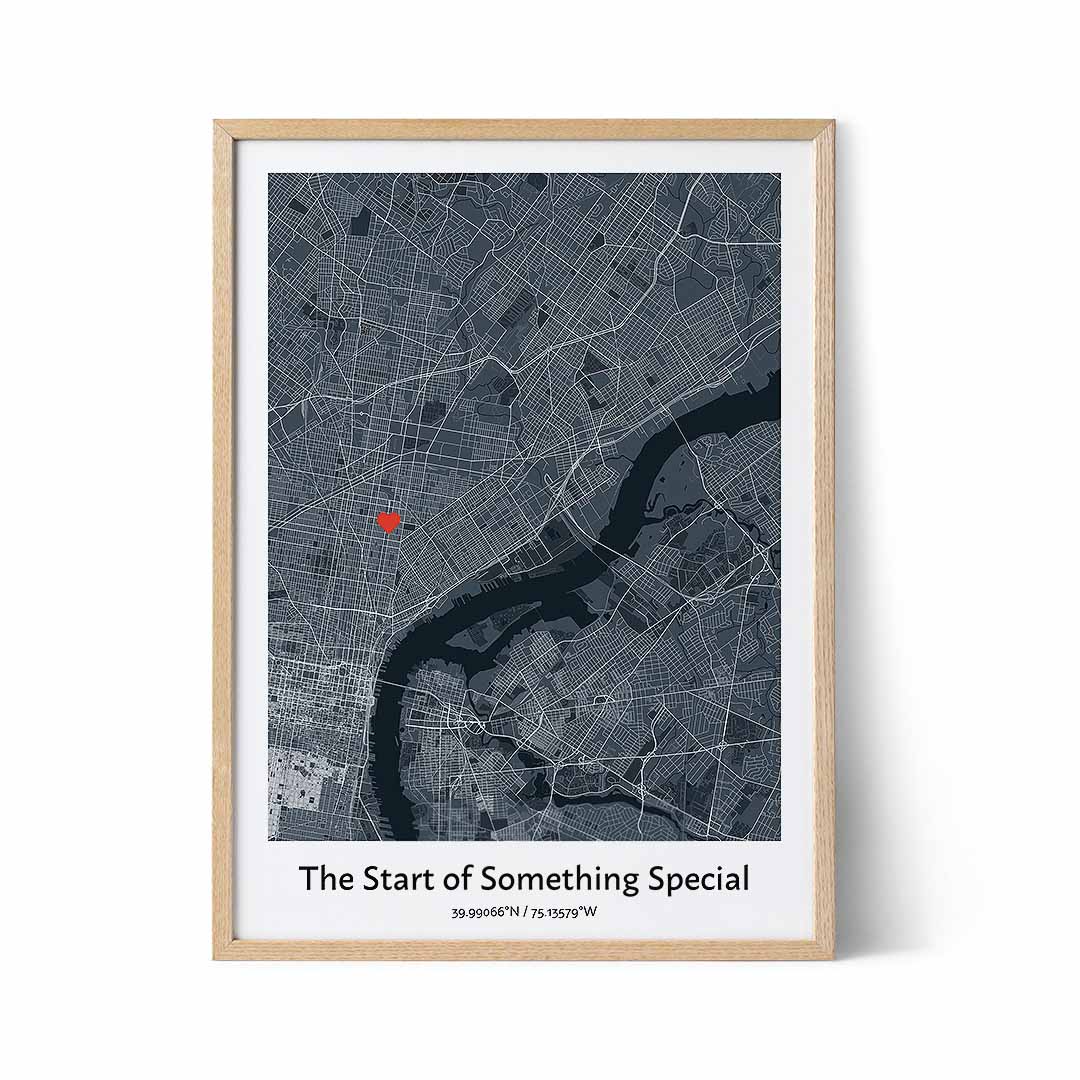 The Start of Something Special Custom Map is more than just a map; it's a unique piece of art that encapsulates the essence of a special place and moment in time. Whether it's where you first met your significant other, the location of a life-changing event, or a favourite vacation destination, this custom map is a beautifully crafted keepsake that tells a personal story.
Each map is meticulously designed with precision and attention to detail, capturing the geographical coordinates and landmarks of your chosen location. The result is a stunning visual representation of the place where your journey began or a place that holds deep sentimental value.
How it Can Be Used to Say Thank You
When it comes to expressing gratitude, the "Start of Something Special" Custom Map offers a creative and heartfelt approach. Here's how you can use it to say thank you:
Celebrate milestones: Commemorate the location where you achieved a significant milestone or accomplishment, expressing recognition for the support and encouragement that got you there.
Cherish relationships: Highlight where you first met a dear friend or your significant other, showing appreciation for their role in your life.
Express thanks to loved ones: Gift a custom map to a loved one featuring a location that holds special memories between you and them. It's a touching way to say, "Thank you for being a part of my life."
Remember, the more thought and personal touches you add to your custom map, the more meaningful it becomes as a thank-you gift. It's a beautiful way to say "thank you" and show that you truly value the recipient's presence in your life.
2) Thank You Letter Collage
The Letter Collage is a one-of-a-kind creation that spells out the words "thank you" using a stunning array of photographs. Each letter is meticulously crafted from a collection of images, making your gratitude not just something to say but something to see and experience. You have the opportunity to craft a personalised thank you gift that is not only heartfelt but also visually captivating.
Creative Ways to Use It for Expressing Gratitude
Memorable moments: Celebrate significant milestones, achievements, or events in someone's life by crafting a "Thank You" Letter Collage. Whether it's a graduation, a retirement, or a special anniversary, this collage lets you express your appreciation in a creative and memorable manner.
Showing gratitude to friends or family: Relive cherished memories by incorporating photos and mementoes from past experiences. Perhaps it's a family vacation, a holiday gathering, or a friendship that has stood the test of time; a "Thank You" Letter Collage helps you celebrate the moments that matter, all while spelling out your gratitude in a visually stunning way.
Thanking essential workers or colleagues: Show recognition to essential workers, healthcare heroes, teachers, or anyone who has made a difference in your own working life. A heartfelt "Thank You" can be a powerful and meaningful token of appreciation, with each letter filled with images that tell a story of your praise.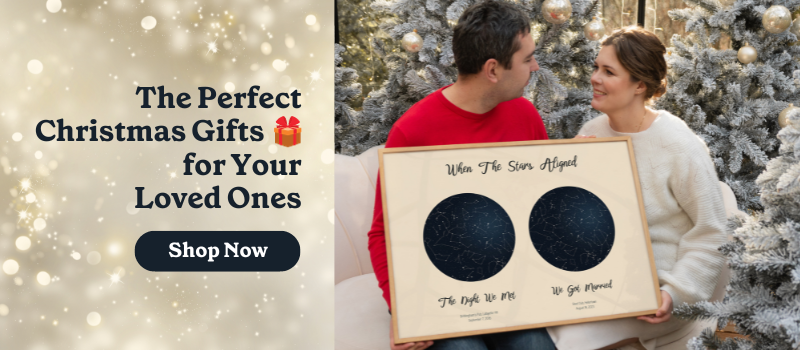 Thankful for your girlfriend? Check out our guide to gifts that will make your girlfriend feel special.
3) Family Photo Wall Art
A personalised photo is a heartwarming tribute to the love and bond shared within a family. It allows for customisation, enabling you to personalise the print with your family's name, making it a one-of-a-kind thank-you gift and treasured keepsake.
Additionally, including a cherished family photograph allows you to relive special moments and create a visual representation of your family's journey. You also have the option to add a personal message or quote, expressing your deep honour and love for your family, making it a truly meaningful and personalised thank you gift.
Celebrating Family and Cherished Memories
The Family Photo Wall Art is more than just a decorative piece; it's a heartfelt tribute and show of appreciation for the people who mean the most to you. Here's how you can use it to say thank you to your family:
Anniversaries and special occasions: Whether you're celebrating a significant anniversary, a family reunion, or simply want to express your love, this personalised print is a meaningful way to commemorate these special moments.
Gift for parents: Surprise your parents with a personalised print featuring family members spanning generations. It's a beautiful way to honour their love and sacrifices.
Thank you for your support: Show appreciation for the unwavering support and love your family has provided throughout your life's journey.
4) Soundwave Art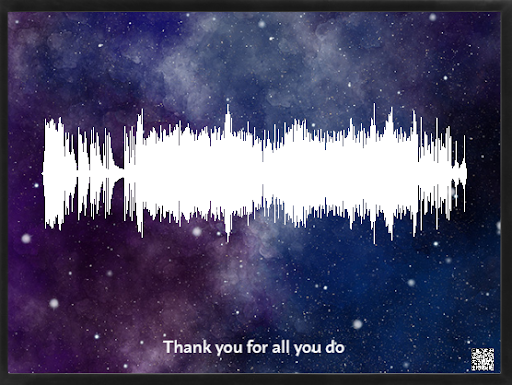 Soundwave Art is a genuinely innovative and sentimental way to convey your appreciation through the medium of sound. This unique product transforms a heartfelt spoken message, a meaningful song, or any sound of significance into a visually captivating work of art. By converting sound waves into a stunning design it allows you to express thanks in a way that is both auditory and visual.
How to Create a Meaningful Thank You Message Using Sound
This unique thank you gift offers a profoundly personal way to show how much you value someone. Here are some ideas on how to use it effectively:
Voice messages: Record a heartfelt message in your own voice, expressing your respect and affection. Hearing your words when the recipient scans the QR code will add a personal touch that's both unique and moving.
Favourite song: Choose a song that holds special meaning for both you and the recipient. Whether it's a song that reminds you of shared moments or a track that carries a particular message, it can make your thank-you gift even more special.
Memorable moments: Record the sounds of a significant moment, such as the laughter of loved ones at a family gathering or the cheering of a crowd at an event. These sounds can evoke powerful memories and emotions.
5) Mum and Dad Double Star Map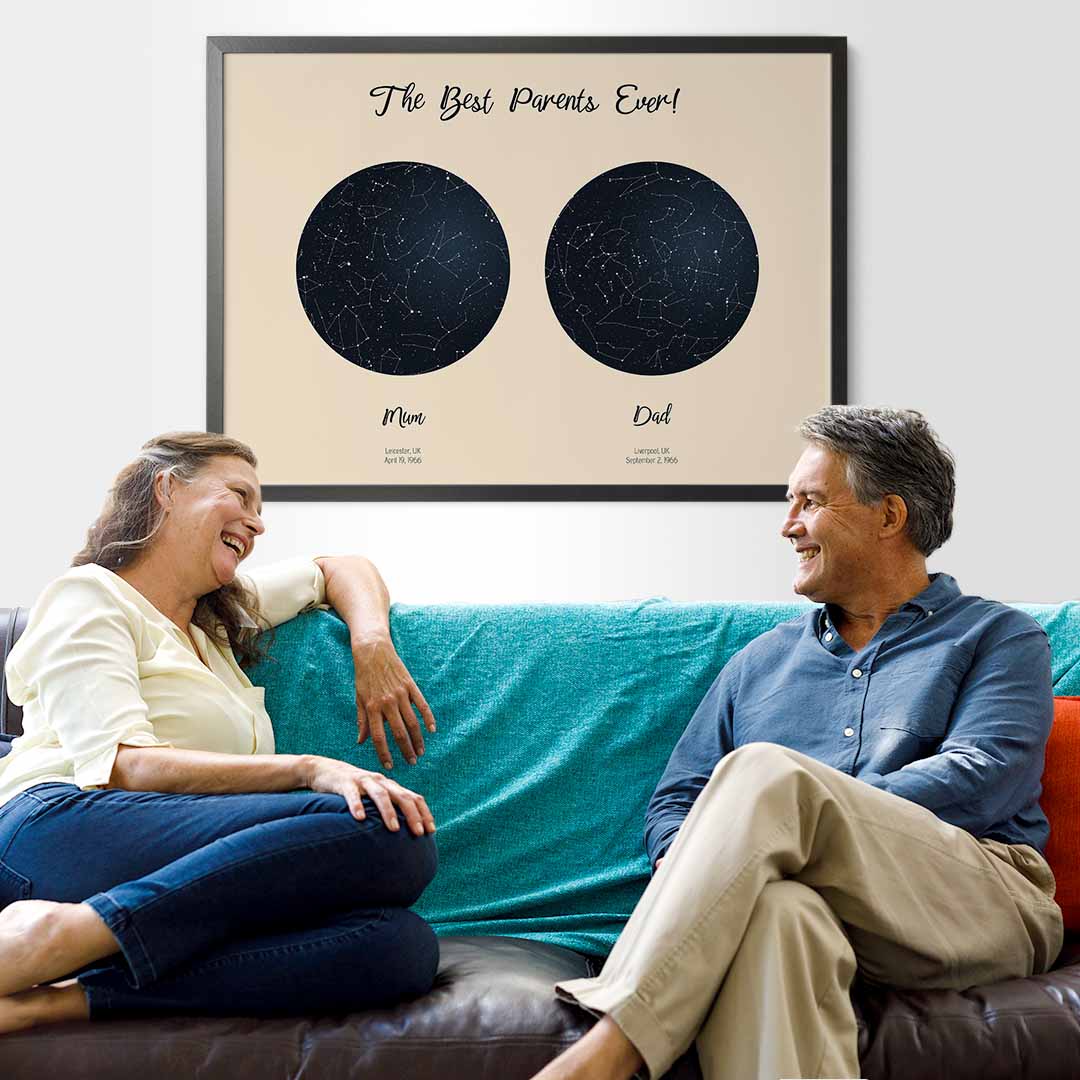 The Mum and Dad Double Star Map is a product that goes above and beyond in celebrating the love and appreciation we have for our parents. It's not just a star map; it's a personalised celestial journey that tells a heartwarming story of family bonds. This unique product features two star maps — one for each parent — displaying the night sky as it appeared on a significant date in their lives.
Celebrating Parents and Special Moments
A double star map is a beautiful way to convey your appreciation to your parents. Here's how you can use it effectively:
Anniversaries: Gift this star map to your parents on their wedding anniversary, highlighting the night sky on the day they began their journey together. It's a powerful symbol of their enduring love.
Parents' Day: Celebrate Parents' Day by presenting this unique gift to express your gratitude for their unwavering support and love.
Special occasions: Whether it's a milestone birthday, Thanksgiving, or a significant family gathering, this star map gift is a touching reminder of the love and connection within your family.
Stuck for what to buy your boyfriend to say thank you? Check out our blog on how to choose sentimental gifts for boyfriends when they're difficult to buy for!
Tips for Choosing the Perfect Thank You Gift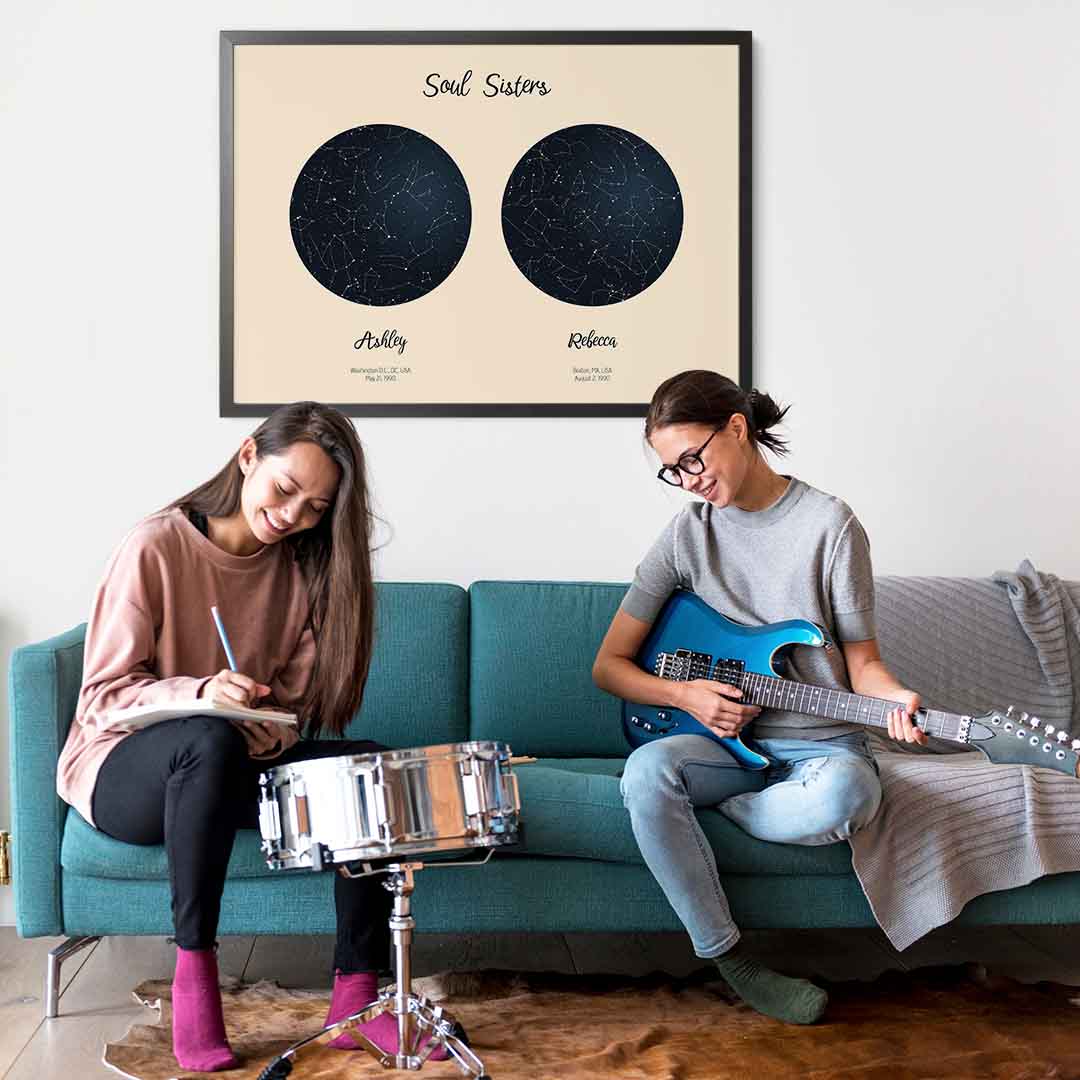 Consider the Recipient's Personality and Preferences
Selecting the ideal thank-you gift begins with understanding the recipient's personality and preferences. Take into account their hobbies, interests, and passions. Are they art enthusiasts, travel lovers, or music aficionados? Tailoring the gift to their unique tastes ensures it resonates on a personal level and shows that you've put thought into your gesture.
The Power of Personalisation
Personalisation adds a special touch to any thank-you gift. Whether it's adding a name, a meaningful date, or a heartfelt message, customisation makes the gift uniquely theirs. Positive Prints' range of products excels in this aspect, allowing you to add a personal touch that transforms an ordinary gift into a cherished keepsake.
Timing is Key — When to Say Thank You
Timing plays a crucial role in the effectiveness of your thank-you gesture. While there's never a wrong time to express appreciation, some occasions are more suitable than others. Consider special occasions such as birthdays, anniversaries, or holidays when expressing your thanks can have an even more profound impact.
Additionally, don't underestimate the power of spontaneous gratitude. A surprise thank-you gift delivered unexpectedly can be incredibly meaningful and memorable.
Thoughtful Gestures that Don't Require Gifts
Sometimes, the most heartfelt thank-yous don't involve material gifts. Thoughtful gestures, such as handwritten thank-you notes, acts of kindness, or spending quality time with the recipient, can be just as impactful. For instance, you can choose many of our products as digital prints and have them delivered by email straight to the recipient's inbox as a delightful surprise. These actions demonstrate your appreciation through personal effort and consideration.
Budget-Friendly Options
Expressing thanks doesn't have to break the bank. There are budget-friendly thank-you gift options that are meaningful and heartfelt. Consider DIY gifts, handwritten letters, or even a simple, thoughtful gesture like cooking a favourite meal.
Positive Prints offers a wide range of products that excel in personalisation, making it easier than ever to convey your appreciation in a meaningful and memorable way. Whether you choose a customised map, a heartfelt collage, or a celestial star map, your thank-you gift will be a cherished token of your gratitude.