Personalised Gifts for Dog Lovers
Looking for the perfect gift for a dog lover? Celebrate their love for their furry best friend with our personalised gifts for dog lovers. Capture the special bond they share with their pet in unique artwork designed especially for them. Give them a thoughtful gift that will warm their heart and remind them of the love they have for their pet. Order now at Positive Prints and make their day extra special!
Made in Britain & Free Delivery Worldwide
4.81

/ 5 of Our Customers Loved Their Gift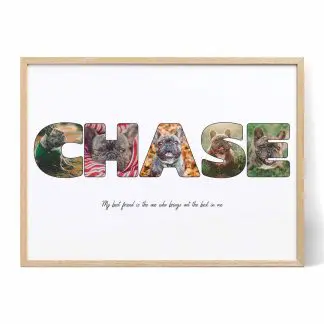 Dog Letter Photo Collage
Price from £35.00
(20)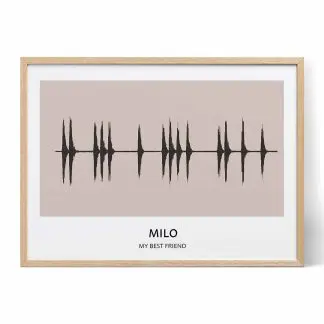 Dog Bark Soundwave Art
Price from £35.00
(10)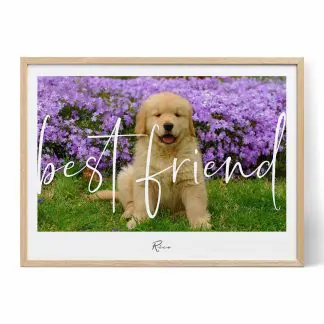 Pet Photo Wall Art
Price from £35.00
(3)
People love their dogs, and they want to show them off with every opportunity. Personalised gifts are a way to show that you put thought into what you got your dog-loving friend or family member. It proves that you know them and what they love, and that you care about their relationship with their dog.
Personalised gifts are sweet and sentimental. They're sure to be appreciated by anyone who loves their dog. Or, if their beloved pet has recently passed away, a dog gift is a great way to celebrate their memory.
Personalised Gifts for Dog Lovers
Not sure what to get the dog lover in your life? We've got the best gifts for dog lovers ready for your personal touch. Turn the love of your pet into wall-worthy art. Remember your favourite dog after they cross the rainbow bridge. Relive the memories you made with your favourite animal companions.
Just pick your design, add some custom details, then choose how to receive your print. We offer fast, free shipping to anywhere in the world. Or for faster delivery, you can choose a digital file delivered to your email inbox.
Why Positive Prints?
Positive Prints makes it easy for anyone to be an artist. Our in-house experts have created meticulous, beautiful designs just waiting for your magic touch. We've taken the guesswork out of creating personalised gifts that will become favourite treasures that last a lifetime.
Show Your Canine Friend a Love that Lasts Furever!
Positive Prints makes great gifts for yourself or fellow dog lovers in your life. It's easy and fast, and adds an extra layer of care to your gift giving. Start making your Positive Prints today!