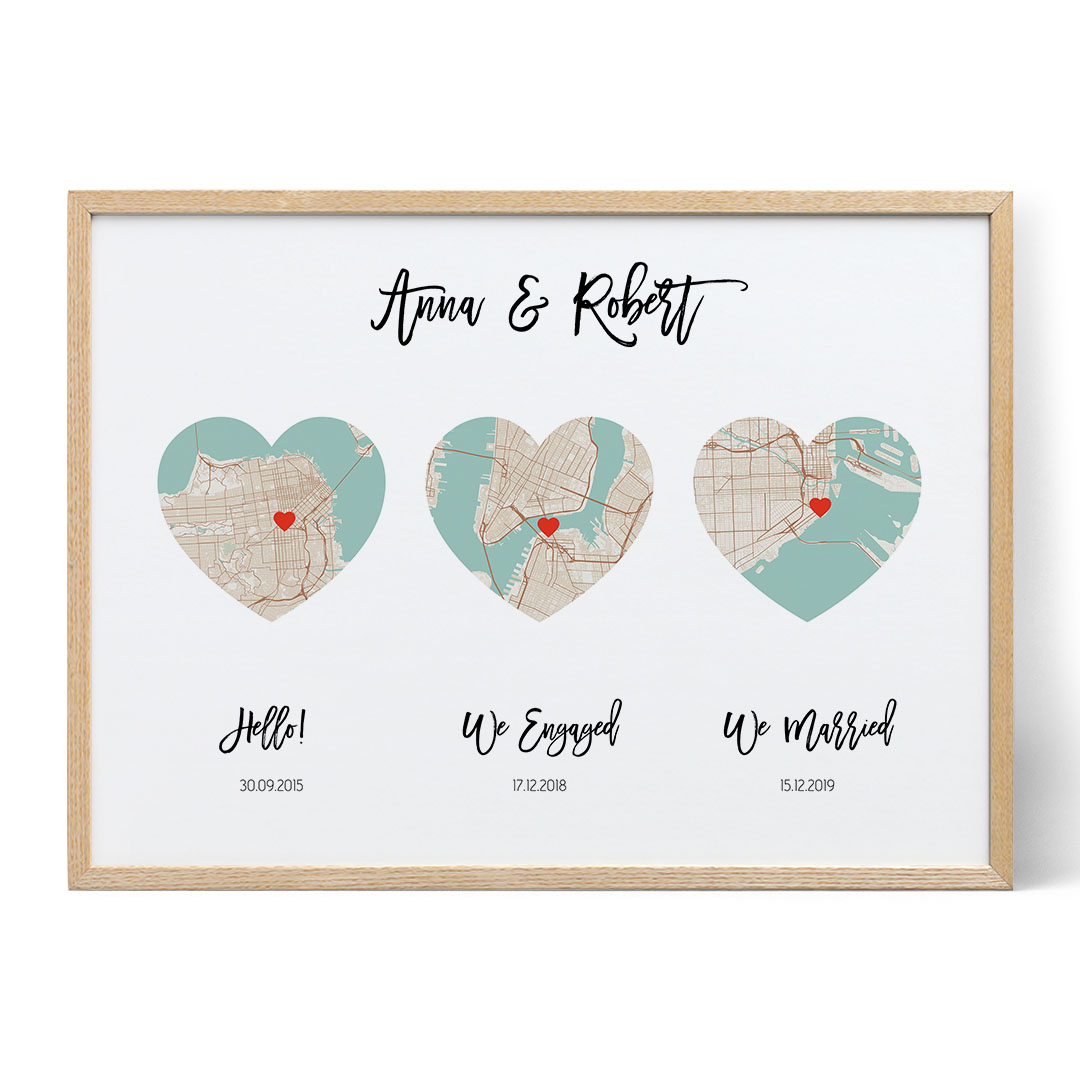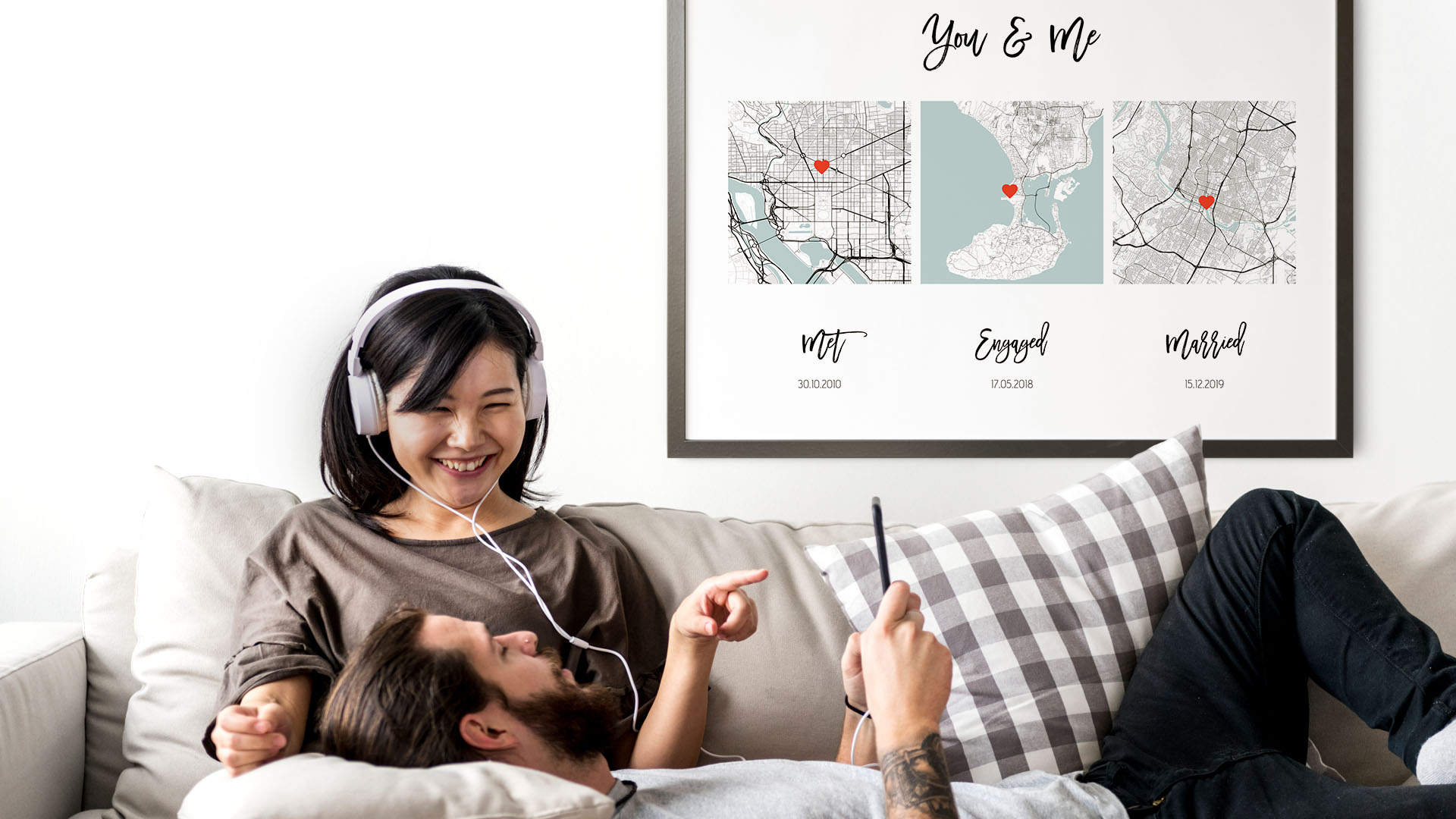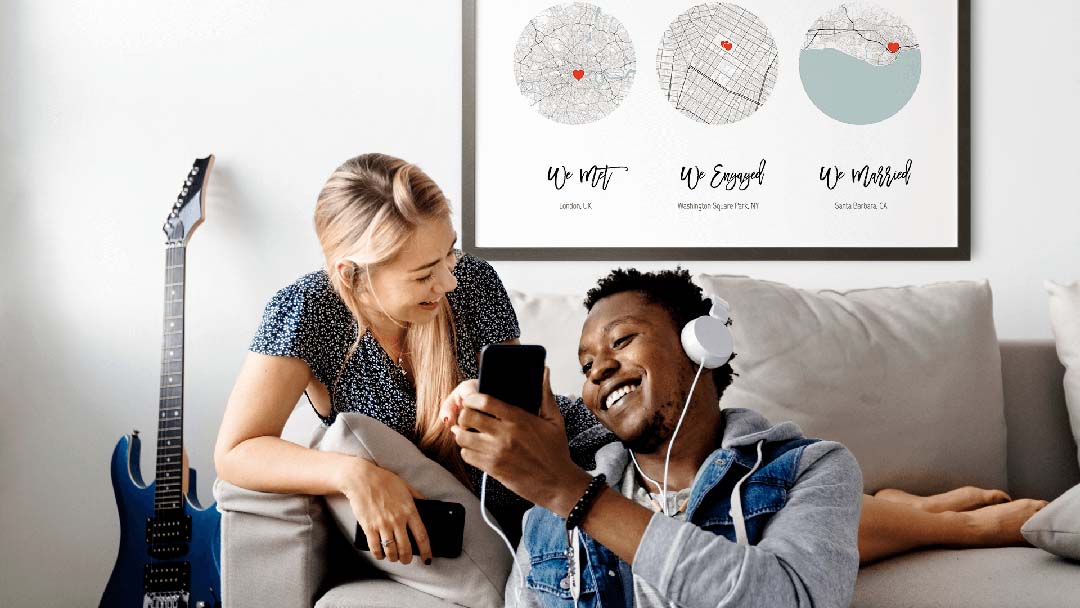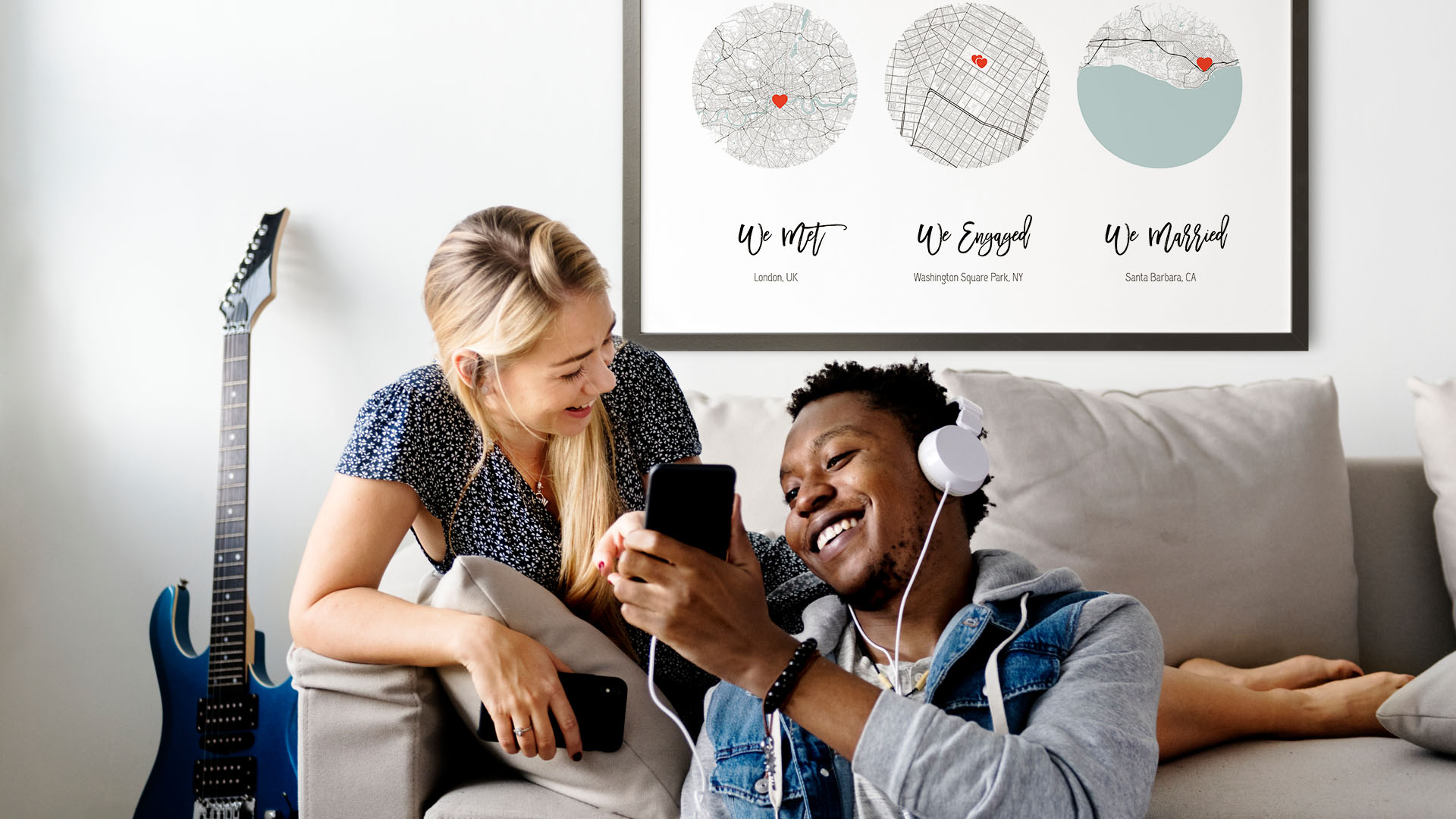 Wedding Map

✓ Custom Wedding Map Showing The Exact Spots Where You Met, Got Engaged, And Married
✓ Excellent Gift Idea For Anniversaries, Weddings, Valentine's Day, Or Other Special Occasions
✓ Fast, Free Shipping Worldwide Or Digital Download Available
✓ Select Your Locations, Choose Your Colours, And Add Lines Of Text To Make Every Map Unique
✓ Create Your Custom Wedding Map In Minutes!

From
Too see an Instant Preview
Available as
Digital
Printed
Framed
Canvas
Your wedding day is a milestone moment, one that began well before you chose your shoes, dress, venue, and flowers. Celebrate the day throughout the rest of your life together with a custom Wedding Map gift.
What is a Wedding Map?
Every map is a patchwork of paths leading to many destinations. But what makes a map meaningful is that it leads you to a place that matters to you. That's the beauty of a wedding map: it's a map that illustrates your journey to the altar.
Your custom wedding map could be a series of three maps: the place
where you first met
your love of a lifetime, the place where you both said I Will, and last but not least, the place where you said I Do! Each map displays a heart-shaped symbol of where the magic happened so you can revisit that place over and over again.
Ideas for a Our Love Story Map Gift
A custom wedding map gift is such a beautiful way to illustrate a part of your love story. It's a piece of art that's unique to every couple, one that can be passed down through generations and give a look back in time.
To make the most of your treasured gift, you can customise it with text, song lyrics, quotes, dates, or anything that will make it even more sentimental. Some of our favorites include:
"Forever begins."
"I do… forever."
"You are my today and all of my tomorrows."
"And the two shall become one."
"Together, we build a life we love."
How you choose to share your story is up to you!
Many of our customers at Positive Prints choose a wedding map gift to surprise a loved one on their anniversary, Valentine's Day, birthday, or other holiday. Or if you're celebrating a special couple in your life, you can surprise them with a wedding map that will be their first piece of artwork in their new home.
Personalising Your Wedding Map with Positive Prints
Every
custom map
we make at Positive Prints uses cutting-edge GPS technology and puts you in control over the final design. Our map creator makes it easy for you to choose how your map looks.
Every wedding anniversary map gift starts with a basic design. Select your map shape and colour scheme, including unique options like beachglass or vintage colours, or create your own colour scheme to match your home decor.
Next, choose the location of your three special days. This could be the address of your
first date
, the spot of your engagement and the place where you decided to spend forever together. Include custom text to call out the location's significance, such as the name of the place or the date of your special day. Or, use a favorite quote or line of poetry. There's no wrong way to customise!
Last but not least, choose how you want to receive your wedding map print: digital download, hardcopy print, print on canvas.
Start Creating Your Custom Wedding Map!
Every wedding map is truly one of a kind. Your love is like no other, and it deserves to be shared. Create your custom wedding map print and tell your story to all who enter your home.
Customer Reviews
Write a Review
Ask a Question
05/09/2021
Roger K.

US
Its was very nice. Loved it.
03/09/2021
Amelia D.

PL
Zamówienie dotarło na czas i bardzo pozytywnie zaskoczyło obdarowanego :) Plakat jest rewelacyjny!
03/09/2021
Gaudin E.

FR
Bon produit, arrivé très rapidement. Je recommande ce site
03/09/2021
Nancy P.

US
Great present for my daughter's first anniversary. Everything was exceptional. Thank you.
02/09/2021
Kevin N.

US
The order arrived earlier than expected and looked great. It was a 20th anniversary gift for my wife and she loved it! Thank you for doing a great job!
02/09/2021
Estera N.

PL
Otrzymaliśmy ekspresowo przepiękny plakat upamiętniający nasze pierwsze spotkanie! Bardzo polecamy! 🥰
02/09/2021
Trevor Y.

US
The order came out great!
02/09/2021
Jadwiga G.

PL
Obdarowanemu prezent szczególnie przypadł do gustu, świetny pomysł. W przyszłości chcemy złożyć kolejne zamówienia. Jeśli chodzi o względy estetyczne, to zgodnie z zapowiedzią produkt różni się trochę od projektu - spodziewałam się mocniej zarysowanych szczegółów, ale dzięki temu całość prezentuje się bardzo delikatnie.
02/09/2021
Ghita E.

NO
High quality, and such a beautiful gift for your loved ones
02/09/2021
Nicolaj S.

US
I give my best recommendations.
02/09/2021
Agnieszka J.

PL
Piękne wykonanie i szybka wysyłka. Polecam
20/08/2021
Adrien P.

FR
Je suis très satisfait du résultat - qui est de bonne qualité. Le cadeau a fait plaisir! Je tiens à souligner le professionnalisme de l'équipe qui a fait un geste commercial et a procédé sans délai à une seconde expédition de ma commande après que la première ait été perdue par le service de livraison. Je recommande donc vivement.
17/08/2021
Raha M.

AE
This was very cute and I loved the idea :)
12/08/2021
Mikolaj T.

PL
Bardzo starannie wykonane, zapakowane i bardzo szybko dostarczone (już po 1 dniu).