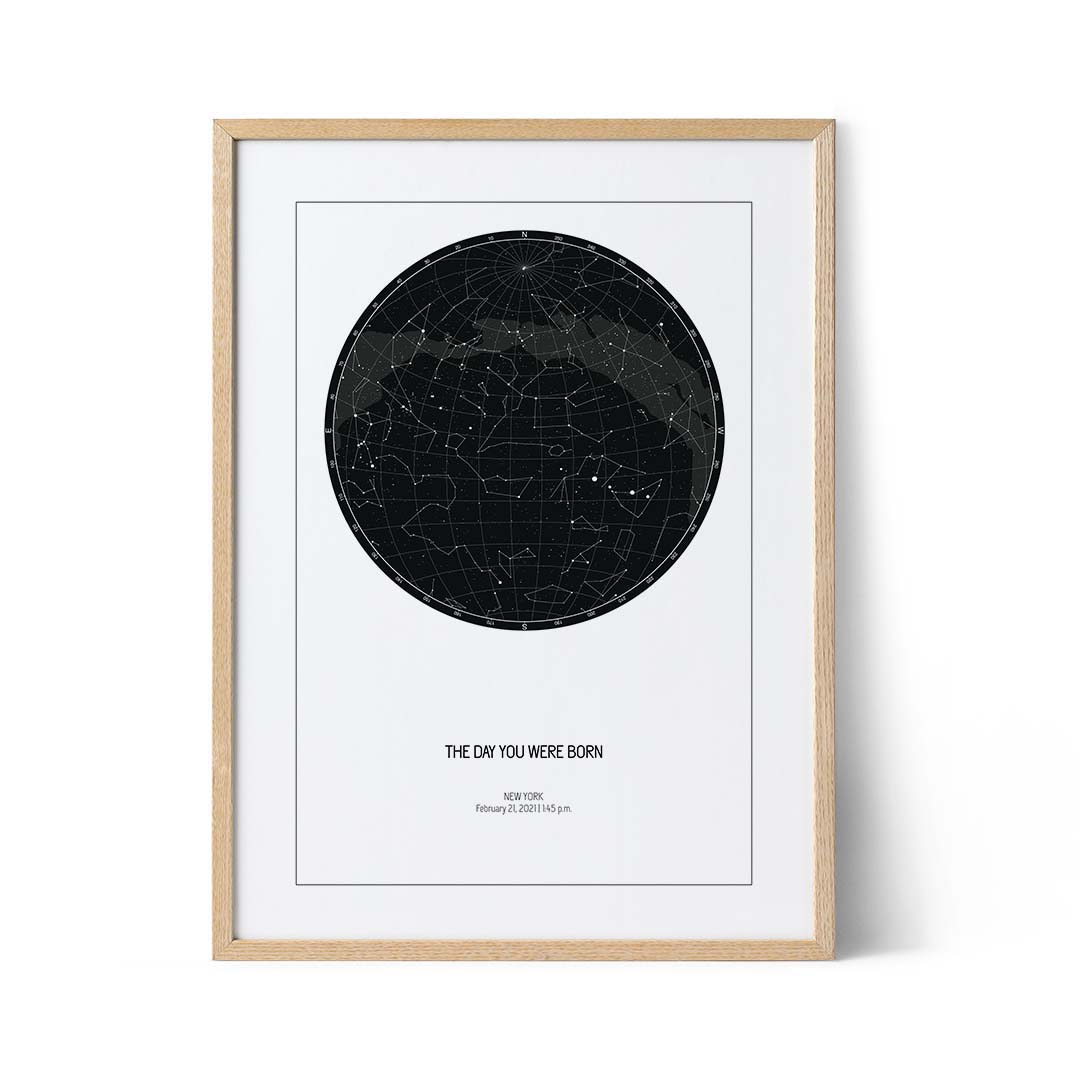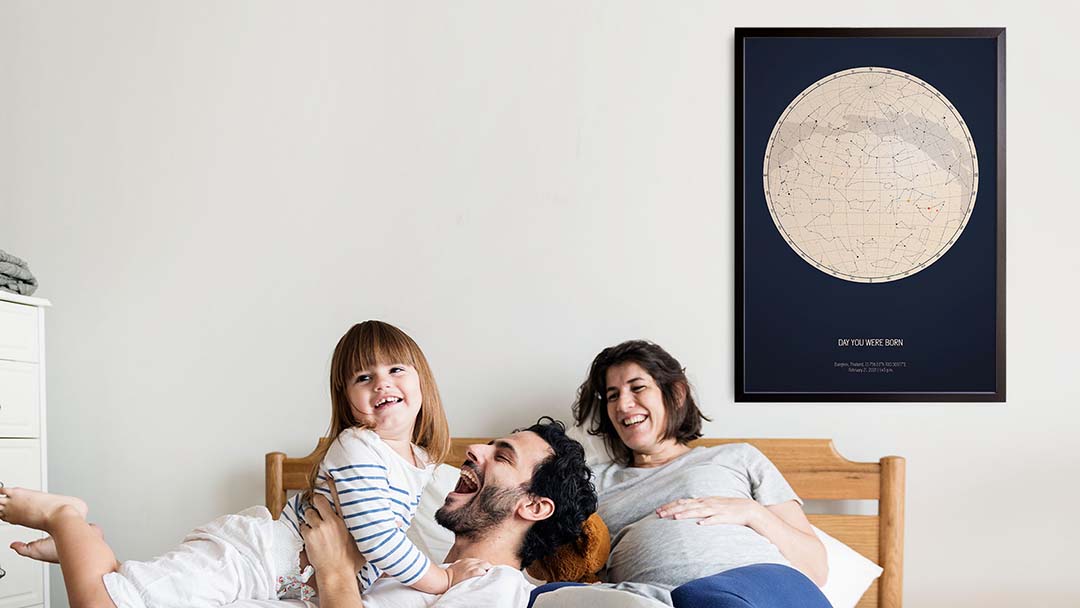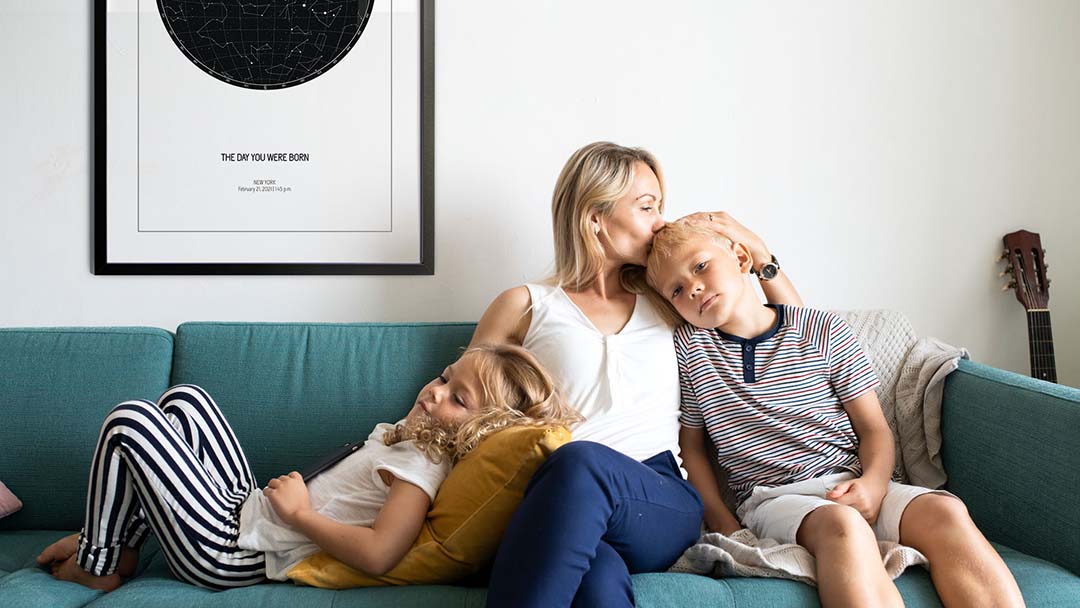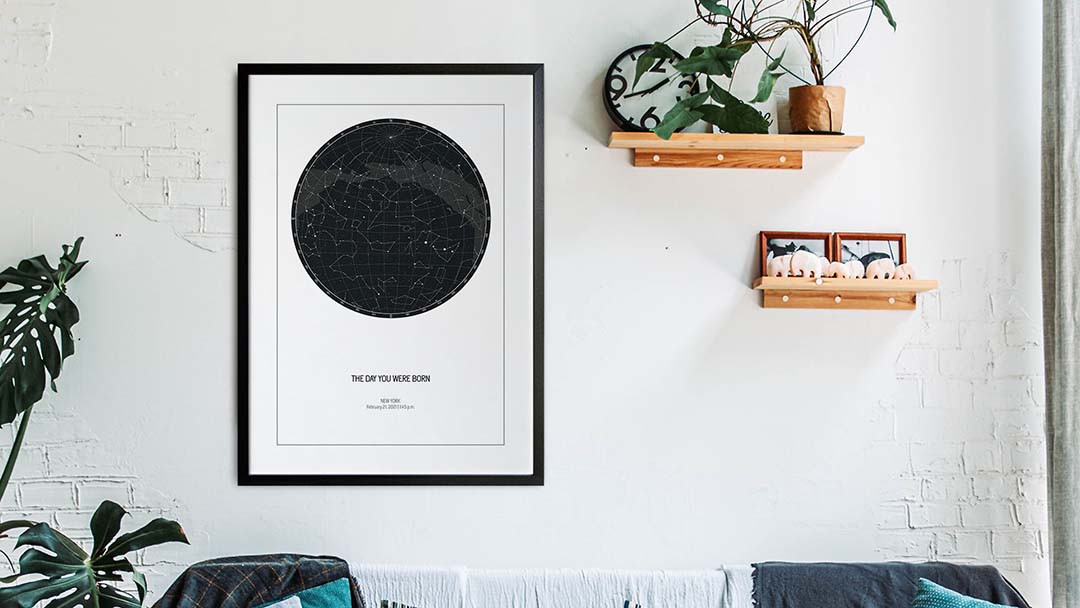 Day You Were Born Star Map
Looking for the perfect newborn gift? 'Day You Were Born Star Map' is perfect for this occasion! This beautiful representation of the starry night sky is recreated to match this special moment in your life.
From
Too see an Instant Preview
Available as
Digital
Printed
Framed
Canvas
⭐ Exact View Of The Night Sky From Any Location
✨ Detailed Star Chart Design Including Planets, Constellation Names And The Milky Way
⭐ Interactive Star Chart Editor With An Instant Preview
✨ 100% Customizable
⭐ Choose From A Variety Of Printed Sizes Or Instant Digital Download
What is a 'day you were born star map'?
A map of stars is a very detailed depiction of what the night sky looked like on a specific date of your choice. It's like looking up into the night sky on that special date, seeing the sky exactly as it was and reliving that moment in time.
Some believe that the positioning of stars and other celestial bodies influences life here on Earth. On momentous occasions, such as a birth of a child, the stars, planets, and the heavens are believed to be in perfect harmony. It's a moment worth capturing forever, as it's these special events that help to define our course through life.
Regardless of how you feel about the sky's impact on life on Earth,
custom star map posters
are meant to mark your most special moments in life. They're beautiful and artistic, and are made for displaying in your home. What's more, they make excellent gifts to share with family members, your spouse, your children, or other loved ones whose lives you wish to celebrate.
Are our 'the night you were born star map' accurate?
Our interactive star map editor isn't just for show. It's actually powered by sophisticated technology using data from the Hipparcos for the most accurate recreation of the night sky.
Hipparcos
was the first satellite space project that focused on astrometry, which is the measurement of how celestial bodies are positioned in the sky. It has collected data across more than 118,000 stars in the sky, allowing us to make highly detailed star maps for our customers.
When you order a map of stars poster from Positive Prints, it's the next best thing to traveling back in time to gaze upon the night sky on the night of the birth of a child.
How can I customize a 'day you were born star map'?
You don't have to know astronomy or astrology to create a 'map of stars on the day you were born', nor do you have to do extensive research to find out what the night sky looked like on on the day the child is born. At Positive Prints, we've taken all the guesswork out of the equation so that artistic beauty can thrive.
Our user-friendly, intuitive Star Editor guides you through three easy steps to create a map of stars. Using our creator tool, you step into the role of designer. Select your map shape, color combination, level of detail, and custom text. With every selection or change, you can watch your map come to life.
Choose to include constellations, constellation names, the Milky Way, planets, and/or planet names if you wish. You can control the level of detail on the map to get the exact image you want.
Select the location of the moment you wish to capture with a sky chart, along with the date and time for the most accurate representation. Add lines of text to offer a
sentimental message to a little one
or to caption your moment in time.
Once you've finished customizing 'the night you were born star map', you can select how to receive it. Currently, Positive Prints offers the option to print and mail your poster to you, or you can choose a digital download file and have it printed at the local place of your choice (ideal for last-minute gift options). We also offer canvas and framed versions, both of which are high-quality and suitable for gift-giving.
On the day you were born - The most meaningful gift!
Our customers love Positive Prints sky charts for many reasons, but our most common request is for gifting purposes. A custom star chart makes for a beloved gift. specially for the birth of a baby.
It's a personal gift that shows you went the extra mile to create something beautiful for the most important people in your life.
We invite you to get started today - try our intuitive Star Editor and create your 'day you were born star map' in a matter of minutes!
Customer Reviews
Write a Review
Ask a Question
06/09/2021
Emilia K.

PL
06/09/2021
Vakhmintceva T.

RU
I received my order. Everything is good.
05/09/2021
Daniel G.

SE
Gave it as a wedding present and the bride and groom were so happy!
03/09/2021
Stefan K.

SE
Fast delivery and very nice product! Like it very much!
03/09/2021
Nadine B.

DE
Das Geschenk kam sehr gut an. Die Sendung war pünktlich und sorgsam verpackt. Herzlichen Dank für die tolle Idee und die wertige Umsetzung.
03/09/2021
Małgorzata D.

PL
Plakat przepiękny, jestem bardzo zadowolona. Polecam w 100% :)
03/09/2021
Blanca a.

ES
Muy buena calidad de impresión. Ha quedado genial.Y el tiempo de espera ha sido más corto de lo que decían en principio. Todo estupendo
02/09/2021
Gerda H.

DE
Es ist das 2. Mal, dass ich den Sternenhimmel bestellt habe. Danke für die schnelle Lieferung. Ich bin sehr zufrieden und hoffe, dass für den Beschenkten auch so ist. Danke !!!
02/09/2021
Delphine O.

FR
Parfait souvenir d'une très bonne qualité
02/09/2021
Sandra B.

DE
Ist gut angekommen und sieht sehr schick aus! Danke
02/09/2021
Cristina G.

FR
Hello! Thanks Positive Prints! My sister just... loved it :)
02/09/2021
Magdalena S.

PL
Super jakość, perfekcyjna dostawa pięknie zapakowany idealny prezent! 😍
02/09/2021
Rosina W.

AT