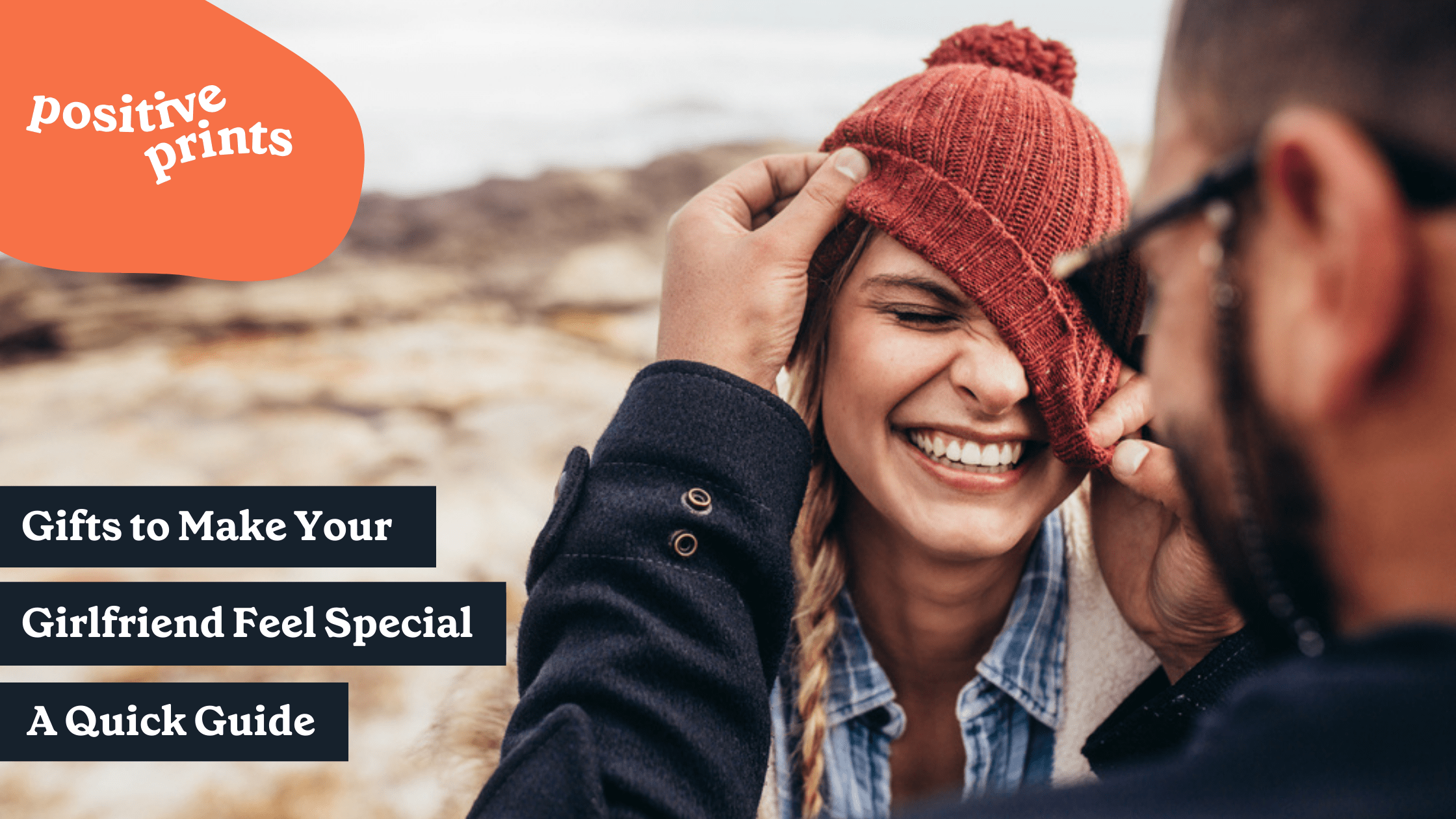 We understand that the quest to make your girlfriend feel special can sometimes seem daunting. However, fear not; we're here to guide you on this heartwarming journey of discovering ways to make your girlfriend feel loved and cherished!
With a dash of thoughtfulness and a sprinkle of personalisation, you can select gifts to make your girlfriend feel special and show her how much she means to you. So, let's embark on this exciting journey together and explore how to make your girlfriend feel appreciated!
A Bit of Advice
The act of making your girlfriend feel special should be an ongoing endeavour, not just a one-time event. Consistently showing her through your actions and your gifts how much she means to you and how valued she is will strengthen your bond exponentially.
Though the process may seem challenging, know that every thoughtful gesture can have a huge impact. With some creativity and intention, you'll soon master the art of making your girlfriend feel adored. This comprehensive guide breaks down the key tips and strategies, so let's dive in!
The Art of Gift-Giving
The enchantment of gift-giving lies not in the material value of the gift but in the sentiment behind it. Thoughtful presents that reflect her interests and passions make your girlfriend feel seen and understood. These are the gifts that show her you've been paying attention to her likes and dislikes, her dreams and aspirations.
Adding personal touches that highlight your unique bond helps create an emotional impact that resonates deeply with her. This thoughtfulness is the secret ingredient that transforms an ordinary gift into an extraordinary one! It's all about understanding her and showing her that you've taken the time to think about what would make her happy.
Gift-giving is truly an art form. A meaningful, well-chosen present demonstrates how well you know and understand your girlfriend as an individual. It shows you are observant and notice the subtle details about who she is as a person and what she cares about. The gifts that will touch her heart are the ones that prove you've been listening when she talks about her interests, or you've noticed what brings her joy.
Don't just default to generic gifts — reflect on what would create an emotional impact and make her feel special. Add personalisation that highlights your shared memories, inside jokes, or future dreams together. Most importantly, come from a place of love and let the sentiment shine through. This sincerity is the key to gift-giving mastery and making your girlfriend feel loved!
Related Reading: Personalised Valentine's Day Gift Inspiration Guide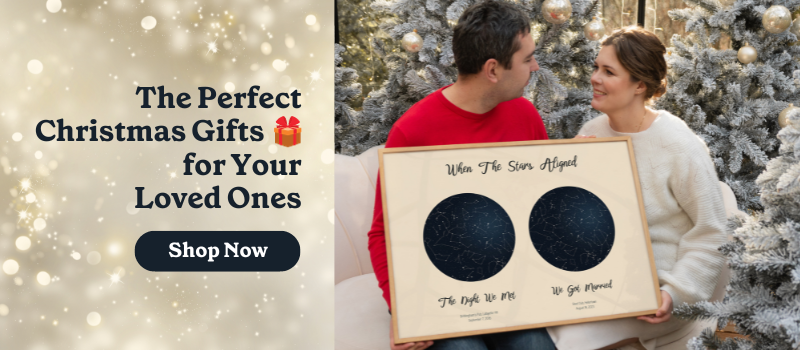 The Power of Personalisation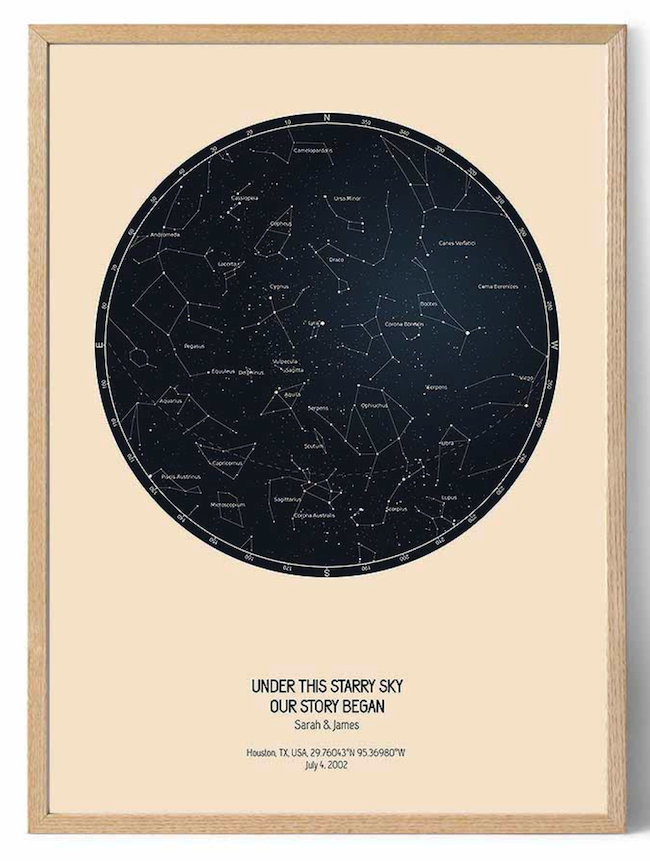 When it comes to personalisation, custom-designed prints are a fantastic way to make your girlfriend feel special. Consider Star Maps that depict the constellations on significant dates, such as your anniversary or the day you first said: "I love you." Or perhaps Custom Map Art pinpointing the location of your first magical kiss or prints showcasing the moon phase on the night you officially became a couple.
Each type of personalised print carries its own charm and sentimental significance. To make it even more special, consider adding photos, favourite quotes, or loving messages. These additions can make the gift even more personal and meaningful. She'll be over the moon with these custom mementoes that encapsulate your unique love story!
Personalised prints capture your romantic story in a visual form that can be appreciated and reminisced over for years to come. There are so many creative options — maps of special places and dates, artwork depicting significant milestones, or space-themed prints honouring astrological moments. The possibilities are endless!
Take time to think about what moments or memories you want to commemorate and why they hold such significance in your relationship story. Maybe it's the night you finally had the "defining the relationship" talk or the first weekend getaway trip you took together. Pick the moment that stands out and create the custom print to bring that story to life.
Related Reading: Star Map Quotes — What Do You Write on a Star Map?
Choosing the Right Personalised Gift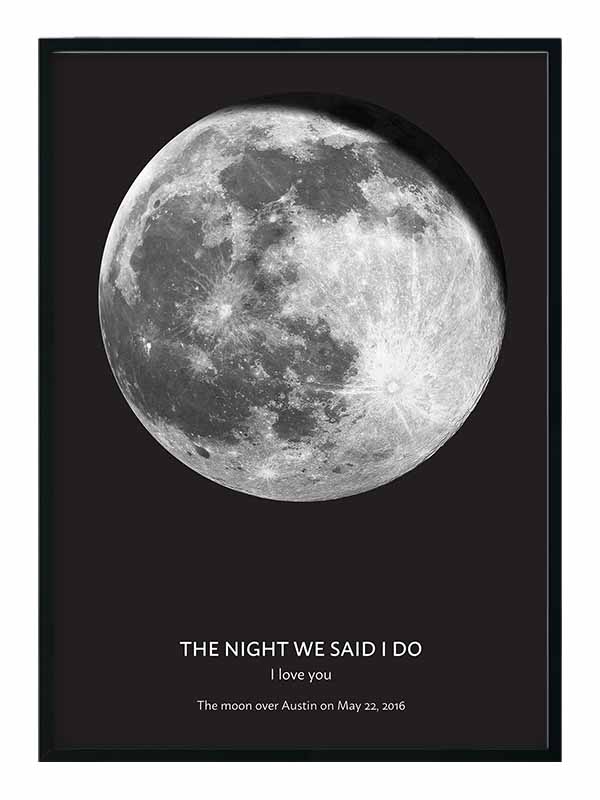 To choose the perfect gift, you need to reflect on your girlfriend's unique personality and interests. Is she a hopeless romantic who would be moved by a map of the spot where you proposed? Or perhaps she's an art enthusiast who would adore a Custom Moon Phase Print?
Consider important dates, songs, places, quotes, and photos that hold special meaning in your relationship. This thoughtfulness in choosing a print that celebrates your bond will undoubtedly touch her heart and make her feel loved. It's not just about the gift itself but about the memories and emotions it represents.
Choosing the right present can feel like an art in itself! Take time to mentally revisit your journey as a couple and the key moments along the way. Make a note of the places, dates, and milestones that stand out. Knowing her interests and personality will also help narrow down what style of gift would appeal to her most.
And remember, the print doesn't have to focus on just one moment — you can include elements from multiple memories to create a montage print that tells a more complete story. This thoughtfulness you put into curating and customising will be evident and make the gift even more heartfelt. Keep your genuine sentiment and appreciation for her at the core.
Related Reading: Our Guide to Personalised Anniversary Gifts
The Art of Presentation for Your Personalised Gift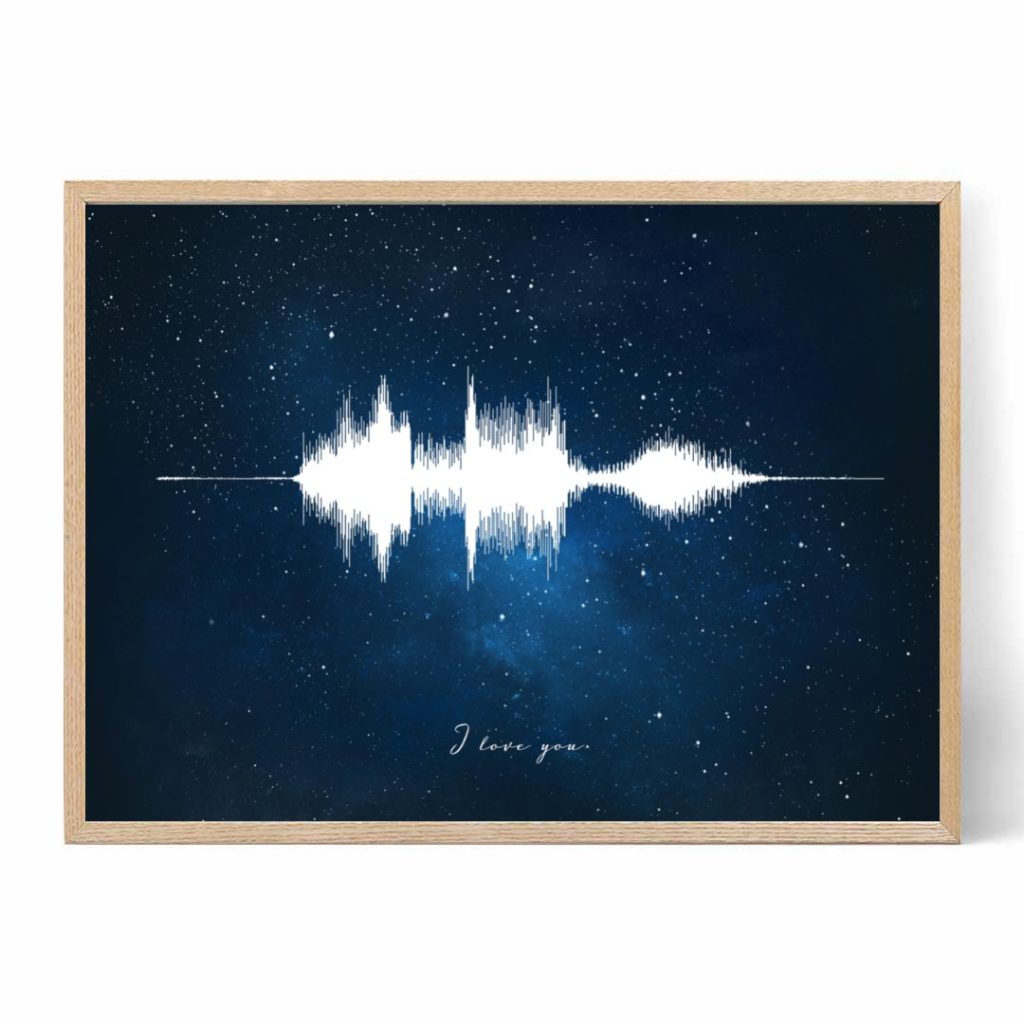 The gift-giving experience can be made even more memorable with a thoughtful and meaningful presentation! Consider writing a heartfelt message on the back of the print, expressing what she means to you. Or, surprise her with a scavenger hunt that leads to the wrapped gift. You could even put her favourite love song into a Soundwave Art Print.
No matter how you decide to present it, your thoughtfulness will shine through, making your girlfriend feel special and cherished. Each time she glances at the gift, she'll be reminded of your love and dedication. It's these little details that can make a big difference in how she perceives your present.
Dedicating thought and intention to the presentation of the gift amps up the meaning even more. If possible, coordinate the timing with a special occasion like her birthday to make it extra special. Or get creative with the reveal itself — hide secret notes for her to find or arrange the print thoughtfully in a space she frequents.
As we said, written words of appreciation take the gift to the next level. Include a heartfelt letter listing all the things you cherish about her. However you decide to present it, make your love apparent. Watch her light up, realising how much thought went into this gesture.
Related Reading: Beautiful Moon Quotes to Put on Your Wall Decor
The Impact of Your Gift
Imagine the joy in her eyes when she unwraps the gift and realises it's a personalised print made just for her. She'll be deeply touched by how well it captures your unique love story! Your relationship will feel even more special knowing you put such care into emphasising your bond.
Thoughtful gestures like these are the ways to keep the romance alive and show your dedication to making her feel loved every single day! It's not just about the gift but about the love and care that you put into showing it.
These thoughtful, personalised gifts tangibly represent the love and depth of your connection. Every time she admires the present, the emotions you hoped to spark will be reignited. Not only does this thoughtful gesture make her feel special in the moment, but it allows her to feel your love anytime she reflects on it.
So don't be surprised if you start noticing her sneak adoring glances at the gift and get a little misty-eyed. That's the sign you've succeeded in making a gift that imprints the significance of your bond. The impact can transcend the gift itself and inspire you to continue finding heartfelt ways to show your dedication. Let this be your guide as you master the art of making her feel special!
The Power of Thoughtfulness in Making Your Girlfriend Feel Special
Finding meaningful gifts to make your girlfriend feel special can seem challenging, but with custom prints infused with personal touches, you can make her feel valued and cherished. A gift with sentimental significance reminds her that she's loved for who she is. Remember, thoughtfulness creates an immense emotional impact — so have fun getting creative with unique ways to make your girl feel special!
Whether it's her birthday or just a regular day, using these tips on how to make your girlfriend feel special will surely help you make every moment count. So, go ahead and make your girlfriend feel loved and appreciated with these thoughtful gifts! Remember, it's the thought and effort you put into making her feel cherished that truly counts.
EXPLORE OUR RANGE OF PERSONALISED GIFTS FOR YOUR GIRLFRIEND THAT WILL MAKE HER FEEL LIKE A QUEEN.