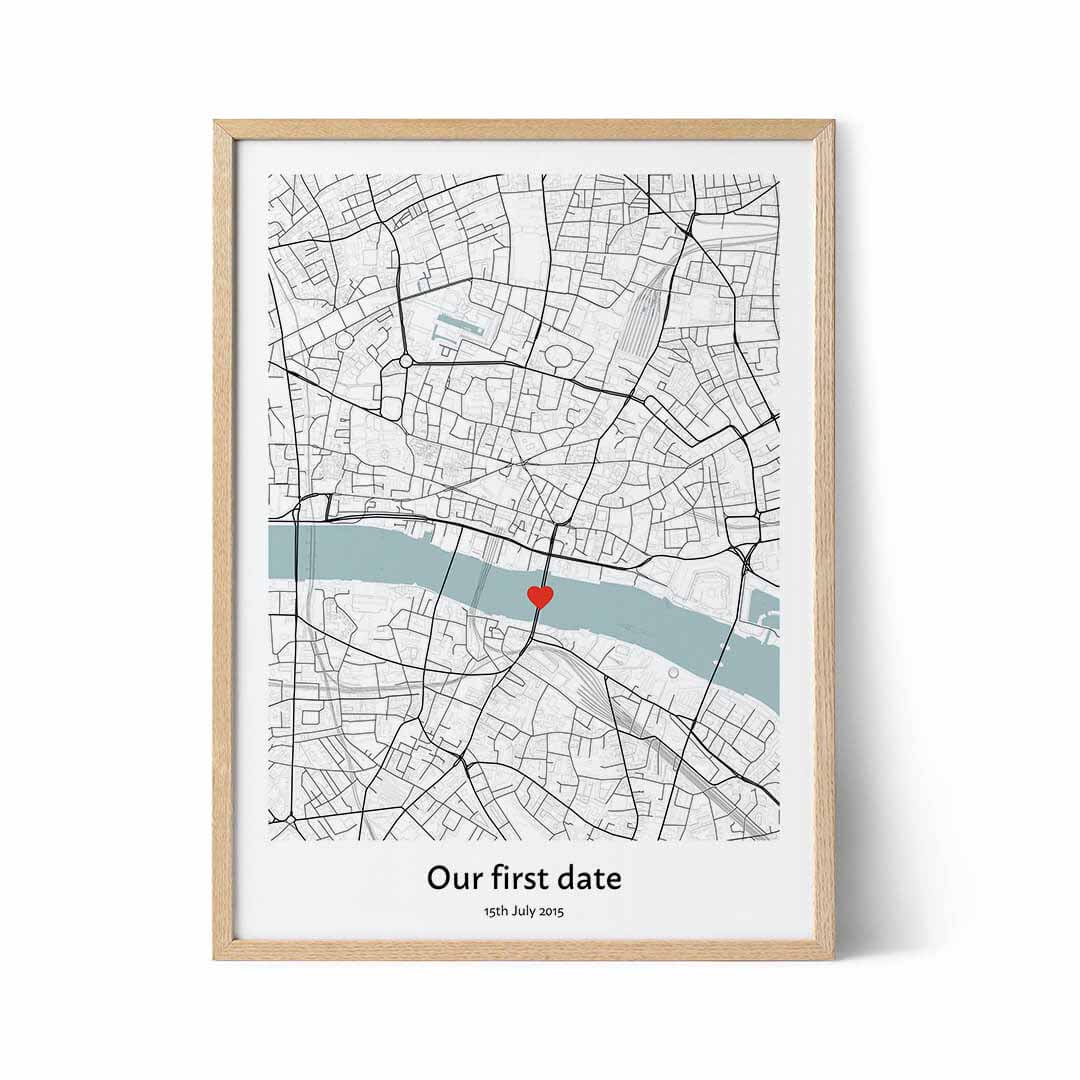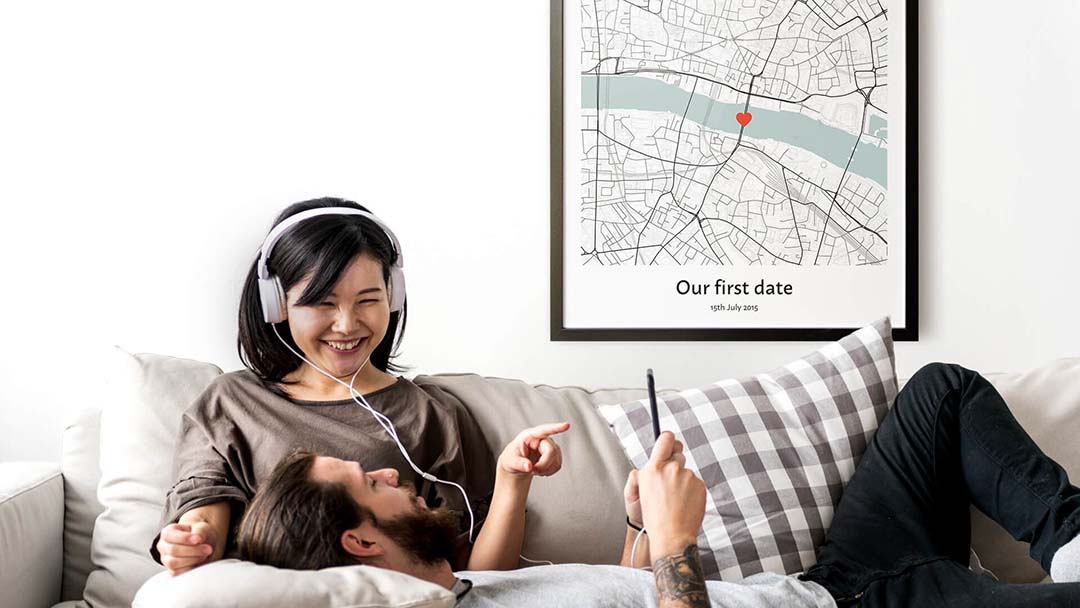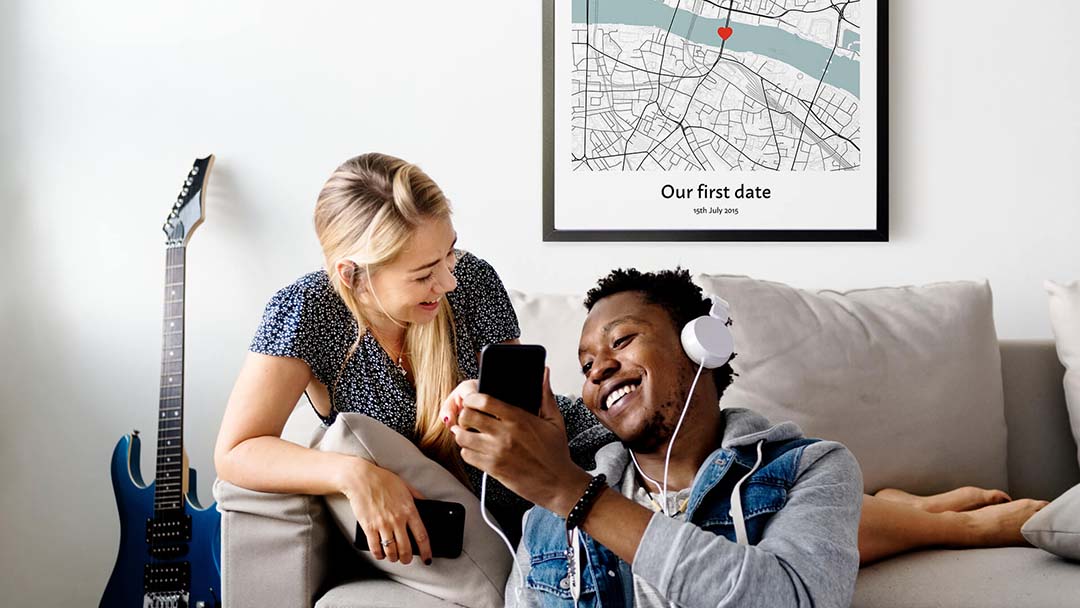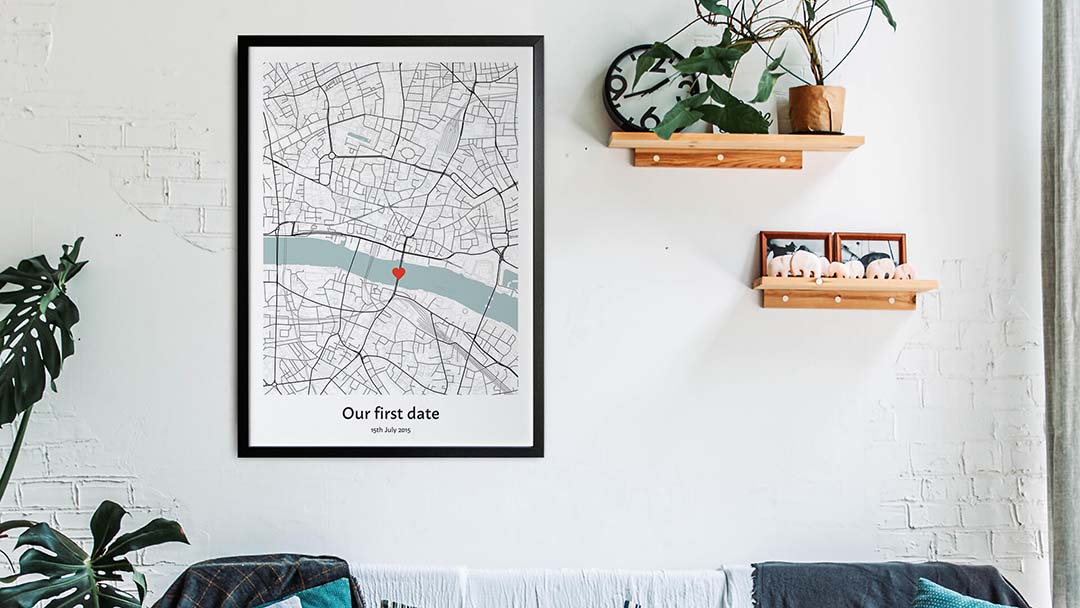 Our First Date Map
Every love story begins with a first date. It might be a planned engagement, or it might be an unofficial outing. No matter how it happened, an Our First Date map lets you look back on where it all began.
From
Too see an Instant Preview
Available as
Digital
Printed
Framed
Canvas
🗺️ An Our First Date map beautifully displays one of the earliest and most important milestones in your relationships
💕 Customise your map with your choice of colour scheme, map shape, personalised text, and how your artwork is printed and displayed
🗺️ Fast & free worldwide shipping or digital download options available
💕 Our First Date maps make the perfect gift for holidays and special occasions
🗺️ Start creating your Our First Date map in minutes!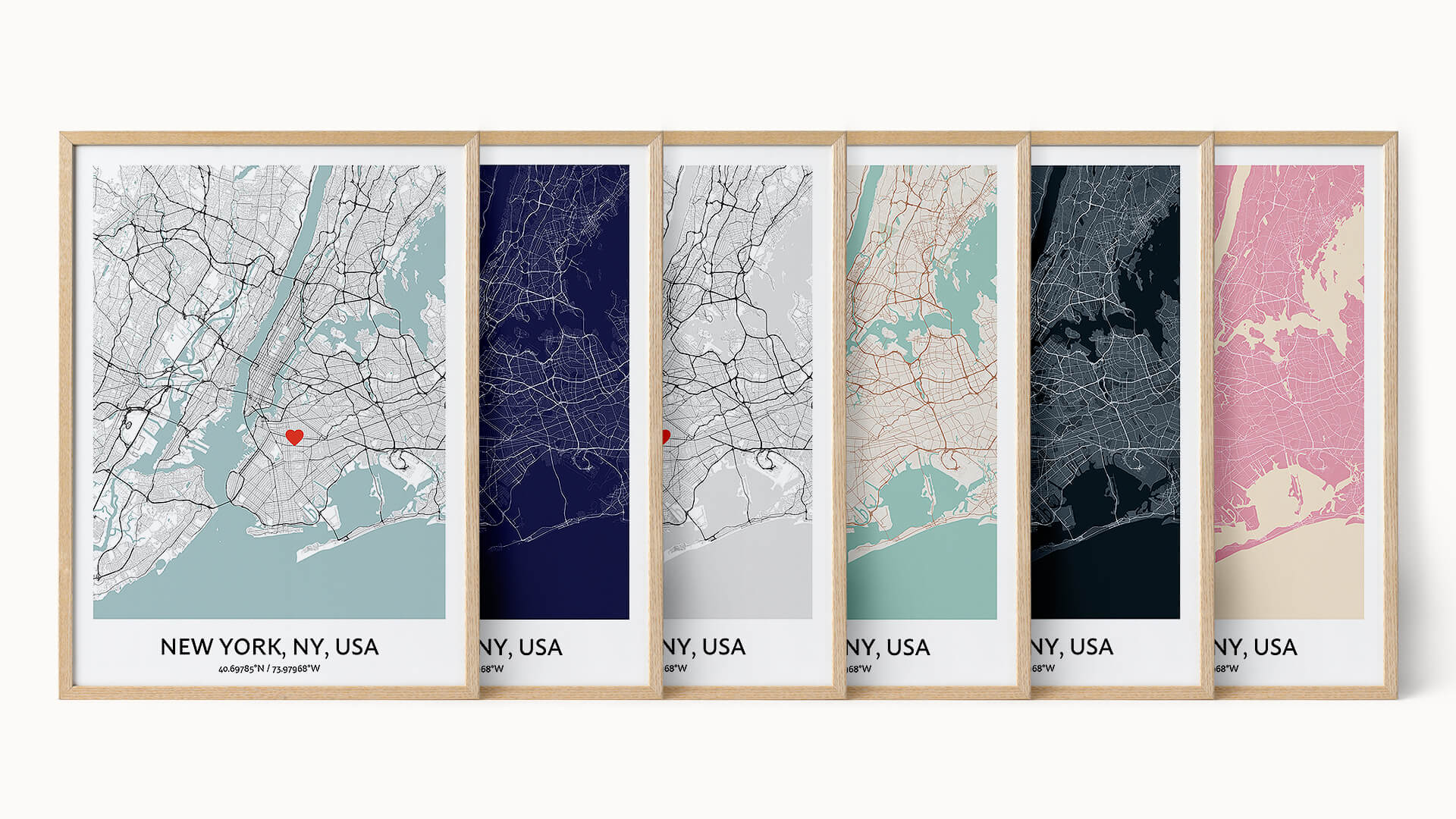 What is an Our First Date map?
Every step you and your partner have ever taken in life eventually led you to find each other. An Our First Date map shows a snapshot of your journey and the moment you started that journey together.
Maybe a friend introduced you and you planned to meet for coffee, dinner, or a walk in the park. Or maybe fate took matters into its own hands and put the two of you in the right place at the right time for a chance meeting. However you remember your first date together, you can secure that moment in your memories with a beautiful piece of artwork.
Gift Ideas for Engagements & Weddings
An Our First Date map is one of our most popular gifts. It displays a map of the location of your choosing with a simple heart shape over the exact spot where you experienced your first date. Many of our customers at Positive Prints choose to gift an Our First Date map to their spouse or spouse-to-be on their wedding day, anniversary, or engagement party. It's such a sweet way to look back at one of the first memories you shared together.
And while the gift might be for the special someone in your life, it's a gift you can enjoy, too! Hang your cherished map in your home so you can always look back at the time when your love was just starting to grow.
To complete your map design, add a custom message that brings that moment in time to life. It might be the date and time of your first date, details about your location, the movie or concert you saw together, or even a quote or song lyric from the event. The possibilities are endless!
How to Customise an Our First Date Map
When you're ready to give your loved one a piece of artwork they'll hold close to their heart forever, Positive Prints is here to help. Our map creator uses state-of-the-art GPS technology to make a highly detailed and accurate map that's all about you.
Start by choosing your design. Our
custom maps
can come in round, square, or heart shapes to create the look and feel you want. Choose from one of our pre-defined colour schemes or create your own to match your personal style.
Customise your map even further by choosing the location of your first date and dropping a heart-shaped pin. Include a message to enhance the significance of your map.
Last but not least, you can select from a variety of ways to receive your first date map gift: hardcopy print, digital download, print on canvas, or a framed poster!
Always Remember Your First Date Location
Look back at your first date with fondness. Start creating your custom Our First Date map gift today!
Customer Reviews
Write a Review
Ask a Question
05/09/2021
Roger K.

US
Its was very nice. Loved it.
03/09/2021
Amelia D.

PL
Zamówienie dotarło na czas i bardzo pozytywnie zaskoczyło obdarowanego :) Plakat jest rewelacyjny!
03/09/2021
Gaudin E.

FR
Bon produit, arrivé très rapidement. Je recommande ce site
03/09/2021
Nancy P.

US
Great present for my daughter's first anniversary. Everything was exceptional. Thank you.
02/09/2021
Kevin N.

US
The order arrived earlier than expected and looked great. It was a 20th anniversary gift for my wife and she loved it! Thank you for doing a great job!
02/09/2021
Estera N.

PL
Otrzymaliśmy ekspresowo przepiękny plakat upamiętniający nasze pierwsze spotkanie! Bardzo polecamy! 🥰
02/09/2021
Trevor Y.

US
The order came out great!
02/09/2021
Jadwiga G.

PL
Obdarowanemu prezent szczególnie przypadł do gustu, świetny pomysł. W przyszłości chcemy złożyć kolejne zamówienia. Jeśli chodzi o względy estetyczne, to zgodnie z zapowiedzią produkt różni się trochę od projektu - spodziewałam się mocniej zarysowanych szczegółów, ale dzięki temu całość prezentuje się bardzo delikatnie.
02/09/2021
Ghita E.

NO
High quality, and such a beautiful gift for your loved ones
02/09/2021
Nicolaj S.

US
I give my best recommendations.
02/09/2021
Agnieszka J.

PL
Piękne wykonanie i szybka wysyłka. Polecam
20/08/2021
Adrien P.

FR
Je suis très satisfait du résultat - qui est de bonne qualité. Le cadeau a fait plaisir! Je tiens à souligner le professionnalisme de l'équipe qui a fait un geste commercial et a procédé sans délai à une seconde expédition de ma commande après que la première ait été perdue par le service de livraison. Je recommande donc vivement.
17/08/2021
Raha M.

AE
This was very cute and I loved the idea :)
12/08/2021
Mikolaj T.

PL
Bardzo starannie wykonane, zapakowane i bardzo szybko dostarczone (już po 1 dniu).