Met Kissed Engaged Map

✓ Custom Maps Highlight Three Very Special Milestones in Your Relationship
✓ Add a Map Marker to Pinpoint the Exact Location Where the Magic Happened
✓ Create Character With Special Color Schemes and Map Shapes
✓ Maps Can Display Any Location Anywhere in the World
✓ Free Shipping to Anywhere in the World or Available as a Digital Download

Customer Reviews
Write a Review
Ask a Question
09/29/2022
Jamie A.

GB
Fantastic! Originally I thought the price, despite being a bespoke product, was a bit steep but can't put a price on love eh!? However when I received it, it was well worth it! Fantastic quality in print and frame. Keep up the good work chaps and chappettes! Xx
09/30/2022
Positive Prints
Hello Jamie! I'm thrilled that you loved the Met Engaged Married Map. Trust us, you've made our day hugely better by sharing your experience ❤️
09/26/2022
Alberto L.

US
Wonderful print! Arrived quickly and my wife loved it!
09/30/2022
Positive Prints
Hello Alberto, Glad to hear that your wife loved the Met Engaged Married Map. I'm not surprised at all - you nailed it! 💖 Wish you both all the best!
09/22/2022
DOMINIKA G.

PL
The most beautiful gift at the party
09/30/2022
Positive Prints
Dzień dobry! Ogromnie dziękujemy za pochlebną opinię. Cieszymy się, że mogliśmy naszym produktem uczcić tak wyjątkową okazję! 💝
09/22/2022
Karina S.

DE
Was a really acknowledged wedding present
09/30/2022
Positive Prints
Hello Karina! We are incredibly grateful that you took the time out to leave us a 5-Star review. We'd be glad to serve you again. ✨
09/22/2022
Shaun B.

AU
5 star service and product, we opened this present expecting less but the frame was closed at the back to ensure no damage could occur in the future of plus the art work was detailed to what my wife really wanted.
09/30/2022
Positive Prints
Hello Shaun! I appreciate your warm words. That you had such a positive experience with our service makes us very happy. 💜 We can't wait to have you back at Positive Prints!
You found The Perfect Gift
Personalized prints make a lasting, meaningful gift.
✔ Printed on elegant, matte art paper of 200 gsm or beautiful 340 g/m² canvas fabric ✔ Choose from over 100+ themes and styles to fit any occasion ✔ Pick between a small size print or a statement decor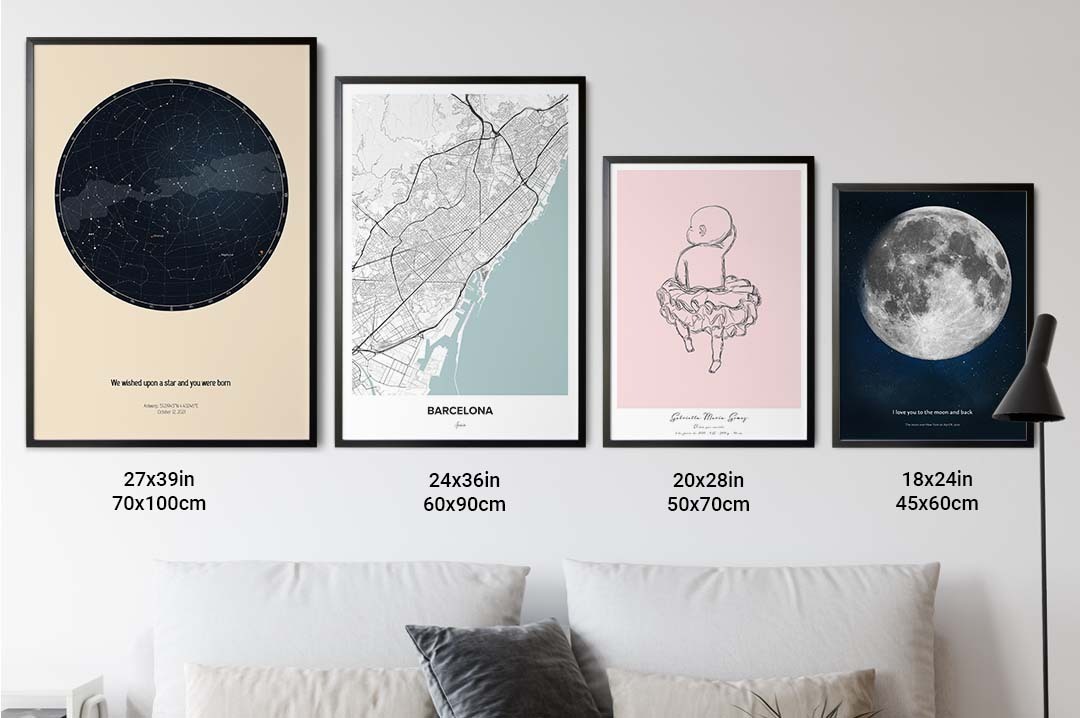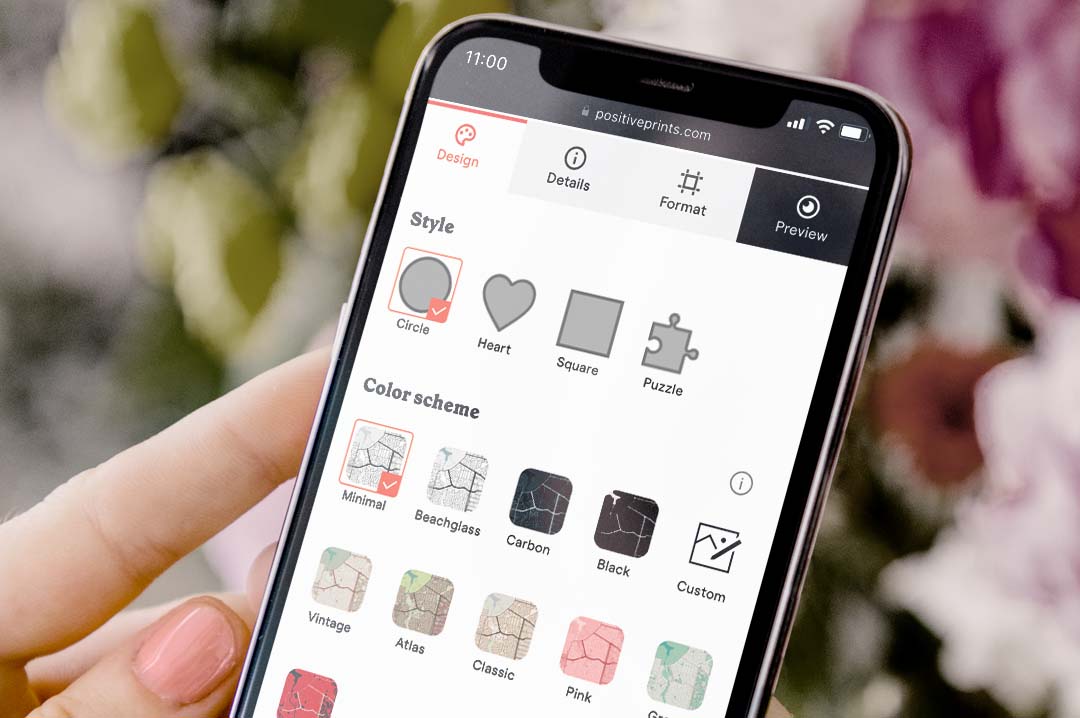 Or choose a last minute digital download
✔ Available immediately after purchase ✔ Can be printed in the format of your choice ✔ High quality JPEG files of 300dpi
Create digital file now
The moment you met your forever love led to the first kiss, which led to the moment you decided to spend eternity together. Every love story is worth celebrating, and you can retell yours again and again with a Met, Kissed, Engaged Map.
What is a Met, Kissed, Engaged Map?
Our Met, Kissed, Engaged Maps at Positive Prints are actually a series of three smaller maps displayed as a single poster print. Each map highlights the location of an important milestone in your love story: the place you met, where you shared your first kiss, and where you decided to spend forever together.
Each of the smaller maps includes custom text. This might be details about the location, the date of the event, or any other details that matter to you. You can also add a heart-shaped map marker to designate the exact place you were when that special moment occurred.
Why Choose a Custom Engagement Gift?
Engagement gifts should come from the heart. They're about the two of you as a couple, and what better gift than one that displays how your love has blossomed since the first time you met?
That's why custom gifts are so popular for engagement parties. Whether you're celebrating as a parent of the newlyweds-to-be, a friend, a family member, or even the future bride or groom, custom gifts for engagements give you a chance to show your special couple just how much they mean to you.
How to Create Your Met, Kissed, Engaged Map Gift
Positive Prints puts you in the shoes of the designer when making your custom map gift. Our easy 3-step process takes the guesswork out of creating a one-of-a-kind Met, Kissed, Engaged map, and even takes less time than you would spend in a store searching for a perfect gift. Here's how it works:
Step 1: Select Your Base Design
We've taken care to create a number of beautiful map designs for you to choose from, including unique shapes for your maps and designer-level color schemes. You can take advantage of the legwork we've done for you, or create your own custom color scheme.
Step 2: Fill in the Details
After choosing your basic design, you can customize your map with all the little details that make up your love story. This includes choosing the location for each of your maps, adding custom text, and even choosing a special map marker for each location.
We love the Met, Kissed, Engaged map concept, but you can include any special moment that's important to you. For example, if you would rather add in the day you bought your first home together, feel free to do so! It's your map, your way.
Step 3: Choose Your Delivery
Positive Prints offers free worldwide shipping for all of our hardcopy poster prints, prints on canvas, and framed posters. For faster turnaround, select the Digital Download option to have it printed locally.
Getting Started with a Custom Map is Easy!
Your love story is unlike any other, and your engagement gift should be, too. Get started today with a Met, Kissed, Engaged Map from Positive Prints!