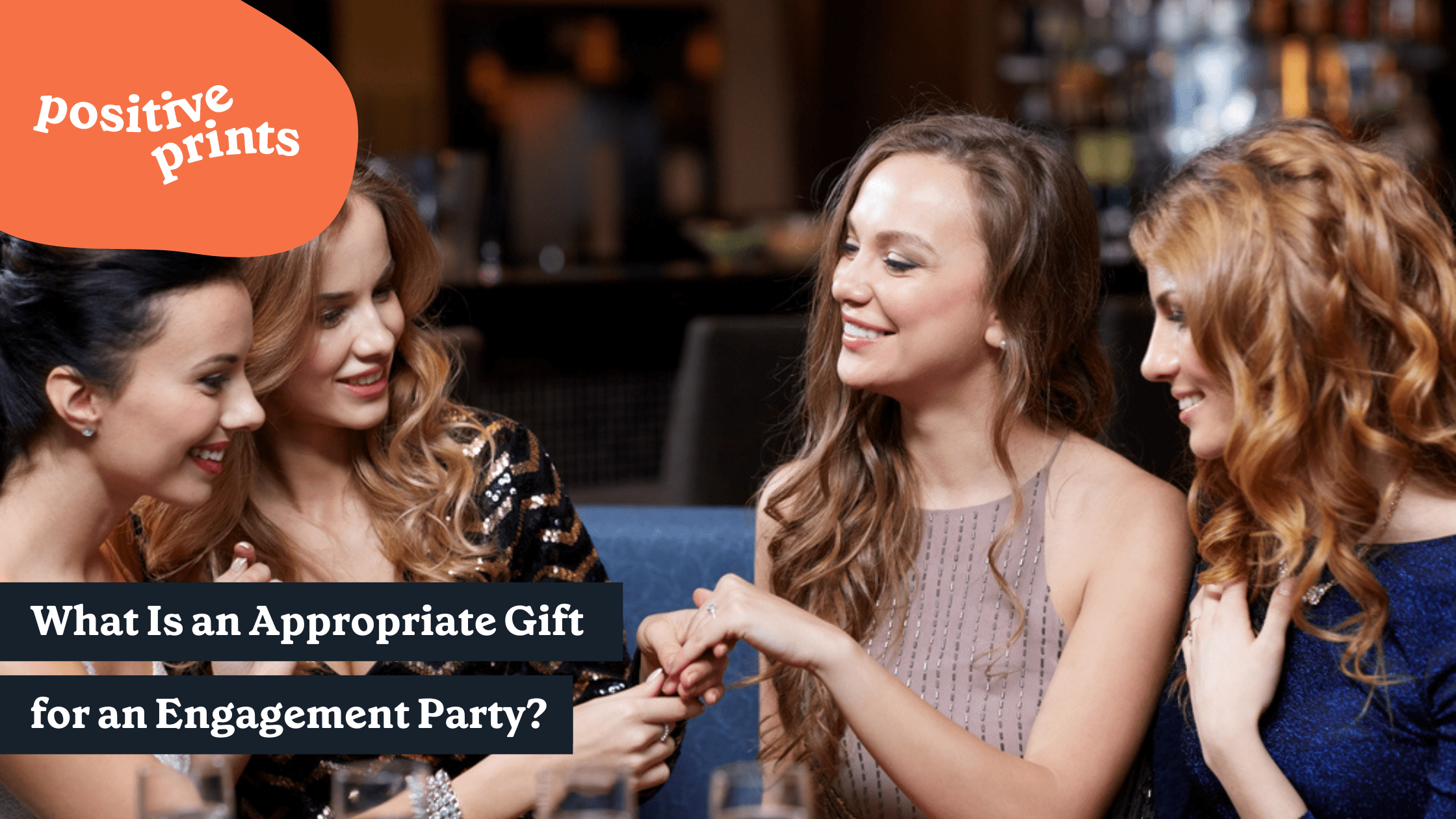 The joyful news of an engagement is a cause for celebration, and attending an engagement party gives you a golden opportunity to join in the frenzy of excitement and happiness surrounding the couple's upcoming nuptials. However, when selecting the perfect gift for the engaged couple, many face a common dilemma: what is an appropriate gift for an engagement party? Do I need to buy an engagement gift at all?
Engagement Party Traditions and Expectations
Engagement parties are special occasions where friends and family come together to celebrate the love and commitment of a couple and serve as a prelude to the upcoming wedding, marking the union of two families. While traditionally hosted by the couple's parents, nowadays, couples often take the lead in organising their own engagement parties, adding their personal touch to the festivities.
But what is the correct engagement party gift-giving etiquette? There has been a shift in recent times when it comes to engagement party gifts. While it used to be common not to bring a gift to an engagement party, many guests (especially if you're a close friend or family member and are likely to play a part in the wedding party) now choose to express their good wishes through small, thoughtful, sentimental presents. That means finding personalised treasures reflecting the couple's journey in a meaningful way without breaking the bank.
Reasons for Choosing Personalised Gifts
Personalised gifts allow you to express your genuine affection for the couple. It shows you value their love story and want to share in their happiness.
Still stuck on what to get them? Let us help you out…
Our Top Personalised Gift Picks for Engagement Parties
Here are our top three personalised gifts appropriate for an engagement party that will make the couple's hearts warm and fuzzy and leave a lasting impression. Choose the one that speaks to their unique love story and watch as they embark on this exciting chapter of their lives with love and gratitude.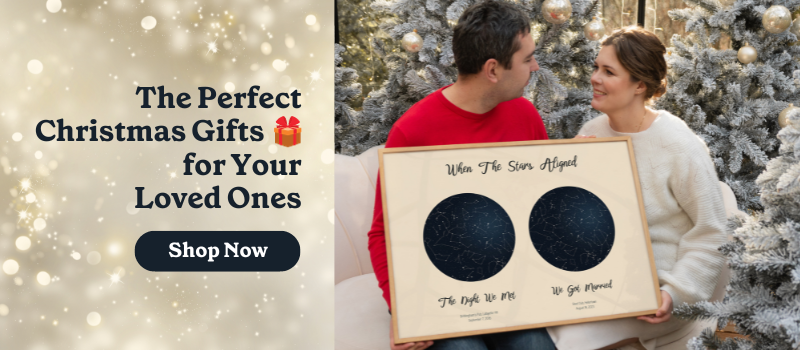 "The Night We Got Engaged" Star Maps: A Celestial Celebration of Love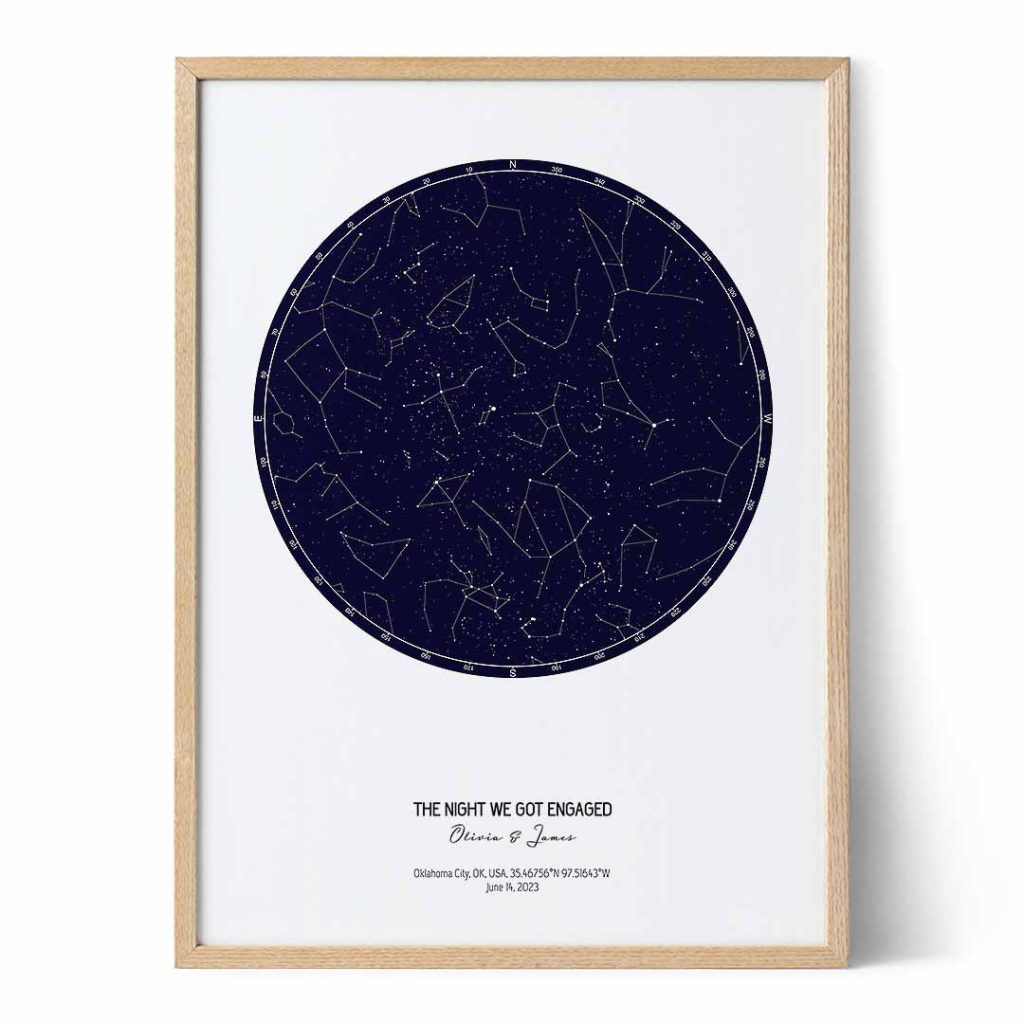 The stars aligned, and the universe changed for these two people the moment they first caught each other's eyes. And now they are getting married!
Our "Night We Got Engaged" star maps immortalise that specific time and place, visually replicating the universe's beauty at that precise moment. Every star map print is unique because no two events in life are the same. Our star map generator uses the specific details of the event to create a picture-perfect image that can be printed as a poster, framed poster, canvas print, or digital print.
To create a star map, input the date, time, and place where the couple got engaged. You can choose your preferred colour schemes and map details, including stars, constellations, planets, and more. You can even add custom lines of text that beautifully convey the heartfelt meaning behind this magic moment. There is a good reason why this is one of our top-selling gifts — it won't cost you the world, but it will mean the world to whoever you give it to. With over 450 5-star reviews and counting, you can be sure you are buying a gift that will be treasured forever.
Engagement Maps: Capturing a Crucial Moment in Time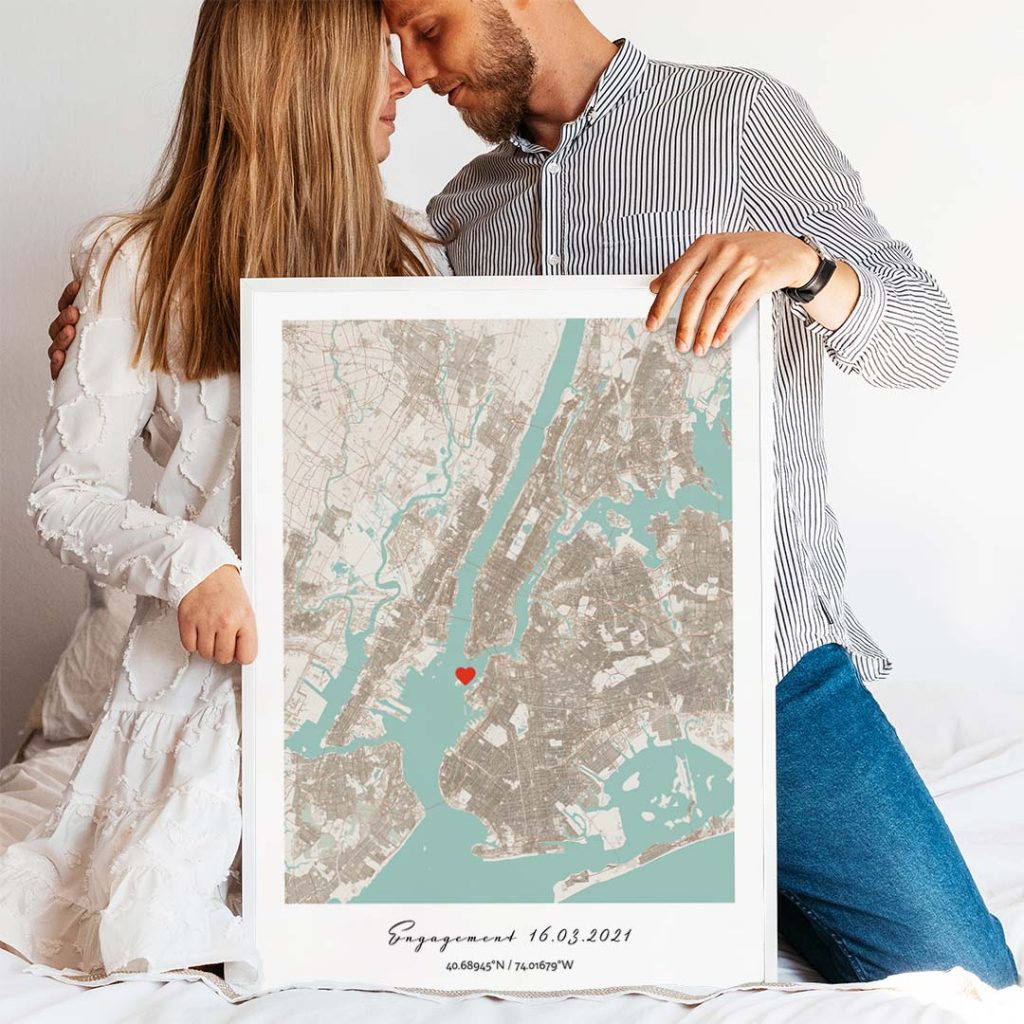 If you want your gift to be a little more down-to-earth (excuse the pun), our Engagement Maps can pinpoint the time and place the lovebirds decided they wanted to be together forever.
This map captures precisely where they were, including the coordinates, on the day they decided to take the next step in their relationship — an especially sweet choice if the proposal took place somewhere special.
Gifting the couple a personalised map capturing the exact location and time of this joyous event will undoubtedly evoke sentimental feelings and celebrate their unique bond. The thoughtfulness of such a gift will add an enchanting sense of destiny to their relationship as if the universe itself played a role in guiding them to this joyous moment (it really did!). By presenting them with this thoughtful memento, you will let them know how special their love is to you and how much you cherish the significance of the day they got engaged.
The Engagement Map is fully customisable, allowing you to choose any city, state, or place worldwide to commemorate the moment life changed for those two people. Simply provide us with the location, and our advanced geographic map creator will diligently craft a meticulously scaled map of that area. You can zoom in or out so it looks exactly how you want it — then you can mark the spot where the couple said "Yes!".
Our Moon Maps: A Different Kind of Star-Crossed Love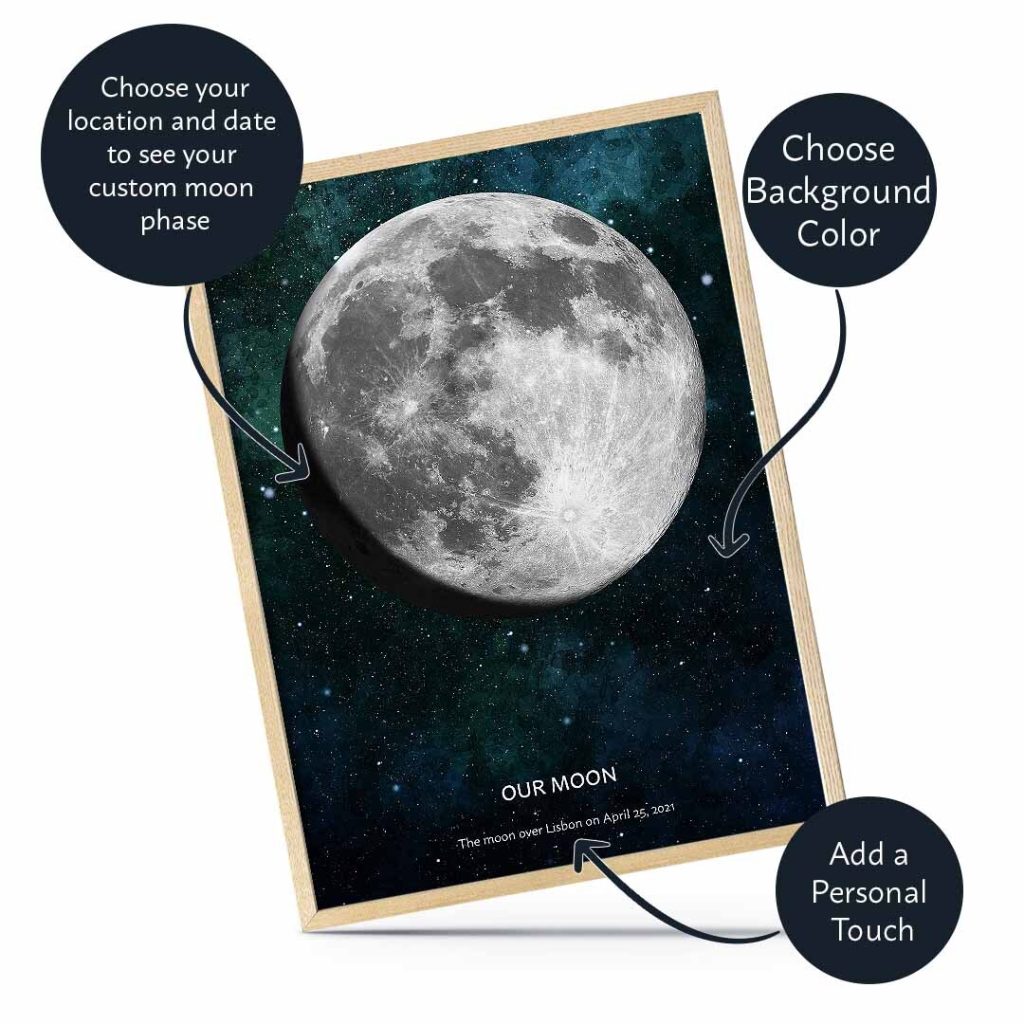 A personalised "Our Moon" Map could make the perfect engagement gift for the lunar lovers out there. The phase of the moon at the time when the two souls got engaged could have played a significant role in their love story.
Lunar phases hold special meanings and significance in various cultures and belief systems. Throughout history, the moon has been associated with symbols, myths, and rituals, and each phase carries its own significance.
The new moon represents new beginnings and setting intentions, while the full moon signifies realisation and manifestation. The waxing moon symbolises growth and progress, while the waning moon represents release and letting go of whatever holds you back. Occasionally, a blue moon, with two full moons in a month, is seen as a time of abundance and magical possibilities.
Whatever the phase, an "Our Moon" Map reinforces their relationship's romantic and magical nature. It signifies the celestial alignment that brought them together, highlighting the cosmic forces that played a role in their connection.
"He Asked, She Said Yes" Prints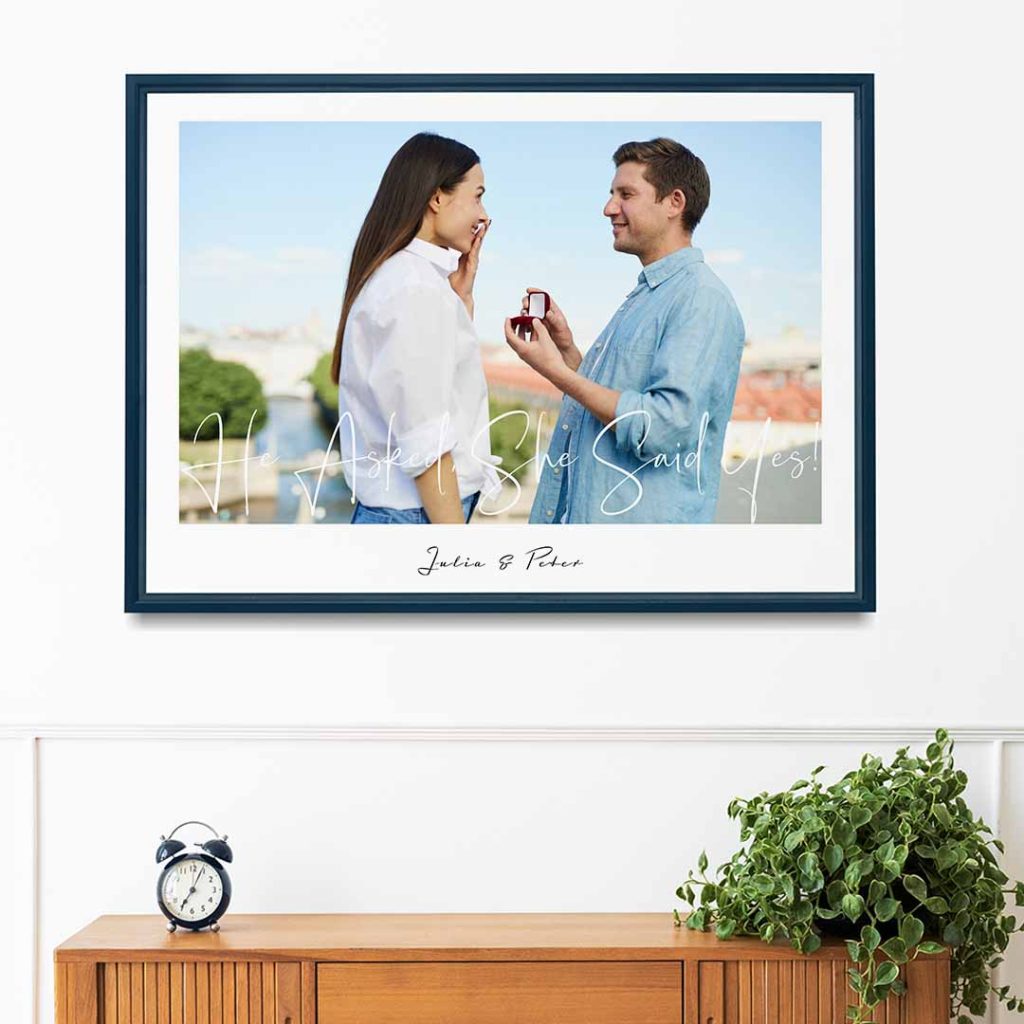 The "He Asked, She Said Yes!" personalised prints are the perfect engagement gift if the proposal was caught on camera, capturing the beautiful and unforgettable moment in a couple's journey. That said, any picture of the happy couple will work wonderfully for this custom gift.
This thoughtful present allows for customisation, ensuring it resonates with any couple, regardless of gender or who proposed to whom. By freezing that heartwarming instant of the proposal, the print encapsulates the pure joy, love, and excitement shared between the two. This unique and sentimental gift is a constant reminder of their love story, a visual representation of their commitment, and a cherished keepsake that will adorn their home for years. It celebrates their love and the uniqueness of their relationship, making it a truly touching and meaningful gesture to mark the beginning of their lifelong voyage together.
The Perfect Engagement Party Gifts: Making the Right Choice
Beyond their symbolic meaning, the "The Night We Got Engaged" star map, "Our Moon" Map, Engagement Map, or "He Asked, She Said Yes!" print can be a beautiful piece of artwork. It can be displayed as a unique and sentimental decor item, adding a touch of elegance and personalisation to the couple's home. It becomes a conversation starter and a constant reminder of their love story.
Most importantly, your gift for the couple is truly made for them, celebrating the love that only they share. And the great thing about these gifts is you can create another custom print for their wedding day and anniversaries! 

Shop our full range of engagement gifts, and you'll surely find something unique and meaningful for the special couple. All of our posters are printed on museum-quality art paper for a high-quality look. FREE delivery on all orders worldwide!