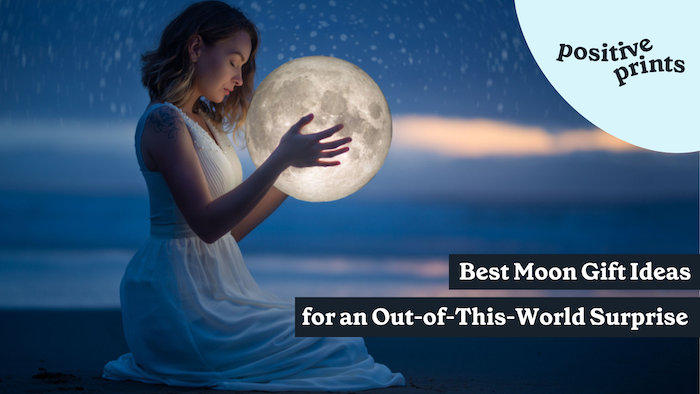 The moon. That glowing orb of reflected light and pale, radiant beauty, so familiar yet still so mysterious, has been a source of fascination since the dawn of humanity. Almost every culture and civilisation has worshipped the moon, and fables and tales, texts, and temples dedicated to its gods and goddesses can still be found in every corner of the globe.
It's as if the moon were made for mythology and myths. The Greeks called her Artemis, the goddess of the hunt. To the Norse, he was Mani, the keeper of time. For the ancient Egyptians, the moon was Khonsu, a god with the head of a falcon. For the ancient Aztecs, she was Coyolxauhqui, the goddess dismembered by her brother, the sun god.
For many over the millennia, the moon has become almost an obsession. Tribes have danced beneath it in a hundred different rituals for a hundred different reasons. And both Ayurvedic and Chinese medicine have prescribed bathing in the rays of clear moonlight as a treatment for healing, soothing, and cooling the body.
The moon is the master of the tides; its phases, whether waxing or waning, keep time through the seasons. From the hungry Wolf Moon of January to the plentiful Harvest Moon of September, each full moon marks our way through the year's cycle. For those who truly feel the moon's pull, a personalised piece of Moon Phase Wall Art, beautifully depicting just what phase the moon was in to mark a special occasion, makes an ideal present. Maybe the kind they'd be lucky to receive once in a blue moon!
Fly Me to the Moon
Unlike the sun, which simply shines, the nature of the moon has always been more complex and intriguing. That seductive silver disc has forever been associated with love and romance, but the moon has always had a darker side too. Aside from the legend of the werewolf, madness was long thought to be caused by the moon, hence the term "lunatic," which can even be found referenced in the gospels.
In fact, due to the synchronous rotation of the earth and its only satellite, 238,855 miles away, we really do only ever see one face of the moon, while its far, or dark, side remains forever obscured from view. Which only enhances the moon's secretive allure.
For those passionate about astrology, the moon plays a vital role here. What most of us know as our star sign is our sun sign, but each of us has a "moon sign," too. Astrologers believe that the moon's location in the zodiac at the time of your birth is equally significant for determining your unique traits and personality. While your sun sign defines your basic preferences and sense of self, your moon sign describes your emotions and desires — the feelings below the surface.
If you'd like to learn more, you can discover your moon sign here.
For truly inspired gifts for moon lovers, what could be more thoughtful or satisfying than discovering their moon sign and encapsulating it in a beautiful piece of bespoke Zodiac Sign Art? It's a wonderful way to reach a deeper discovery of astrological personality and a present sure to thrill every moon child out there, maybe especially those in the sign of Cancer, whose ruling planet is the moon.
If I Could, I'd Give You the Moon
We've taken our best shot at compiling a list of other inspiring moon gifts below to ensure that you don't just please the lunar lover in your life — you give them a gift they'll be over the moon about!
Personalised Moon Phase Poster
positiveprints.com
from £20.00
Something unique about the moon is that it's as old as time itself. It has looked upon every event of the earth from a perspective the rest of us can only dream about. For all your life's most magical moments, capture them with a Personalised Moon Phase Poster. These posters recreate the moon phase of a date and time of your choosing. Personalise the poster with custom text, quotes, or other details for a gift that's truly one of a kind.
Be Inspired: Beautiful Moon Quotes to Put on Your Wall Decor
---
Moon Lamp
(Amazon.com)
£27.99
Put the light of the moon in your hands with this Unique Moon Lamp. A smooth, perfect orb lights up a room and is rechargeable for ongoing illumination.
---
Half Moon Planter
(Amazon.com)
£34.95
While the real moon isn't conducive to greenery and plant life, these Half-Moon Planters flip the script. Ideal for small air plants and succulents, you can tuck your favourite little potted greens into a lunar bed and breathe life into your new-age decor.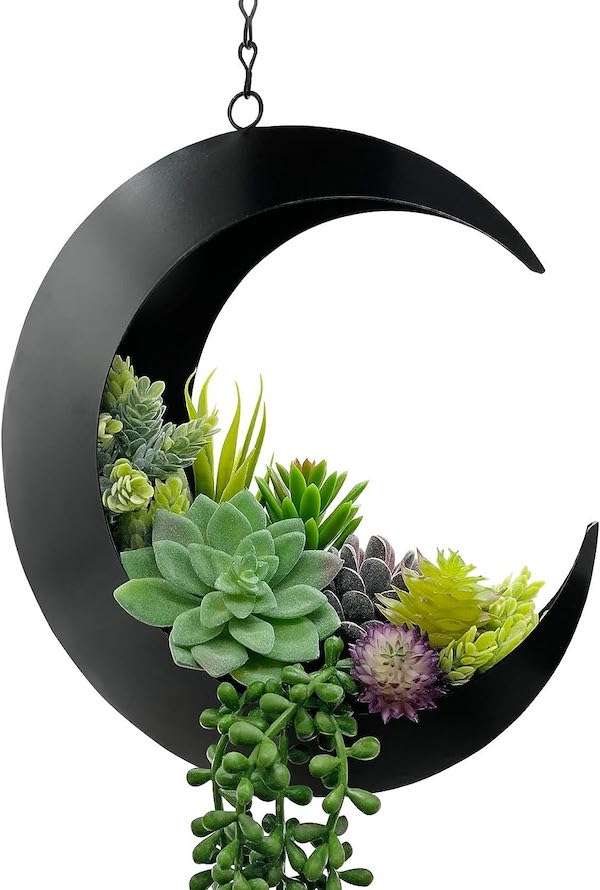 ---
Moon-Shaped Jewellery Dish Tray
(Amazon.com)
£9.99
Nestle your finest jewellery in a bed of stars with these adorable Celestial Jewellery Trays. The crescent moon shape allows ample room for rings, earrings, and other small jewellery. They're small enough to keep by your bedside but big enough to attract the attention they deserve.
---
Glow in the Dark Moon Blanket
(Amazon.com)
£24.00
Perfect for a reading nook, this cosy, plush Glow-in-the-Dark Moon Blanket was made for dreamers. Crescent moons and stars are tightly stitched into the luscious fabric that will keep you warm on even the coldest winter nights. Curl up by the fire with your favourite book about the moon, or use it every time you watch a lunar eclipse or meteor shower or when you gaze at the moon through your telescope.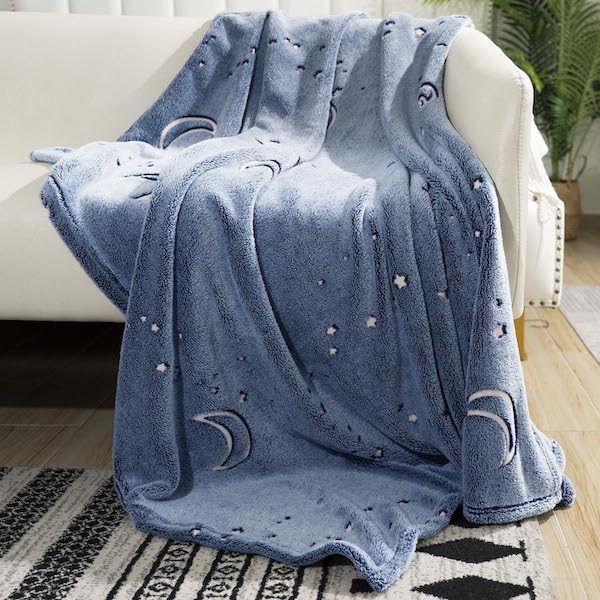 ---
Moon Dream Catcher
(Amazon.com)
£11.99
Want to capture all your sweetest dreams? This Moon Dream Catcher is the perfect complement to any moon child's bedroom. The soft COLOUR and design make it a soothing addition to any space.
---
Wooden Moon Shelf
(Amazon.com)
£35.99
Need a special spot for your crystals or essential oils? Or maybe you have a little moon child of your own who needs the moon's beauty in their room? This Wooden Moon Shelf offers infinite uses and fits with just about any decor. Instantly give any space a new-age look and feel.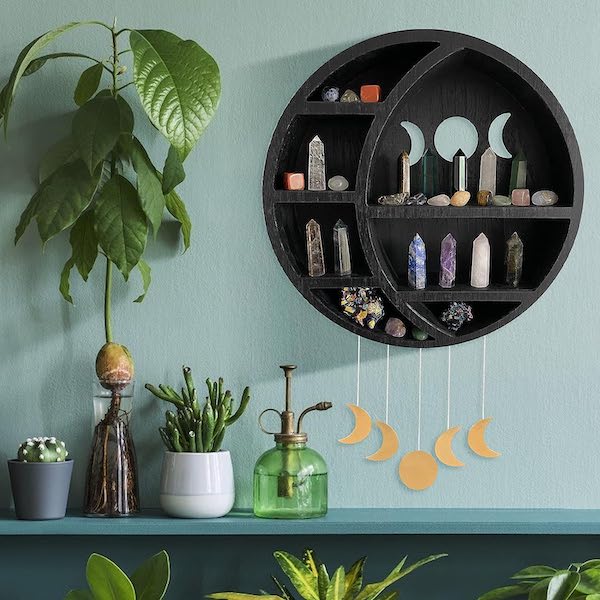 ---
More Cosmic Gift Ideas: 10 Ideas for Your Celestial Wedding
---
Moon Phases Yoga Mat
(Amazon.com)
£83.00
Restoring zen in your life has never been easier than with this Moon Phases Yoga Mat. Find your inner calm, open your chi, and harness your own energy to transform your body from the inside out.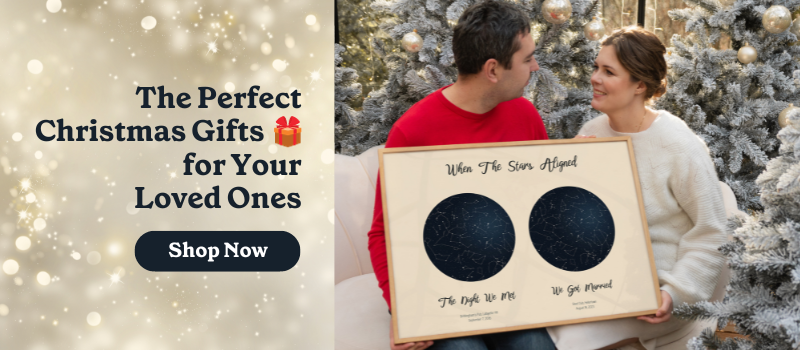 Moon Jigsaw Puzzle
(Amazon.com)
£16.00
This Moon Jigsaw Puzzle is harder than it looks! Without a lot of colour contrast, you're facing quite a challenge to recreate your own tabletop version of the moon. It's worth the effort, though, thanks to high-res imagery and quality construction.
---
Bicycle Stargazer New Moon Playing Cards
(Amazon.com)
£8.21
Playing cards is one of the oldest pastimes we still know and love today, and Bicycle is one of the game's oldest brands. These Bicycle New Moon Playing Cards are premium-quality cards with beautiful moon artwork throughout the deck. They go beyond the basic design to capture the beauty and essence of the celestial sky with every hand you play.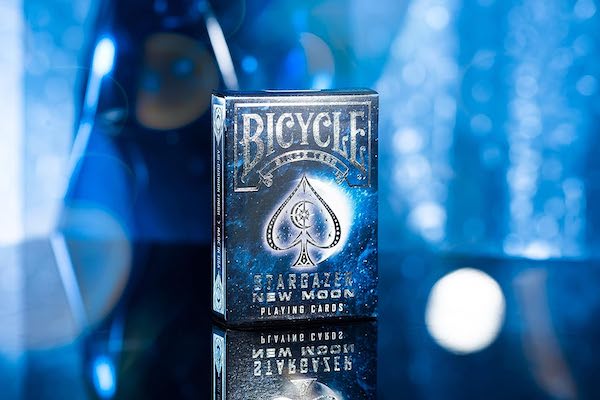 ---
Moon Crystal Ball
The moon holds many mysteries and questions. This Moon Crystal Ball might not provide all the answers you seek, but it does add character and beauty to any decor.
---
Related reading: Personalised Wedding Anniversary Gifts
---
Moon Lamp with Your Photo
(Amazon.com)
£25.99
Ever tried to look for the man on the moon? What if you could be that man instead? This Whimsical Moon Lamp uses a photo of your choice and sketches your image on the moon's face. This is a creative way to personalise your moon gift, perfect for couples, families, or new arrivals to the family.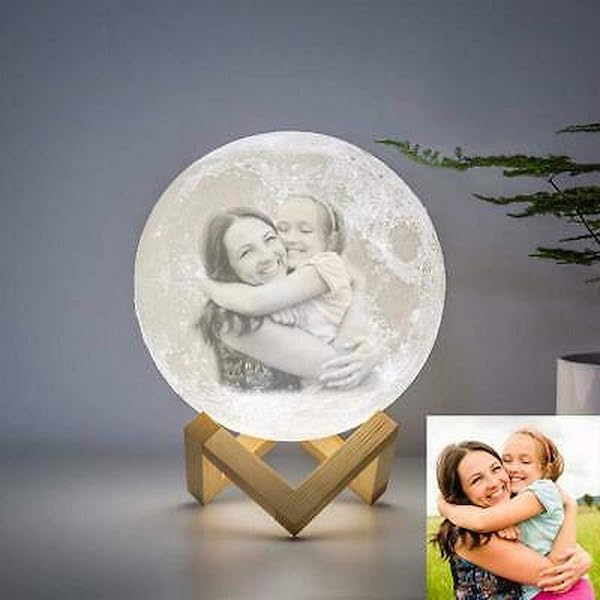 ---
Moon Paperweight
(Amazon.com)
£19.96
This Moon Paperweight is just as beautiful as it is functional. Keep it on your desk as a reminder to always aim high and shoot for the moon.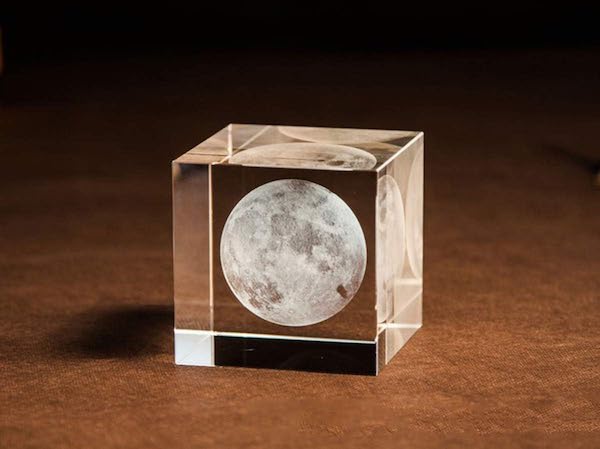 ---
Moon Phases T-Shirt
(Amazon.com)
from £9.50
Just as we go through growth phases as humans, the moon cycles through its own phases. This Cool Moon Phase T-shirt highlights the moon at every stage. Wearing it can serve as a reflection of our own energy and growth cycles.
---
Levitating Moon Lamp
(Amazon.com)
£79.99
If you've ever wished you could pluck the moon from the sky and give it to someone as the ultimate gift, this Levitating Moon Lamp is the next best thing. This beautiful orb hovers over a smooth, polished wood disk and gives you 360 degrees of illumination and beauty.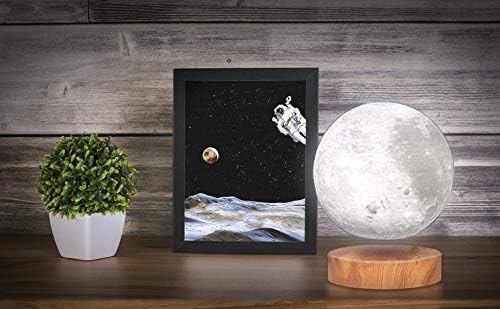 ---
Moon Five-Year Planner
(Amazon.com)
£7.95
If you're the type of person who never wants to miss a full moon manifestation or wants to plan their lives according to lunar energy, then this Moon Planner is a must-have. A minimalist design helps your schedule feel decluttered so you can focus on what matters most.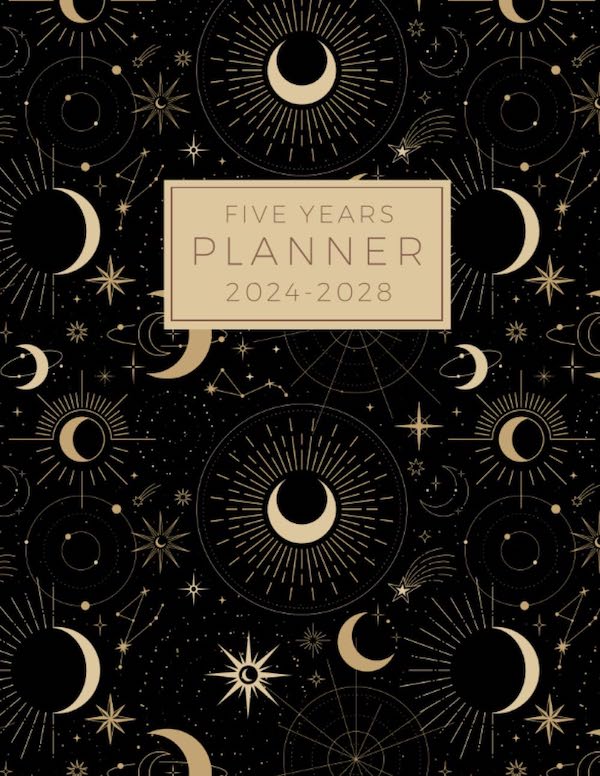 ---
Tealight Candle Holder
(Amazon.com)
£18.99

Add a little warmth and the moon's soft glow to every room with these Tealight Candle Holders. The unique, multi-layered design creates the perfect play of shadows and light that brings the design to life.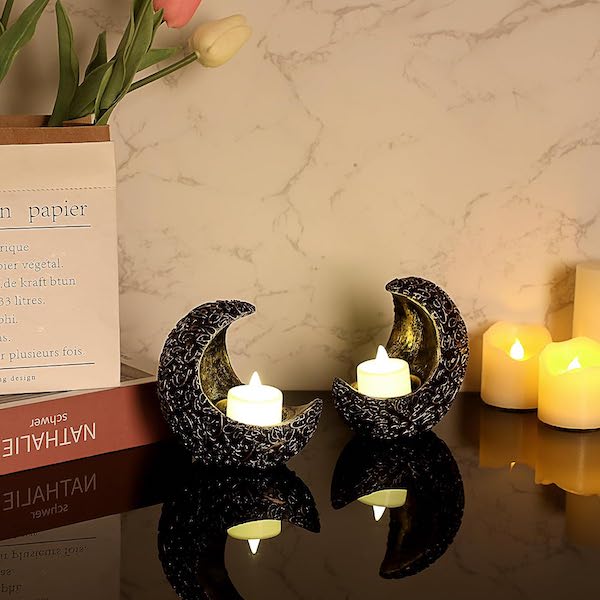 ---
Heat-Changing Moon Mug
(Amazon.com)
£21.99
Start the day thinking about the moon with this Moon Mug. The moon appears on a starry night when you fill the cup with hot water.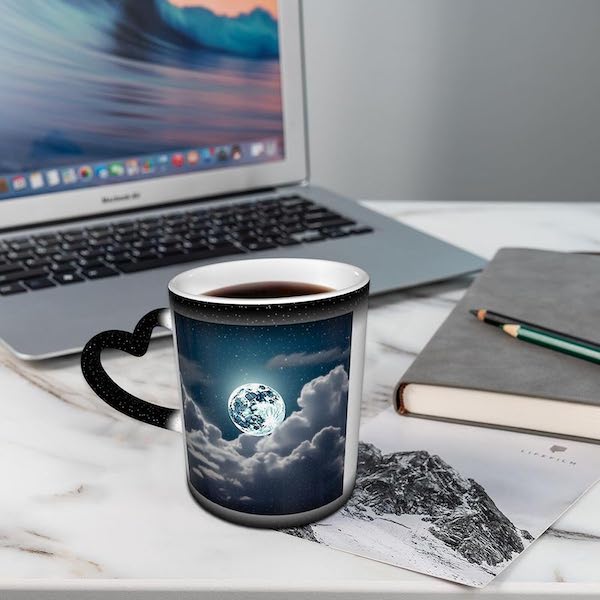 ---
Lunar Calendar
(Amazon.com)
£15.99
Want an easier way to keep up with all the moon's phases? This Lunar Calendar was made for you. An artistic poster design displays the entire year's moon phases by month so you can plan your manifestations, charge your crystals, and harness your energy.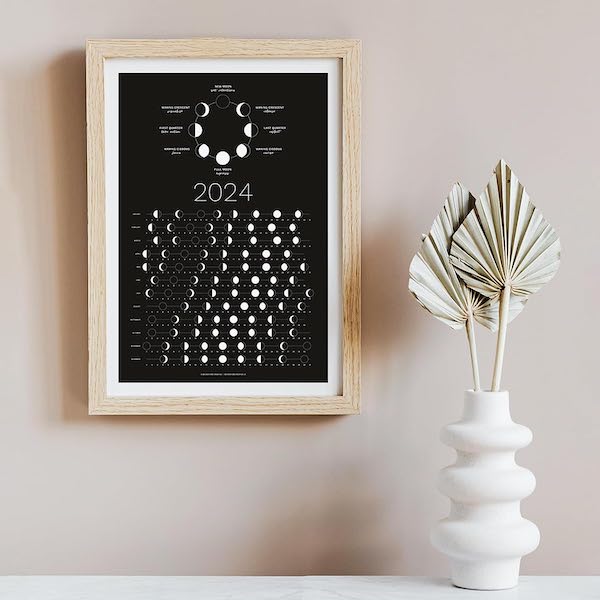 ---
Moon Bedding
(Amazon.com)
£46.99
This mystical and comfortable Moon Bedding Set lets your dreams soar higher than the sky. One side of the duvet and matching pillowcases is black with golden stars, and the other is white with black crescent moons. This set will instantly turn your bed into a space of luxury.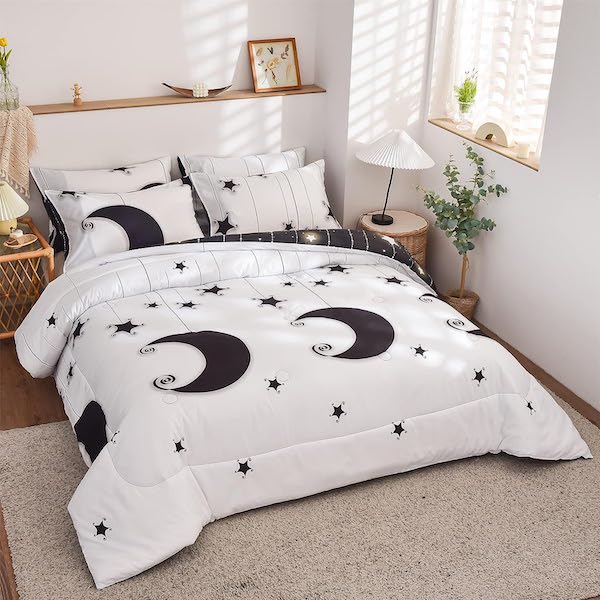 ---
Sun & Moon Dress
(Amazon.com)
from £62.48
Clothing reflects our personalities and can sometimes tell the story of a life well lived. This is the case with this stunning Sun and Moon Dress, which oozes celestial charm and an affinity for the night sky. The longer length and fluttery sleeves make it ideal for easy layering and year-round wear.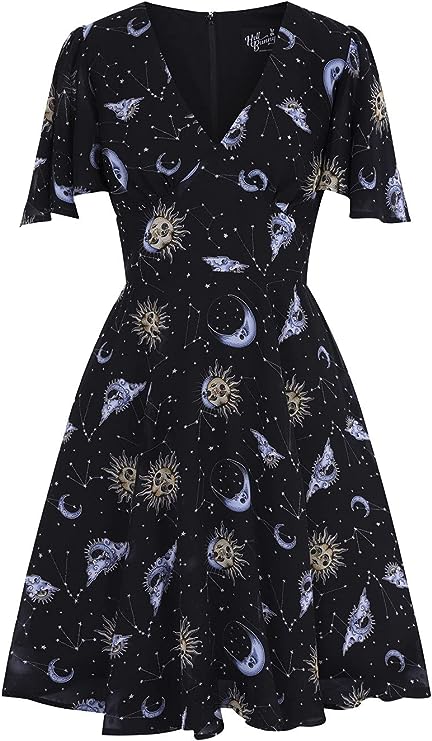 ENJOY THE BEAUTY OF THE MOON ALL THE TIME WITH MOON PHASE WALL PRINTS