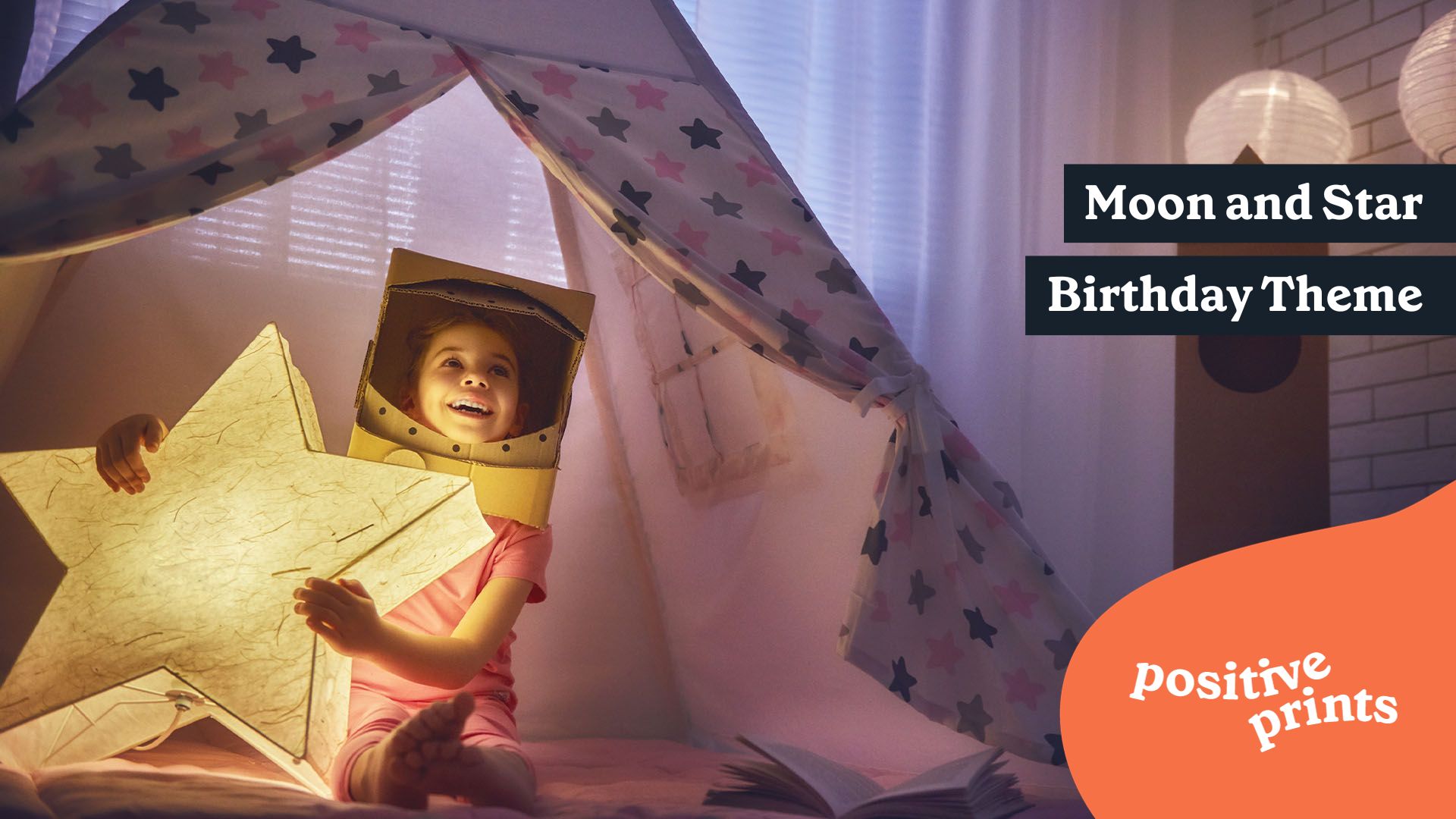 Welcome to the realm of festivities! Why settle for the ordinary when you can aim for the stars while planning your child's birthday party? In this guide, we will take you on an adventure to uncover the enchantment of a Moon and Star-themed birthday celebration.
Picture a gathering where the night sky serves as your backdrop adorned with twinkling stars and a gentle moonlight glow. This theme goes beyond the mundane, captivating both children and adults with its sense of wonder and curiosity. Whether your little one dreams of becoming an astronaut or is simply captivated by the cosmos, this theme opens up a world of possibilities.
Within this article, we will explore every facet of organizing a Moon and Star-themed birthday party. From creating invitations to crafting decorations, from selecting impeccable costumes to serving stellar delights – we've got it all covered. But that's not all! We will also delve into the art of presenting moon gifts that will create treasured memories for your child.
So join us on this expedition as we guide you through each step, towards creating a celestial celebration that will be cherished for years to come. Let's transform your child's birthday into a night infused with moonbeams and stardust.
Choosing the Moon and Star Theme
When organizing a Moon and Star Birthday Party the first important decision is choosing the right theme. Immerse yourself in the realm of wonders and discover age-appropriate ideas that will truly make your child's birthday an extraordinary and magical experience.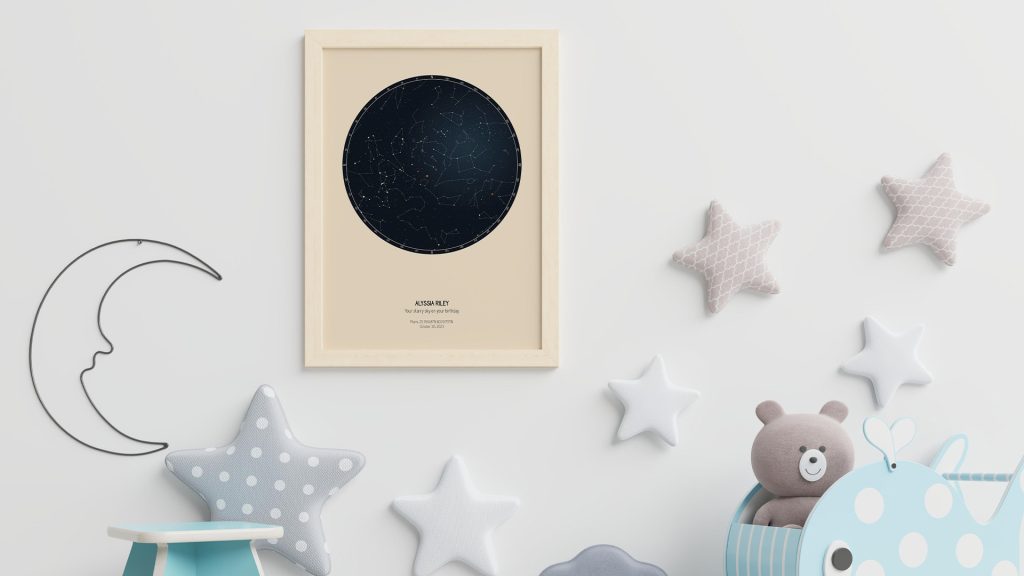 A Nighttime Odyssey for All Ages
Moon and star themes have a charm that appeals to people of all ages. Whether you're organizing a party for a child or a teenager, the night sky offers many possibilities. Here are some things to consider when choosing a moon and star theme for your child:
Toddler Twinkles: When planning for younger children emphasize gentle and friendly celestial elements like smiling moons and friendly stars. Use colors such as blues and silvers to create a soothing atmosphere.
Starry Skies for Tweens: As your child grows older you can introduce celestial elements like constellations and planets. Opt for blues and purples to evoke a sense of wonder.
Teenage Constellations: Teens may appreciate a more sophisticated approach with an emphasis on astronomy, star mapsf and celestial facts. Consider using blues, blacks and gold accents in the color palette.
DIY vs. Store-Bought Decor
The next decision you'll need to make is about the decorations. Are you considering making your own decorations to add a personal touch to your party or would you rather go for store-bought ones that offer convenience and a wider variety?
DIY Decorations: Creating handmade decorations can bring a unique charm to your party. You can try making paper stars, painting moon props or even designing personalized banners. It's also a way to involve your child in the party preparations and have some fun together.
Store-Bought Decorations: If you're short on time or prefer an option there are plenty of moon and star-themed party supplies in stores or online. You can find pre-made banners, balloons and tableware that fit the theme perfectly.
Mixing and Matching with Other Themes
Feel free to go beyond a moon and star theme. You can add other themes to make it even more exciting. Think about including elements of space exploration, astronaut adventures or even a touch of fairy tale magic to create a one-of-a-kind celebration.
By choosing a moon and star theme that matches your child's age and preferences and deciding on your approach to decorations, you're creating the perfect setting for an unforgettable celestial party.
Invitations that Shine Bright
Invites serve as the entrance to your Moon and Star Birthday Theme Party giving a sneak peek into the enchanting experience awaiting your guests. Designing themed invitations with a personal touch can establish the ambiance for an exceptional celebration.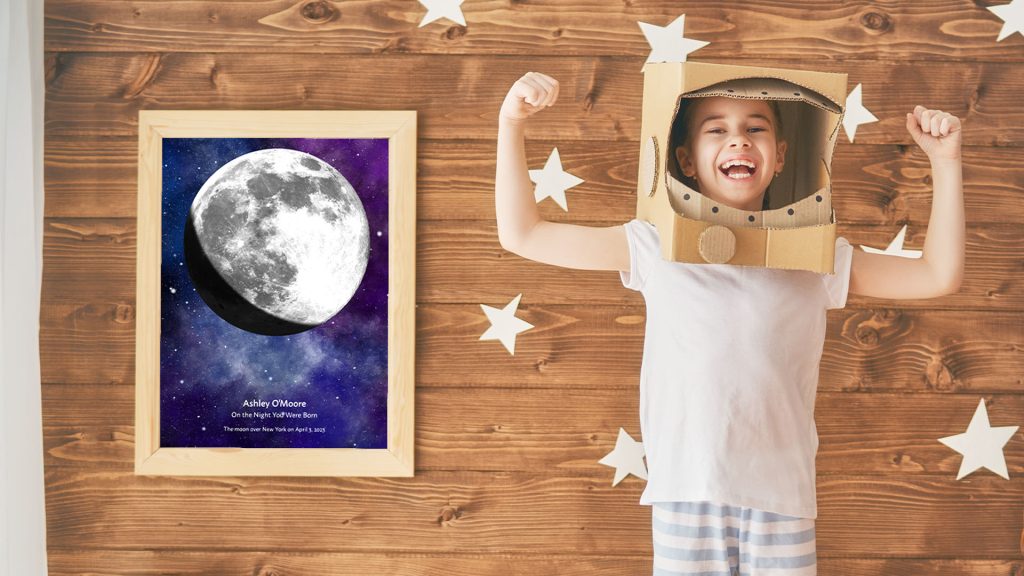 Crafting Celestial-Themed Invitations
When you're creating your invitations it's important to think about how you can capture the enchantment of a night sky. Here are a few celestial elements that you might want to consider:
Background, with Stars: Incorporate a background as the foundation for your invitations. You can find designed printable templates online or unleash your creativity by crafting your own, using watercolors or digital graphics.
Moon and Stars Details: Add illustrations or stickers of moons and stars to enhance the design of your invitations. These delightful accents can gracefully adorn the borders or float amidst the twinkling stars.
Cosmic Color Scheme: Opt for colors that evoke the mesmerizing essence of a sky, such as blues, and purples and complement them with hints of silver or gold. If you want a touch of radiance consider using glitter paper.
Adding a Touch of Personalization
To make your invitations truly unique you should consider personalizing them to reflect your child's personality and the special nature of the occasion:
Name Among the Stars: Incorporate your child's name into a font among a backdrop of stars. This not only adds a unique touch but also establishes a celestial theme right from the beginning.
Event Details: Make sure to present the date, time and location of the party. You can get creative with your wording by saying something like "Embark on our celebration on [Date]" or "Join us for an adventure at [Location]."
RSVP and Contact Information: Remember to provide contact details for RSVPs and any specific instructions, such as dress code or requests regarding dietary preferences.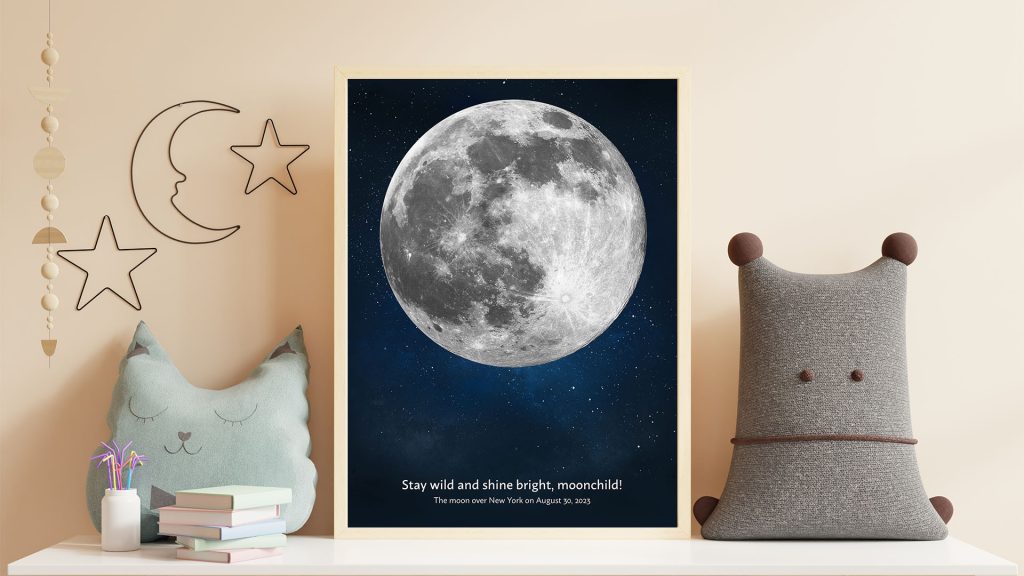 Delivery Options: Digital vs. Physical
When it comes to sending out your invitations there are a few options to consider:
Digital Invitations: Opt for eco invitations that can be sent via email or shared on social media platforms. This choice allows for updates and also helps you save on printing costs.
Physical Invitations: If you prefer the traditional route printed invitations can be a keepsake for your guests. You can hand them out personally and add a touch of celestial charm by mailing them in star-shaped envelopes.
By putting effort into the design and personalization of your invitations you not only ensure that your guests receive a glimpse of the celestial celebration but also set the stage for an unforgettable party experience.
Decorations that Transport You to the Night Sky
To ensure that your Moon and Star Birthday Theme Party is a success it is crucial to create a captivating ambiance. With shimmering stars and an ethereal moonlit backdrop, your decorations will establish the setting for a memorable celebration.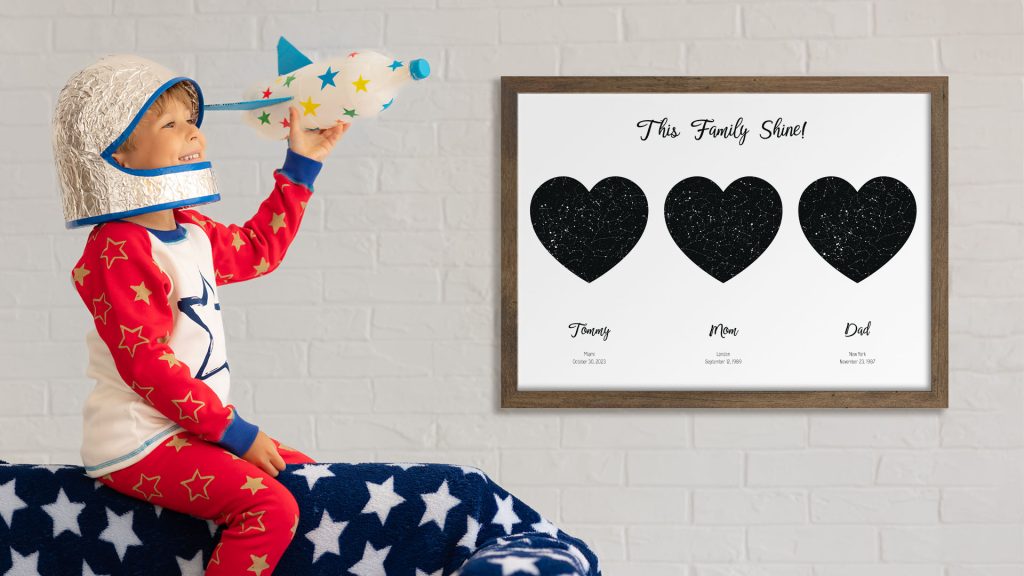 Setting the Ambiance with Celestial Decor
Create a mesmerizing atmosphere for your party by incorporating decorations:
Backdrop of Stars: Set the stage with a captivating backdrop made from blue or black fabric adorned with stick-on stars or twinkle lights. This will become the point for photographs and the entire party area.
Glowing Elements: Add a touch by investing in glow-in-the-dark stars and planets to decorate the walls and ceiling. As the lights dim these will create a celestial ambiance.
Moon Lanterns: Hang paper lantern moons of various sizes to mimic the phases of the moon. You can suspend them from the ceiling or strategically place them around the space.
DIY Decoration Ideas on a Budget
When you're on a budget you don't have to give up that celestial vibe. Here are some affordable and creative decoration ideas you can try:
Mason Jar Constellations: Transform mason jars into enchanting lanterns by painting them with patterns and placing battery-operated tea lights inside.
Cardboard Cutouts: Get crafty by cutting out moon and star shapes from cardboard and then painting them with glow-in-the-dark paint. Hang them up and use them as eye-catching centrepieces.
Starry Tablecloths: Set the scene by covering your tables with tablecloths and adding star patterns with white or silver paint. It'll bring a touch of the celestial to your dining area.
Enjoy creating these DIY decorations without breaking the bank!
Balloon Arrangements that Mimic the Cosmos
Balloons can play a role in your galaxy-themed decorations:
Celestial Balloon Arrangements: Make beautiful balloon arrangements using metallic silver, gold and dark blue balloons. Add star-shaped balloons to the arrangements for a touch of magic.
Star Balloon Arch: Create an arch using balloons shaped like moons and stars. It can serve as both an entrance and a captivating backdrop for your party venue.
Floating Celestial Table Centerpieces: Fill helium balloons with confetti in the shape of stars. Let them float above the dining tables, this will add a touch of whimsy to your decor.
By selecting and crafting galaxy-inspired decorations you will transform your party space into a mesmerizing night sky leaving your child and guests amazed by the enchanting wonders of the cosmos all around them.
Dressing the Part: Moon and Star-Themed Costumes
One of the things that make a Moon and Star Birthday Theme Party really exciting is that everyone gets to dress up and feel like they're part of the realm. Whether your guests are little astronauts or celestial creatures, here's how you can make sure that everyone looks stellar for the occasion.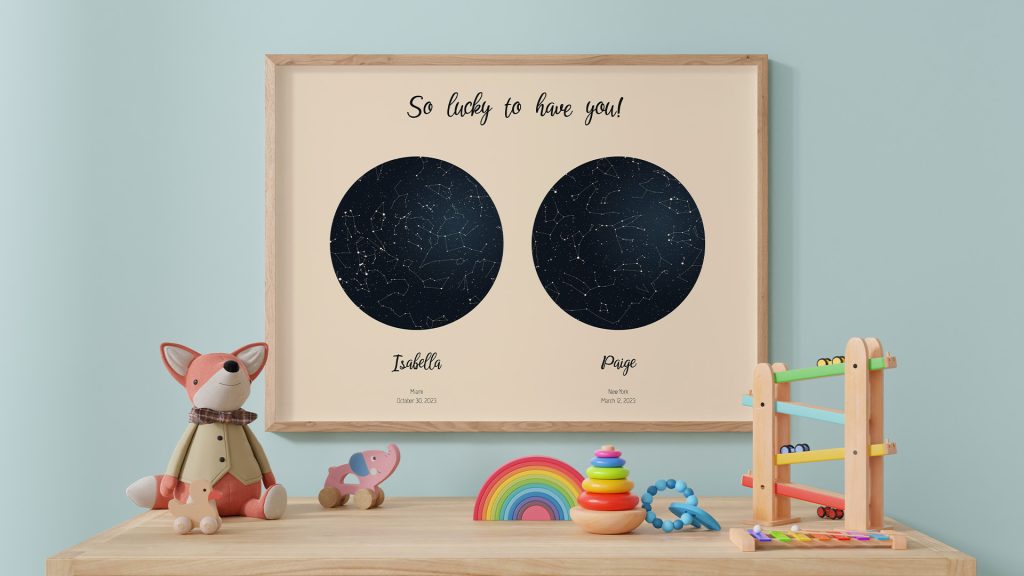 Dressing Up the Birthday Child
Make your little one shine on stage by selecting a costume with a moon and star theme:
Lunar Royalty: Transform your child into a king or queen, with a majestic crown featuring moon motifs, a cape gracefully embellished with stars and an enchanting outfit that sparkles.
Space Voyager: Let your child embark on an adventure as an astronaut, equipped with an authentic spacesuit, a helmet for added realism and even their very own toy spaceship.
Magical Stargazer: Ignite their imagination with the allure of wizardry by dressing them up as a stargazer or sorcerer. Complete the look with a wand adorned with symbols for added enchantment.
Encouraging Guests to Get into the Celestial Spirit
Make sure your guests feel included in the theme by recommending costume ideas and providing inspiration:
Star Cluster: Encourage your guests to dress up as their star or constellation. This allows for a range of diverse costume options.
Astronomy-Inspired Outfits: Suggest attire that draws inspiration from astronomers or celestial objects. Guests can come dressed as Galileo, Copernicus or even a comet.
Celestial Creatures: Don't forget about the enchanting creatures that could inhabit the night sky. Guests can choose to dress as moon fairies, star sprites or any other cosmic creatures.
Costume Contest and Prizes
To make the event even more enjoyable you might want to consider organizing a costume contest with some prizes:
Categories: Create categories for age groups or types of costumes like "Best Moon Princess", "Most Authentic Astronaut," or "Most Creative Constellation."
Prizes: Offer celestial-themed rewards such as glow-in-the-dark stars, treats in the shape of moons and stars or gifts inspired by moon phases.
Judging: Have a panel of judges. Allow the guests to vote for their favorite costumes adding an interactive element to the celebration.
By embracing the enchanting world of dress up and encouraging everyone to participate you'll ensure that all attendees feel like they are a part of a cosmic adventure.
Stellar Food and Drink Ideas
Food and beverages play an important role in creating celebrations and your Moon and Star Birthday Theme Party is definitely no exception. Take your menu to the next level by incorporating culinary creations inspired by the wonders of the universe.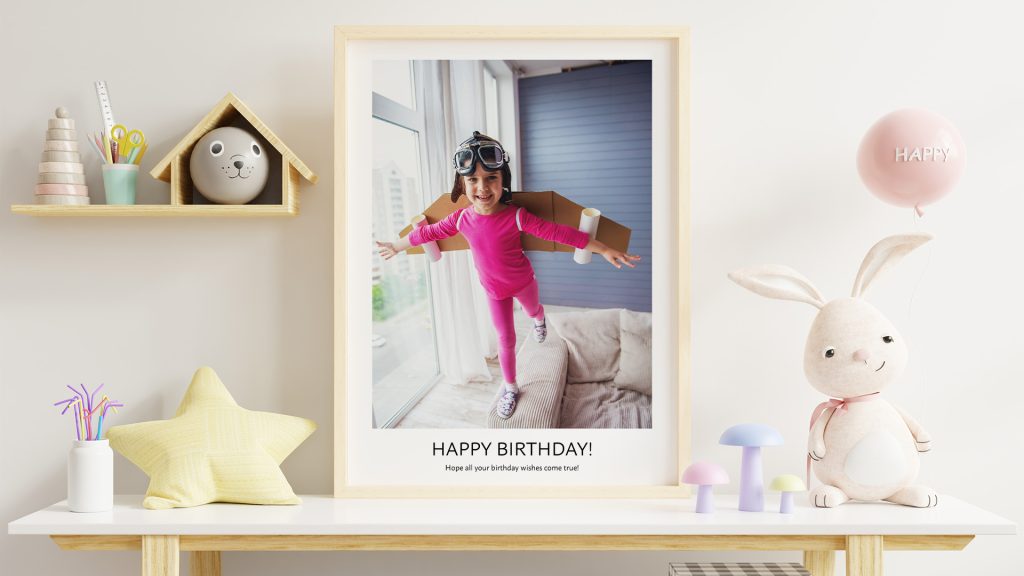 Creating a Celestial Menu
Creating a celestial-themed menu involves blending party foods with a dash of cosmic ingenuity:
Sandwiches, with a Stellar Twist: Use cookie cutters shaped like stars to craft sandwiches, whether they're timeless PB&J or more sophisticated options like chicken salad.
Heavenly Fruit Skewers: Thread grapes, melon and pineapple chunks onto skewers to form celestial fruit constellations. Serve alongside a yogurt dip for a cosmic touch.
Moon-inspired Treats: Delight your guests with moon pies or marshmallow-filled treats as a nod, to the shape of our companion.
Thematic Cake and Treats
No birthday party is ever complete without a show-stopping cake and some delectable treats:
Cake with Moon and Star Decorations: Get in touch with a bakery to create a cake adorned with edible moon and star designs. You could even go for one that has a surprise "moon" at its center when it's cut.
Galactic Cupcakes: If you're opting for a cupcake tower adorn them with swirls in galaxy-themed colors, edible glitter and delicate fondant stars.
Celestial Cookies: Offer cookies shaped like moons and stars and consider setting up a station where guests can decorate their creations.
Special Dietary Considerations
Remember to take into account any requirements or preferences:
When it comes to allergies and dietary restrictions it's important to be mindful of your guests. You might want to consider offering options that are gluten-free, nut-free or vegan so that everyone can fully enjoy the feast.
For a drink experience, why not create some cosmic mocktails? These non-alcoholic beverages can have colorful layers or even edible glitter added for an extra touch of magic.
To ensure that your guests can make informed choices make sure to label all food items and provide allergen information.
By planning a menu that combines creativity with consideration for different dietary needs, you'll not only have an enchanting Moon and Star Birthday Theme Party but also a taste experience that is truly out of this world.
Moon and Star Party Activities
To ensure the cosmic celebration continues it's important to organize captivating activities that will fully involve your guests in the realm of the moon and stars. Here are a few fantastic suggestions to keep everyone entertained.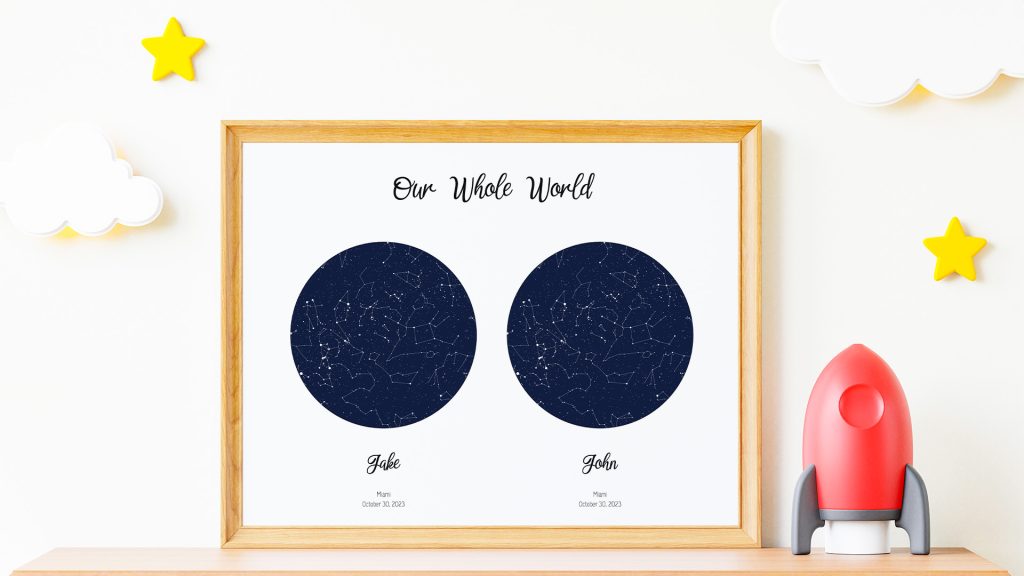 Engaging Games and Activities Under the Night Sky
Create an array of games and activities, with a moon and star theme that will ignite the enthusiasm in your guests:
Starry Treasure Hunt: Plan a treasure hunt filled with hidden star and moon symbols throughout your party venue. Offer hints and rewards for those who successfully discover them all.
Astronomy Quiz: Test your guests' celestial knowledge with a captivating astronomy quiz. Create teams and present prizes to those who provide accurate answers.
Moon and Star Crafting Corner: Arrange a crafting area where attendees can unleash their creativity by making their moon and star-inspired crafts. Supply materials, like paper, glitter and stickers.
Stargazing and Educational Opportunities
Enhance your party by transforming it into an adventure with stargazing opportunities and enlightening sessions:
Telescope Observation: If possible, arrange telescopes for your guests to marvel at the moon and planets or have a glimpse of the mesmerizing constellations during evening gatherings.
Special Guest Astronomer: Extend an invitation to an astronomer or a passionate space enthusiast who can provide an educational discourse on the wonders of the night sky, constellations or recent celestial phenomena.
Create Your Planetarium: Set up a DIY planetarium in a lit room using a projector to display an enchanting simulation of the night sky. This unique experience is sure to leave your guests in awe.
Cosmic Photo Booth
Create a photo booth with a moon and star theme to capture memories:
Celestial Props: Provide guests with props such as astronaut helmets, star wands and moon masks to add unique elements to their photos.
Backdrop: Use a backdrop featuring moon and star designs to create a space atmosphere for the photos.
Instant Prints: If possible offer instant photo printing so that guests can take home keepsakes from the party.
By incorporating engaging activities, stargazing opportunities and an amazing cosmic photo booth, your Moon and Star Birthday Theme Party will not only be entertaining but also educational and filled with unforgettable moments.
Party Favors that Leave a Twinkle
It's always a good idea to give your guests' party favors, especially ones that match the celestial theme of your Moon and Star Birthday Party. Let's dive into some ideas on how to make favors that will leave a lasting impression and bring a touch of magic to their eyes.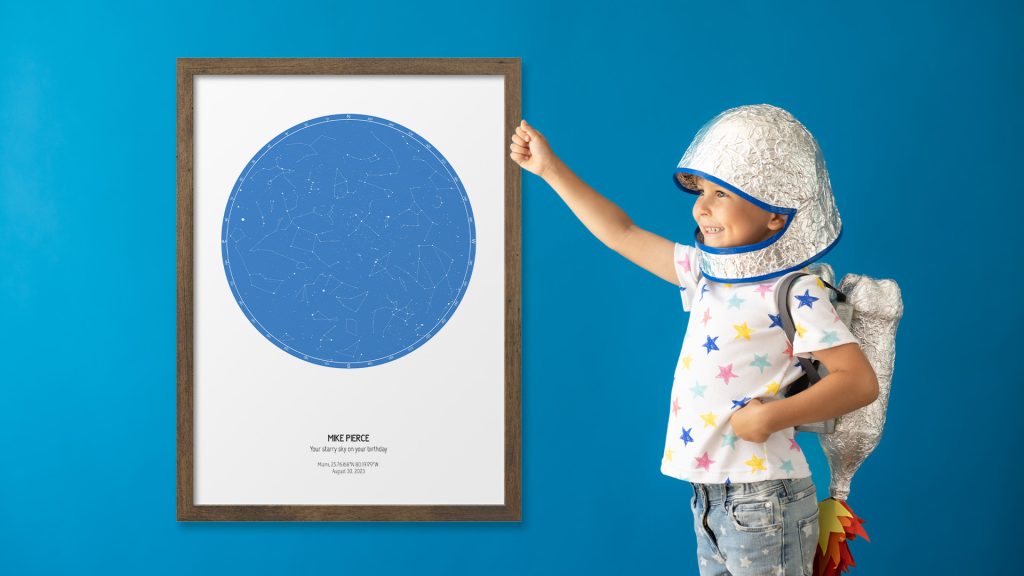 Thoughtful and Thematic Party Favors
When planning for a cosmic-themed party it's important to choose party favors that capture the enchantment of the night sky. Here are some suggestions:
Star and Moon Jewelry: Treat your guests with necklaces, bracelets or earrings shaped like stars or moons. These jewelry pieces will not only serve as accessories but also hold symbolic value as cherished mementos.
Celestial Stationery: Delight your guests with themed stationery sets containing notepads, pens or stickers. This thoughtful gift will inspire creativity and serve as a reminder of the magical evening.
Mini Astronomy Kits: Consider offering astronomy kits that include a constellation map, a mini telescope or a glow-in-the-dark star chart. These kits allow guests to explore the wonders of the night sky long after the party ends.
Remember to select favors that evoke wonder and align with your theme!
DIY Favor Ideas
Let your creativity shine and make your own party favors with a touch:
Cookies in the shape of moons and stars: Bake some cookies and decorate them to resemble moons and stars. Put each cookie in a bag with tags that have a theme.
Candles inspired by the cosmos: Make homemade candles adorned with star and moon designs. Package them in containers accompanied by ribbons.
Cosmic soaps: Create soap bars shaped like stars and moons using colors inspired by the universe. Wrap them up in themed wrapping paper or pouches.
Adding Personalization to Party Favors
To make the party favors extra special you can consider adding a personal touch:
Custom Tags: Attach custom tags or labels to each favor with a thank you message or an enchanting celestial quote.
Unique Packaging: Personalize the packaging by including the guests' names or a special message making each favor one of a kind.
Capture Moments: Include a photo from the party or a picture of the birthday child with each favor as a keepsake.
By selecting thoughtful and theme-appropriate party favors, creating your DIY creations and adding that personal touch you'll ensure that your guests leave with a little piece of the celestial celebration, creating lasting memories of your Moon and Star Birthday Theme Party.
Capturing Memories with Celestial Photography
Capturing the moments of your Moon and Star Birthday Theme Party is incredibly important when it comes to preserving those memories. Discover the art of photography to ensure that these special moments are captured in a way that will be cherished for a lifetime.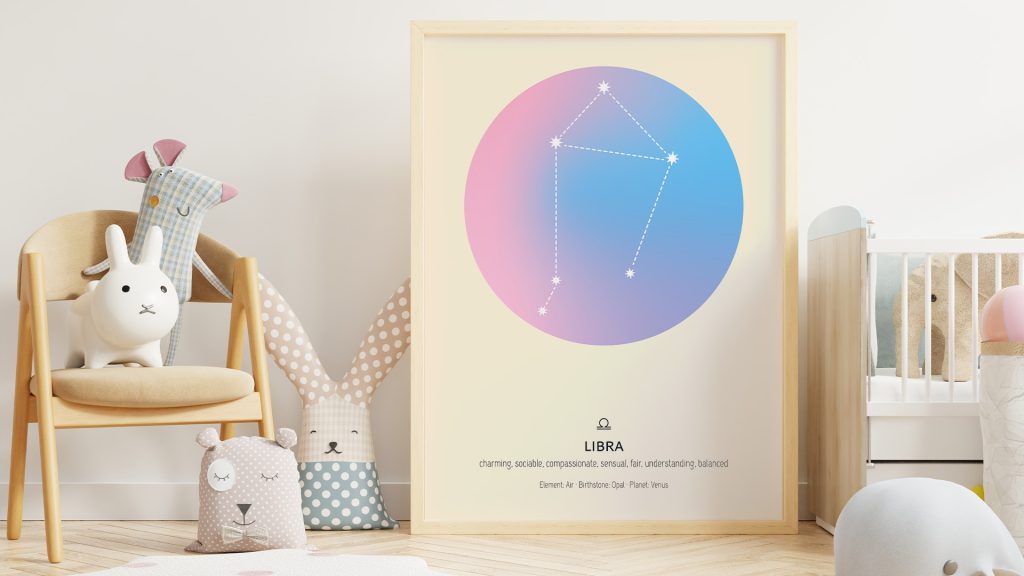 Hiring a Professional Photographer
Think about the benefits of hiring a photographer to capture the moments:
Skilled Perspective: A professional photographer possesses the knowledge to capture the atmosphere, emotions and memorable instances at your event.
Top-notch Photographs: Anticipate receiving quality high-resolution images that can be treasured and shared for years to come.
Relaxation for Hosts: Entrusting the photography duties to a professional, lets you fully immerse yourself in enjoying the party without any concerns about taking pictures.
DIY Photo Booth Setup
Create your DIY photo booth to capture creative shots:
Celestial Backdrop: Set up a special area with a celestial-themed backdrop, such as one depicting the moon and stars.
Props and Accessories: Offer your guests props like astronaut helmets, starry wands or celestial masks for fun and imaginative photos.
Instant Prints: If you can arrange a photo booth that instantly prints photos so your guests can take home keepsakes.
Creating a Digital Memory Album
Why not consider creating a memory album for your guests? Here are a few ideas:
Online Photo Gallery: You can create a gallery where all the party photos can be shared with your guests after the event ends. It's a perfect way for everyone to access and download their favorite pictures.
Personalized Photo Album: How about designing a custom photo album that captures the theme of your party? Include the shots from the event and surprise your guests by sending them copies as a post-party keepsake.
Video Highlights: If you have hired a videographer you can compile some video highlights of the party and digitally share them with your guests.
By investing in photography, setting up a DIY photo booth and creating a memory album you will ensure that the magical moments from your Moon and Star Birthday Theme Party are beautifully preserved. This way both you and your guests can relive those memories for years to come.
Embracing Celestial Magic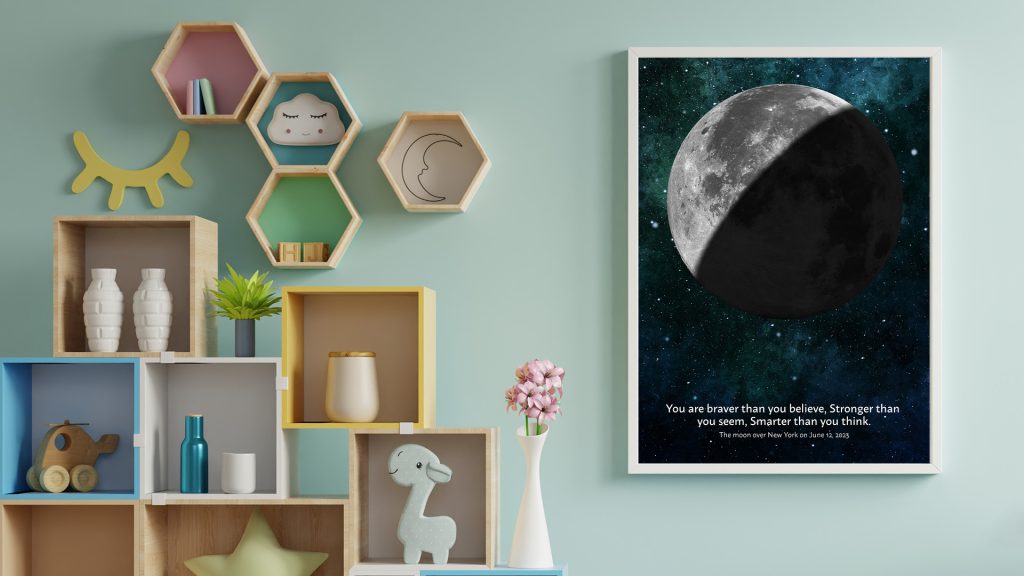 As we reach the end of our journey it's time to reflect on the enchantment of your Moon and Star Birthday Theme Party. Creating a celebration for your child is a testament to your love and creativity. It's an experience that will be treasured for years to come.
From selecting the moon and star theme, designing invitations and embellishing your party space with captivating decorations, to dressing up in celestial attire serving delightful treats and participating in cosmic activities, you've embarked on an extraordinary cosmic adventure. Your commitment to personalized party favors and capturing memories through photography has added a touch of magic that makes your celebration one of a kind.
Remember, a Moon and Star Birthday Theme Party is more than an event. It's an opportunity to ignite your child's curiosity about the universe, inspire awe, and create memories that will shimmer like stars in the night sky. Don't forget to add a thoughtful birthday gift to the celebration, like a Birthday Moon Phase print, to further enhance their fascination with the celestial world.
We hope this guide has illuminated the path towards a celebration for your child and their guests. May your Moon and Star Birthday Theme Party be filled with happiness, laughter and moments of enchantment that will leave everyone with a sparkle in their eyes.
So go ahead and immerse yourself in the beauty of the night sky, dream big and aim for the stars. Make sure to cherish the enchantment of your child's celebration under the limitless expanse of stars.