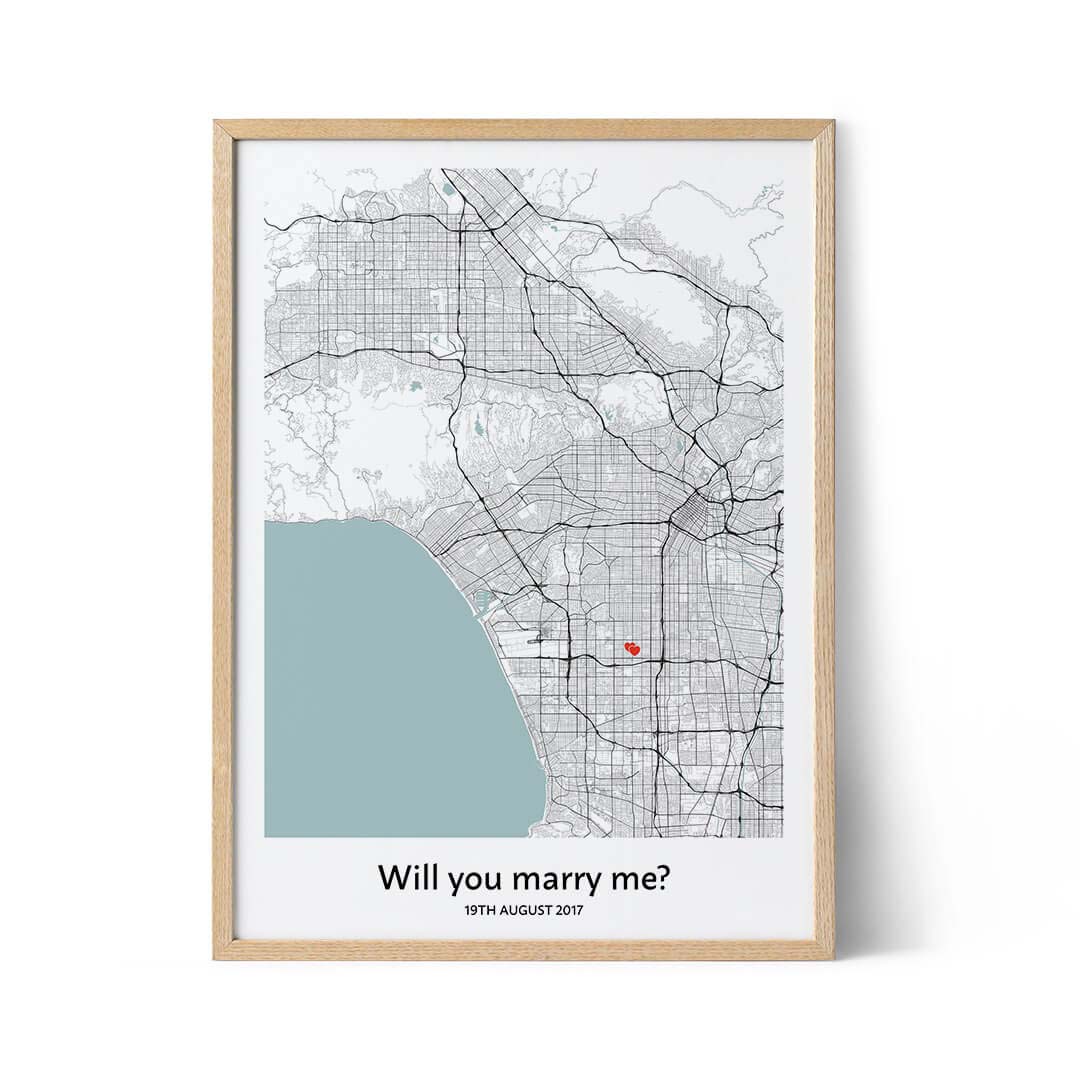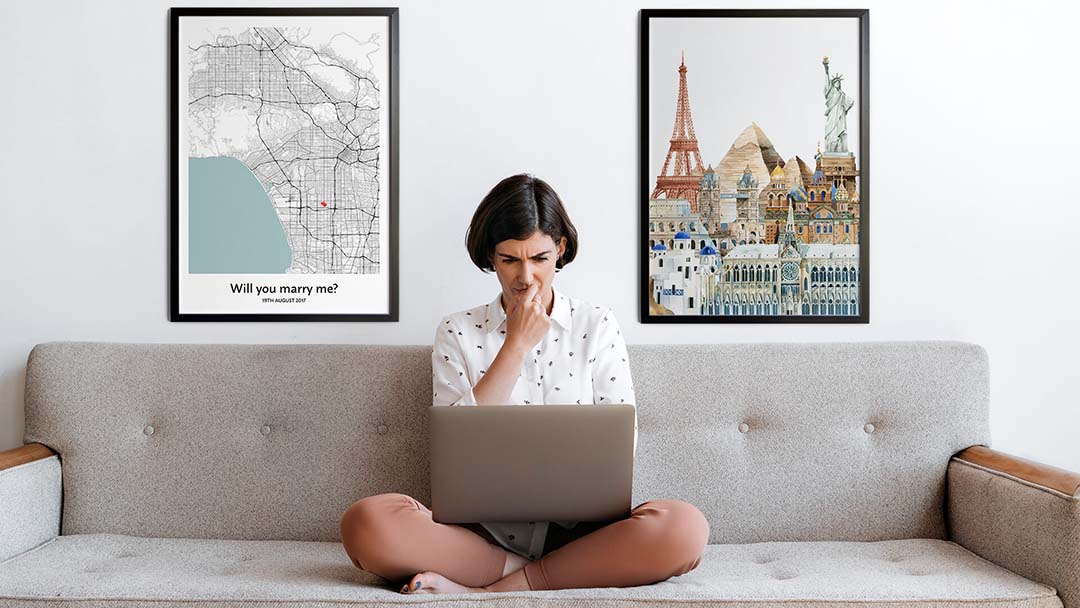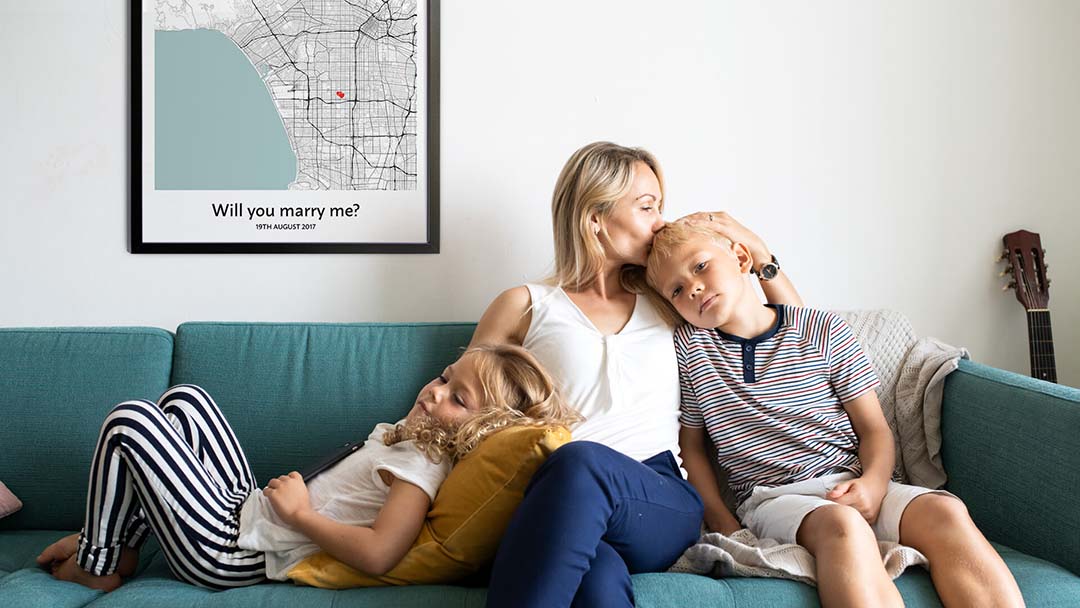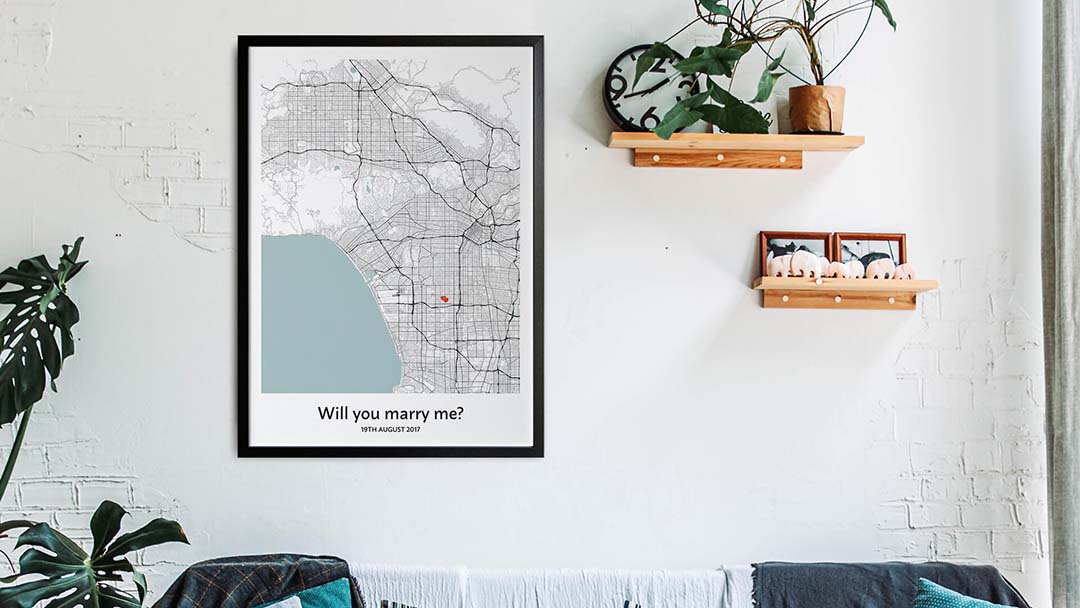 Engagement Map
Celebrate one of the most important milestones in your life with an Engagement Map — a beautiful map showing the place where the magic happened.
From
Too see an Instant Preview
Available as
Digital
Printed
Framed
Canvas
💍Fully customisable to the location of your engagement
💘Enhance your map with different map shapes, colour schemes, and text
💍Free worldwide shipping and digital downloads available
💘Ideal gift for engagement parties, weddings, anniversaries, and more!
💍Create your custom Engagement Map in 3 quick steps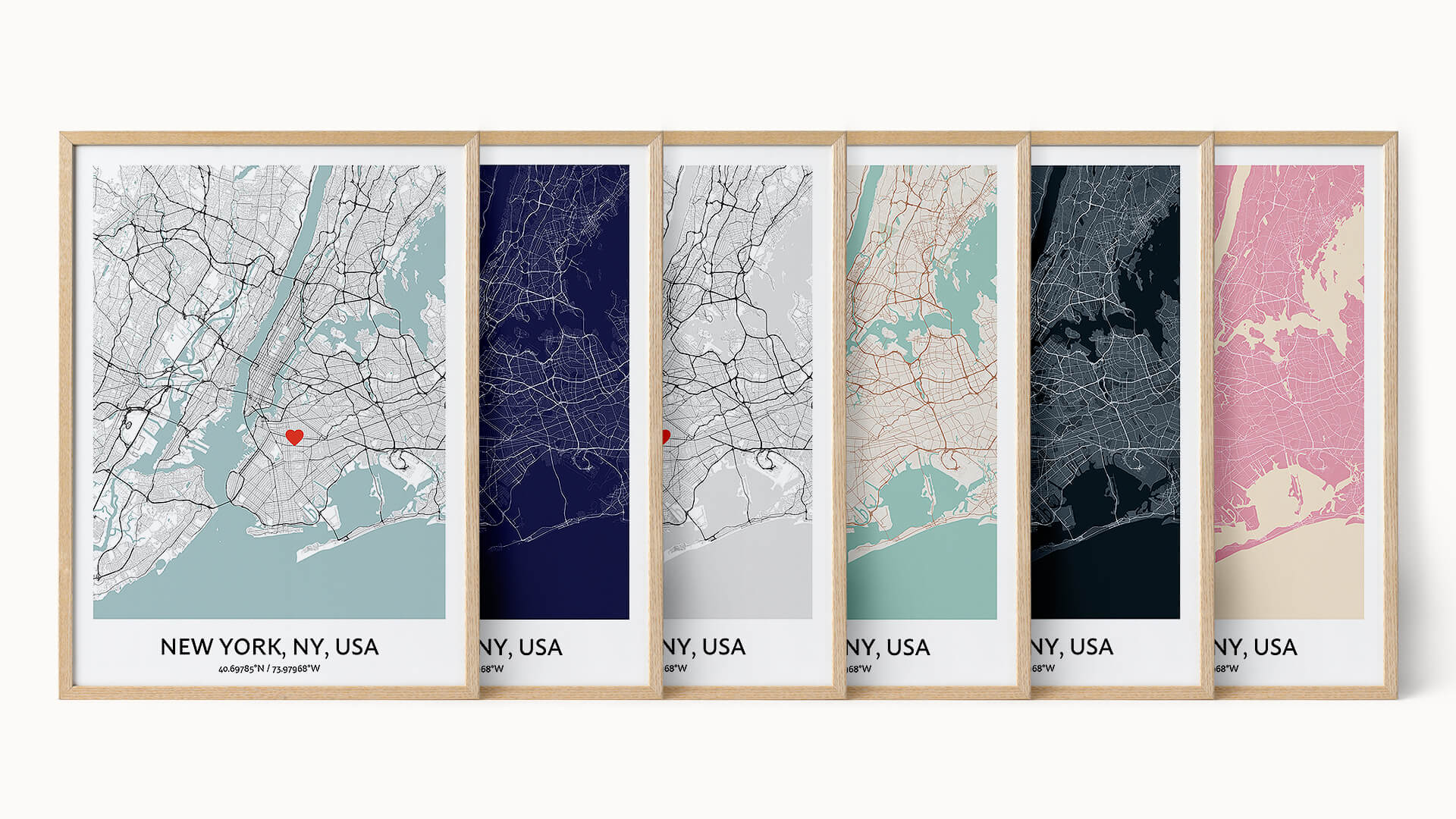 What's an Engagement Map Gift?
Every map is part of a journey. For you and your significant other, a special part of your journey together started with the moment you became engaged. Cherish this special moment forever with an Engagement Map gift.
An Engagement Map pinpoints the exact place where you two decided to spend forever together. It's a personalized print that tells part of your love story, one that you'll be happy to share with all who enter your home.
Engagement Gift Idea
Our Engagement Map prints are the perfect gift for newly engaged couples. It might just be the very first piece of art they hang in the home they're creating together! Just input the address of where the engagement took place, then choose how you want to frame the location on your map print. Personalise it with custom text and other elements to make it truly one of a kind.
Engagement maps are also the ideal gift for weddings, anniversaries, or any holiday that's special to you. Our prints come in standard sizes for easy framing to make it easy to complete your gift.
Customising Your Engagement Map
How much can you customise your Engagement Map? Positive Prints has done most of the hard work for you, but you have a lot of control over how your final product looks!
First, we start by offering different map shapes and colour schemes. Match your map to your favorite couple's decor so it will look great in their hope. The map itself can be in a heart, circle, or square. You can also add cool colour filters like beach glass, vintage, or carbon to add just the right effect.
In Step 2, you can select your specific location by typing in a city, state, address, or a point of interest. Our technology will find your location, and you can zoom in or out to frame your map the way you want. Add a map marker to pinpoint the exact location where you went from dating to engaged.
You can also add lines of custom text to make your map even more personal. Some of the cute catch phrases we've seen include:
"She Said Yes!"
"He asked. She said!"
"Will you marry me?"
"Our Engagement"
"No longer available."
"He put a ring on it."
"He asked. I said 'About damn time'."
"My heart is lighter; my hand is heavier"
"It's only the beginning…"
"I always knew you were my soulmate."
It's completely up to you!
Last but not least, Step 3 handles the other of your print. Choose from a digital download or enjoy free worldwide shipping directly to your door. We can print on canvas as well as ship a poster with a frame for your convenience. Choose your format and size, and we'll start working our magic!
Create Your Engagement Map Now!
An engagement map gift is one that will last for ages. Start creating yours today in just three easy steps!
Customer Reviews
Write a Review
Ask a Question
20/07/2021
Catherine R.

US
Fast delivery time and we absolutely love our print!!
20/07/2021
Amy S.

US
It is amazing! The only thing is I wish it showed some of Lake Erie and I should have ordered a smaller size, it's huge! That was my fault though, but love the quality.
20/07/2021
Sandra K.

PL
Super jakość i pięknie się prezentuje!
19/07/2021
Anne L.

FR
19/07/2021
Aleksandra G.

PL
Wydruk starannie wykonany, szybka realizacja. Prezent się bardzo podobał. :)
19/07/2021
Cherie V.

US
I am very happy with my product from you and was so pleased with your customer service helping expedite my order in time for my anniversary!! Thank you!!
23/07/2021
Positive Prints
Thank you for your kind review, Cherie! Wish you all the best :)
19/07/2021
Robert L.

PL
Bardzo dobre wykonywanie, jestem bardzo zadowolona z zakupu. Napewno kupię coś ponownie przy najbliższej okazji. 😊
18/07/2021
AURORE L.

FR
Magnifique. Envoie rapide
17/07/2021
Paulina S.

PL
Przemiła pomocna i cierpliwa obsługa, Pani pomogła wyjaśniła każde pytanie :) Plakat cudowny ! O darowana przeszczęśliwa i zaskoczona ! Na pewno jeszcze zrobię dla siebie. Polecam serdecznie
16/07/2021
Monika P.

PL
14/07/2021
Brett B.

US
After placing my order, I got an email explaining there was a inventory issue with the frame I had chosen. The customer service team (Adrianna) reached out and was super kind and immediately helped rectify the situation with other frame options. I'm very pleased with the print and with the frame. Great quality! I will definitely recommend them to friends.
14/07/2021
VALERIE G.

FR
Tres belle idée cadeau, ultra personnalisable!
14/07/2021
Rachael M.

US
Beautiful and wonderful quality.
14/07/2021
Clara L.

FR
Super joli et livré très vite! Seul petit bémol le prix juste pour l'impression papier un peu cher mais très contente du résultat
14/07/2021
Mélanie R.

FR
Super, de très bonne qualité!! Je recommande!