Hello. Will You? I Do!

✓ Custom Map Highlighting the Spot Where Three of Your Relationship's Most Important Milestones Took Place
✓ Ideal Wedding Gift for Any Newlywed Couple
✓ Mark Your Special Spots With a Heart Symbol
✓ Design Your Own Map, Including Color Schemes, Map Shapes, and More!
✓ Fast, Free Shipping to Anywhere in the World, or Digitally Download Your Map for Instant Printing and Gifting

FREE SHIPPING
We send worldwide with no extra cost
MADE TO ORDER
Created just for you
GREENER PRINTING
Using sustainably sourced, FSC-certified paper and wood
How it works
Choose your design
Choose one of our predefined designs or play with the colors to create your perfect artwork.
Mark the significant spots
Your first meeting, the place she said YES, your wedding venue - add map markers to point those important places.
Add some personal touch
Name the special circumstances you created this map for.
Customer Reviews
Write a Review
Ask a Question
24/01/2022
Luke A.

US
Shipped fast and looks really good
24/01/2022
Christine B.

DE
Alles super und genau wie vorgestellt.
24/01/2022
Maeghan D.

US
I loved it. It came out great. My husband was not too impressed (guys for you). He did hang it up so maybe he liked it more than he admitted 😉
23/01/2022
Lisa C.

US
23/01/2022
Pierre-Alexandre L.

FR
Bonne qualité, rendu très sympa
23/01/2022
Céline R.

FR
23/01/2022
Steve V.

US
Order received but tracker always showed incorrectly. Tracker showed label was printed but never showed package as actually shipped or in-transit. No big deal but thought I'd let you know. Picture was a gift and recipient LOVED it!!
23/01/2022
John O.

US
This thing was awesome! Had it made for my brother and his fiancé's first date. It was a huge hit, and I will definitely be buying more if these for future special occasions.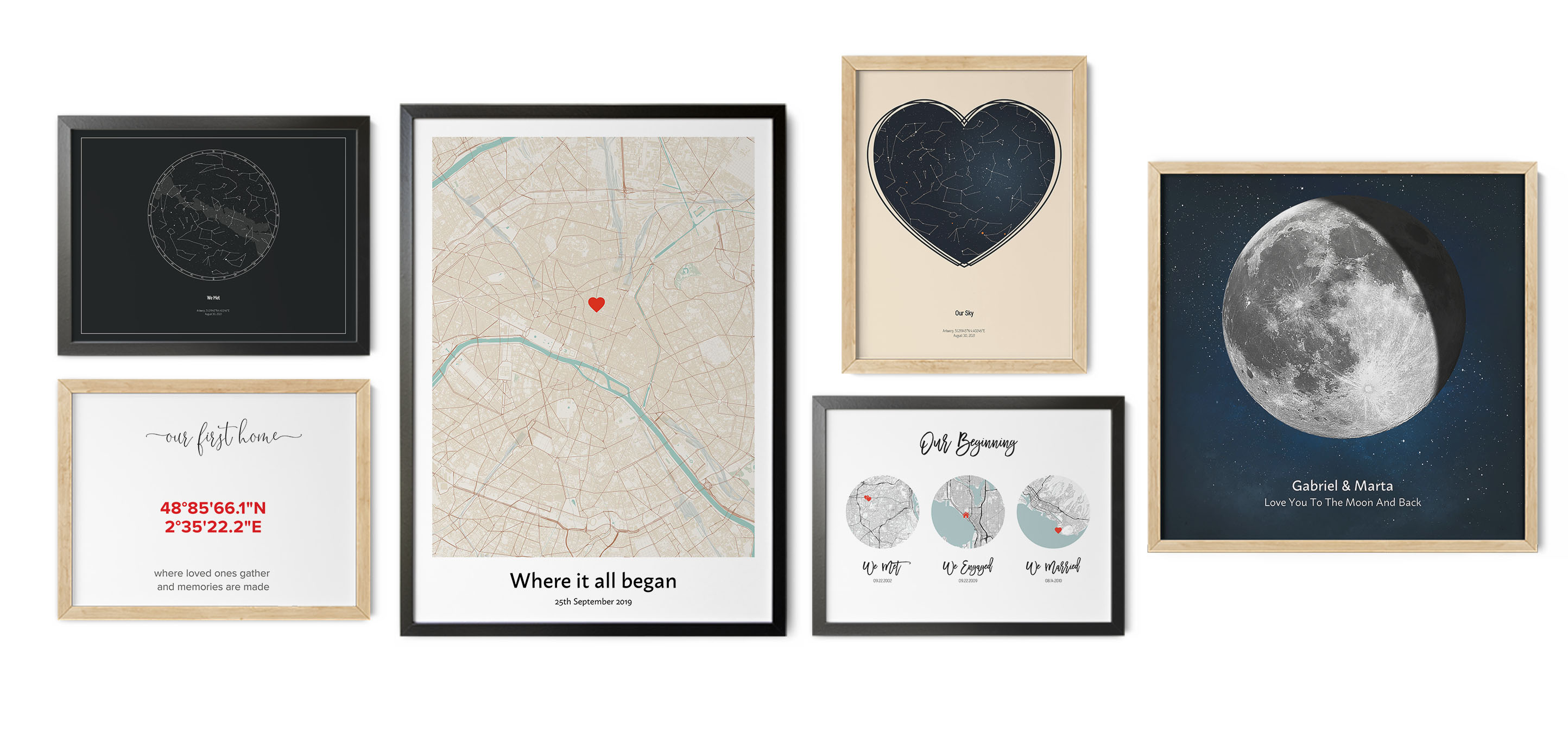 You found The Perfect Gift
Personalized prints make a lasting, meaningful gift.
✔ Printed on elegant, matte art paper of 200 gsm or beautiful 340 g/m² canvas fabric ✔ Choose from over 100+ themes and styles to fit any occasion ✔ Pick between a small size print or a statement decor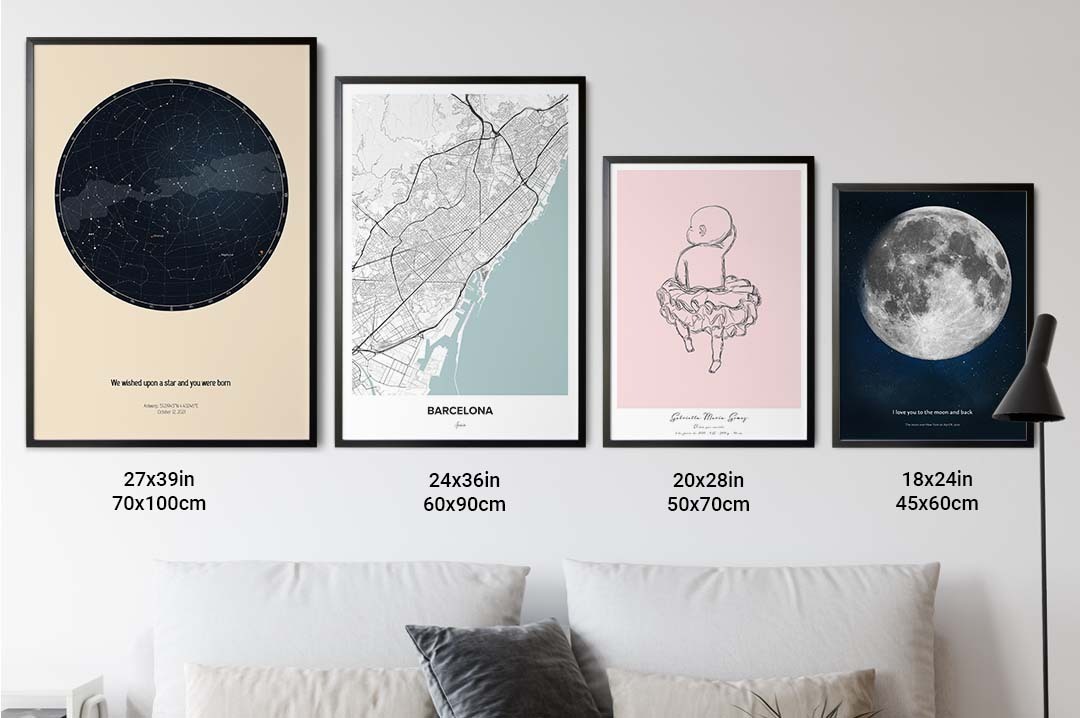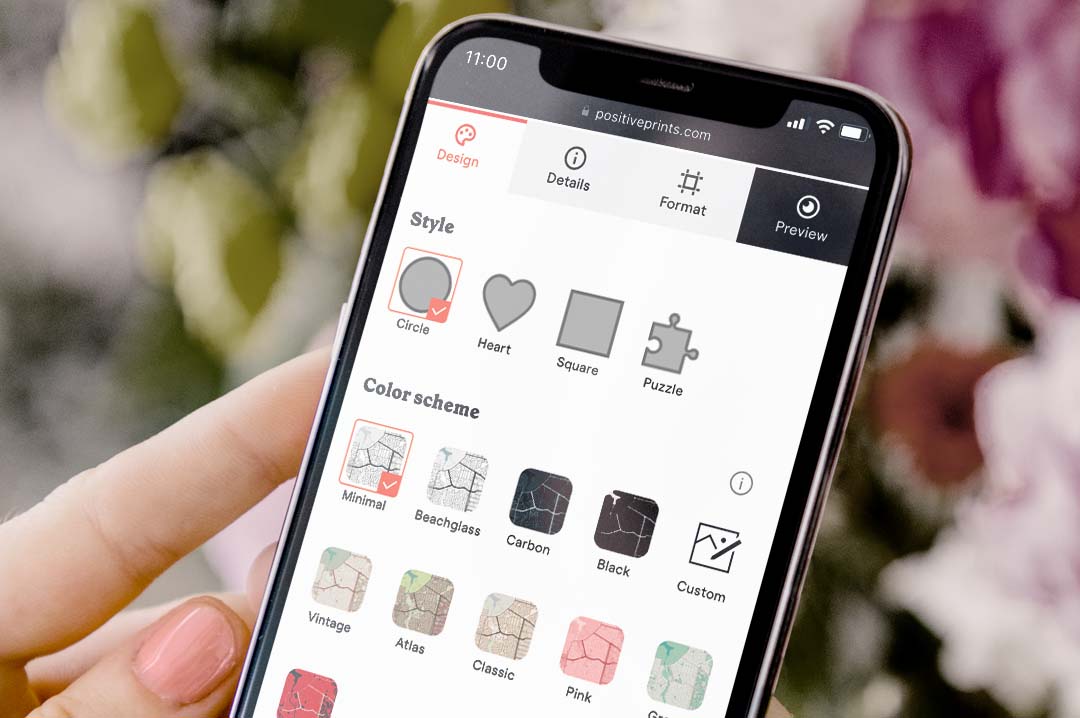 Or choose a last minute digital download
✔ Available immediately after purchase ✔ Can be printed in the format of your choice ✔ High quality JPEG files of 300dpi
Create digital file now
The best wedding gift is one that speaks to the heart, reminding you just how special it is to have found your soulmate. Celebrate the moments that brought you here together with a Hello Will You I Do map.
What is a Hello, Will You, I Do Map?
First you met, and your lives were never the same. Then you decided you simply couldn't live without each other and chose to spend forever together. And then, after weeks, months, or even years of planning, you finally walked down the aisle and said I Do.
Each of these beautiful milestones had its own time and place. No matter where or when the magic happened, a Hello, Will You, I Do Map helps you capture these beloved events and savor them for a lifetime.
Each map is actually a series of three separate maps: one that highlights the place of your first date or the place where you first met; one that shows where you popped the question; and one that displays the location of your wedding. Each of these places will forever hold a special place in your heart, and there's no better way to pay tribute than by turning your memories into a beautiful piece of map art.
How to Make Your Custom Wedding Gift
A Hello, Will You, I Do map is a favorite wedding gift for couples. Each one is customized to your story, and Positive Prints takes the guesswork out of how to create a beautiful map from scratch.
Step 1: Select Your Design
Each of our Hello, Will You, I Do maps comes in multiple design options, including different map shapes and color schemes. Select the one you want to help you share your love story with the world.
Step 2: Handle the Fine Details
To make your map truly custom, you can add lines of text (such as a song lyric, quote, or favorite saying you have for each other), as well as the location for each of your defining moments. Add a map marker if you like and make those special spots shine!
Step 3: Choose Your Delivery Method
Positive Prints offers multiple ways to receive your map. Enjoy fast-free worldwide shipping on all of our hardcopy prints, including posters, framed posters, and canvas. For faster turnaround, select the Digital Download option and have your map printed locally. All of our sizes are standard to make it easy to frame your map gift.
Ways to Display Your Hello, Will You, I Do Map
Many of our customers use their Hello, Will You, I Do maps for gifting at weddings. You can also order your own map and display it at your wedding reception so others can learn about your journey together. Find a suitable frame and hang it in your home so that all who enter can be part of your story.
Create Your Custom Map Print Today!
Ready to create your map? Positive Prints makes it easy! Get started today and surprise your loved one with a Hello, Will You, I Do map made just for them!