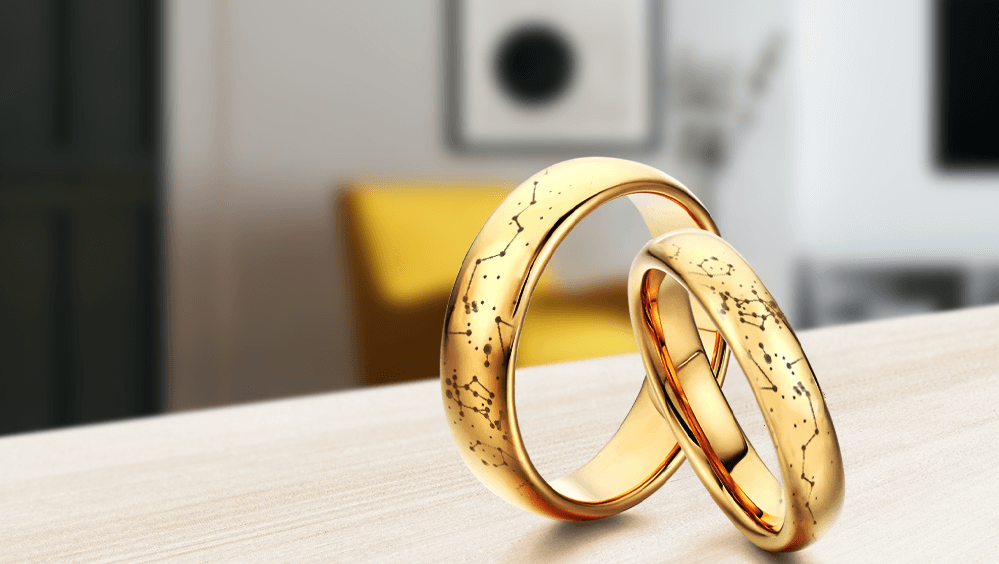 You've finally decided to walk down the aisle together and say I Do in front of family and friends. A love like yours has been written in the stars for ages, and the universe aligned just to bring you two together. Now, it's time to start planning your wedding, and nothing could be more fitting than a celestial wedding theme.
If you need inspiration and ideas for your celestial wedding, we've got you covered. Take a look at our top picks to make this star-studded event one you'll treasure for a lifetime:
1. Custom Star Map Wedding Rings
Though diamonds are a girl's best friend, originality and sentimentality are also top-ranking factors. For your wedding bands, consider getting matching custom engraved star map rings. If you've made a digital star map poster, you can send the file to a ring designer that can infuse your star map details into your ring. It's truly a one of a kind way to thank the universe for bringing you together.
2. Star Map Guest Book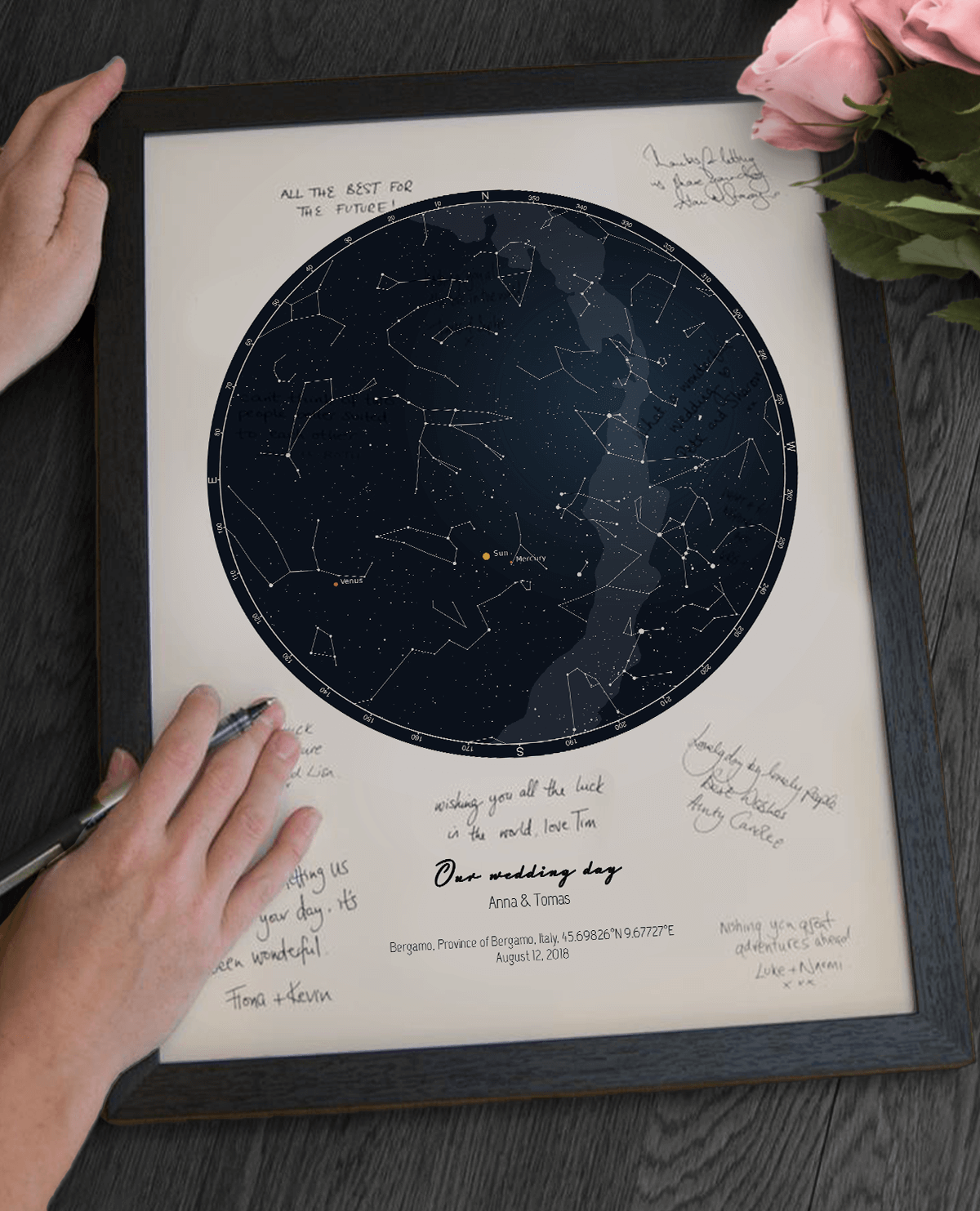 Ditch the traditional guest book that usually ends up with more empty pages than signed ones. Instead, print a star chart poster and have all of your guests sign it. Night sky posters use the date and location of your choice to recreate what the night sky looked like on that special day. You could choose your first date, first kiss, the night you finally became engaged, or even look forward and select the night of your wedding. 
Our posters go up to 24×36 inches (or 70×100 cm), so there's plenty of space for everyone to sign. Prop it up on an easel and use silver, gold, and other metallic marker colors for the signatures.
3. Wedding Invitation with a Personalized Moon Phase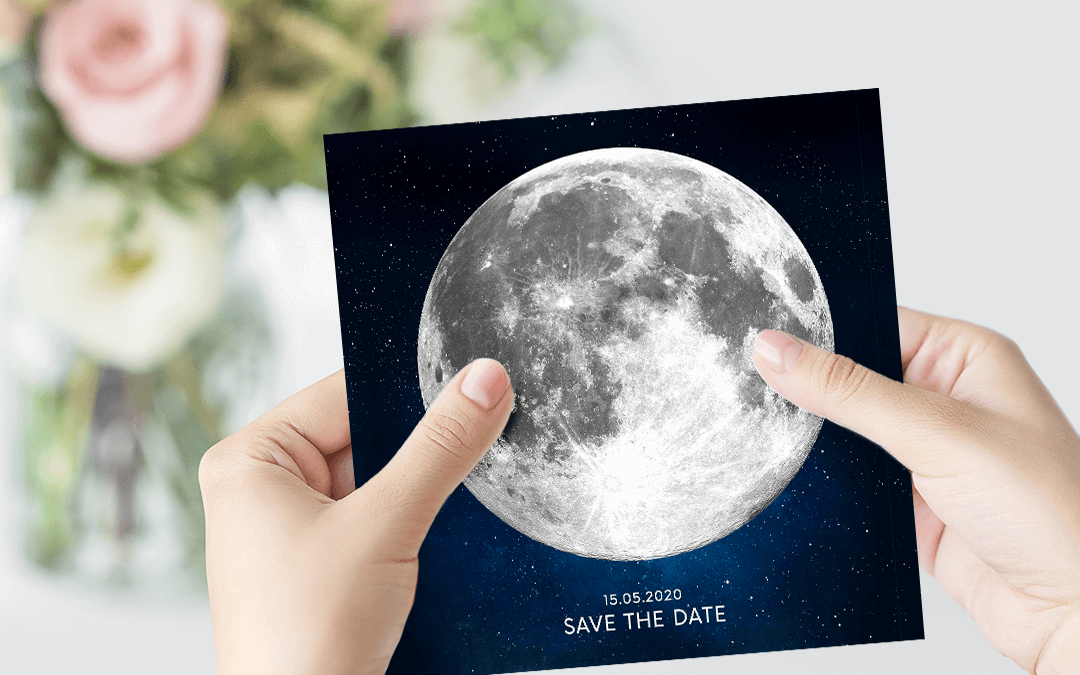 Your wedding invitations are a great way to weave in the celestial theme. Just like custom star maps, a personalized moon print is a recreation of what the moon looked like on a chosen date. You can use the first time you met, the night you got engaged, or even what the moon is supposed to look like on the night of your wedding. This is a great way to set the tone for your guests on your special day.
We offer a digital download file of your custom moon phase so you can order your invitations from anywhere you choose.
4. Celestial Wedding Invitation with Custom Star Map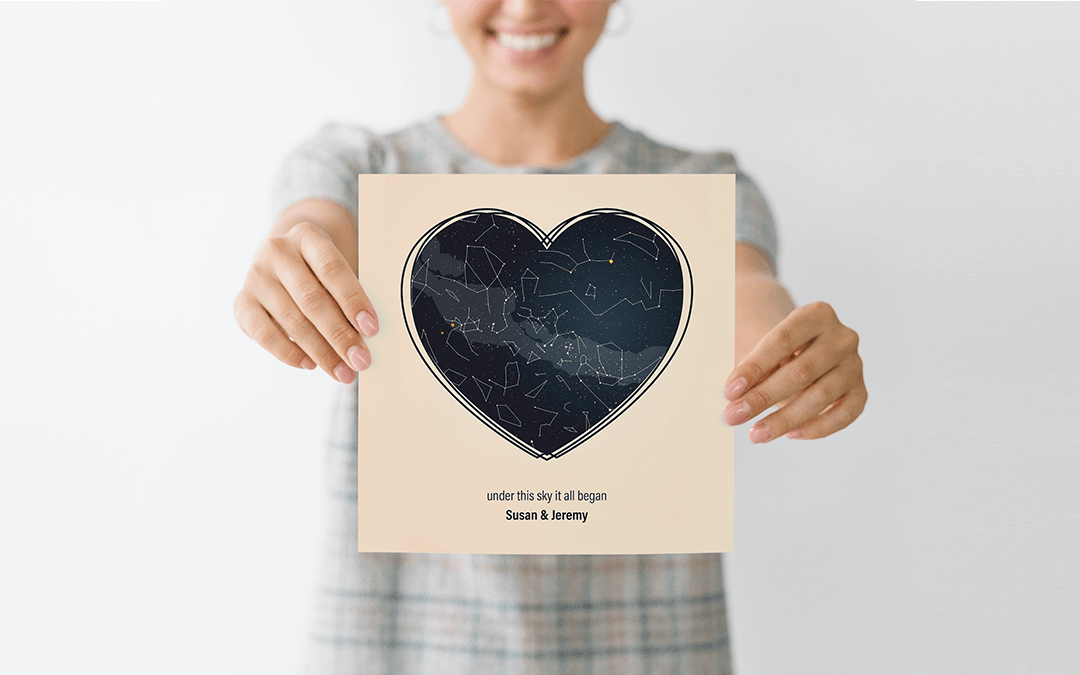 Just like the moon phases invitation, you can replace the moon with a constellations map. Use our digital download option for faster turnaround. It makes ordering custom wedding invitations easier than ever, with little to no design knowledge required!
5. Constellation Names for Setting Arrangements
If you're using assigned seating arrangements, use constellation names instead of table numbers. This is a fun, outside the box way to reinforce your theme and make your wedding unique. Some people prefer to have a master board that shows seating assignments, while others will add place cards to every table. The choice is yours!
6. Galaxy Ties & Bow Ties
Skip the monotone tie and add a little pizzazz to the groom's attire. Galaxy ties add brilliant pops of color and add to the celestial wedding theme. Perfection is in the details, after all.
7. Outer Space Celestial Wedding Cake
Galaxy cakes aren't just trending hot on Pinterest. They're also becoming an easy favorite for weddings. The intricate swirls of color are truly out of this world and go above and beyond your traditional white layer cake. 
8. Celestial Table Setting
Star-theme table setting cards are one thing. But if you want to go above and beyond with your celestial theme (pun intended), then turn your custom star map or moon phase into a complete table setting. Order custom plates, linens, napkins, and more with your star map details printed on them. Then, save these items as a special keepsake that you bring out on anniversaries.
9. Star Map Wedding Programs
If you plan on printing a wedding program, your star map can serve as the perfect backdrop. Use sparkly colors that reflect the night sky, and even add texture or other embellishments to make every detail shine. This will be a treasured keepsake not only for you, but also your guests.
10. Personalized Moon Phase Wedding Gifts
There's nothing wrong with telling your guests what you'd really like to have as a wedding gift. If you want a special memento from this day, consider asking someone to give you a moon phase gift. It's a piece of art packed with meaning, and you'll be proud to display it in the home you're making together. 
Star creating your celestial wedding posters and digital files.