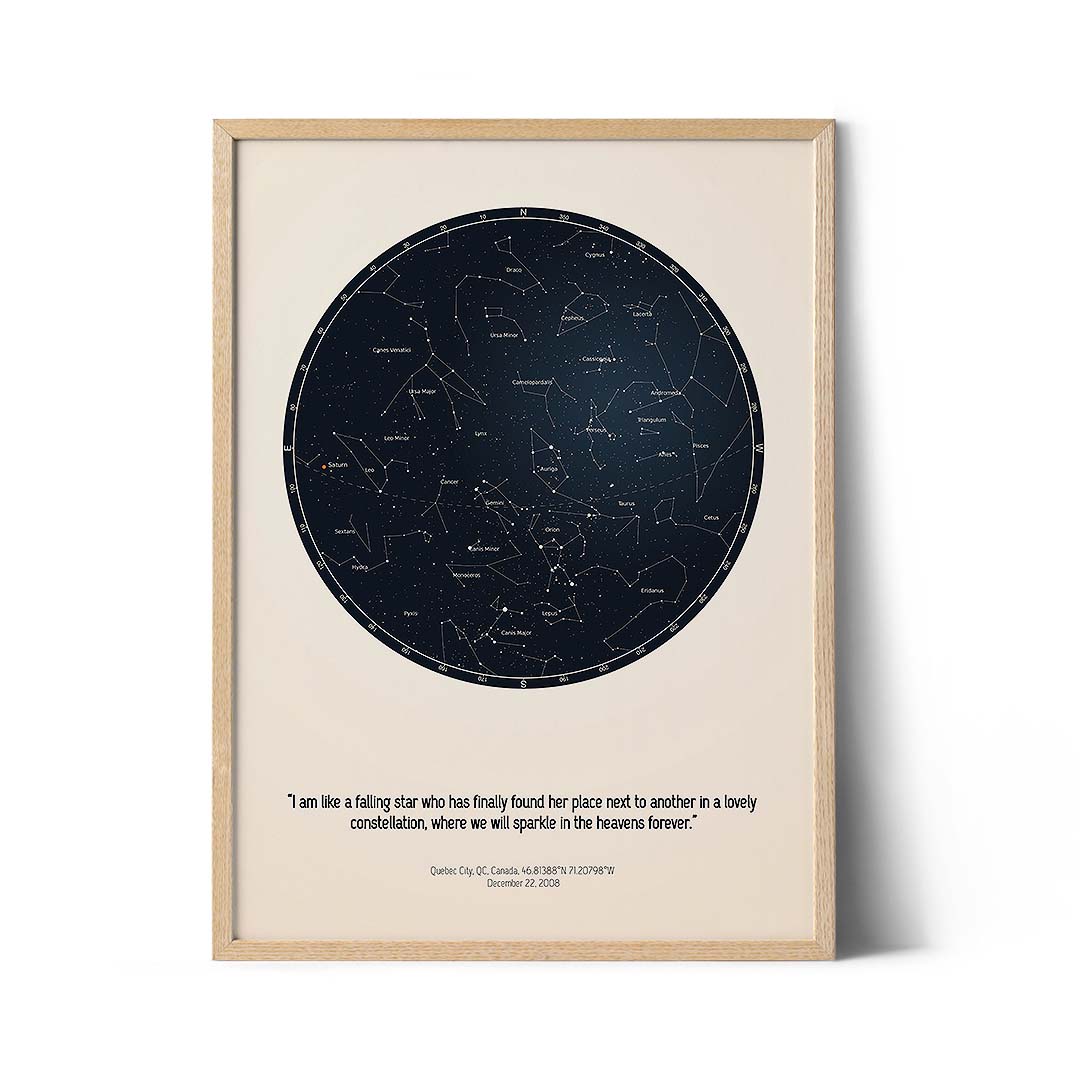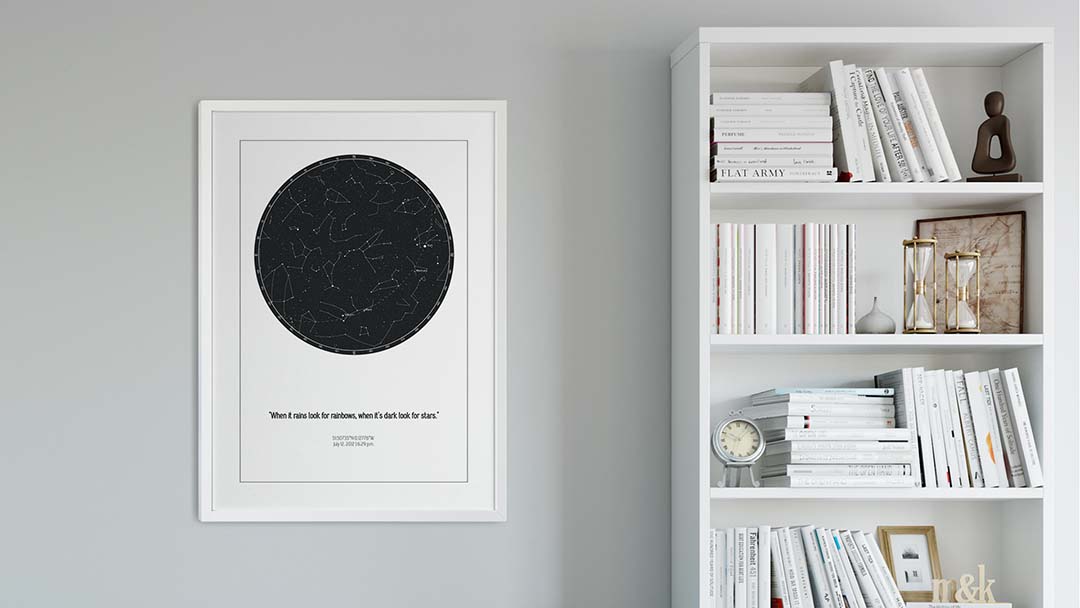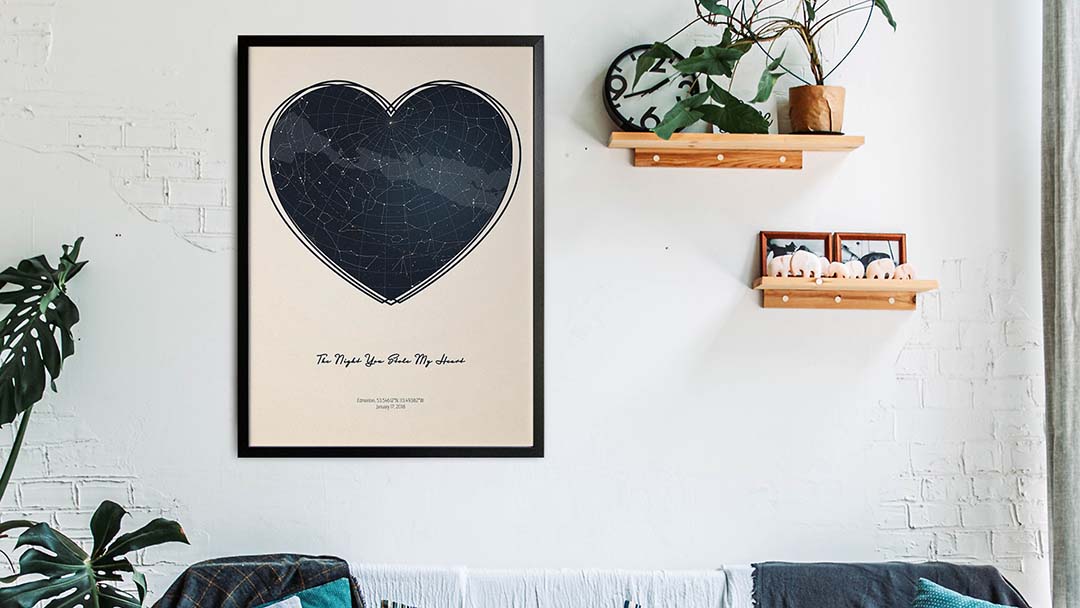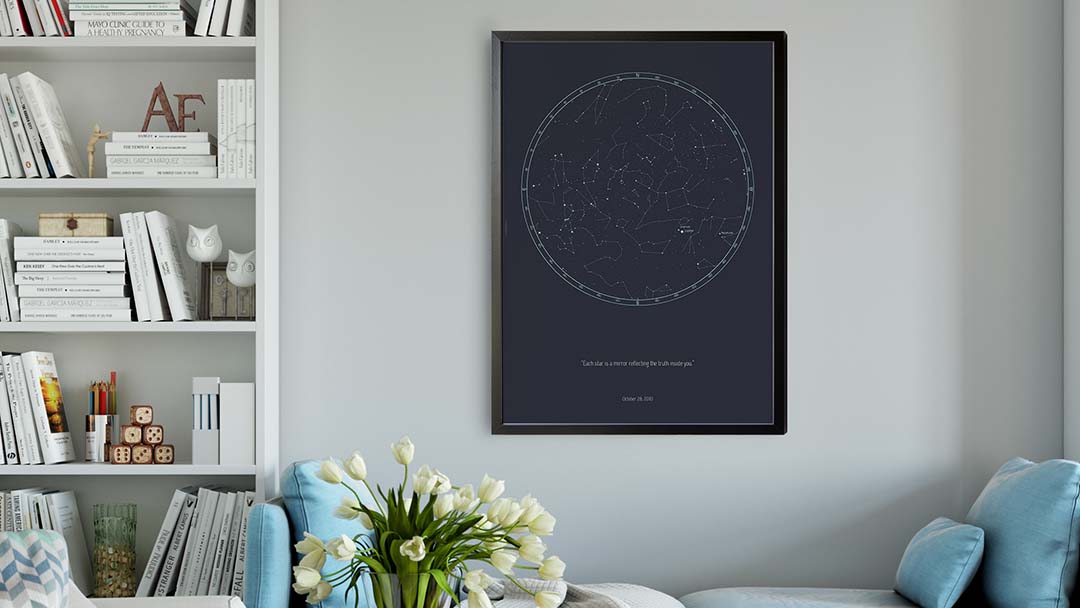 ⭐ Exact View Of The Stars From Any Location
✨ Detailed Star Map Design Including Planets, Constellation Names And The Milky Way
⭐ Interactive Star Map Editor With An Instant Preview
✨ 100% Customizable
⭐ Choose From A Variety Of Printed Sizes Or Instant Digital Download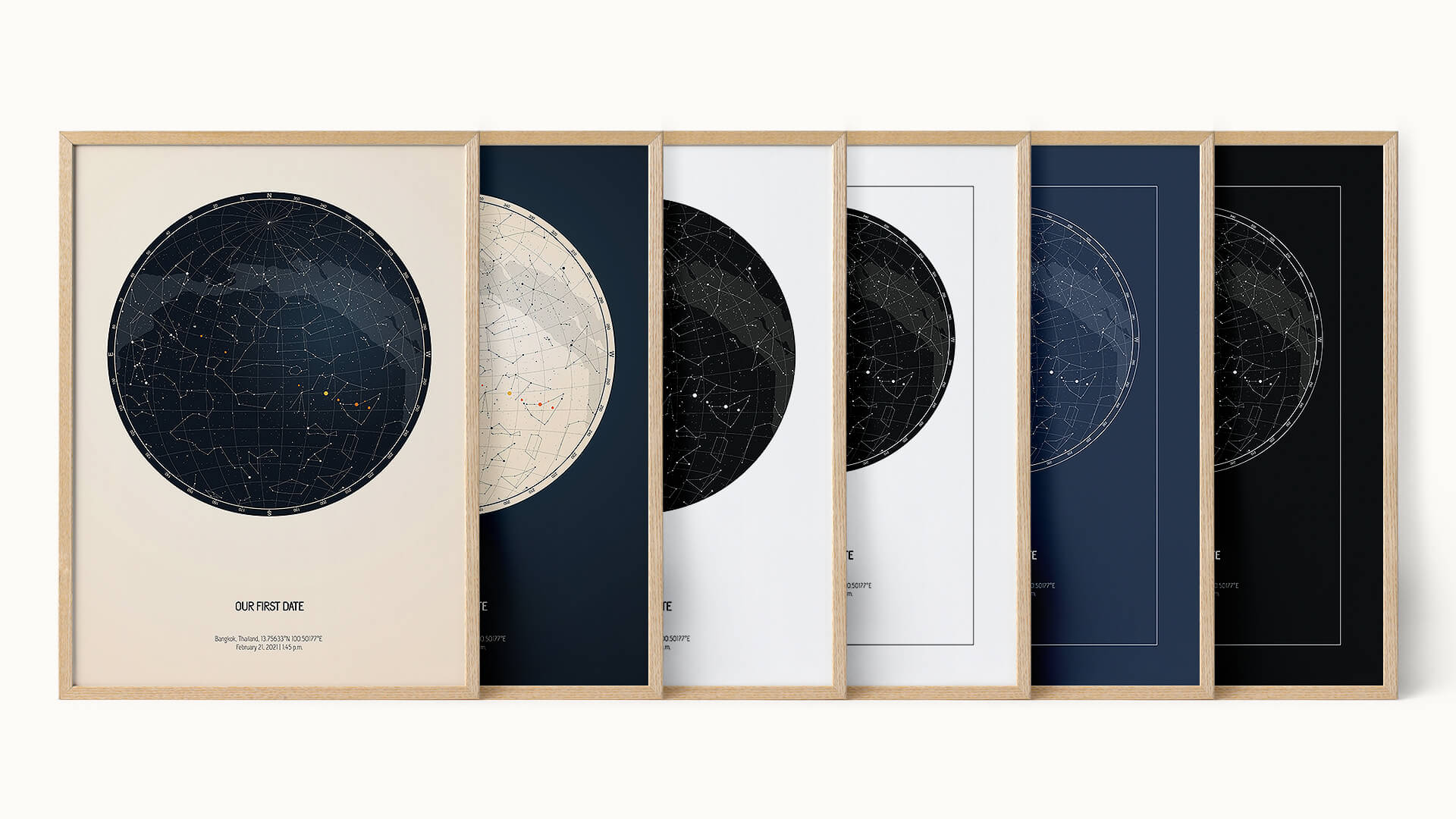 Personalized Star Map by Date and Location
Is your fate written in the stars? Design a personalized star map poster. You can remember how the night sky looked during the most memorable evenings of your life. Try our easy-to-use, interactive star map editor. It makes it easy to find the stars from any date and location. And even labels planets, constellations, and the Milky Way. A Custom Star Map makes for a great, personal gift for anyone who might share a special date with you.
Scientifically Accurate Star Maps
In 1989, the European Space Agency launched the Hipparcos satellite to create highly-accurate measurements of the celestial bodies in our night sky. From planets and stars to constellations and galaxies, we use data from the
Hipparcos
to create accurate star maps to precisely display the sky from any night - past, present, or future! - from any position in the world.
Custom Star Map Poster - Make it Personal!
The star-map editor makes your gift personal! With the star map editor, you can select the view of the stars as it appears on any date from anywhere in the world. Every map can be supplemented with additional information. The date, time, location of the star map is visible from. You can even
add a personalized message
! With a few clicks, you can add descriptions to your chart so anyone can identify their favorite stars, planets, and constellations.
A Uniquely Unforgettable Star Map Gift
The cosmos is billions of years old. We want your memories to last just as long. Select a custom star map poster to commemorate the birth of a child or the night you met your loved one. A personalized star map is a great way to spur the curiosity of a future astronomer. Or to show a loved one how much you mean to them.
Printed star map posters are available in portrait orientation. We accommodate most poster sizes, including 16X12, 36X24, and 24X18 inches or 100X70, 70X50, and 40X30 cm. Posters are printed on high-quality poster stock to make framing a snap.
Instant downloads are delivered as JPEG files. Most professional printers will be able to work with the provided ratios to scale your custom personalized star map print to your ideal size. We recommend printing on 180 gsm. matte paper for the best results.
Customer Reviews
Write a Review
Ask a Question
23/07/2021
Matteo C.

IT
Amazing, it's a very original gift! Nice idea
21/07/2021
Myriam D.

CA
21/07/2021
Clemente Z.

ES
Perfecto. Ha llegado perfectamente y a du debido tiempo.
21/07/2021
Estelle R.

FR
Très beau rendu. Envoi et conditionnement impeccable
21/07/2021
Rafał D.

PL
Bardzo dobrze wykonany plakat, wszystko zgodne z kreatorem.
21/07/2021
Alex B.

NZ
Beautiful print! The digital file printed perfectly and looked absolutely stunning!
20/07/2021
Paweł Z.

PL
Bardzo piekne wydanie na zywo robi o wiele lepsze wrazenie
20/07/2021
Adriana K.

PL
Z całego serca polecam! Wkładając mało wysiłku można podarować komuś taki wyjątkowy prezent. Ponad to w obsłudze klienta pracują bardzo życzliwi i pomocni ludzie. Wszystko dotarło do mnie bardzo szybko i pięknie zapakowane! Jestem zachwycona i z pewnością wykonam jeszcze niejedno zamówienie.
23/07/2021
Positive Prints
Ojej, serdecznie dziękujemy za tak miłą opinię!
19/07/2021
Jeremy L.

DE
Schnelle Lieferung. Gute Qualität. Sehr zufrieden, würde wieder bestellen!
19/07/2021
Agnieszka M.

PL
19/07/2021
SALOME C.

ES
Felicidad es la palabra que mejor describe lo que sentí cuando mi hermano vió su regalo, indescriptible su cara, flipó y quedó encantado. Solo palabras de agradecimiento para vosotros, encima fuisteis super rapidos en la entrega y llegó la tarde antes de su cumpleaños. Lo recomiemdo sin dudas. Mil gracias
23/07/2021
Positive Prints
¡Gracias por su amable comentario! Llevar la felicidad a las caras de todos es nuestro principal objetivo :)
19/07/2021
Sandra S.

FR
Très sympa, original et bien fait.
19/07/2021
Klaudia C.

PL
Bardzo szubka dostawa, plakat porzadnie i ladnie zapakowany. Jakosc grafiki super. Dziekuje bardzo :)
18/07/2021
Karolina G.

PL
Dobre wykonanie. Szybka dostawa. Polecam
18/07/2021
Claudia L.

IT
Very nice gift and customer care are so kind and open to help me. Strongly recommend it