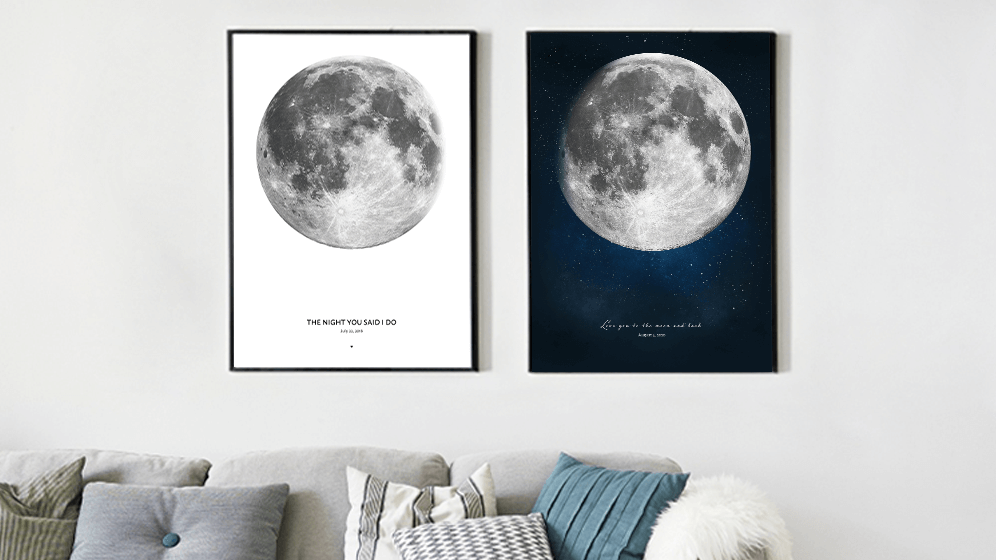 Maybe you got engaged under the light of a full moon. Or maybe you can't forget the way the sky looked on your wedding day or the night your child was born. No matter the most special moments in your life, you can rest assured the moon is sharing in your joy. Commemorate the occasion with beautifully crafted moon phase artwork that will capture the moment in time.
What is Moon Phase Artwork?
Imagine inviting the moon into your home or office! Our fun, original moon print makes it possible.
Many people say they feel a special connection to the moon. Science has even proven that the moon can influence our emotions, behaviors, and even biological responses.
Knowing this, it's no surprise that many people choose our moon phase art to remember a special moment in their lives.
Moon phase artwork are custom prints made to order by PositivePrints.com. Each print reflects the appearance of the moon on a particular location and date. Because we can track every day of the moon's cycle, we can create what the moon looked like on the date of your choice based on your location in the world.
These elegant prints are an excellent way to emblazon the memories of special nights in your life. Recreate the sky and reconnect to specific moments in time that you'll cherish for a lifetime.
What Makes Our Moon Phase Artwork So Special?
To be clear, our moon phase artwork isn't just a print of the moon that you hang on your wall. You could probably get artwork like that at any art or hobby store. The difference is that generic moon prints don't reflect the nature of a specific moment that's meaningful to you.
That's why we developed our custom moon artwork. You give us the date of an event in your life (e.g. a first date, wedding day, birth of a child, graduation day, etc.), then we do our research to see what the moon looked like on that night. Each date is a little different since the moon's visibility changes each day of its cycle.
Our goal is to recreate the moon as realistically as possible so that it looks just as did in your memories.
Every print is custom made to order, and you have a lot of design freedom and flexibility in customizing your print. You can choose to add special text and select a colour scheme that fits your personality and decor.
Therefore, every print we create is different. We want to make your artwork truly one of a kind so that you feel a special connection to it each time you see it.
What's Included on Your Custom Moon Phase Print
Historically, you'd have to work side by side with an artist or designer to get quality custom artwork. But at Positive Prints, we've made it easier than ever to design your own custom moon phase print from the convenience of your home.
Using our interactive, intuitive online tool, you can customize your moon phase print in three easy steps:
1. Select Design.
In Step One, you can choose one of five different colour schemes. The colour will serve as the background for the moon phase artwork. Many of our customers select black to represent the night sky, as well as the beautiful blend of midnight blue and black dotted with stars.
Once you've made your choice, click the Enter Details button to go to the next step.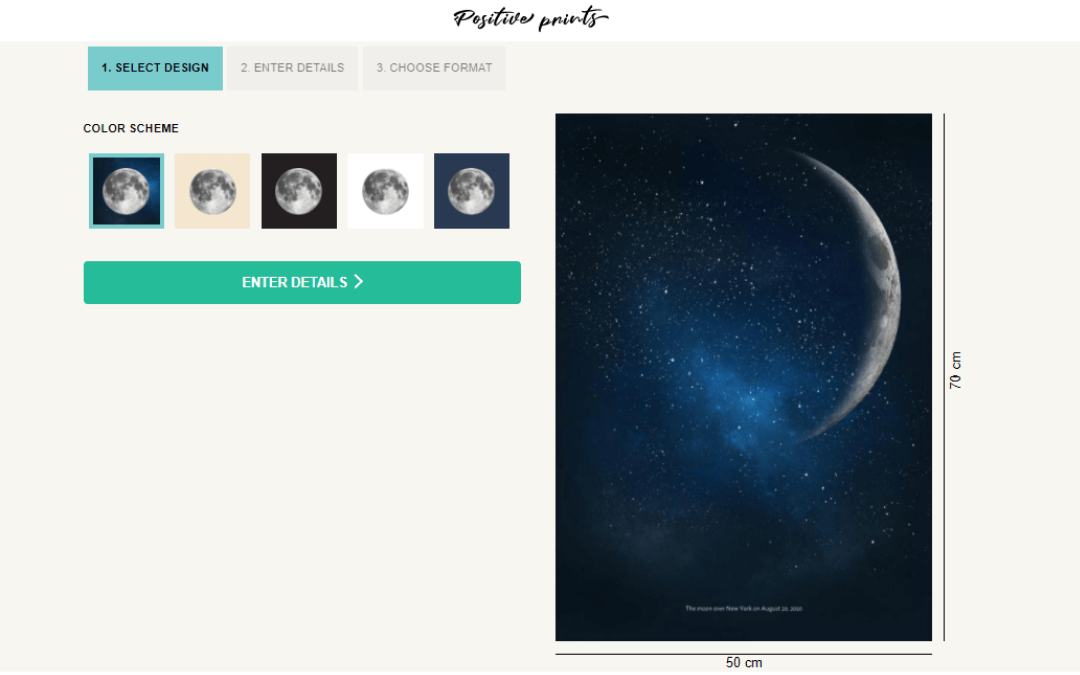 2. Enter Details.
This step is where you'll enter your custom details. You can choose the specific city or location where your special event took place, as well as the date. If you want to add a custom message to moon phases art, simply toggle the switch and add a custom line of text to your print. You can up to three lines of text: the top line will be displayed in large print, with a line of smaller print underneath. The footnote will appear at the bottom of the print. Each line of text has the option to be displayed in a scripted font, which adds elegance to your text.
This is a great way to add a special quote, song lyrics, or even the time, date, and location of your event.
Once you've made your customizations, click the Choose Format button to move on to the next step.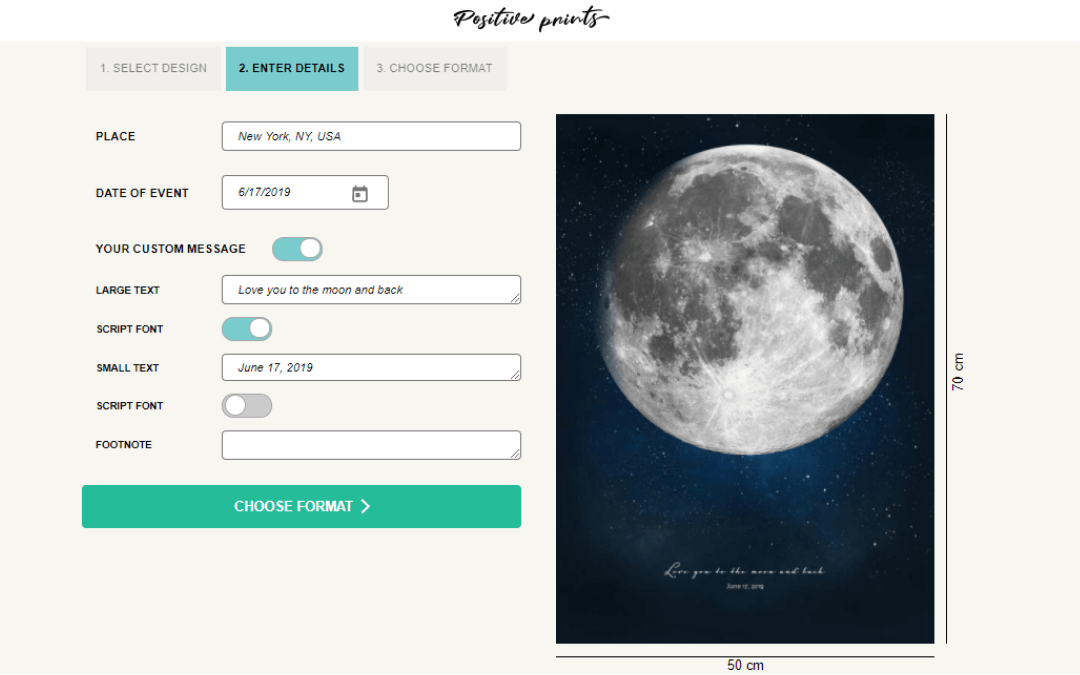 3. Choose Format.
The last step is to select your format. At Positive Prints, we can deliver your custom moon phase artwork in a hardcopy print that is mailed to you. Or for faster delivery, you can choose the digital download that sends you a file via email for you to download and print.
For the hardcopy print, you will need to select your orientation (portrait or landscape) and paper size. For the digital download, we also offer a square orientation.
Once you've completed this step, you'll be directed to the checkout process.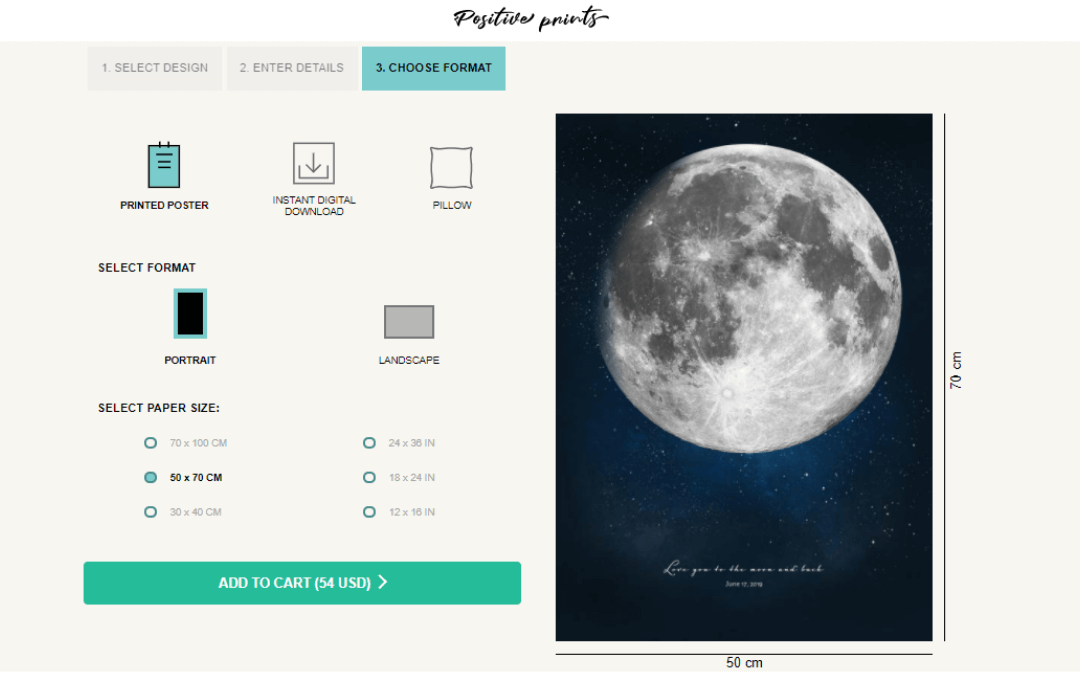 Give Moon Phase Artwork as a Gift
Our unique moon phase artwork packs a lot of sentiment into just one piece of art. They make the perfect gift for a number of occasions, including:
Birthdays
Baby showers or new births
Weddings
Anniversaries
Valentine's Day
Mother's Day
Father's Day
Christmas
Graduations
Retirements
Last minute gifts
Special milestones or achievements
It's never too late to order a moon phase poster that displays a special moment in your life. Order anytime and enjoy free worldwide shipping. It's a low-cost gift that holds major value and will become a cherished treasure like no other.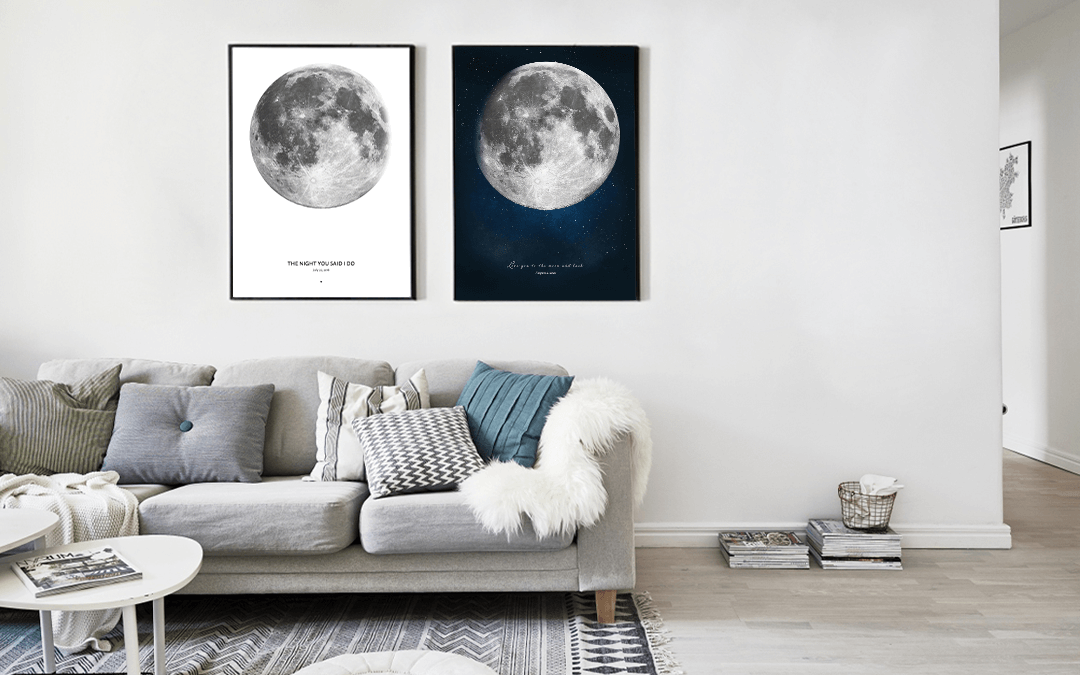 How to Order Moon Phase Artwork that's Meaningful to You
Are you ready to give the unique gift of moon phase artwork to yourself or someone special? Positive Prints makes it easy to get started.
Click on the button below to start creating your custom moon print art – it's the gift that keeps on giving!