Personalised Gifts for Teachers
Looking for a special gift for a teacher? Our personalised gifts for teachers are perfect for showing appreciation on their day. Capture how much they care and how they've helped you grow with unique artwork designed especially for them. Give them a thoughtful gift that will make them smile and remind them of the days they made a difference. Order now at Positive Prints and make their Teacher's Day extra memorable with this thoughtful idea!
4.81

/ 5 of Our Customers Loved Their Gift
Teacher Appreciation
Price from 44.00 €
(707)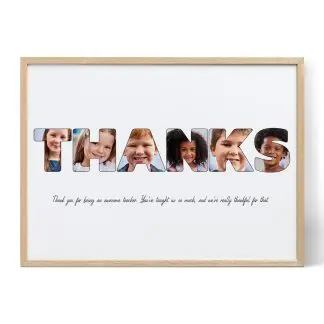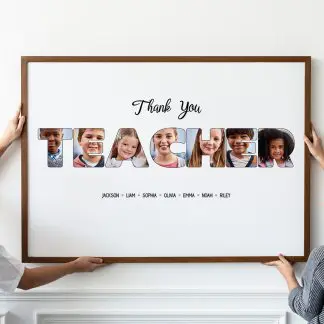 Thank You Teacher Letter Photo Collage
Price from 44.00 €
(22)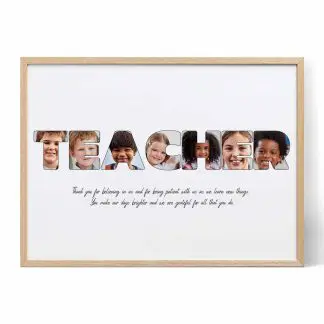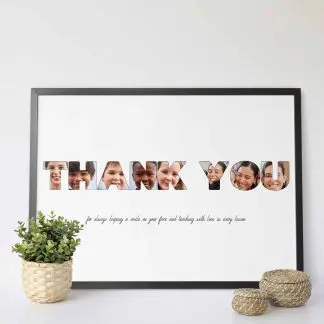 Teacher Letter Photo Collage
Price from 44.00 €
(22)
Teachers are often the unsung heroes of our society, helping to shape and mold the young minds of tomorrow. While a simple thank you card is always appreciated, sometimes you want to do something a little extra special for that amazing teacher in your life. That's where personalized gifts come in!
Positive Prints makes it easy to turn wall art into one of a kind gifts for teachers. Create a custom print in minutes and give a little extra thanks to the teachers in your life.
Personalized Gift Ideas for Teachers
When it comes to finding the perfect birthday gift for a teacher (or for any other occasion), Positive Prints takes the pressure off. Here's how easy it is to get started:
Start with one of our expertly crafted designs just waiting for your personal touch.
Choose a color combination or create your own, then add unique details to bring your artwork to life.
Include custom text, such as dates, places, quotes, song lyrics, or an inspiring message.
Choose how you'd like to receive your print, including a poster, print on canvas, or digital file.
Positive Prints also make great gifts for students from the teacher!
Why Positive Prints?
A personalized gift from Positive Prints is more than just something you picked up at the store on your way home from work. It's something that you took the time to think about and choose specifically for the recipient. This type of thoughtfulness is sure to be appreciated by any teacher.
Give the Gifts that Teachers Will Love!
Crafting a unique gift for teachers is easier than ever with our state of the art technology. Choose from an expert design, add your own elements, and have it delivered to your doorstep or inbox. It's that simple! Start designing your Positive Prints today.