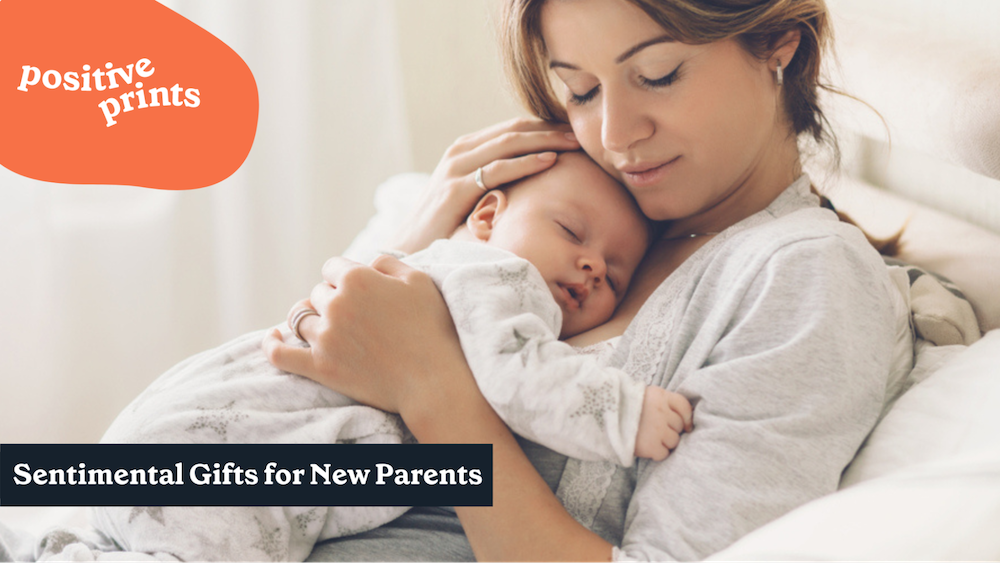 For the new parents in your life, gift giving can be quite the challenge. You want to show your love and support for the new journey they've just embarked on. But you also know that they're juggling a million new things, and telling you what they need or want as a sentimental gift for new parents usually doesn't fall high on the priority list.
While there are the obvious choices like diapers and toys, gifts for new baby parents are sure to stand out among the others. They're more creative than your standard registry items, plus they tend to be things that new parents would never think to ask for themselves.
Use this gift-giving guide to take the guesswork out of buying sentimental gifts for new parents.
Buying a Gift for New Parents? Avoid These Common Mistakes
Before we dive into specific options, let's clear up some of the most common mistakes people make when buying a gift for new parents:
Buying a Gift Before the Baby's Arrival
It's a classic move to stock up on baby items before the baby arrives. This way, new parents have everything they need to care for their little one. However, no parent can truly think of everything, and there's a good chance they'll discover tons of things they've overlooked. It's a good idea to wait until after the baby is born so you can find out what the parents really need but didn't get at their baby shower.
Opting for Overly Basic Items
There's no doubt that all babies need diapers, clothes, personal care items, and toys. And if you like a safe bet, you're probably not the only one. Too often, parents are overwhelmed with basics while other needs go unmet. This is another advantage of waiting until after the baby comes — by this time, they'll have gone through and returned any unnecessary items and can focus on what they need.
Purchasing Items They May Not Be Able to Use
Clothes, diapers, and seasonal items pose a number of challenges, specifically when it comes to sizing. In some cases, new parents may be unable to use the items due to seasonality or sizing.
To avoid these common mistakes, consider the following sentimental gifts for new parents that won't go unappreciated.
Find the Best Sentimental Gifts for New Parents at Positive Prints
New parents want to savor every special moment with their bundle of joy. You can help them remember the details in a unique gift that's designed to last and be enjoyed for years to come.
Our birth posters, moon phases posters, and custom star maps are one of a kind gifts that will surprise and delight any new parent. They're inexpensive and easy to create, and while you might not find them on any baby registry, you can take comfort in knowing you've given the new parents in your life a gift of a lifetime.
Birth Poster
No parent forgets the day their child enters the world. It's a landmark occasion that begins a new journey for the whole family. But their tiny newborn babies don't stay tiny for long. That's why a custom birth poster is the perfect way to commemorate the occasion and help parents remember just how little their littles ones used to be.
A birth poster from Positive Prints is a special keepsake that can hang in their home for years to come, even as their child gets older. Each poster includes the baby's weight and length to create a 1:1 scale sketch of the baby on the day of their birth. The poster can also display the child's name and other details in the style of your choosing.
Moon Phases Poster
Similar to the birth poster, our moon phases posters create a replica of the moon on the date of your choice. For new parents, this sentimental gift can help them remember what the moon looked like on the night their child was born.
Each moon phase poster from Positive Prints is customized based on your selected date and location. You can also choose from a variety of colour schemes, poster sizes, and portrait or landscape orientation to complement the baby's nursery. Each time the new parents look at their moon phase print, they can travel back in time to one of the greatest nights of their lives.
Star Map Poster
Last but not least, our custom star map posters are a favorite sentimental gift for new parents. Much like the moon phases poster, our star maps create a depiction of the entire night sky on the night of their child's birth. Add your own text to illustrate the details of their delivery so that their blessed day can be shared with others.
Get started creating your custom poster prints today and give new parents a keepsake they can treasure forever.