Our First Kiss Map

✓ Our First Kiss Map Shows the Exact Place Where You and Your Love Shared Your Very First Kiss Together.
✓ Remember This Magical Moment in Time With a Beautiful Piece of Art That Helps You Tell a Part of Your Love Story.
✓ We Deliver All Over the World With Fast, Free Shipping.
✓ Customize Your Our First Kiss Map With Unique Colour Schemes, Text, and More for a One-of-a-kind Gift-giving Experience.
✓ Create Your Map Gift in Minutes With Positive Prints!

Customer Reviews
Write a Review
Ask a Question
28/06/2022
Audrey

CA
Amazing
It was perfect. I am so happy with my order!
01/07/2022
Positive Prints
Hello Audrey! Thanks so much for giving us your take on how we are doing. We are delighted to hear we were able to meet your expectations. We are happy if you are happy! 💞 We'd be glad to serve you again. Wish you all the best!
23/06/2022
Luis M.

United States
Our 30th Anniversary
Bill and I recently celebrated our 30th anniversary and the best thing about it was the Positive Prints gift I gave him. It is Gorgeous and we Love it ! Thank you Dominika for all your help and support in creating this beautiful poster. The quality and workmanship are exceptional. Positive Prints Team, you get a 10 out of 10...Plus a Gold Star for Excellence ! Thank You ! Bill & Luis
24/06/2022
Positive Prints
Hello Luis! Thanks again for being so kind and writing this awesome review. We will definitely share this with Dominika to let her know to keep up the amazing work. 🥰🙌 We're very grateful for customers like you and hope you stick with us for years to come. ✨Wish you both nothing but the best!✨
18/06/2022
Agnieszka

Poland
Perfect
I am delighted with the workmanship, quality and details of the painting. Express delivery and very neatly packed. I recommend ! ☺️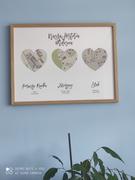 24/06/2022
Positive Prints
Hello Agnieszka! We are honored to have such a great customer like you. Thank you so much for your kind words. 💜💜💜 We can't wait to have you back at Positive Prints!
14/06/2022
Fatima M.

ES
Amazing service! I love their designs and really nice customer service!
24/06/2022
Positive Prints
Hello! Thank you so much for your glowing feedback! I'm so glad everything met your expectations. 🧡💛 Wish you all the best & sending positive vibes. ✨
14/06/2022
Fatima M.

ES
La segunda vez que compro un diseño con ellos ¡y todo perfecto! Contacté con ellos para hacer un cambio en el diseño después de haber pagado y no pusieron ninguna pega. ¡Desde luego que seguiré comprando con ellos!
24/06/2022
Positive Prints
¡Hola! Fue genial saber que podíamos estar a la altura de las expectativas que tenías. Estamos agradecidos por la maravillosa reseña que escribió para nosotros. 💙 Estamos ansiosos por tenerlo de vuelta en Positive Prints.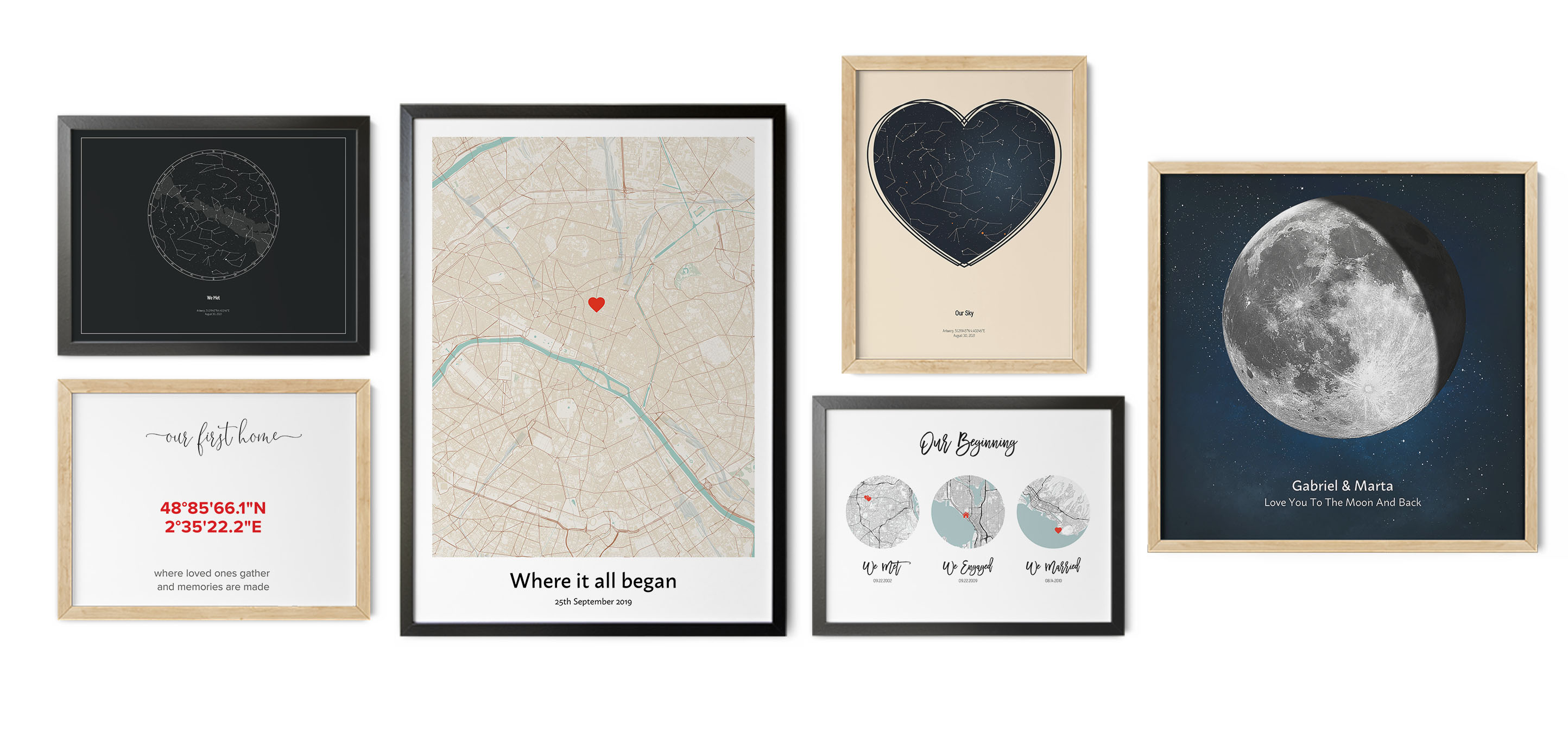 You found The Perfect Gift
Personalized prints make a lasting, meaningful gift.
✔ Printed on elegant, matte art paper of 200 gsm or beautiful 340 g/m² canvas fabric ✔ Choose from over 100+ themes and styles to fit any occasion ✔ Pick between a small size print or a statement decor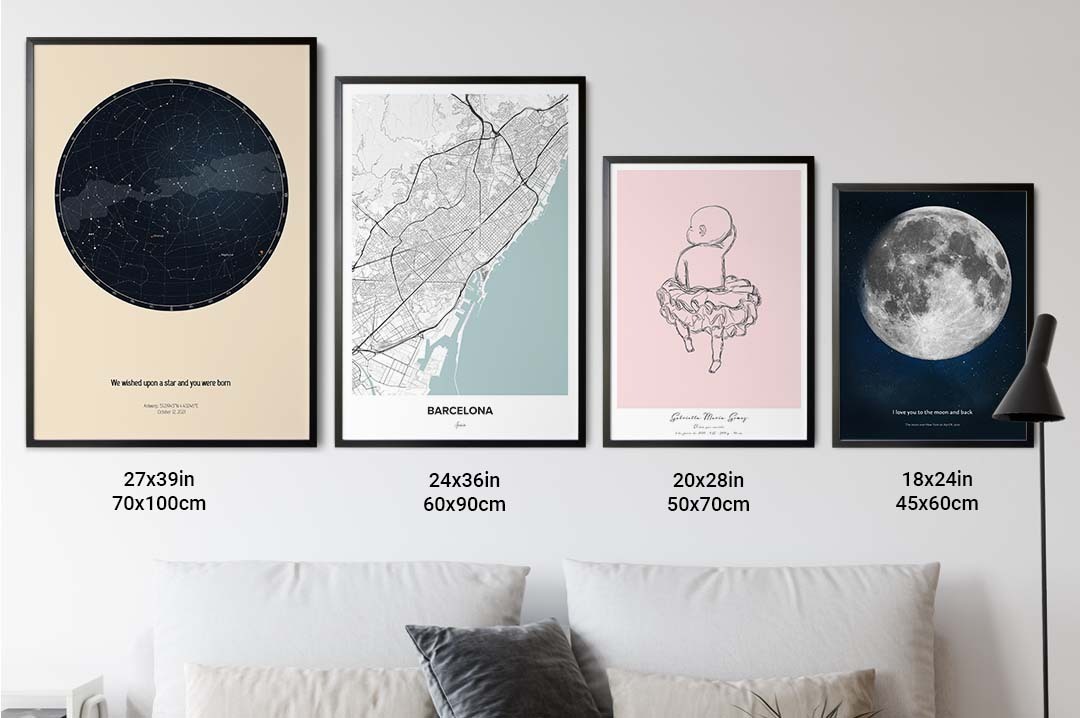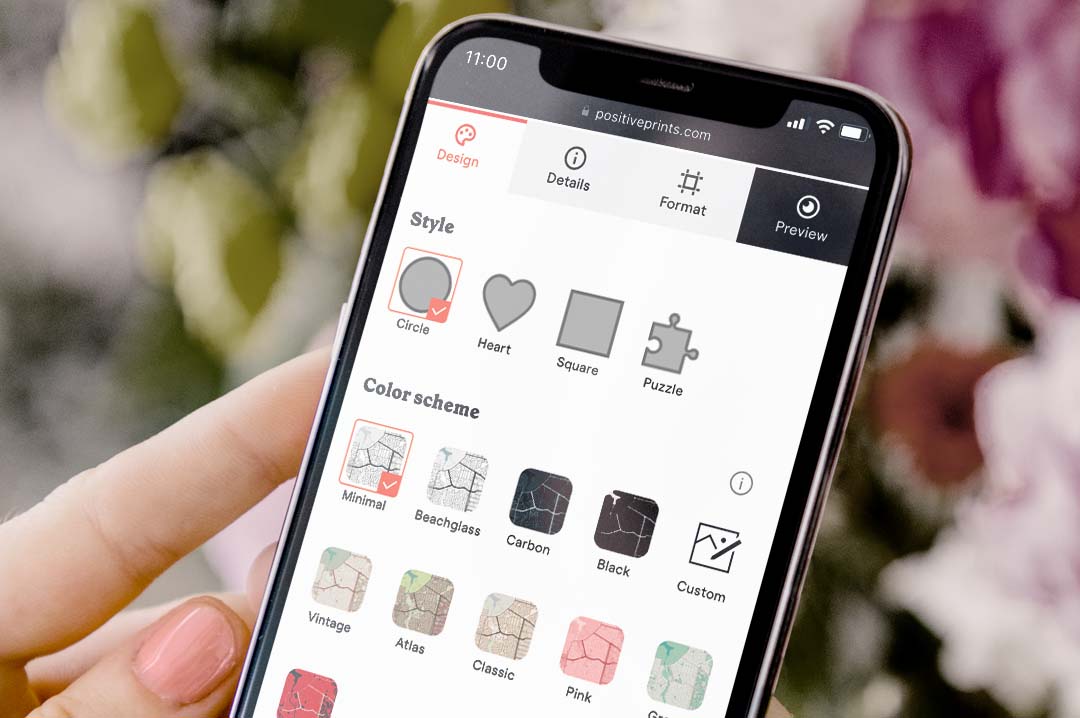 Or choose a last minute digital download
✔ Available immediately after purchase ✔ Can be printed in the format of your choice ✔ High quality JPEG files of 300dpi
Create digital file now
Your first kiss was one of what would become many. Though you may have lost count by now, it's fun to look back on the one kiss that started it all. Celebrate love with an Our First Kiss map from Positive Prints.
What is an Our First Kiss Map?
A couple's first kiss is magical. It's the moment you take your relationship to new heights and feel that special connection to each other, one that might just last a lifetime. An Our First Kiss map is a snapshot of this special time in your lives, highlighting the exact location where you shared your first kiss. We turn this map into a piece of custom artwork you can display in your home and always be reminded of that chapter in your relationship.
Gift Ideas for an Our First Kiss Map
There's something exceptional and surprising about giving and receiving custom artwork as a gift. It's something your loved one isn't expecting. It's a gift that can't simply be bought off the shelf. It takes extra thought and attention to turn your ideas into an illustration.
If you're looking for a unique gift for Valentine's Day, anniversary, or even your own wedding day, surprise your loved one with a map that's made just for them.
At Positive Prints, we've done the hard work for you. The design is mostly finished, but it's missing your personal touch! Input details like the location of your first kiss and we'll handle the rest! Add quotes, song lyrics, sayings, or other special sentiments to make your gift even more unique.
Customising Your Map with Positive Prints
Positive Prints gives you multiple ways to customize your Our First Kiss map and make it truly one of a kind. Start by selecting one of our preset map designs and colour schemes. Play around with the different options and watch your changes come to life!
You can add additional customization by choosing the location of your first kiss with your partner. Add a unique message that brings your map to life: a special date, the name of the location, a quote from a poem or song, or something you always say to each other.
We are happy to print your map in our studios and ship it to you for free, anywhere in the world. Or for faster availability, you can choose a digital download and have your map sent to your email inbox. We also offer prints on canvas as well as framed posters, giving you even more ways to customize your gift!
Get Started Recreating One of Your Most Treasured Memories!
Your first kiss was an important step in your relationship. Turn that memory into one that will last a lifetime or more. Get started with your Our First Kiss map from Positive Prints today!