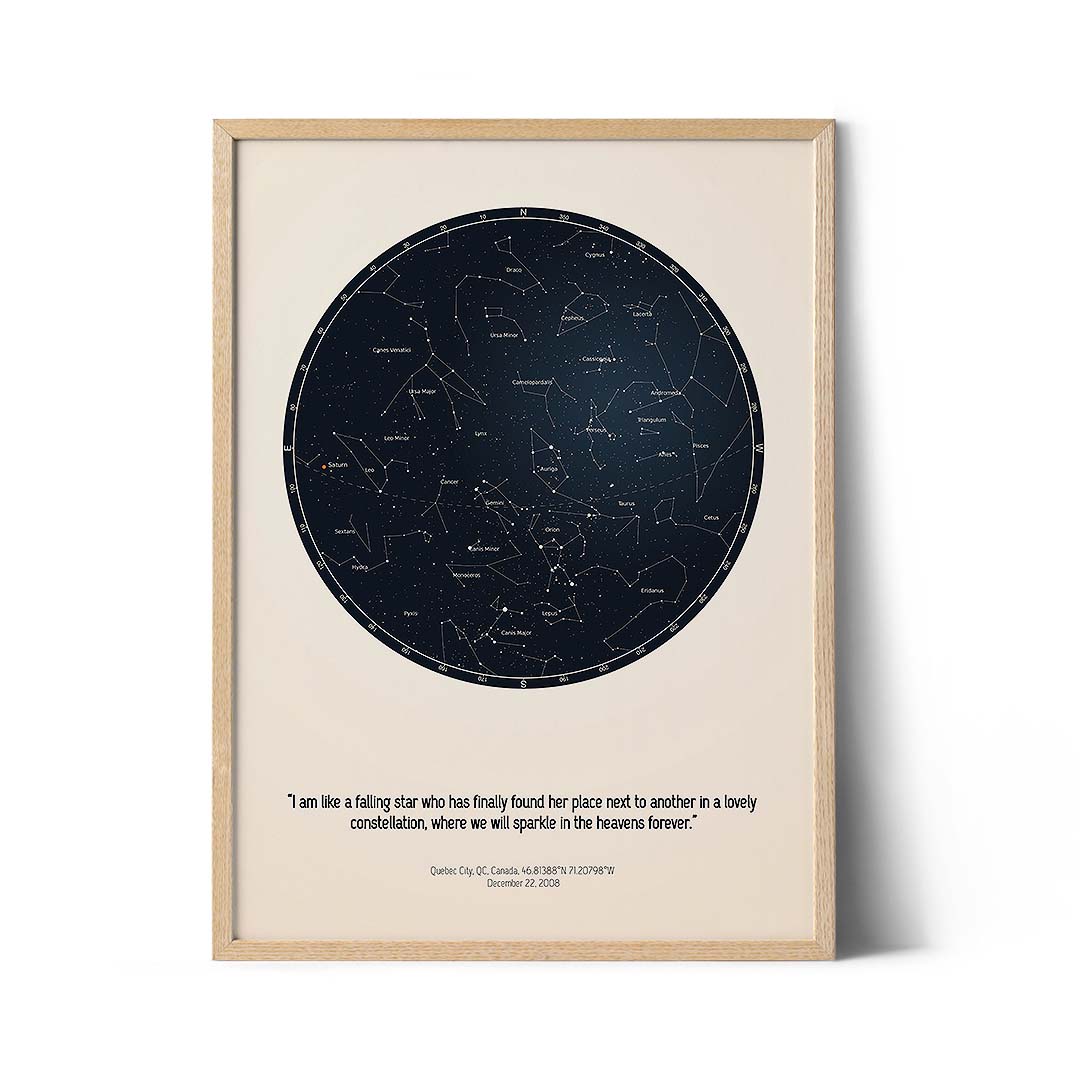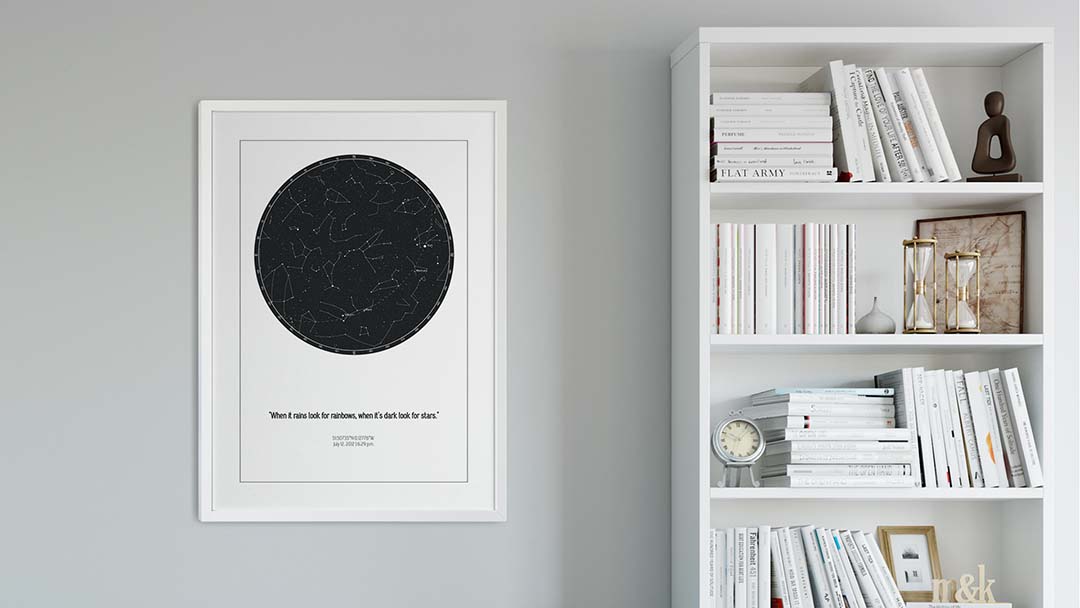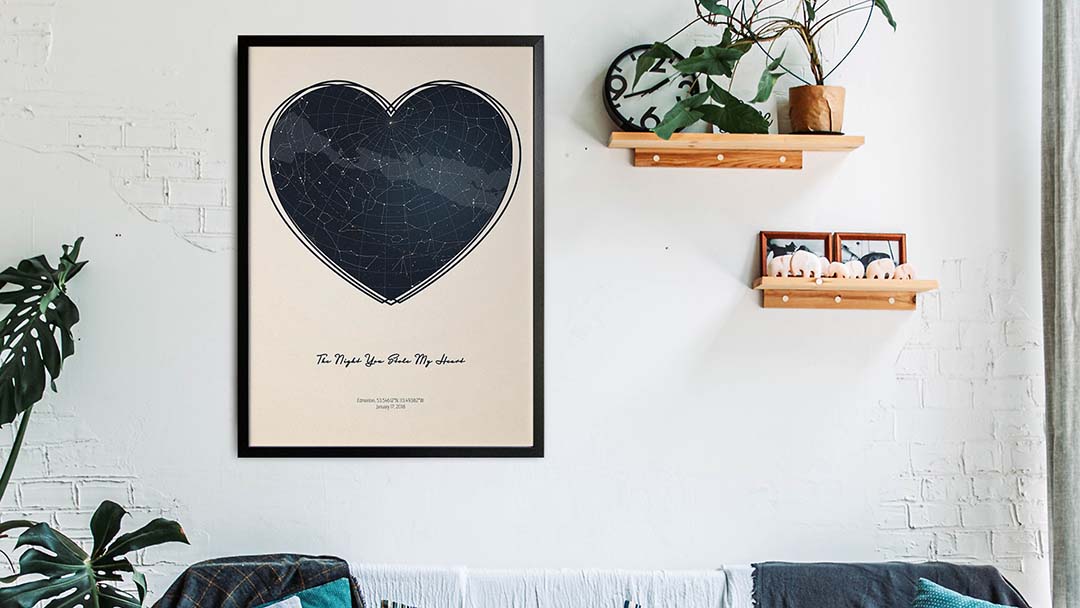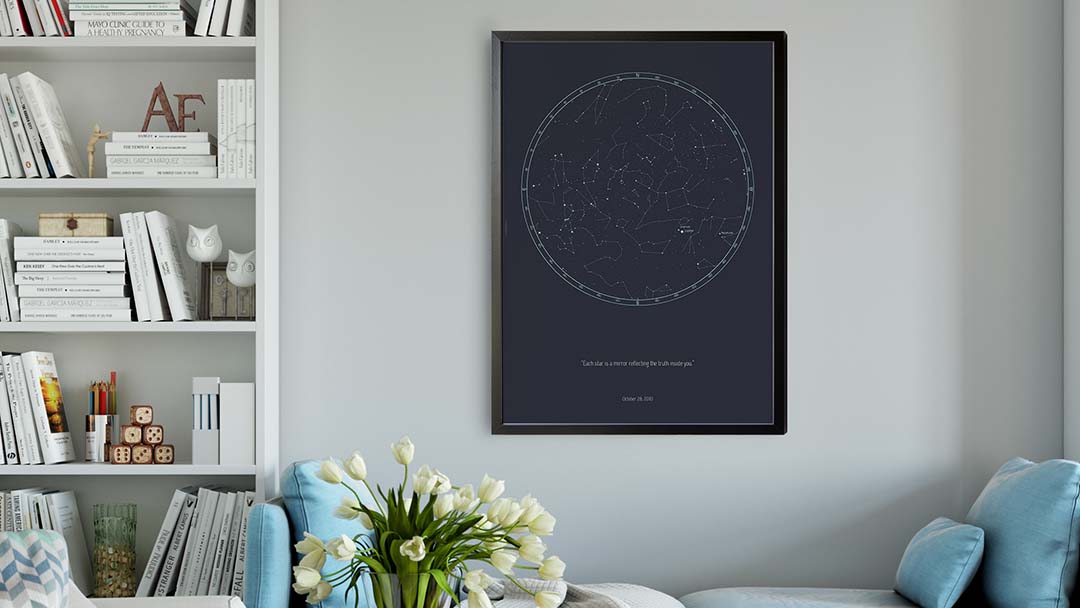 ⭐ Exact View Of The Stars From Any Location
✨ Detailed Star Map Design Including Planets, Constellation Names And The Milky Way
⭐ Interactive Editor With An Instant Preview
✨ 100% Customizable
⭐ Choose From A Variety Of Printed Sizes Or Instant Digital Download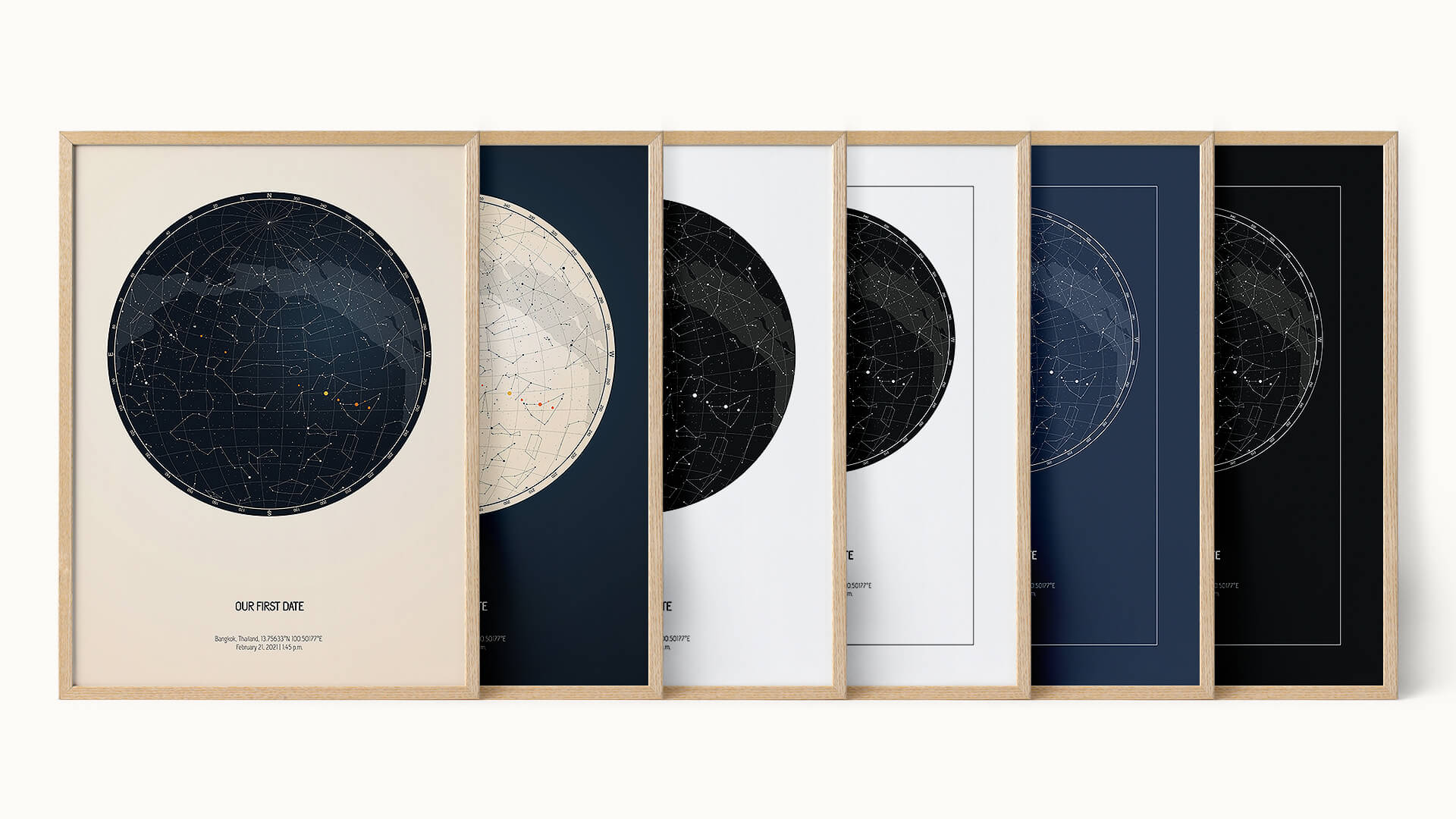 Do you ever wish you could bring the night sky inside? For many, a sky full of stars has a calming effect. Old as time itself, our sky has been the witness to countless magical moments that become treasured memories. And at Positive Prints, we're making it easy to invite the night sky into your personal space in a way that captures your most precious moments in time. We encourage you to create your own custom star map with us.
Our star maps are a beautiful way to recreate the night sky of your most special events. From wedding nights to births to milestones and more, learning how to create your own personalized star map online will instantly become your go-to gift for all occasions.
What is a Custom Star Map?
Think back to the magical moments that tell your life's story. What did the night sky look like in those very moments in time? Just like the earth, the night sky is ever-evolving. Stars and planets continue on their own journey through space. That's why many people love creating custom star maps — to remember their treasured moments in life.
A personalized star map is a replication of the night sky on a specific date, time, and location. Every star map print is personalized because no two events in life are quite alike. Our generator uses the specific details of your event to create a picture-perfect image.
Are personalized star maps accurate?
In 1989, the European Space Agency launched the Hipparcos satellite to create highly-accurate measurements of the celestial bodies in our night sky. From planets and stars to constellations and galaxies, we use data from the
Hipparcos
to create accurate star maps to precisely display the sky from any night - past, present, or future! - from any position in the world.
Why are star map gifts so special?
The star-map editor makes your gift personal! With the star map editor, you can select the view of the stars as it appears on any date from anywhere in the world. Every custom star map can be supplemented with additional information. The date, time, location of the sky map is visible from. You can even
add a personalized message
! With a few clicks, you can add descriptions to your chart so anyone can identify their favorite stars, planets, and constellations.
If you're looking for a unique gift idea, a star map by date is certain to leave a lasting impression. No one expects such a fun, personal, meaningful gift. They'll cherish it forever because it was custom-made for them and reminds them of an important memory every time they look at it.
Our personalized star maps are the ultimate keepsake for every occasion. Many of our customers give them as gifts for:
Weddings
New births
Graduations
Retirements
Holidays
Promotions
Major milestones
And, with our easy to use star map editor, you can even make one to gift to yourself!
How to Create Your Own Custom Star Map
At Positive Prints, we've taken the guesswork out of creating beautiful
personalized prints
that reflect your priceless moments. Our three-step process allows you to customize your map based on your specific dates, locations, and times. You also have control over the colour schemes and map details like stars, constellations, planets, and more. Add custom lines of text to highlight the meaning behind your personalized star map so that everyone will know why this map is special to you!
If you're ordering a hardcopy printed poster, you can select from multiple standard size options that will best fit your space and budget. Each of our prints are created using popular sizes so you can find a suitable frame for displaying. We use only the finest art paper for our star map prints that will stand the test of time and resist fading, peeling, and cracking. For every hardcopy print, we offer free worldwide shipping, whether you order one print or 10!
You can also choose from a digital download that will send a download link directly to your inbox. Once received, you can print the poster at the place of your choosing. This is a preferred option when you want to give a last-minute star map gift or otherwise don't want to wait for shipping.
Here's a closer look at our three-step online process:
1. Select Design
Our custom star map designs come in a variety of styles, including circle and heart shapes in several colour schemes. These colour schemes were selected to provide the greatest contrast that will make your design pop.
Once you select your design, you can select the level of detail you want to display on your star map. The most basic form is the layout of the stars. You can use the toggle switches to apply planets, planet names, constellations, constellation names, the Milky Way, and/or an ecliptic line. You can also add a symbol to your description. Simply copy and paste one of the
symbols available online
. Each time you make a selection in the design process, you can see the changes in real time. Once you're satisfied with your results, click Next Step to enter your personalization details.
2. Enter Details
Enter the location of your magical moment and watch how your star map print transforms! That's because our editor uses real data to determine how the sky looked from a specific location of your choosing. Continue filling in important details, such as the time and date of your event. Add a custom message to your poster to commemorate the occasion. We offer two lines of text (and title and smaller subtitle), both of which can be printed in a standard or scripted font.
When you've entered your details, click on Next Step to finish creating your personalized star map.
3. Choose a Format
You can choose between a physical hardcopy print in one of three standard sizes. The default selection is a hardcopy print in a 50 cm by 70 cm size. Feel free to select a different size, displayed in both cm and in. Or, you can click the Instant Digital Download copy. When your print is ready, you will receive the download link in an email that will allow you to print in your own way.
This is the final step before you add your custom star map to the cart. From there, complete the checkout process and pay for your print and get ready for big smiles!
Customize Your Star Map Today!
Start by using our custom star map editor and see how easy and rewarding it is to surprise someone with a gift they'll treasure for a lifetime!
Customer Reviews
Write a Review
Ask a Question
06/09/2021
Emilia K.

PL
06/09/2021
Vakhmintceva T.

RU
I received my order. Everything is good.
05/09/2021
Daniel G.

SE
Gave it as a wedding present and the bride and groom were so happy!
03/09/2021
Stefan K.

SE
Fast delivery and very nice product! Like it very much!
03/09/2021
Nadine B.

DE
Das Geschenk kam sehr gut an. Die Sendung war pünktlich und sorgsam verpackt. Herzlichen Dank für die tolle Idee und die wertige Umsetzung.
03/09/2021
Małgorzata D.

PL
Plakat przepiękny, jestem bardzo zadowolona. Polecam w 100% :)
03/09/2021
Blanca a.

ES
Muy buena calidad de impresión. Ha quedado genial.Y el tiempo de espera ha sido más corto de lo que decían en principio. Todo estupendo
02/09/2021
Gerda H.

DE
Es ist das 2. Mal, dass ich den Sternenhimmel bestellt habe. Danke für die schnelle Lieferung. Ich bin sehr zufrieden und hoffe, dass für den Beschenkten auch so ist. Danke !!!
02/09/2021
Delphine O.

FR
Parfait souvenir d'une très bonne qualité
02/09/2021
Sandra B.

DE
Ist gut angekommen und sieht sehr schick aus! Danke
02/09/2021
Cristina G.

FR
Hello! Thanks Positive Prints! My sister just... loved it :)
02/09/2021
Magdalena S.

PL
Super jakość, perfekcyjna dostawa pięknie zapakowany idealny prezent! 😍
02/09/2021
Rosina W.

AT