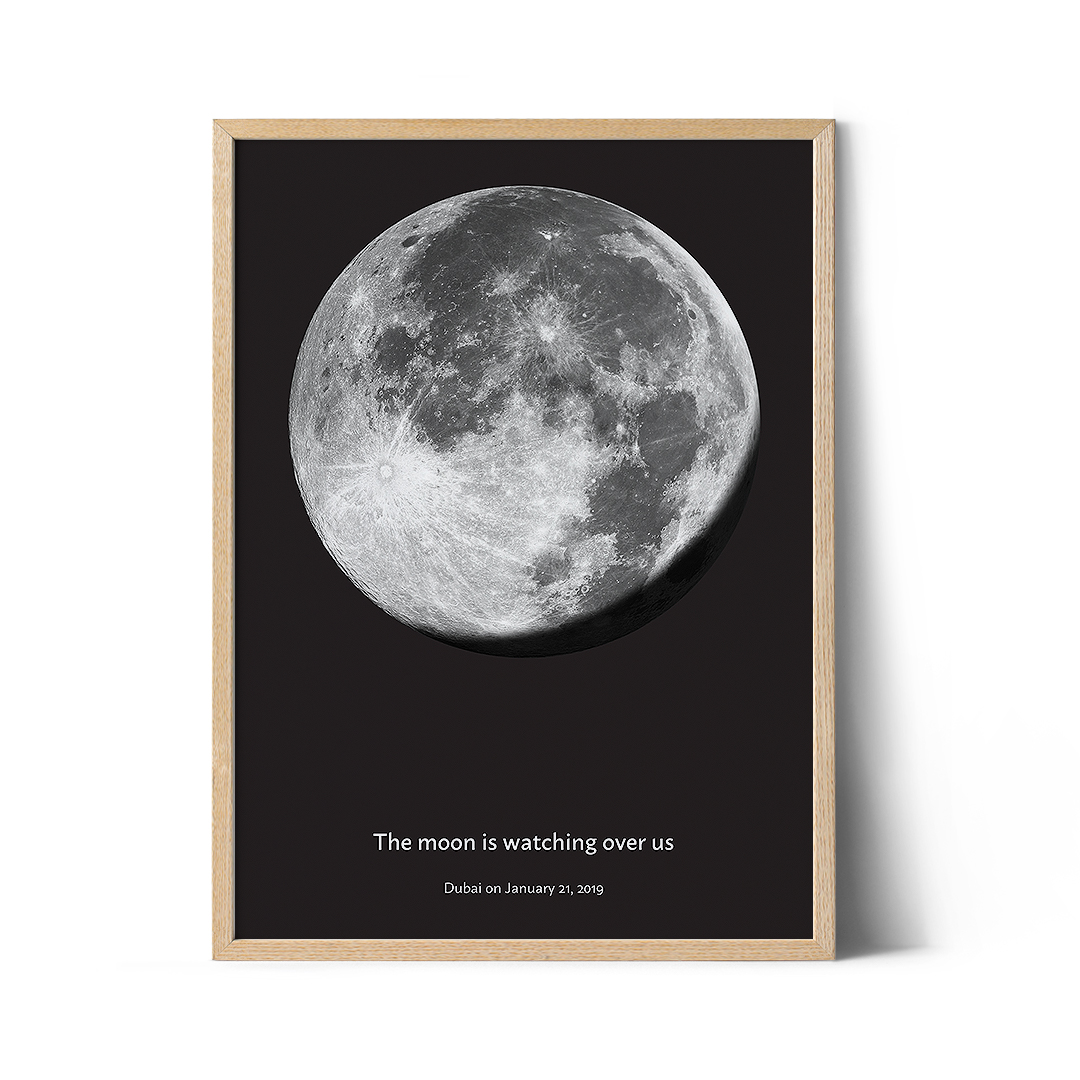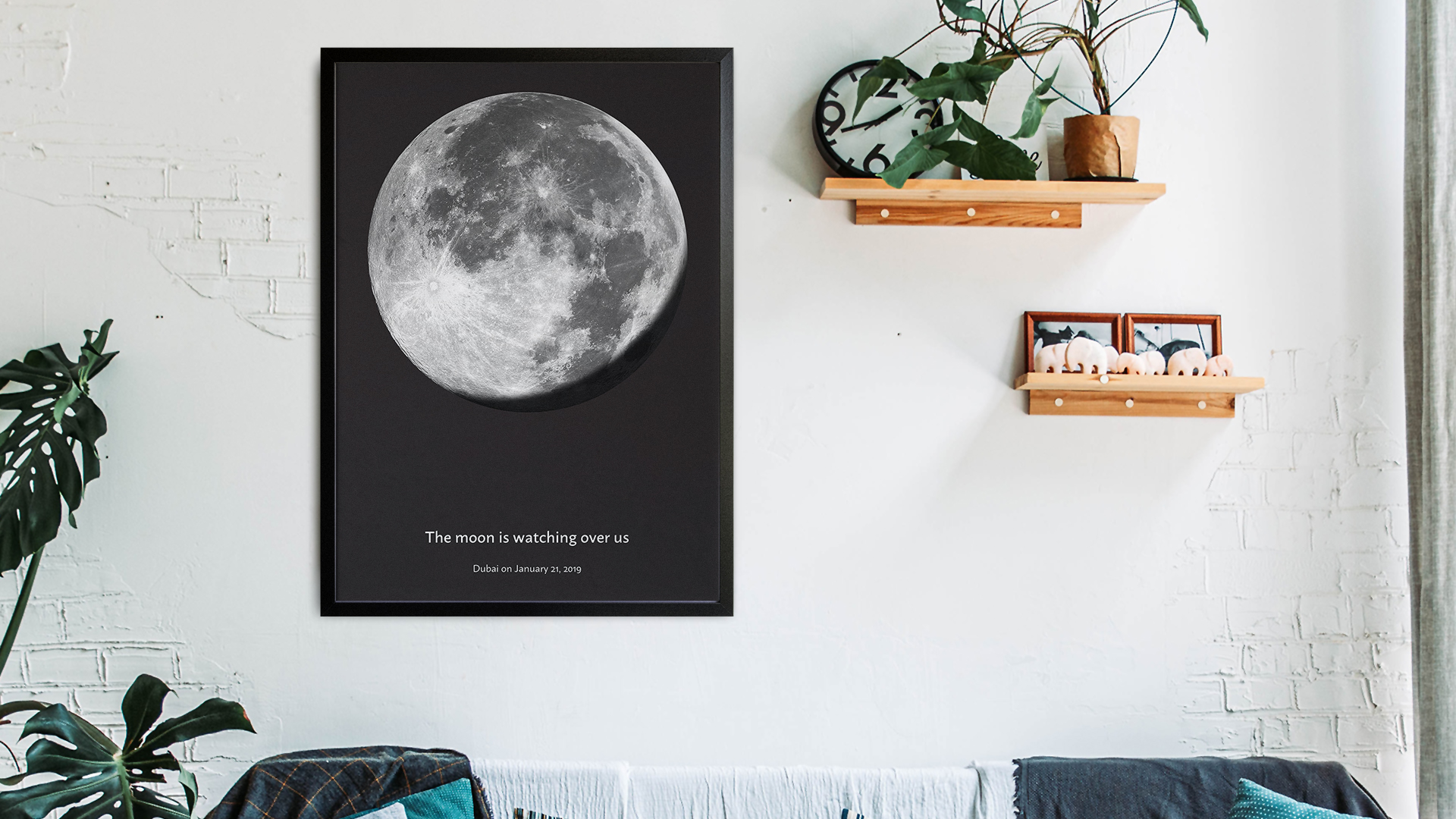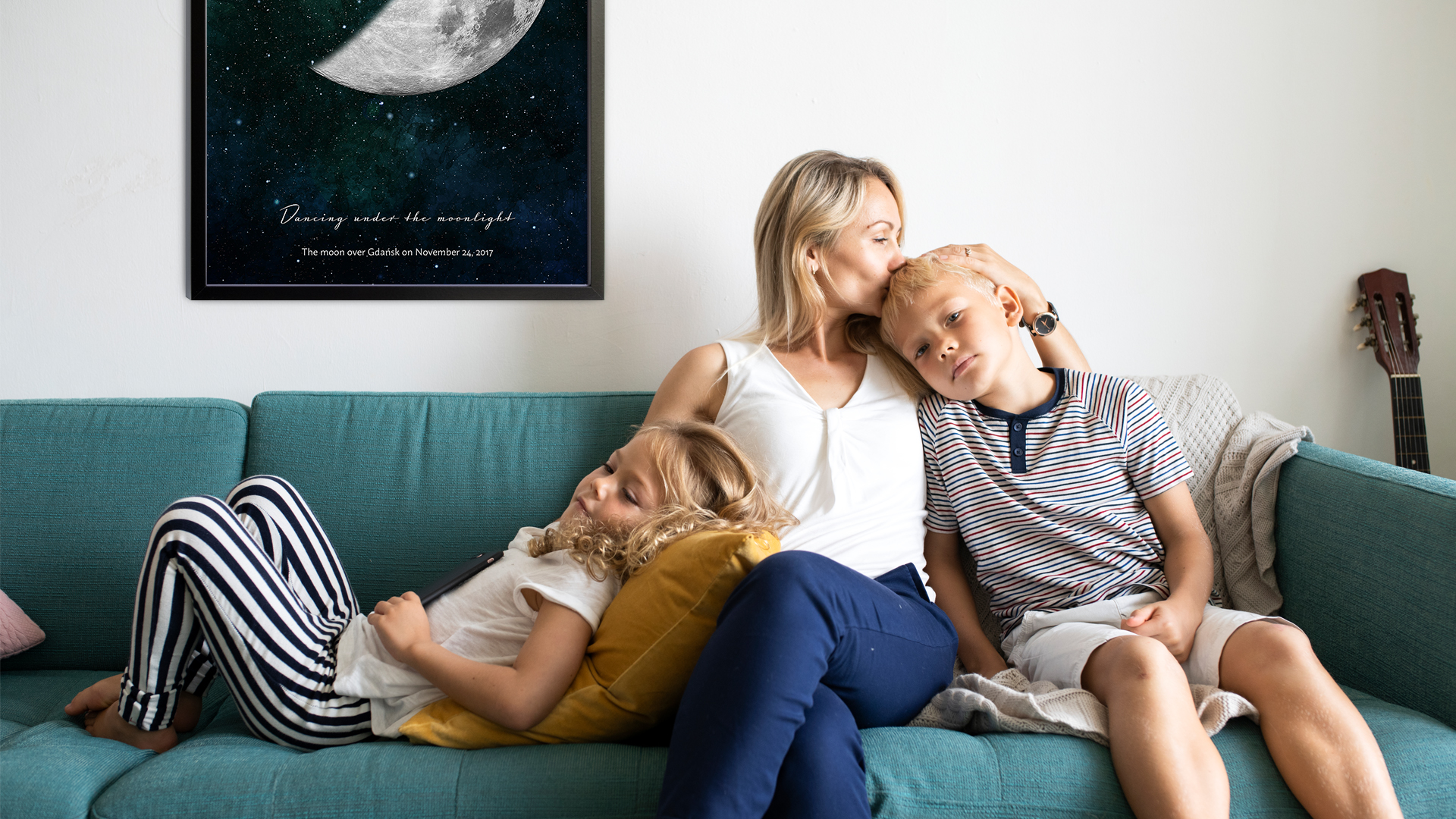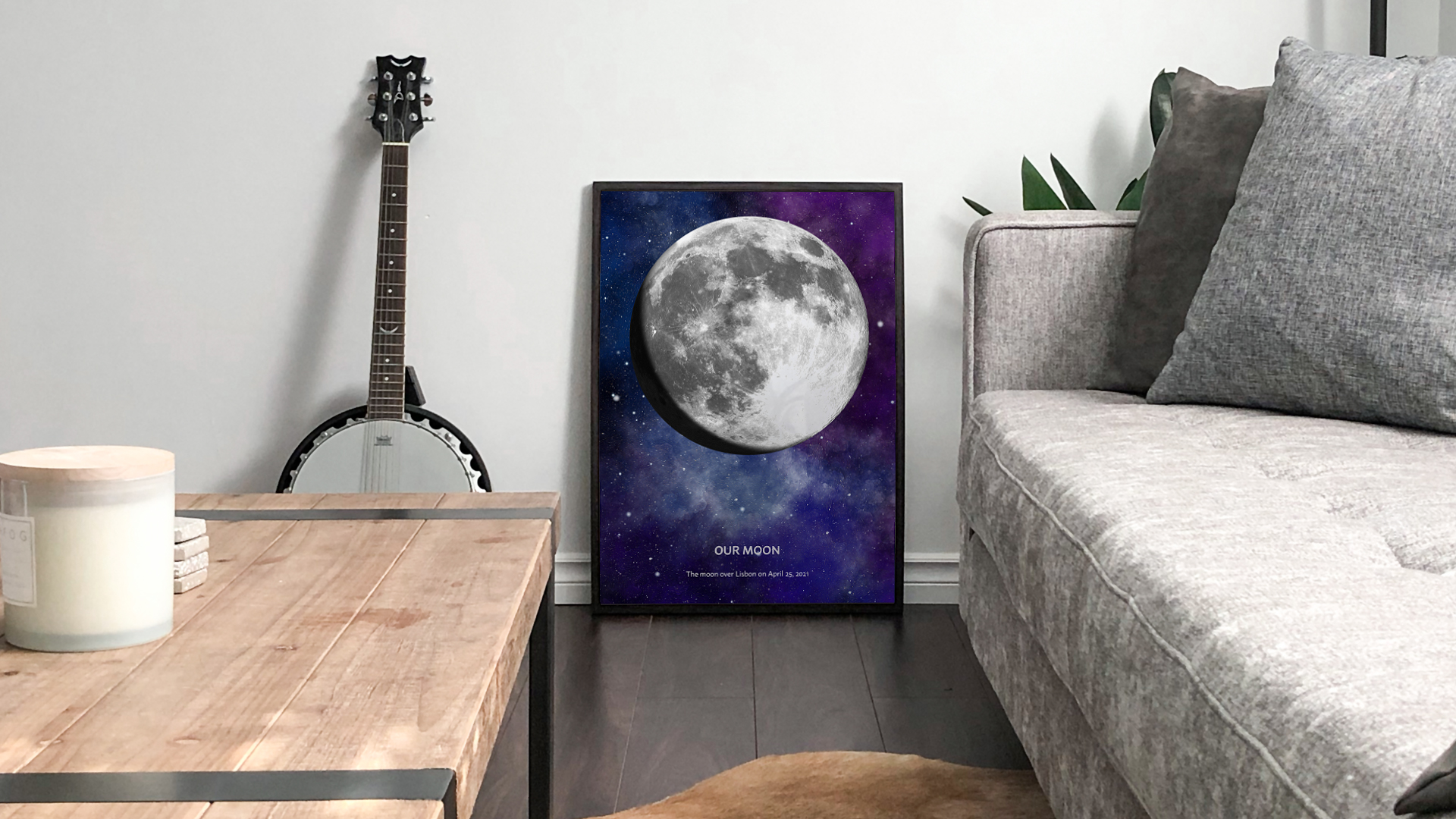 Birthday Moon Phase
Have you ever wondered what the moon looked like on the day you were born? Check out your birthday moon phase and personalize a unique print.
From 55.00 zł
Too see an Instant Preview
Available as
Digital
Printed
Framed
Canvas
🌑 Recreate The Moon Phase On Your Birthday
🌒 Interactive Birthday Moon Phase Editor With An Instant Preview
🌔 Choose Between 8 Beautiful Designs
🌕 Add A Custom Message
🌖 Select Between Printed Poster, Beautiful Pillow Or Instant Digital Download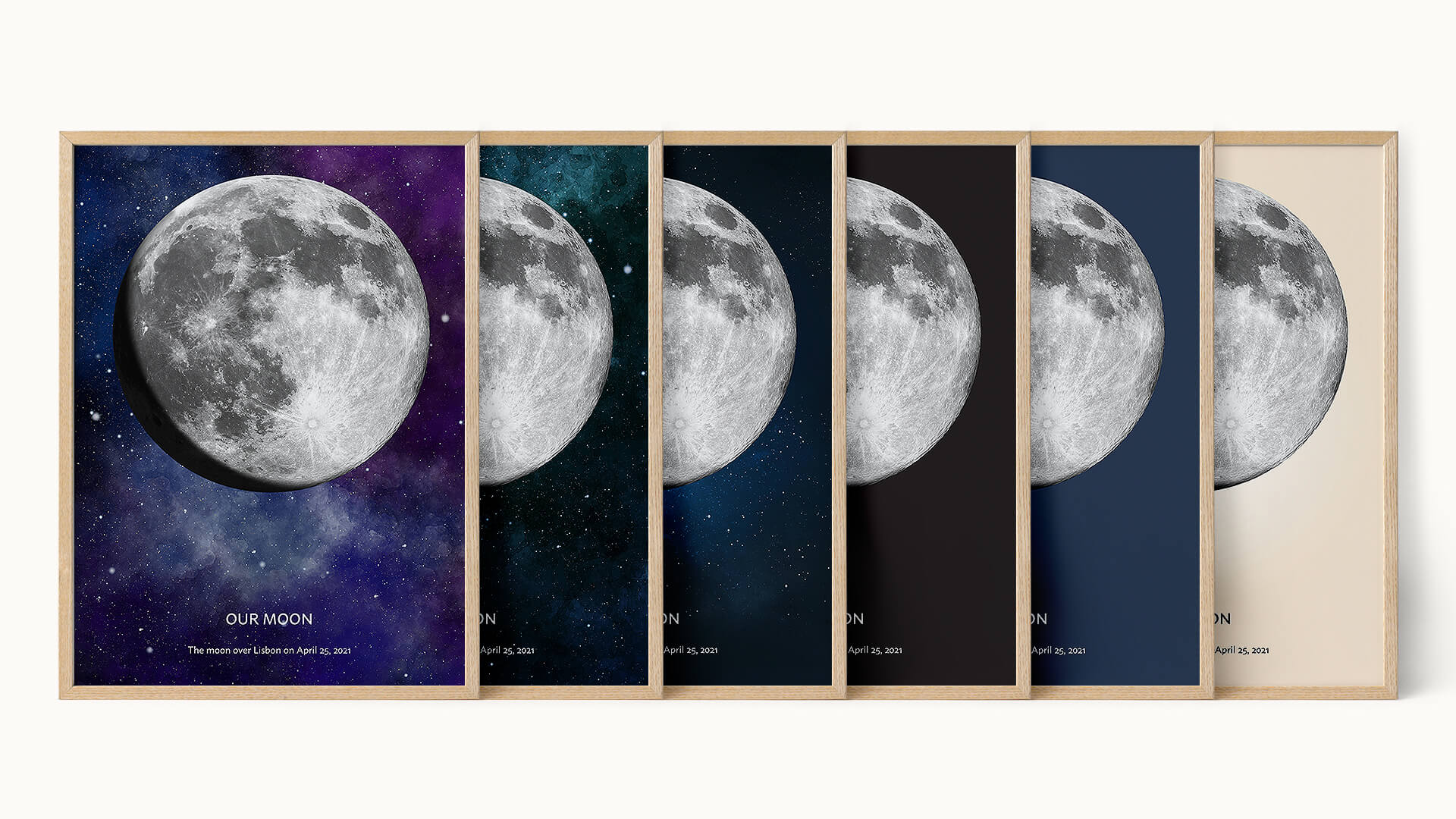 Check what the moon looked like on your birthday. You can also give your beloved's birthday moon phase as an original moon gift.
Moon Phase on My Birthday
Were you born under the light of a full moon? Or perhaps the sky was darker than ebony when you made your grand entrance into the world? No matter the phase of the moon, know that this beautiful orb witnessed your debut.
Many wonder what the moon looked like on the day they were born from their little corner of the world. Our personalized moon phase birthday posters recreate the moon's appearance on your very first day of life. It's like looking up into the night sky just as your parents may have done when you first entered the world.
Birthday Moon Phase
Did you know that your birthday moon phase may have a lot to do with your unique personality? It's true! Moon phases are a big part of astrology, just like zodiac signs and retrogrades, and their current position as well as the position on the day you were born can influence moods and behaviors.
That's because the moon phases correspond with the planting cycle. Much like the way seeds unfold and flourish, so do our lives over time. Depending on where the moon was in its phase compared to when we were born, our personalities and focuses in life can take different courses. This is one reason why no two people are ever truly the same, even if they share the same star signs. The moon phase adds a unique layer to personalities that can contribute to our life's pursuits and interests.
Knowing your birthday moon phase is an essential part of growth. It allows us to better understand our defaults and tendencies. And even though no fate is completely pre-determined, knowing these traits can help us to use them to our advantage or work to avoid them altogether.
Picture of the Moon on the Day You Were Born
If you love all things lunar and celestial, our birthday moon were made for you (literally!). With our easy-to-use moon poster creator, you can select the date and location of your birth and we'll recreate what the moon looked like from earth on that very special day. Personalize your birthday moon phase poster with custom text and colour options to craft a moon print you'll be proud to display.
Our
moon poster
makes excellent birthday gifts for everyone. Check the moon's location for any given date, then create a one-of-a-kind poster for all of your loved ones.
Are you wondering how moon phases affect personality? Read our articles.
Born on a New Moon
Born on a Full Moon
Born on a Waning Moon
Born on a Waxing Moon