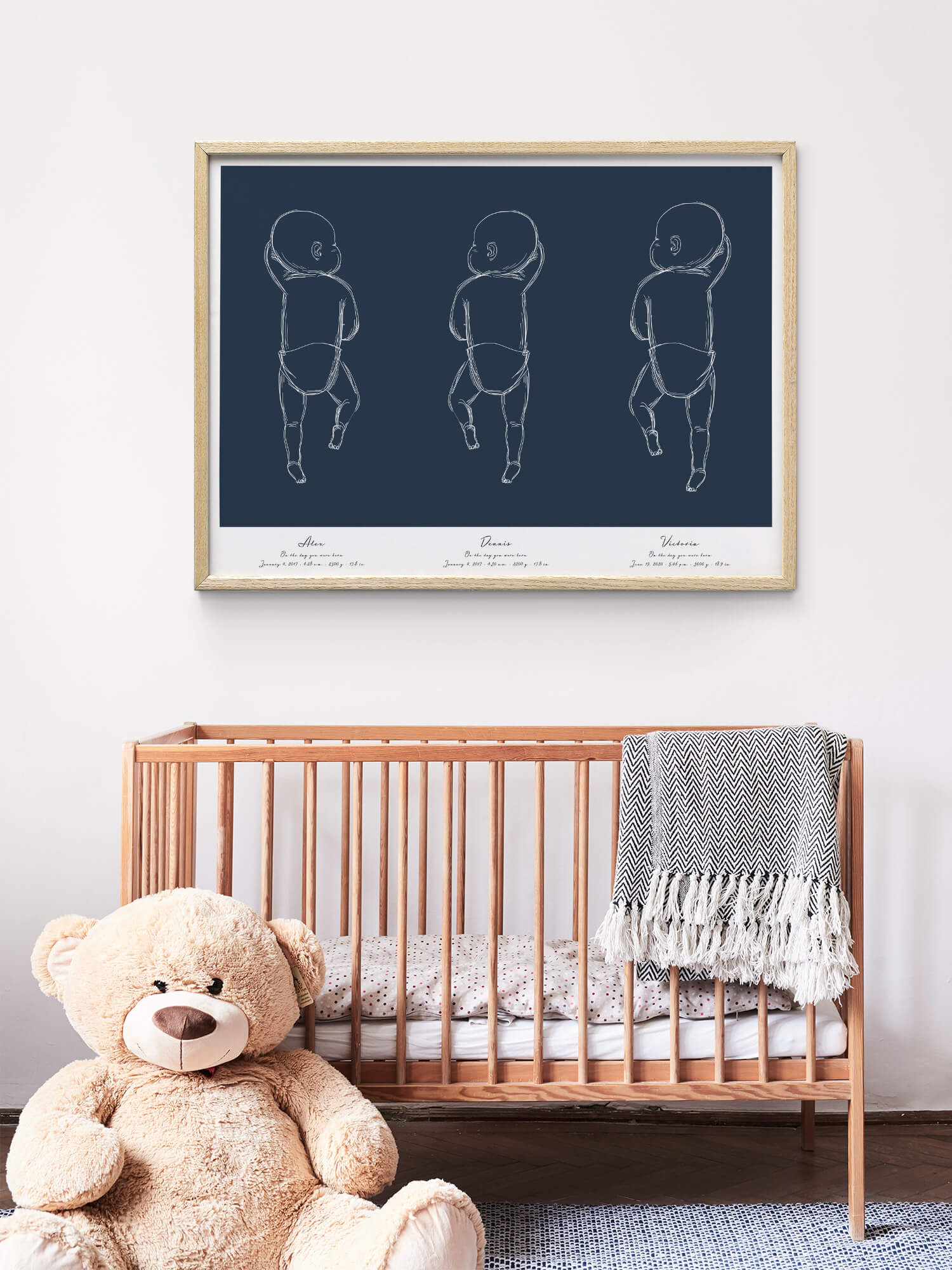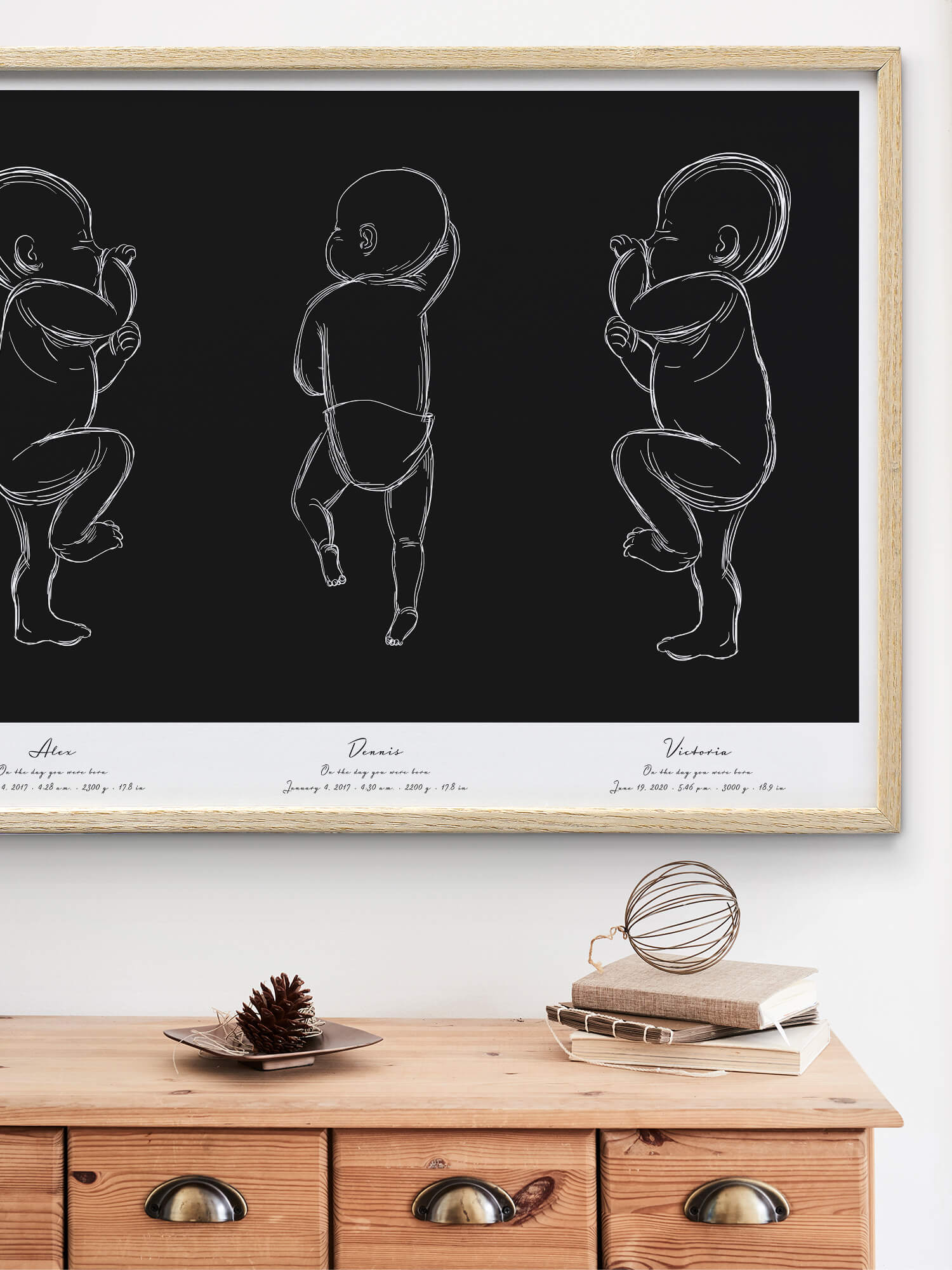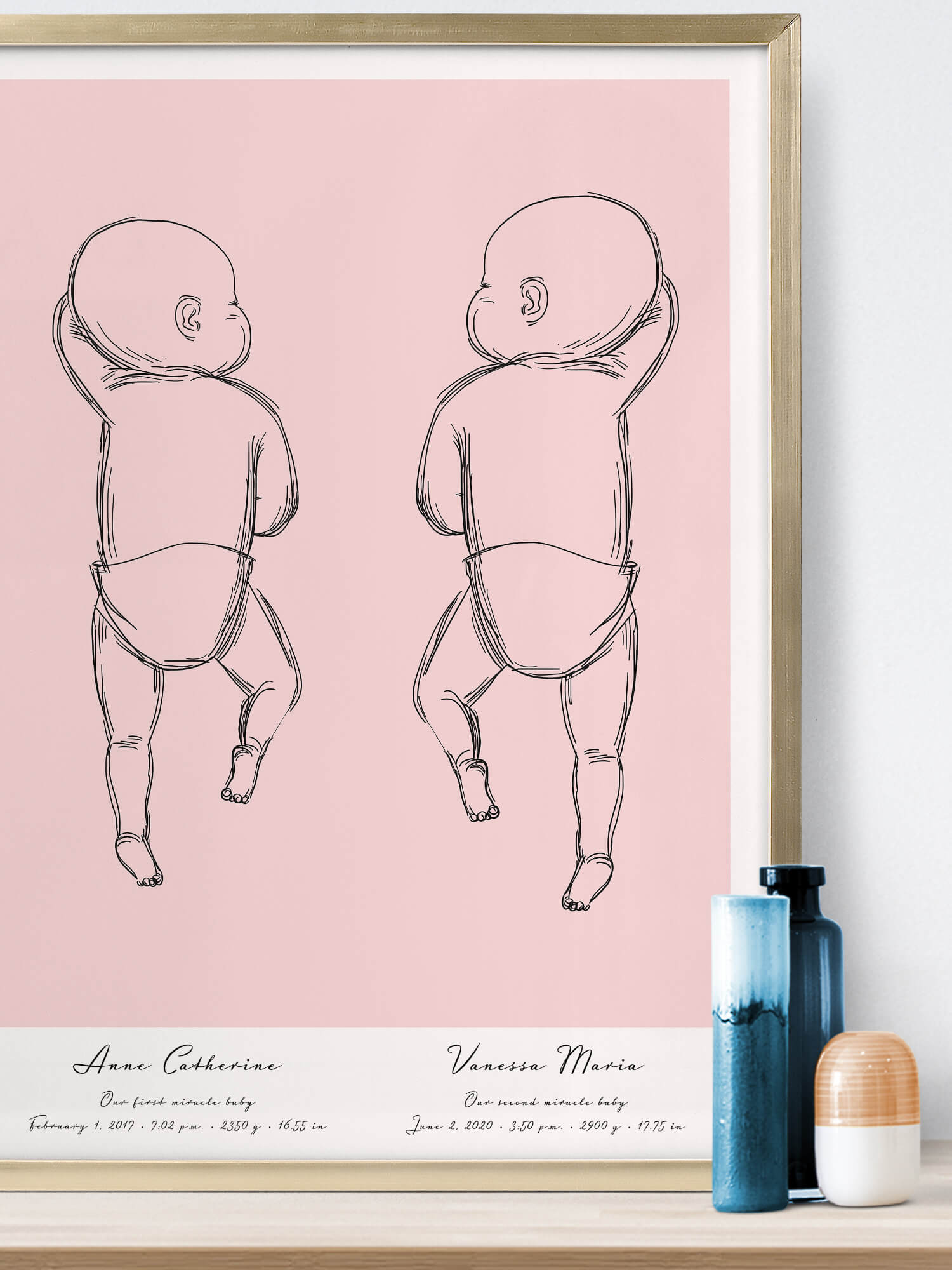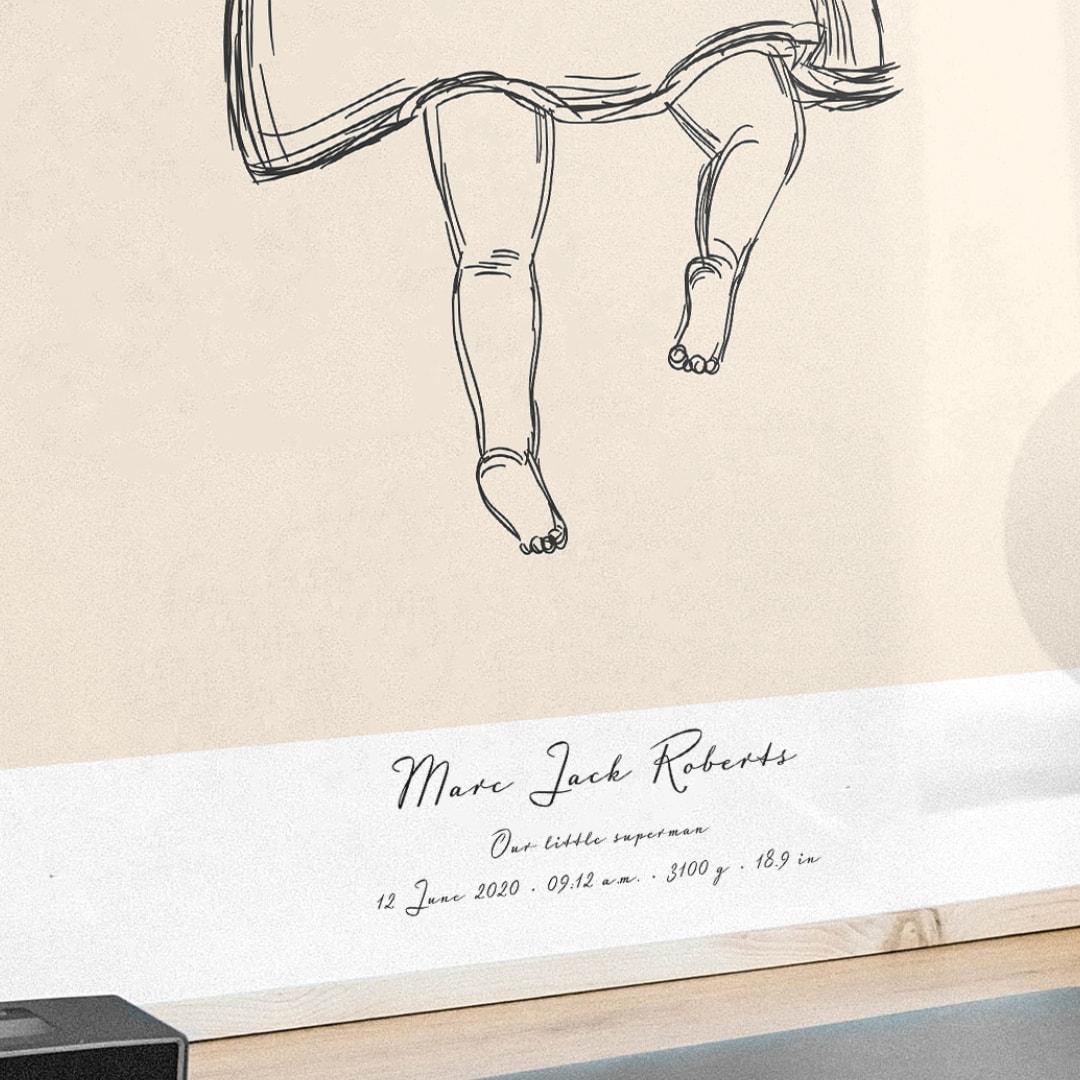 Lámina Nacimiento para Trillizos
No hay nada más milagroso que el nacimiento de un bebé, especialmente del suyo. Nos gustaría ayudarle a conmemorar este evento con un Cartel de nacimiento de escala 1:1 en el que se refleje el momento exacto en que llegó esa personita a este mundo. ¡Le sorprenderá lo rápido que crecen sus hijos! Antes de que se de cuenta, estarán corriendo y abrazando el mundo que los rodea. Con un cartel de nacimiento, tendrá un recuerdo visual de lo pequeño que era su bebé cuando nació. Cada póster se crea a una escala perfecta y es el recuerdo ideal de dónde comenzó su viaje por este mundo.
Desde 65.00 zł
con la vista previa interactiva
Disponible como
VERSIÓN DIGITAL
IMPRESO
PÓSTER CON MARCO
LIENZO
Lámina nacimiento para trillizoss
Cada póster tiene un diseño limpio y minimalista que coincidirá con la decoración de cualquier sitio. Cada cartel contiene el nombre de su hijo, la fecha de su nacimiento, su altura y su peso de cuando nació impresos en una fuente elegante y escrita en la parte inferior.
El póster de nacimiento es un regalo perfecto para unos padres primerizos. Será un regalo perfecto para conmemorar el nacimiento de su hijo, tanto para usted como para quien usted quiera, con el que dar la bienvenida a la nueva adición a su familia.
Cada póster de nacimiento se hace por encargo y se personaliza con el nombre del bebé y la información de nacimiento, que incluye: 
Fecha / hora de nacimiento

Peso al nacer (en libras / onzas o kilogramos)

Altura de nacimiento (en pulgadas / centímetros)
La imagen está impresa en el póster en una escala perfecta de 1:1 para que el tamaño de su hijo se muestre con precisión.
Para la versión impresa:
Imprimimos nuestros carteles de nacimiento en papel mate de alta calidad (190 g), por lo que se mantiene en buen estado durante muchos años, sin importar dónde o cómo lo cuelgue.
A medida que crea su póster en línea, está disponible una vista previa inmediata del resultado final para que pueda asegurarse de que toda la información y el tamaño sean correctos antes de imprimir y enviar el póster. Una vez realizado su pedido en línea, su póster de nacimiento se imprimirá y se enviará gratuitamente durante los dos días posteriores.
Para la versión digital:
¿Necesita un regalo de última hora? Los archivos digitales están disponibles inmediatamente para su descarga en el momento de la compra. Están preparados para un impreso en el tamaño 70x100 cm (27.5x39.4 in) para reflejar la longitud del bebé con precisión.
Customer Reviews
Write a Review
Ask a Question
16/06/2021
Magdalena C.

PL
Zamówiłam 3 metryczki i zastanawiam się dlaczego wcześniej tego nie zrobiłam. Są oryginalne i przepiękne. Świetny kontakt i szybka realizacja. Pięknie prezentują się w salonie.Gorąco polecam.
24/05/2021
Delphine F.

FR
Parfait commande arrivée rapidement, conforme à ce que je souhaitai
15/03/2021
Dagmara B.

PL
Metryczki są przepiękne !!! Cudowna pamiątka na lata. Mamy własny dla córeczki i zakupiliśmy również dla znajomych.
14/03/2021
Lola M.

FR
01/03/2021
Monika G.

PL
Plakaty wyglądają pięknie. Bardzo dobra jakość. Dobrze zapakowane co zapobiega uszkodzeniom w transporcie.
19/02/2021
Benjamin T.

Belgium
After sales service
Last week I received my birth poster and I was disappointed to see the frame broken. I wrote my review cause I wanted to give a truly opinion in order to report this error. One day later I received a mail from a very nice Positive Prints employee with 2 options: return a new frame or refund it. I made my choice without a problem. Optimal satisfaction! Thanks PP (and A.)! I would not hesitate to recommend you.
19/02/2021
Positive Prints
Thank you for this kind review, I'm always happy to help :). ✨Wish you all the best,✨ Adrianna
18/02/2021
Benjamin T.

BE
Hello, I'm really sorry for this appreciation but when I received my order, the frame was damaged (I got a picture to prove it). Fortunately, the picture is pretty! Damage doesn't prevent its use but I'm disappointed... Especially when I pay that price! Is it the fault of the designer or the fault of the transport, I don't know but it's not professional. An error may occur, it doesn't prevent the disappointment. Hope if there is a next time, it will be better. B. Tonneau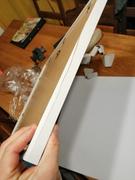 18/02/2021
Positive Prints
Dear Benjamin, Thank you for taking the time to share your experience with us. I'm so sorry to hear that your frame was damaged! That's truly terrible. Thank you so much for providing a picture. We wrote a message to you from [email protected], offering a few solutions you can choose from. In this case, you can either receive a new frame from us or a refund for the damaged frame. We're looking forward to hearing from you. Your happiness is very important to us :)
02/02/2021
Aleksandra N.

PL
Wyrób zgodny z zamówieniem. Polecam!!
22/12/2020
Patrycja L.

NO
Quick and easy ordering system. Instant download.
27/11/2020
Georgia H.

GB
I was so excited recievng this item ! It's eveytjing I wanted ! I love it
13/11/2020
Katarzyna S.

PL
Fast delivery, beautiful print.
23/10/2020
Malgorzata Z.

PL
Very good, i highly recommended this product, great support as well :)
16/10/2020
Natalia D.

PL
I love this cute print. It was a pleasure to give it to my friends to welcome their new baby <3 Got the product super fast and I didn't even pay for it :)
03/10/2020
Gabi G.

PL
Great product I Beautiful memories
nothing to add! warmly recommended and great support!