Anniversary Star Map

✓ Exact View Of The Stars From The Place And Date Chosen By You
✓ Detailed Star Map Design Including Planets, Constellation Names And The Milky Way
✓ Interactive Star Map Editor With An Instant Preview
✓ Fully Customizable & Made Especially For You
✓ Choose From A Variety Of Print Sizes Or Instant Digital Download

How it works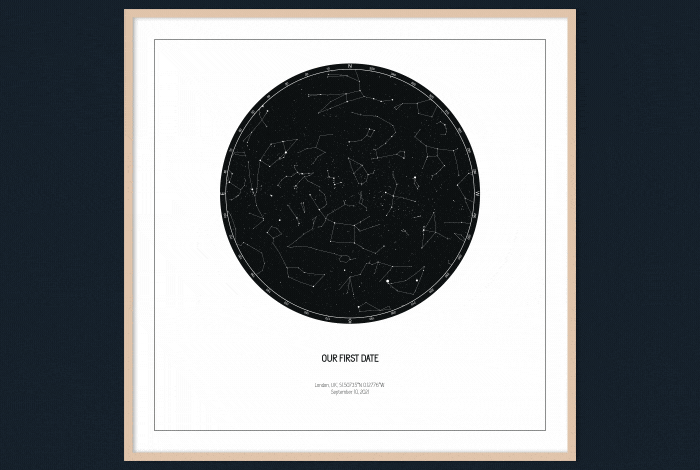 Choose your design
Choose one of our predefined designs or play with the colors to create your perfect artwork.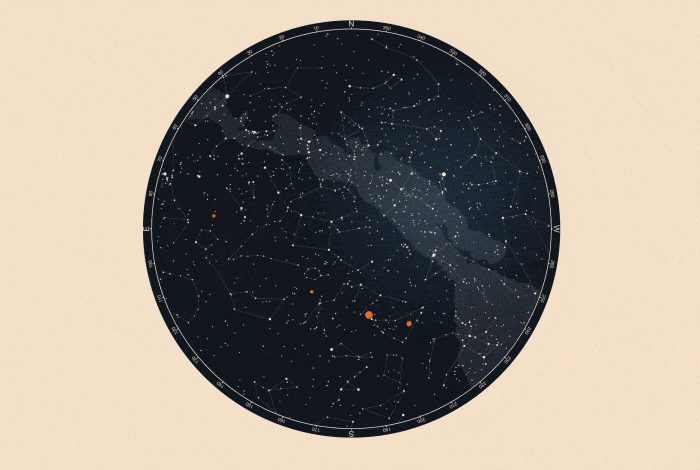 Find the unique alignment of the stars
Our interactive tool will help you discover the alignment of the stars in a place and time chosen by you.. Label planets, constellations and even the Milky Way to make it look more pro!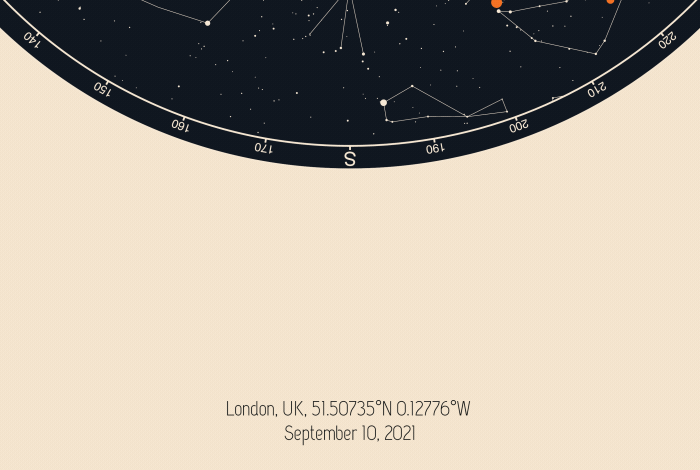 Add a personal touch
Make your gift even more special by adding personal message, quote or a poem.. Make it one-of-a-kind!
Customer Reviews
Write a Review
Ask a Question
19/06/2022
Miroslava K.

CZ
Really thoughtful gift and the delivery was fast
24/06/2022
Positive Prints
Hello Miroslava! We are so grateful for your review. Thanks for sharing your rating with us and the community. Wish you all the best & sending positive vibes. ✨
18/06/2022
Konrad L.

PL
Ok. Very good present
24/06/2022
Positive Prints
Hello Konrad! We are so grateful for your 5-star review. Thanks for sharing your rating with us and the community. 🙂 We can't wait to have you back at Positive Prints!
13/06/2022
Rhegan P.

US
Very pleased. Customer service answered emails very quickly as well and were helpful!
24/06/2022
Positive Prints
Hello Rhegan! Thank you for your feedback on your experience with our customer service team. We are honored to have such a great customer like you. 🙌 We look forward to celebrating the next occasion with you! Wish you all the best & sending positive vibes. ✨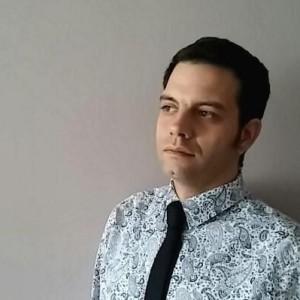 PB
12/06/2022
Pilar B.

ES
Impresioneste, un producto genial y un servicio de post venta inmejorable
24/06/2022
Positive Prints
¡Hola! Gracias por las amables palabras. Estoy encantado de saber que tuviste una gran experiencia con nosotros. 💞 ¡Estamos muy agradecidos por clientes como usted y esperamos que se quede con nosotros en los próximos años!
09/06/2022
Gabriella

United States
Worth The Wait!
The gift was so amazing! It took a while to get here but it's because I live in Hawaii. Their responses to any questions or concerns were very kind and empathetic. I love that they send a preview of what it's gonna be like when it arrives so you can show loved ones. My mothers loved it so much. One of them burst into tears when she realized it was about adoption day. We got our own wooden frame to go with the poster and it looks remarkable. Finally hung it up last night too. It was a great, first experience. As long as my parents were happy. Thank you!
10/06/2022
Positive Prints
Hello Gabriella! We cannot describe how happy we are after reading your amazing review. There are no words to thank you enough for it! 🥺💓 We are honored we could meet your expectations. Reading about the reaction of your mom melts our hearts!! We are lucky to be able to serve customers like you. We wish nothing but the best for you and your fantastic family! We'd be absolutely glad to serve you again. ✨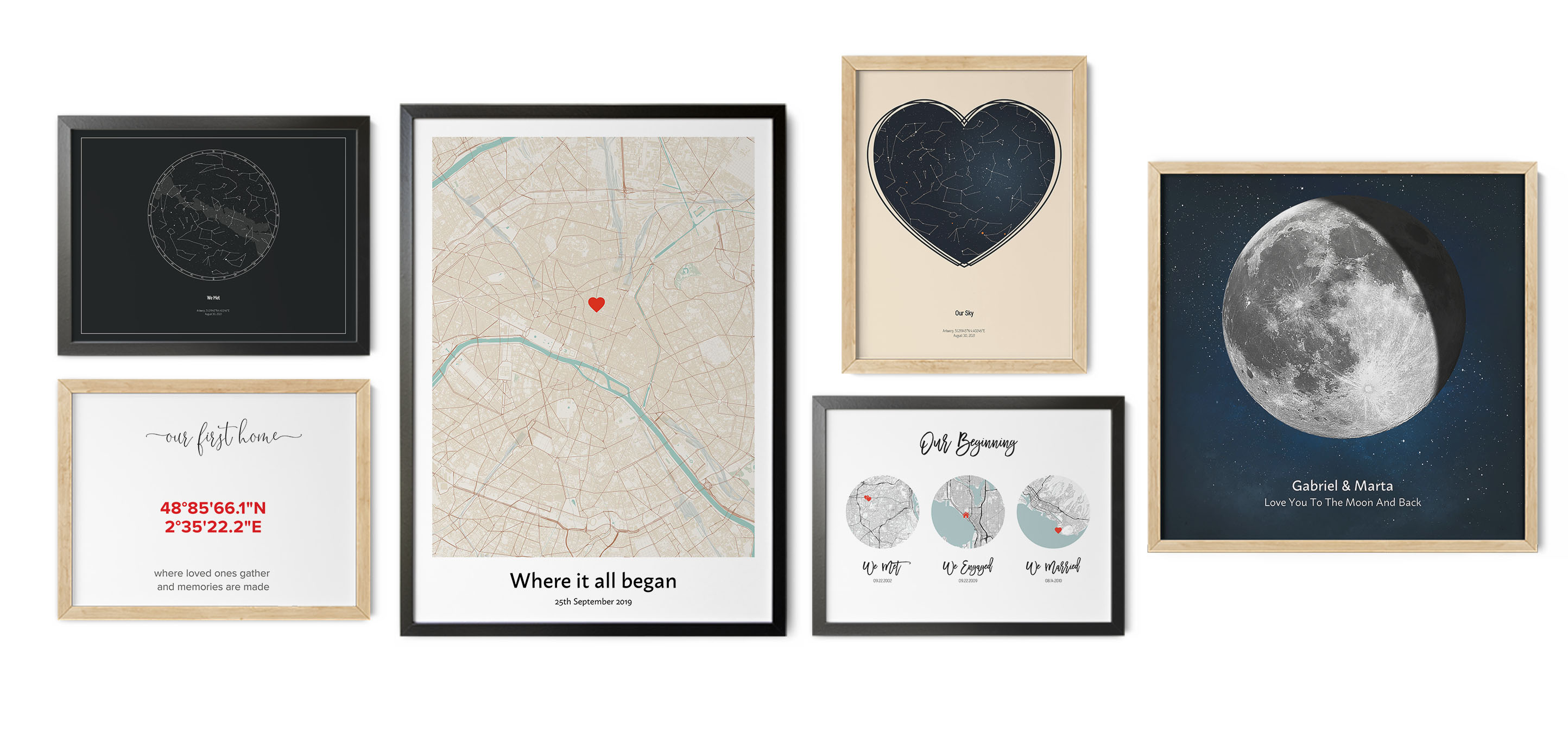 You found The Perfect Gift
Personalized prints make a lasting, meaningful gift.
✔ Printed on elegant, matte art paper of 200 gsm or beautiful 340 g/m² canvas fabric ✔ Choose from over 100+ themes and styles to fit any occasion ✔ Pick between a small size print or a statement decor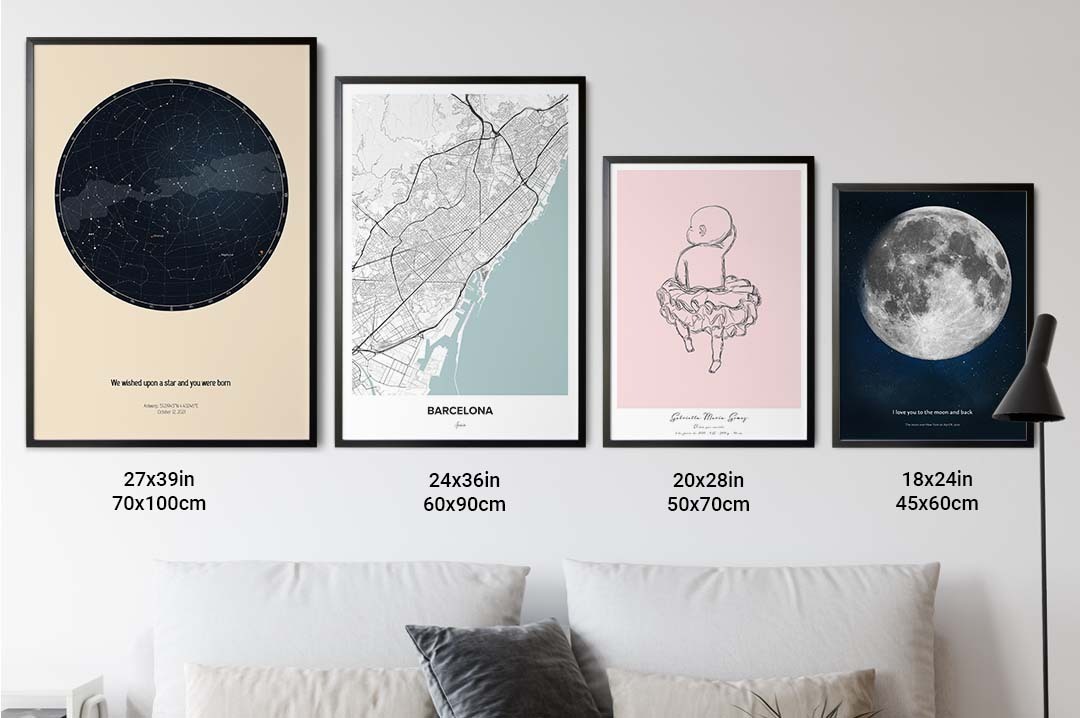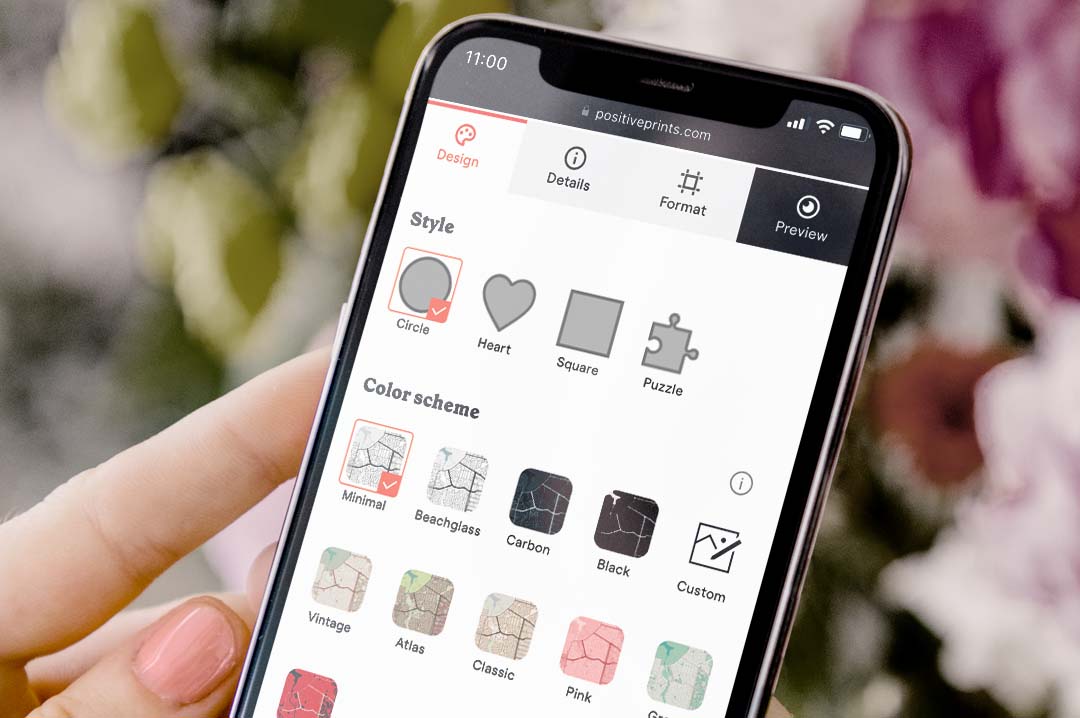 Or choose a last minute digital download
✔ Available immediately after purchase ✔ Can be printed in the format of your choice ✔ High quality JPEG files of 300dpi
Create digital file now
No matter your age or how long you've been in love, a wedding anniversary is always something worth celebrating. Surprise your loved one with a star map anniversary gift!
Your anniversary is coming up soon?
When your anniversary is coming up, what will you do to celebrate a love that's as unique as the two of you are? Maybe you've gifted flowers, candy, and photos before. Maybe you've taken trips to exotic places or enjoyed nice dinners over candlelight. But one gift that will last well after your special day is over is an Anniversary Star Map.
Every love has a story to tell. The date of your anniversary is one detail in your unique journey. So think of an anniversary star map as an illustration that brings your story to life. It's a recreation of what the night sky looked like on the date you said I Do. While you were busy dancing the night away with your love and celebrating among family and friends, the stars, planets, and other celestial bodies were looking down on you. They shared in your joy and savored every detail, just as they do every night with special events around the world.
Now, this is your chance to bring back that same night sky into your home and capture that moment in time forever.
What makes an anniversary star map so special?
Personalised anniversary star maps are one of a kind. No two are quite alike, despite using the same basic design, colors, and layout. That's because the exact moment in time of your wedding will never truly be the same as another. From the date to the time to the precise location on earth, your custom star map tells your story.
When you create a star map anniversary gift, you're in control of how it looks and what it says. Positive Prints has selected several beautiful color schemes and design options to help you create that perfect aesthetic. You can add custom lines of text to caption your artwork, as well as choose its size, orientation, and how it's printed (e.g. poster, canvas, framed art).
But perhaps the most special feature of all is how it makes recipients feel. This isn't a gift that just anyone can grab off a shelf at their local store. It's a custom gift that's made for the love of your life, and it shows you put extra time and thought into their gift. It's a gift that they'll never see coming but will be overjoyed to receive.
How to make an anniversary star map
While the words "custom anniversary star map" might sound complicated, the process is actually quite simple. Best of all, you don't need to be an expert artist or designer to create your very own star map anniversary gift.
Our three-step process has made it easy to generate a map in just a few minutes. Start by selecting your map shape and color scheme, then choose how you want your sky map details to appear on your print. You can choose to include stars only, or add planets and their names, constellations, and even the Milky Way. We encourage you to experiment with different combinations to craft your ideal design. Every selection you make will update in real-time so you can see exactly how your map will look before you order it.
We also include multiple lines of text with every star map. You can leave your loved one a special message or quote that will be printed on the poster. Or, you can choose to caption the poster with the date, time, and location of your wedding. It's completely up to you!
Last but not least, you have many options when it comes to receiving the final product. For last-minute gift ideas, we recommend the digital download file, which you will receive immediately. You can take this file to your local print shop and have it printed on demand and ready to gift to your loved one. Or, you can choose to have your print shipped directly to your door. We can print your custom star map on canvas, which makes for an attractive anniversary gift option. Or, we can print it on professional-grade poster material and have it framed on your behalf. Shipping is always free, no matter where you live in the world!
Surprise your loved one with a star map anniversary gift!
No matter your age or how long you've been in love, a wedding anniversary is always something worth celebrating. This is the moment in time you and your love decided to share your lives together forever, and all the stars and planets in the sky got to witness the event. Now, it's your turn to bring the night sky into your home so you can relive that magical moment forever.
Are you ready to create a wow-worthy gift that tells your unique love story? Start creating your star map anniversary gift today!