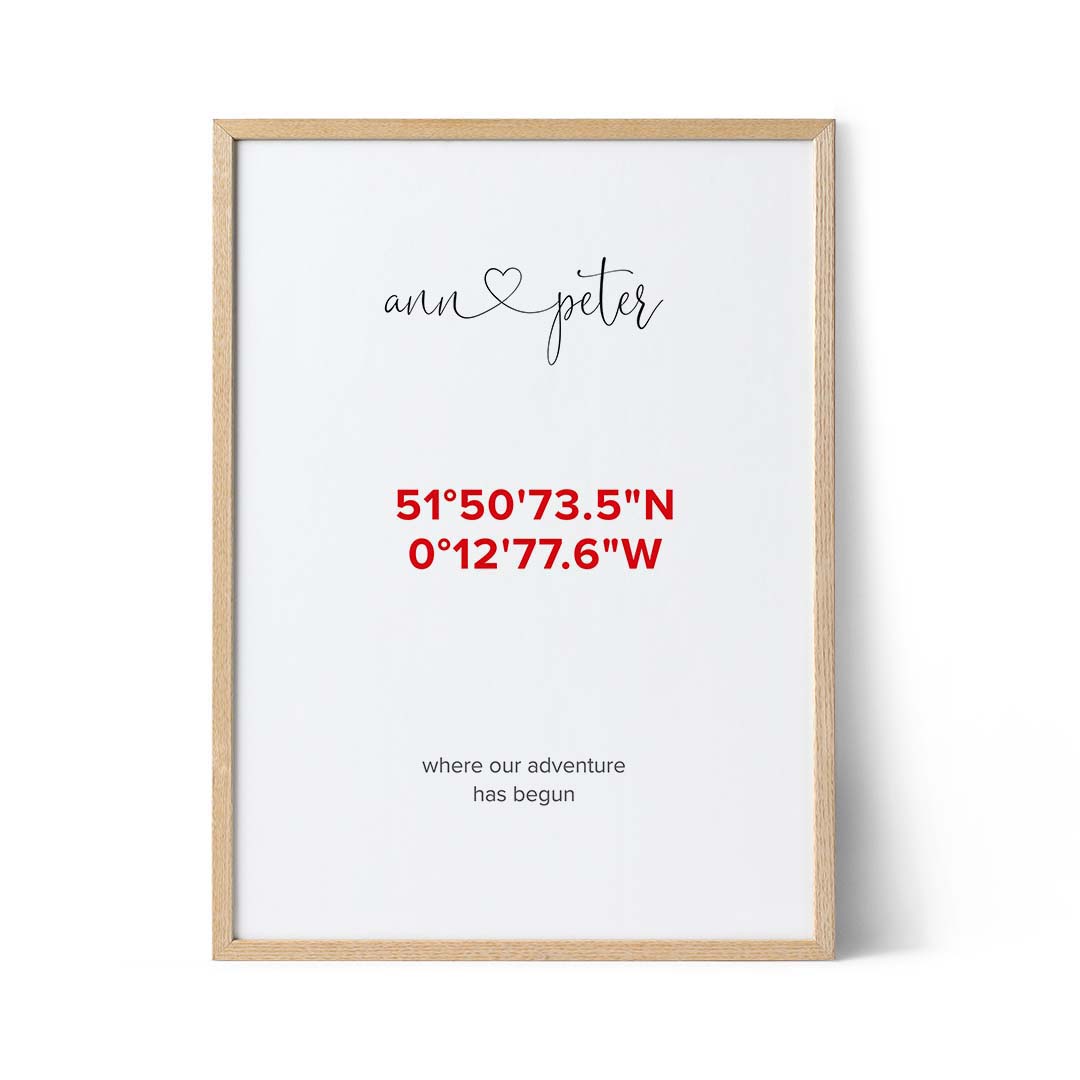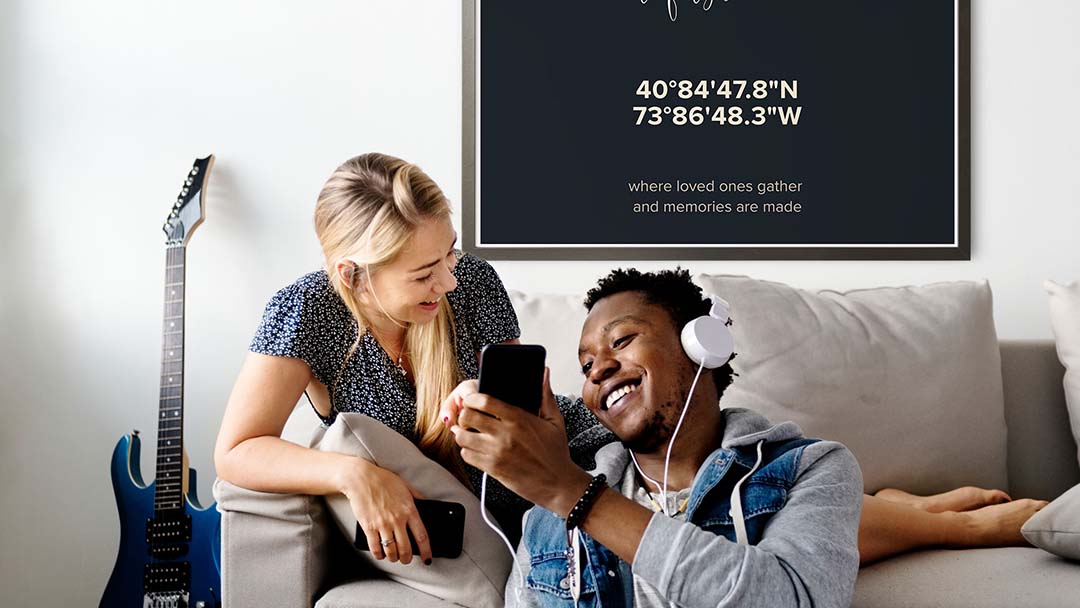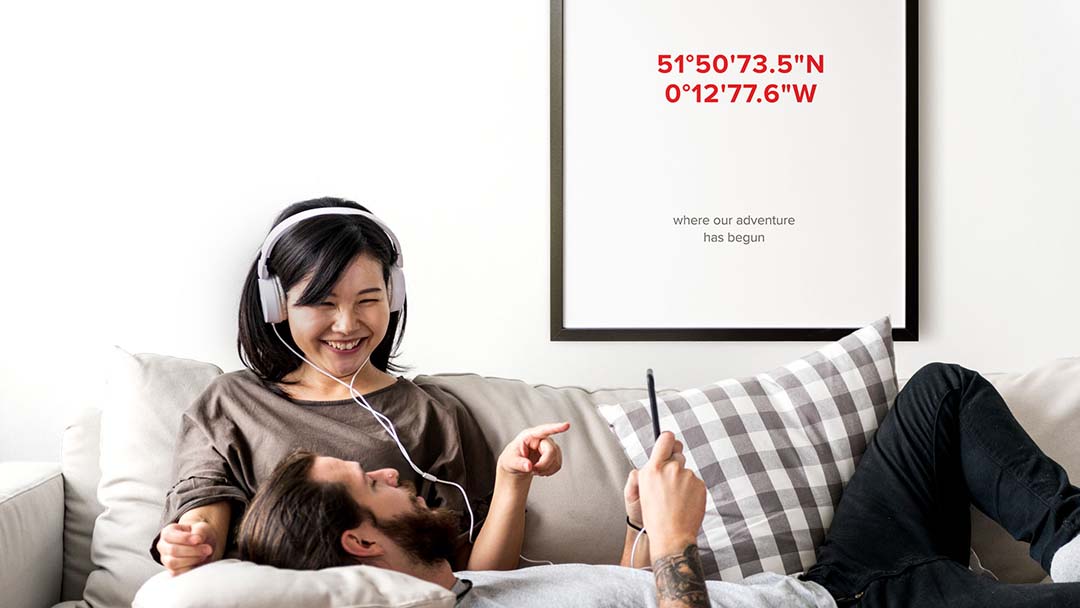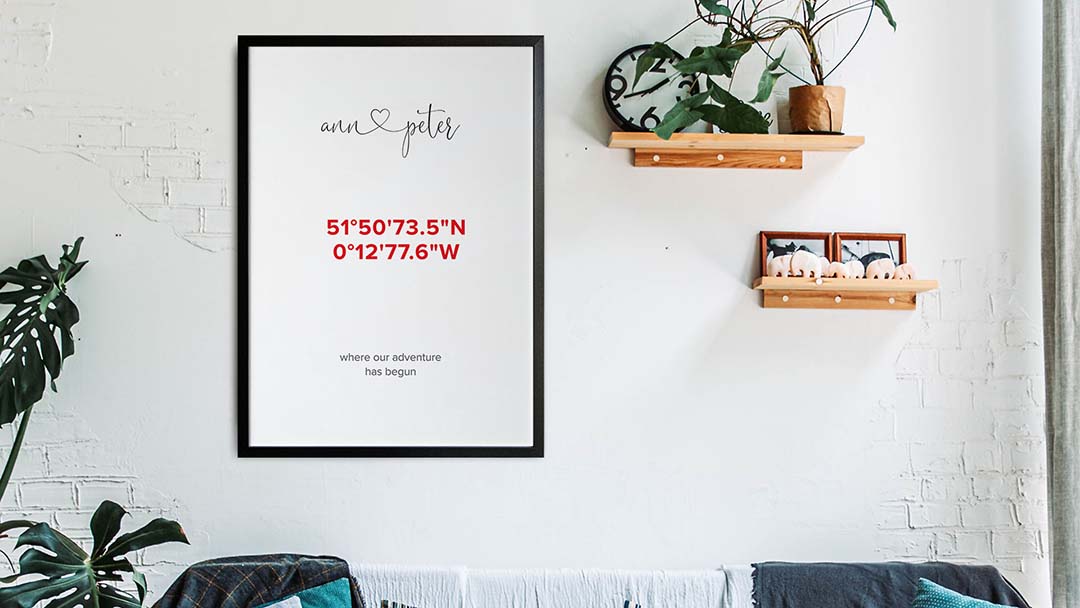 COORDINATES ART
For the places that matter most to you, coordinate art is a beautiful way to pay tribute and turn your memories into fond keepsakes. Create yours now.
From
Too see an Instant Preview
Available as
Digital
Printed
Framed
Canvas
🗺️ Create a wall art with gps coordinates of your special place
🌍 Customize it by adding your own text
🗺️ Use our special font to add a heart symbol
🌍 Pick one of our predesigned colour options or colour it yourself!
🗺️ Select between instant digital download, printed or framed poster
Turn your memories into coordinates wall art
No matter where life's best moments took place, you can keep them in your heart forever with fun, creative coordinates art.
What is personalized coordinates print?
Every square inch on this big, beautiful planet has a set of coordinates that pinpoint its exact location. These coordinates are numbers that represent its
longitude and latitude
. They're the same in every language and never change. So no matter where you're from or where you're going, your coordinates to your most memorable spots will always be the same.
Personalized coordinates print takes the coordinates to your favorite places and turns them into a visually artistic wall print. Our prints are custom-made to order. They are truly one of a kind because they reflect the coordinates to places that matter to you. Every print is suitable for framing and printed on the highest quality paper. It will retain its color and look beautiful for years to come.
Coordinates posters make the perfect addition to living rooms, bedrooms, offices, family rooms, or anywhere that deserves a pop of colour. Every time you look at your poster, you can think back to what makes those coordinates so meaningful in the first place.
What's So Special about coordinates wall art?
Every wall starts as a blank canvas that's waiting for you to give it meaning. For some people, this means adding mass produced prints that you can find at any home goods store. But for those who want to add a personal touch to their living space, they want wall art that means something special to them, something that's so unique that there are no other prints quite like it.
That's the magic of coordinates wall art. Every print is created by individuals like you that appreciate fun, creative, and distinctive art but don't want the guesswork and time of creating it themselves. Our easy-to-use wall art tools put you in the role of designer as you follow each step to create your image.
The result looks like it took you hours to research your coordinates and design your print. But in reality, the process only takes a few minutes and looks as beautiful as it is unique.
We'll find the coordinates to your wedding venue, your
first home
, your first job, your university, your childhood home, or anywhere that holds special meaning for you. Turn your coordinates into wall art to capture your most precious moments and turn them into memories that will last a lifetime.
Make beautiful gifts with oordinates
Gifts with coordinates are becoming a popular option for those who love to give creative, unexpected surprises. That's what gifts are all about — giving someone something they will love and cherish, but don't already have and might never buy for themselves!
Our beautiful gifts with coordinates check all the boxes:
Unique and creative
One of a kind
Personalised to the recipient
Completely unexpected
The ability to surprise and delight
Giving a coordinates poster isn't like going into a store and picking something off the shelves. It takes a greater level of thought and attention to detail, and these things won't go unnoticed. Your recipient will love that you took the extra time and effort to create something just for them.
Coordinates wall art makes the perfect gift for any recipient on every occasion, including anniversaries, weddings, engagements, birthdays, holidays, graduations, new jobs, new homes, retirements, and all of life's biggest milestone moments. Anyone who is well-traveled or has a special connection to a certain place will love having their memories of that location displayed in a fun, artistic way.
Each of our wall art posters are printed on the highest quality paper that enriches the colours and resists fading. Prints arrive ready for framing so you can give your loved one the total package. Or, for last minute gifts, you can choose our digital download option. Your print will be ready within minutes and emailed to you in a digital file, which you can take to your local print shop for fast printing and immediate gifting.
How do you create your coordinates art?
At
Positive Prints
, we believe everyone should have beautiful art within arm's reach. That's why we designed our process to be as user-friendly as possible — create coordinates poster art in just three quick steps!
You'll choose your location and our technology will work to find the exact coordinates of your favorite location. You'll also get to select from a number of pre-defined colour schemes or customise your own. Add custom lines of text to share what makes your location important. Remember, your art can tell your story the way you want!
As you make changes in our three-step process, you will see real-time updates of how your art will look. Our posters come in several standard sizes for easy framing.
Once you're satisfied with the design, you can choose to ship your professionally created print to you (we offer free shipping worldwide!). You can also have your print digitally delivered to your email inbox.
Making personalized coordinates print: Start Here
Whether you want to decorate your home with an artistic portrayal of your life's story or you want to create a lovely yet unexpected gift for someone in your life, our coordinate art posters are an excellent choice.
Ready to turn your special destination into a work of art? Get started with our three-step tool. Create your coordinate art today!