Where We Met Map
✓ Create a map of the place where you and your love met
✓ Customise your artwork in 3 easy steps
✓ Use our templates or play with colours on your own
✓ Hooray – the shipping is on us
✓ Instant preview of your personalised design
Customer Reviews
Write a Review
Ask a Question
09/29/2022
Ruben M.

ES
You did it fantastic! Nice and helpful support helping me to modify my order due to an error frommy side while ordering. And really fast delivery, even sooner than I expected! Good result, the canva suits amazing on my wall! :)
09/30/2022
Positive Prints
Hello Ruben, We are so grateful that you took the time to tell us about your experience. Customers like you make us extremely happy, and we really hope you stick with us for years to come! 💛
09/24/2022
Melissah M.

AU
This was a 1st wedding anniversary gift to my husband of where we got married. He loved the idea. It was so easy to order and it arrived in a timely manner. Would definitely recommend this product.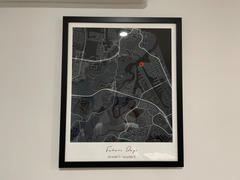 09/30/2022
Positive Prints
Hello Melissah, Thanks so much for sharing your experience with us and also for attaching the photo of your stunning map. 😇 We are glad we could be a part of your first anniversary. Anniversary cheers!!!!! ✨✨✨✨
09/24/2022
ITZIAR R.

ES
Perfectooo! Ideal
09/30/2022
Positive Prints
¡Hola! Muchas gracias por compartir tu experiencia con nosotros. Esperamos volver a verte pronto. 💘
09/24/2022
Pedro M.

ES
Fácil diseño en la web, llegó en le plazo previsto bien empaquetado y la calidad es acorde con lo que esperaba. Pongo 5 estrellas y lo recomiendo para ocasiones especiales para un regalo original.
09/30/2022
Positive Prints
¡Hola Pedro! Muchas gracias por tomarse el tiempo para dejar una calificación excelente. Realmente apreciamos su negocio. Háganos saber qué podemos hacer por usted en el futuro. 🥳
09/06/2022
Fabrice M.

FR
I am very satisfied with the orders I have placed on your site. This allows me to make original gifts that appeal to those who receive them.
09/09/2022
Positive Prints
Hello Fabrice! Nothing makes us more proud and happy than hearing how our products can be meaningful to the recipients. It melts our hearts. 💘 We are thankful for your opinion. 🙌 Wish you all the best & sending huge positive vibes!
To remember a special day forever, a where we met map is an excellent way to celebrate and hold onto that moment in time.
Meeting that special someone for the first time is a magical experience. There's distinctive energy in the air, maybe even a slight humming or buzzing sound that helps to tune out the rest of the world so all you need to focus on is each other. To remember that day forever, a Where We Met Map is an excellent way to celebrate and hold onto that moment in time.
What is a where we met map?
Whether it's a planned
first date
or a chance encounter, the place where you first met the special person in your life will also hold value. A where we met map highlights this place in a way that means something to you as a couple.
Where we first met map can be made of any city, state, or place in the world. All you need is a location and our geographic
custom map
creator goes to work in creating a perfect scale map of that area. We use accurate data provided by
OpenStreetMap
. Zoom in or zoom out as much as you like to get the layout you prefer, then mark the exact spot where you met to highlight
where it all began
.
Where we met map can also be customized with lines of text that highlight its significance. Add a loving message or include the name and date of where your journey together first started. There's no wrong way to make your memories last!
Why create a where we first met map?
Where we met maps are truly one of a kind. It's not something you can go grab off a shelf in a store or design on a whim. It takes a little extra thought and creativity to think of creating a map of the place where you and a special someone met for the very first time.
This is one reason why maps make excellent gifts for the people in your life! Even though we do all the hard work on our end, it looks like you went the extra mile to make them something truly unique. Plus, since no two where we first met maps are quite alike, you can ensure they have the only one like it in the world.
How to make a where we first met map
With
Positive Prints
, we do all the design work for you so there's never any hard work or guesswork involved! To start, choose the shape of your map (circle, heart, or square). Next select from one of beautifully crafted colour schemes. You can use our tools to preview each selection in real time to get an image that suits your style.
On the next step, you'll input your location to pinpoint the place where you met. You can drag the map to fit the frame in the way you want. Here you'll also add up to two lines of custom text to talk about your special place. If you want to add a specific marker to the map, you can take your choice of marker shape and it will appear on the address you've specified.
On the last step, you can select your poster orientation and size, as well as the print format. One option is a hardcopy poster, which is printed on the highest-quality paper designed to last a lifetime and is shipped right to your door. You're in a hurry and need a gift quickly? Our instant digital download allows you to take a file to your local print shop so you don't have to wait for shipping. You can also order your where we first met map as a canvas that will adorn your wall with love.
We've made it easy for anyone to design a where we et map with no expertise required. Once you complete the three steps, you can check out and pay for your print and we'll take care of the rest!
Unique where we met gift
Framed map could be a romantic where we met gift that your loved one will never expect but cherish forever. Any type of custom art shows an extra level of thought and care that went into choosing their where we first met map gift. It's perfect for framing and displaying in the home and serves a constant reminder of first met location.
Give a where we met map gift for:
Anniversaries
Christmas
Valentine's Day
Engagements
Weddings
A map of the place you first met is just as much a reason to celebrate for you as it is for your special someone! You can look back on that day and remember it as a moment that changed your life. And when your loved one opens their gift and sees how much thought and love you put into it. You can look back together and enjoy that life-changing moment.
Get started creating your custom where we met map here and give a sentimental gift that's sure to be appreciated!