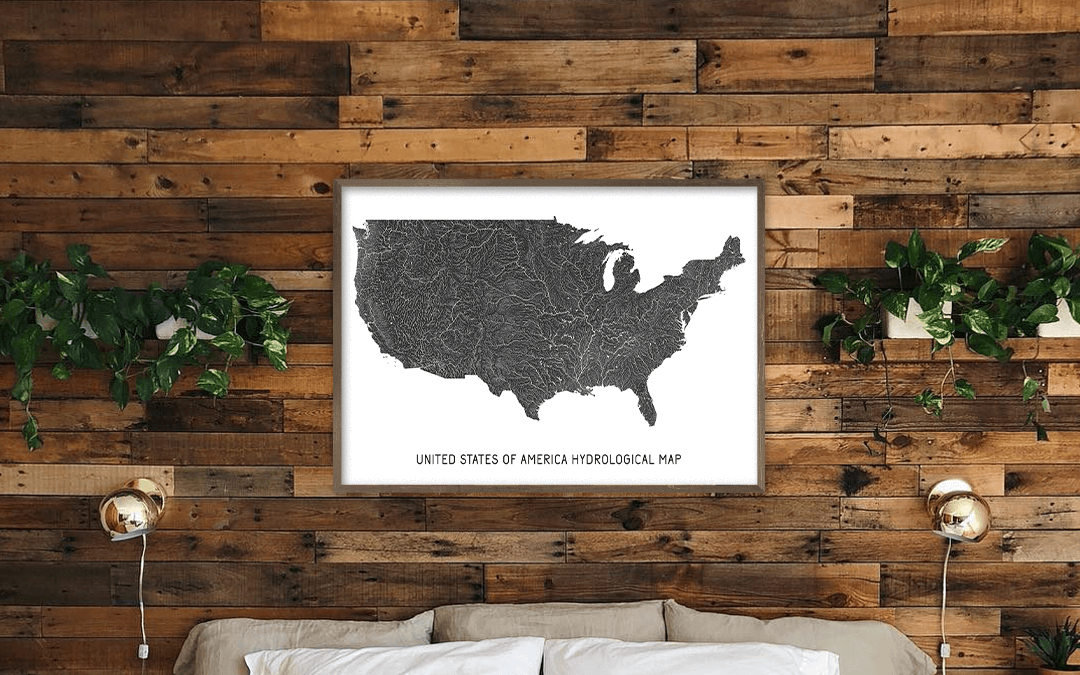 North America is a bevy of rivers that turn local ecosystems into thriving communities. Much like the roots on a tree or the blood vessels in our body, rivers create an intricate network of pathways that carry life-sustaining water and food sources to nourish the land we call home. With such an important role in our existence, it's no surprise that people feel drawn to rivers and are curious to see where they go.
If you're ready for a journey that sparks your curiosity without ever leaving home, then a hydrological map of some of North America's longest rivers might be for you.
Let's take a look at some of the longest and most essential rivers that make excellent decorative and informative hydrological maps:
1. Mississippi River
Clocking in at 2,348 miles, the mighty Mississippi River is the longest river in North America. It begins its journey at Lake Itasca in the northern part of Minnesota before slicing through the midwestern and southern states to reach the Gulf of Mexico. The Mississippi River is often considered a gateway, serving as a noticeable barrier between east coast states and the midwest plains. Popular U.S. cities call the Mississippi River home, including Memphis, St. Louis, and St. Paul.
2. Missouri River
A close second behind the Mississippi River, the Missouri River spans an impressive 2,341 miles. There's some debate as to which river is actually longer, with many sources saying the Missouri River is technically longer because it feeds into the Mississippi River. Regardless of size, it's the river's unique and expansive path that makes it a major part of the North American ecosystem. Starting in Montana, the river winds its way throughout the midwest before merging with Platte River, then continuing east to St. Louis to join the mighty Mississippi River.
3. Yukon River
Slicing through part of the Yukon province and traveling from one side of Alaska to the other, the Yukon River holds historical significance. Traveling 1,982 miles in total, the river was a major player during the Klondike Gold Rush and served as a critical means of transportation. Today, the Yukon River is home to one of the world's largest salmon runs.
4. Rio Grande
At the total opposite end of North America, the Rio Grande is warmer, shorter, and arguably more famous than its northern counterparts. The Rio Grande is a shared river system between Colorado, New Mexico, Texas, and parts of Mexico. Most notably, the river serves a border between the U.S. and Mexico for much of its 1,885-mile length. There are many towns along the river that have become popular tourist destinations, as well as unspoiled backcountry scenery that's perfect for a paddling trip.
5. Arkansas River
A tributary of the Mississippi River, the Arkansas River travels 1,469 miles, earning it a spot in the top five longest rivers in North America. Beginning in Colorado, the river crosses into Kansas, Oklahoma, and Arkansas before feeding into the Mississippi River. Major cities along the river that depends on it as a water source include Tulsa, Dodge City, Wichita, and Little Rock.
6. Colorado River
An outdoorsman's dream, the Colorado River is arguably one of the most scenic rivers in North America. It provides adventure seekers with no shortage of whitewater rafting and paddling opportunities, and is also a favorite site for Grand Canyon visitors. Traveling for 1,450 miles (just a few miles shorter than the Arkansas River), the Colorado River has made its home in five U.S. states and parts of Mexico. Beginning in the Rocky Mountains, the river is partially responsible for shaping the Grand Canyon as we know it today, as well as the iconic Horseshoe Bend in Arizona.
Explore North America's Rivers with a Hydrological Map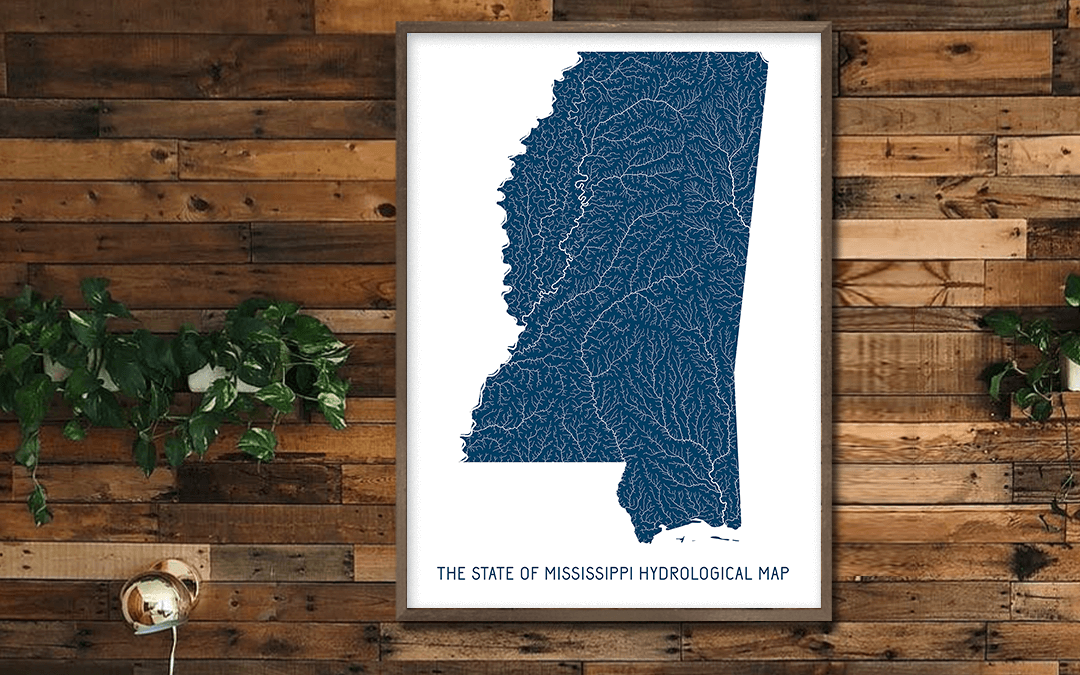 Rivers have literally shaped our country, both in terms of physical geography and also the towns and cities in which we live. Our ancestors often chose waterfront locations to start building cities to ease the process of watering crops, raising livestock, and even create transportation systems between other river cities. These practices still continue to this day and serve as reminders of the early days of our society.
Explore the rivers of North American with a custom hydrological map from Positive Prints. Our unique design tools use the latest GIS mapping data to make authentic replications of North American river systems and give you greater insight into where our rivers come from, and where they're going.
You can choose a map to reflect the rivers that interest you, whether it's a map of all the rivers in your favorite state (e.g., hydrological map of Mississippi) or whole US hydrological map. It's a fun, unique gift for yourself or the outdoor adventurer in your life.