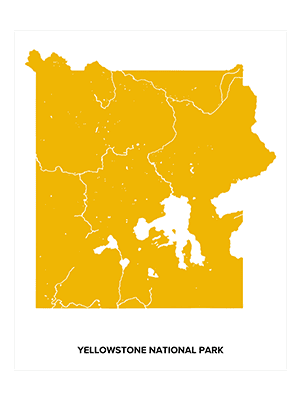 Yellowstone Park Map
Order an artwork featuring  your favorite national park or one that's on your bucket list. Our collection of U.S. National Parks  boundaries maps can be personalized with over 60 color variants and a custom message. Hang it on your wall as a museum-grade poster print or create a cozy, custom space with a printed pillowcase.
From
Too see an Instant Preview
Available as
Digital
Printed
Framed
Canvas
Once you've found the right map, you will be able to customize it. There are a few methods that you can use to do this. First, you can choose between 60 different colors. This will allow you to use your favorite colors, making the gift even more memorable. Next, you may want to add a message. For example, you may want to share the special memories that you created at the park. Or, you might want to tell them how important they are to you. Finally, you will be able to change the type of format that you choose. You can decide between a square, portrait, or landscape format.