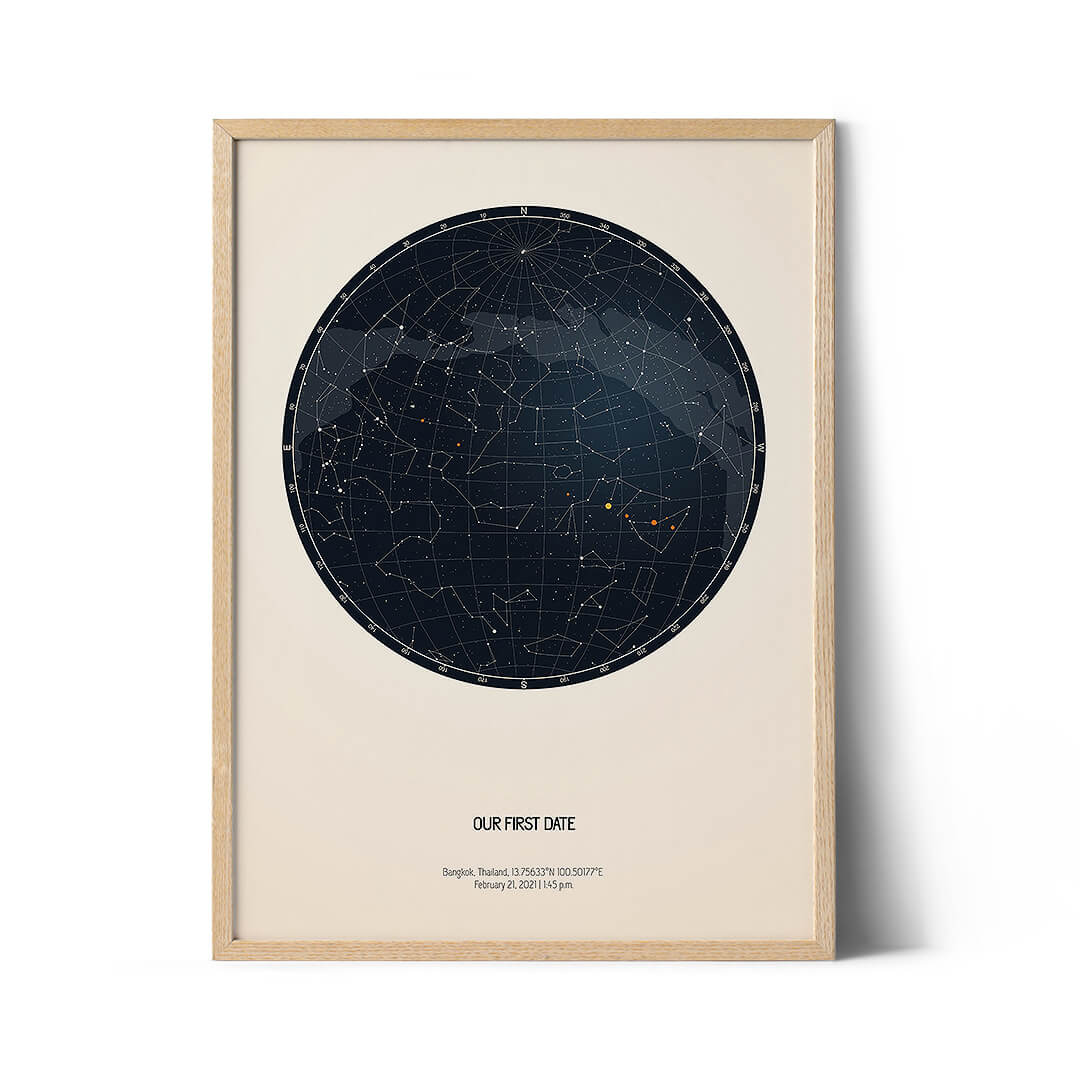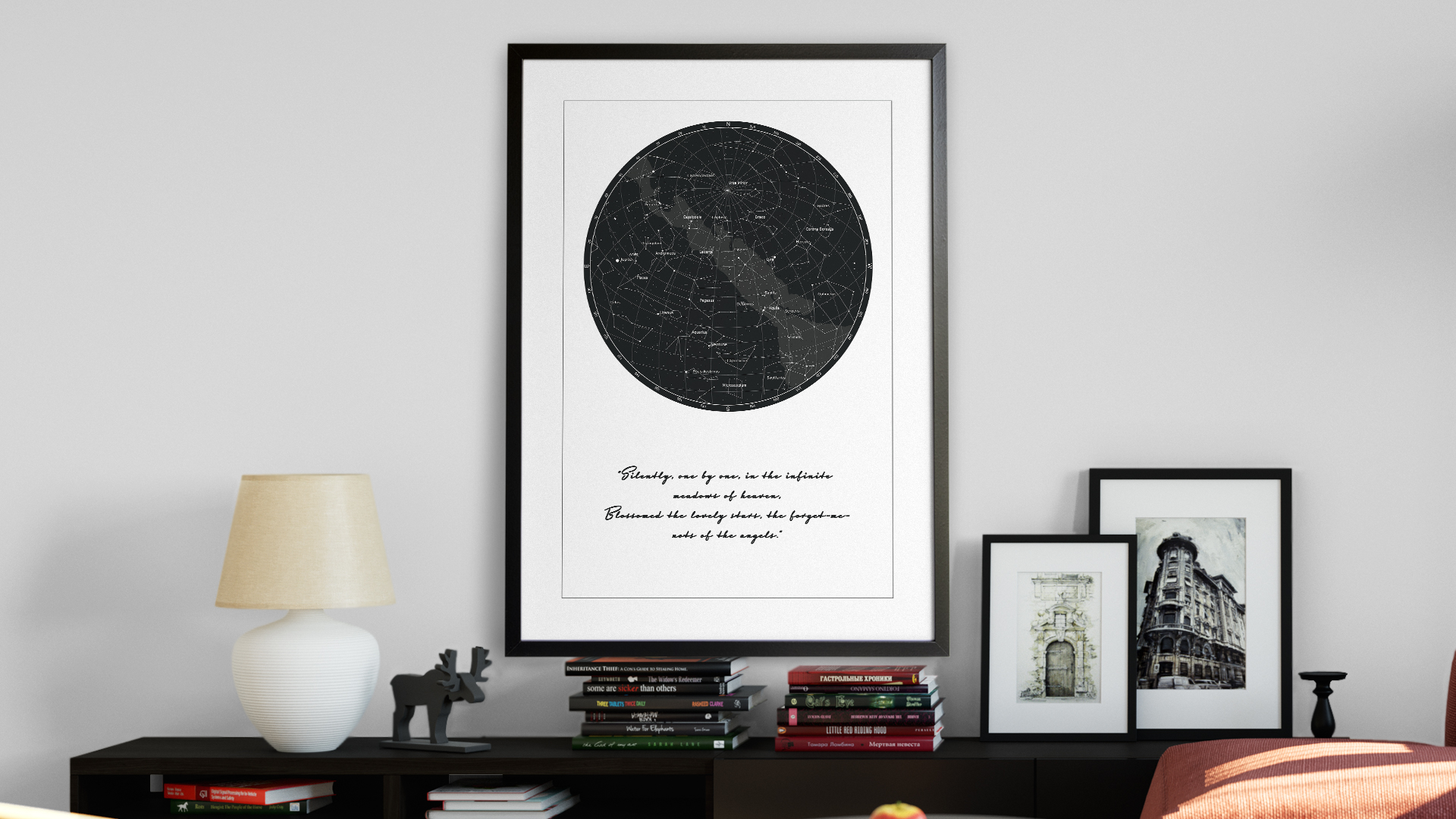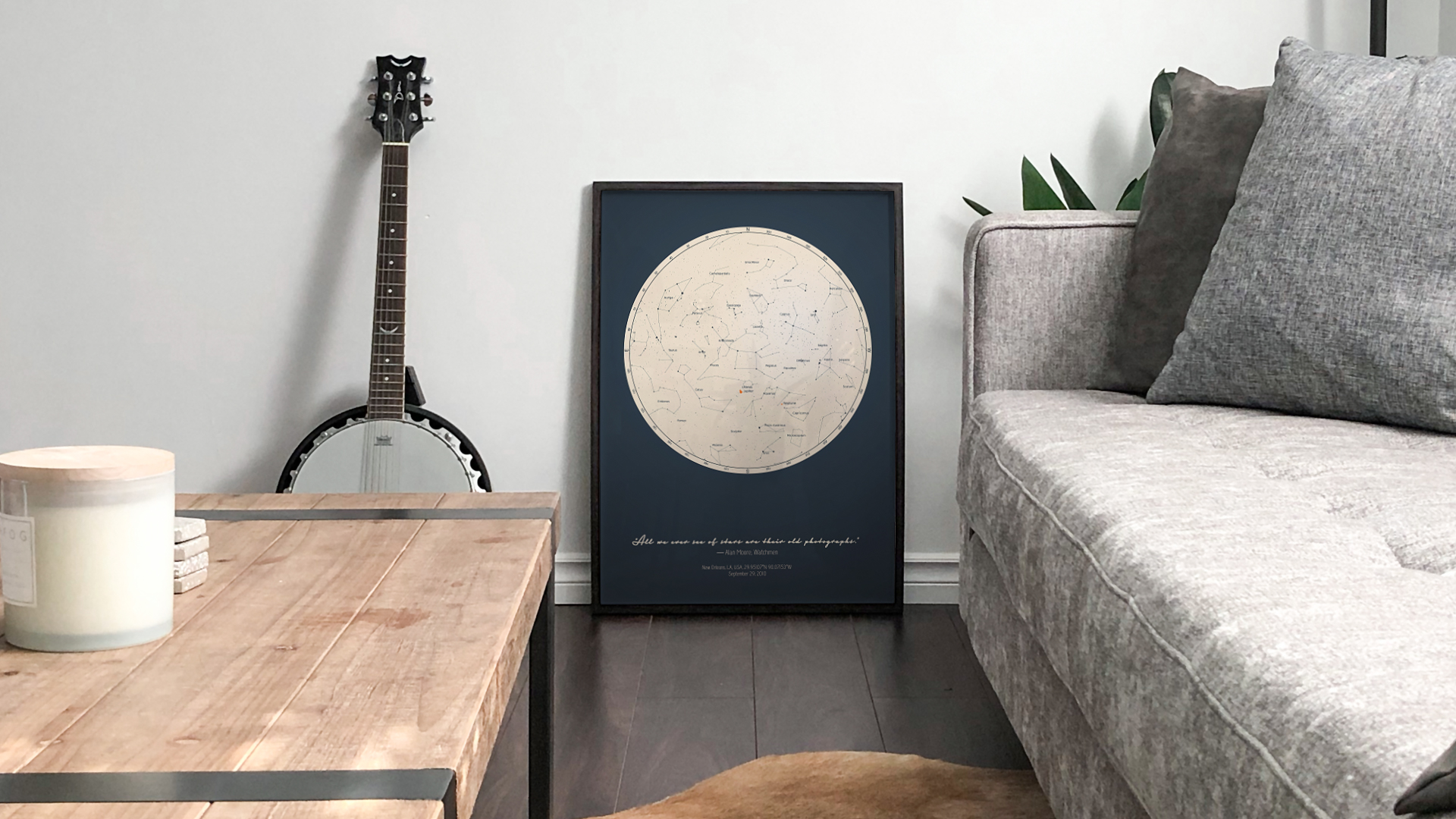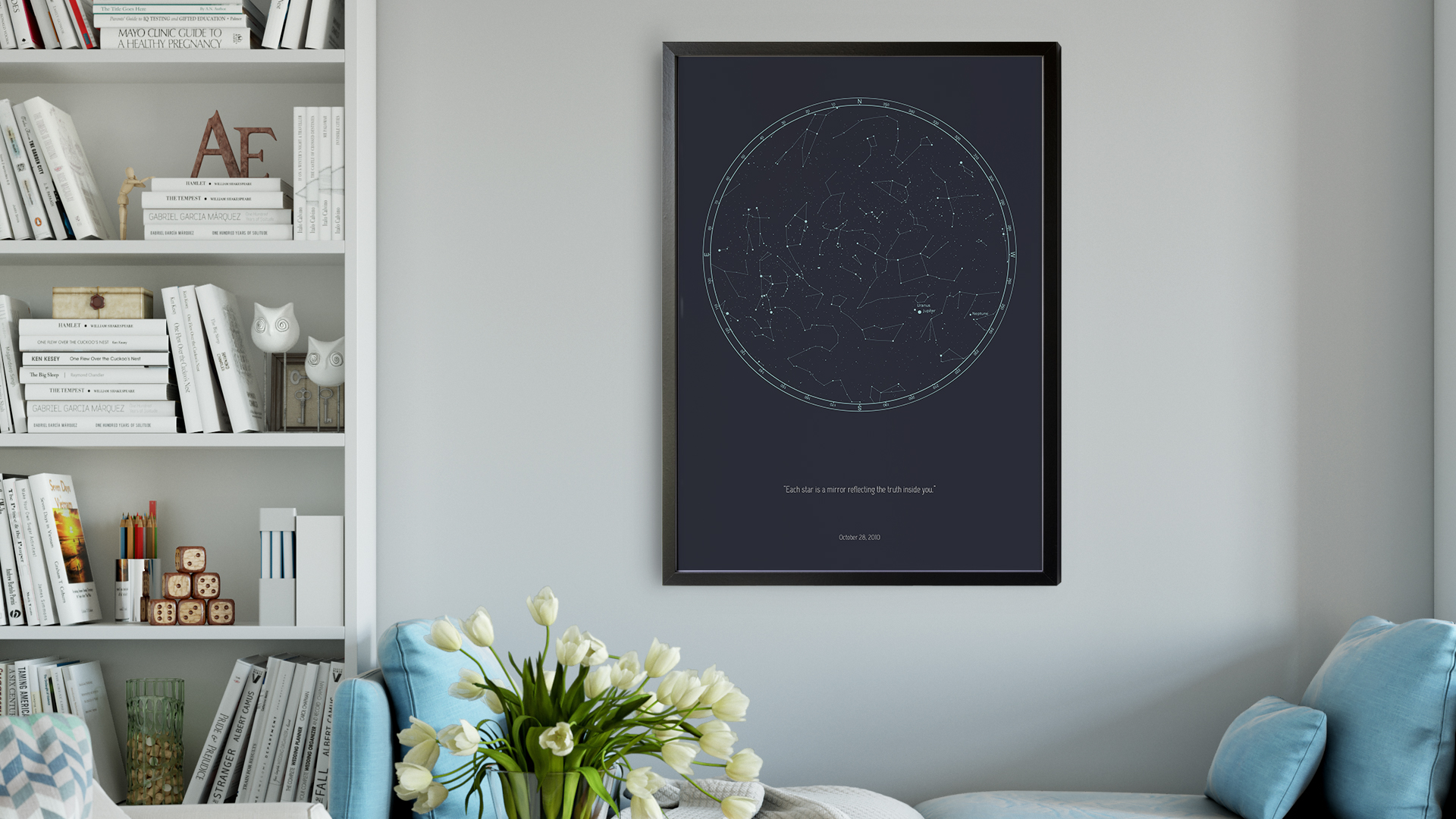 ⭐ Exact View Of The Night Sky From Any Location
✨ Detailed Night Sky Design Including Planets, Constellation Names And The Milky Way
⭐ Interactive Night SKy Editor With An Instant Preview
✨ 100% Customizable
⭐ Choose From A Variety Of Printed Sizes Or Instant Digital Download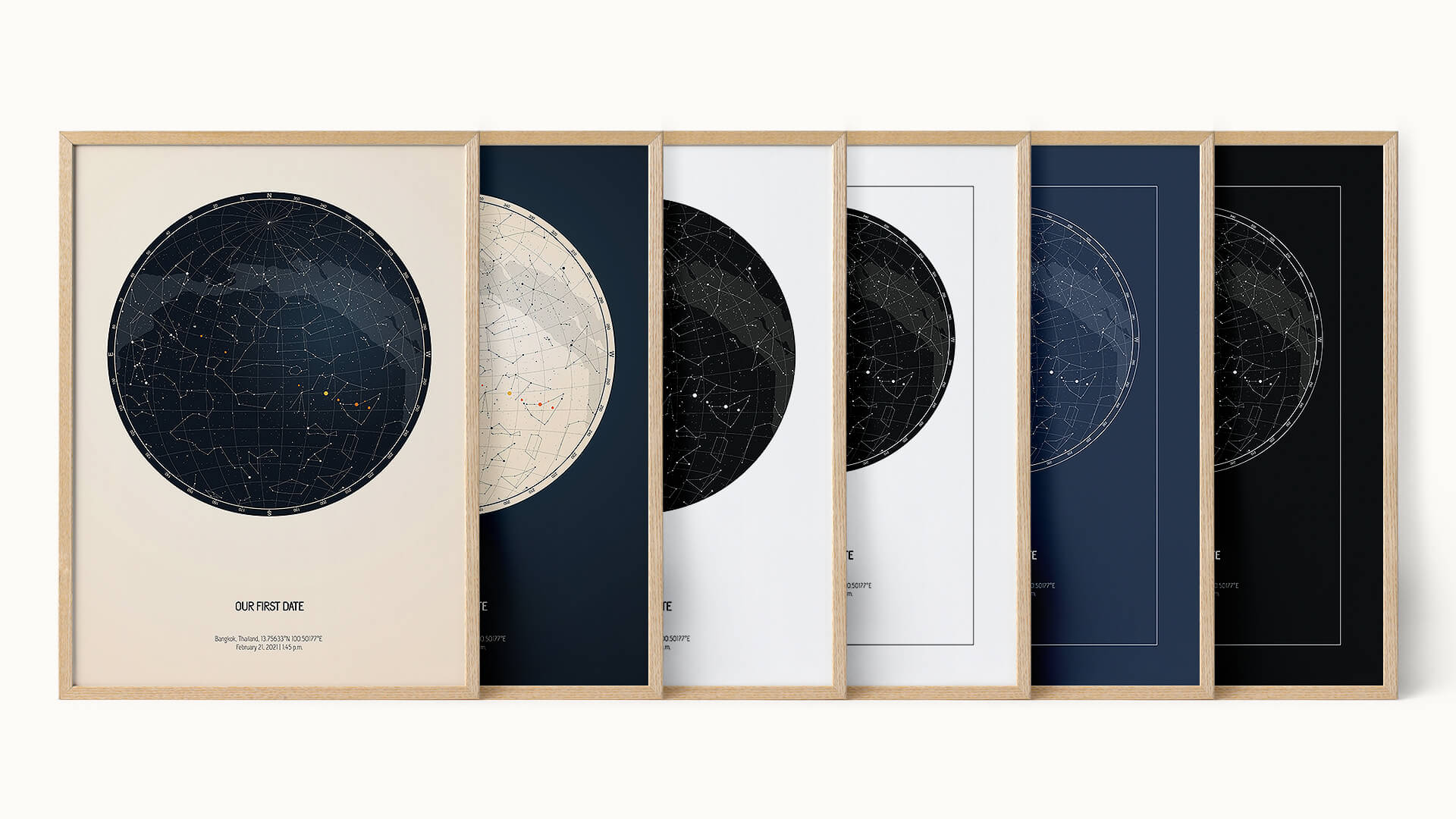 Map of sky on specific date
Do you remember what the night sky looked like on the night of one of your life's most special events? With our night sky poster, you can recreate the moment where the universe aligned just for you.
Birthdays, weddings, engagements, and all of life's many major milestones are events worth remembering. A night sky poster helps you capture these moments in time and display them in an artistic way that helps you tell your life's story.
Each poster is as unique as the moment itself. That's because no two life journeys are quite the same, and your night sky poster helps to tell the story you've been writing.
If you're looking for an original, personalized gift for someone special in your life or a fun way to decorate your own space, conisder the beauty and sentimentality of a night sky poster.
What is a night sky poster?
No matter where you are on earth, the night sky above you is filled with stars, planets, and other celestial bodies. But this sky can look very different depending on where you are and when you turn your head skyward.
That's why many people choose to create a night sky poster to honor their most important moments in life. These posters offer an accurate representation of what the sky looked like from a specific location, date, and time. When you look at your custom poster, you're also looking at the sky from that very special day, allowing you to relive your memories via a sky map of stars.
How can I customize a night sky poster?
What makes night sky posters so unique is that they are customized to every individual. When you input your date, time, and location, our smart technology goes to work in arranging stars, constellations, planets, and other elements to create your starry sky map.
However, the personalization does not end there. Here's a closer look at how you can customize a night sky poster gift with Positive Prints.
Step 1: Select Design
Our user-friendly night sky map creator tool takes the guesswork out of designing your own starry sky map. Choose from 7 predefined map designs and color schemes, or select the custom option to come up with your own color scheme. You can also choose the level of detail that will appear on your sky map, including the presence of planets, constellations, the
Milky Way
, and more.
Step 2: Enter Details
Selecting your moment in time is the hallmark feature of a night sky map. Your map is custom generated to represent an event in your life that matters to you. You have the option of inputting a specific location or coordinates, as well as a date and time. this could be the moment a loved one arrived in the world, the moment you met "the one", the time you said I do, or countless other special occasions.
You can further customize your night sky map by adding a
meaningful quote
or other line of text that helps you tell your story. If you're struggling to come up with the perfect words, our new quote feature can suggest some for you based on the event. Simply click the small speech bubble in the star map editor, select the occasion, and choose the quote that best fits your feelings.
Step 3: Choose Format
Once you've created your custom night sky map, you can select the delivery format that best suits your needs. We recommend digital downloads if you're in a hurry. Your poster will be delivered in a digital file, which you can take to your local print shop for instant printing.
If you prefer a professional option, we can print your poster on canvas or poster-grade material, and even add a frame that's perfect for gifting. All of our posters ship free worldwide.
Are our night sky posters accurate?
The beauty of a night sky poster lies in the fine details, and accuracy falls into this category. To ensure we get the most accurate representation of the night sky based on your date and location we use data from the Hipparcos satellite, which specializes in astrometry.
What this means for you is that stars are carefully displayed on your map much like the way they'd appear in the sky. Each of our designs is generated using real astrometry data so you can trust (and love!) the results.
Surprise your loved one with a night sky gift!
Giving the gift of a night sky poster is truly unlike any other. Every poster is custom made and printed to order based on the details you input. These prints are ideal for every occasion and make excellent gifts, for yourself and others.
Illustrate the most treasured moments in your life's story. Start creating your custom night sky gift today!
Customer Reviews
Write a Review
Ask a Question
23/07/2021
Matteo C.

IT
Amazing, it's a very original gift! Nice idea
21/07/2021
Myriam D.

CA
21/07/2021
Clemente Z.

ES
Perfecto. Ha llegado perfectamente y a du debido tiempo.
21/07/2021
Estelle R.

FR
Très beau rendu. Envoi et conditionnement impeccable
21/07/2021
Rafał D.

PL
Bardzo dobrze wykonany plakat, wszystko zgodne z kreatorem.
21/07/2021
Alex B.

NZ
Beautiful print! The digital file printed perfectly and looked absolutely stunning!
20/07/2021
Paweł Z.

PL
Bardzo piekne wydanie na zywo robi o wiele lepsze wrazenie
20/07/2021
Adriana K.

PL
Z całego serca polecam! Wkładając mało wysiłku można podarować komuś taki wyjątkowy prezent. Ponad to w obsłudze klienta pracują bardzo życzliwi i pomocni ludzie. Wszystko dotarło do mnie bardzo szybko i pięknie zapakowane! Jestem zachwycona i z pewnością wykonam jeszcze niejedno zamówienie.
23/07/2021
Positive Prints
Ojej, serdecznie dziękujemy za tak miłą opinię!
19/07/2021
Jeremy L.

DE
Schnelle Lieferung. Gute Qualität. Sehr zufrieden, würde wieder bestellen!
19/07/2021
Agnieszka M.

PL
19/07/2021
SALOME C.

ES
Felicidad es la palabra que mejor describe lo que sentí cuando mi hermano vió su regalo, indescriptible su cara, flipó y quedó encantado. Solo palabras de agradecimiento para vosotros, encima fuisteis super rapidos en la entrega y llegó la tarde antes de su cumpleaños. Lo recomiemdo sin dudas. Mil gracias
23/07/2021
Positive Prints
¡Gracias por su amable comentario! Llevar la felicidad a las caras de todos es nuestro principal objetivo :)
19/07/2021
Sandra S.

FR
Très sympa, original et bien fait.
19/07/2021
Klaudia C.

PL
Bardzo szubka dostawa, plakat porzadnie i ladnie zapakowany. Jakosc grafiki super. Dziekuje bardzo :)
18/07/2021
Karolina G.

PL
Dobre wykonanie. Szybka dostawa. Polecam
18/07/2021
Claudia L.

IT
Very nice gift and customer care are so kind and open to help me. Strongly recommend it