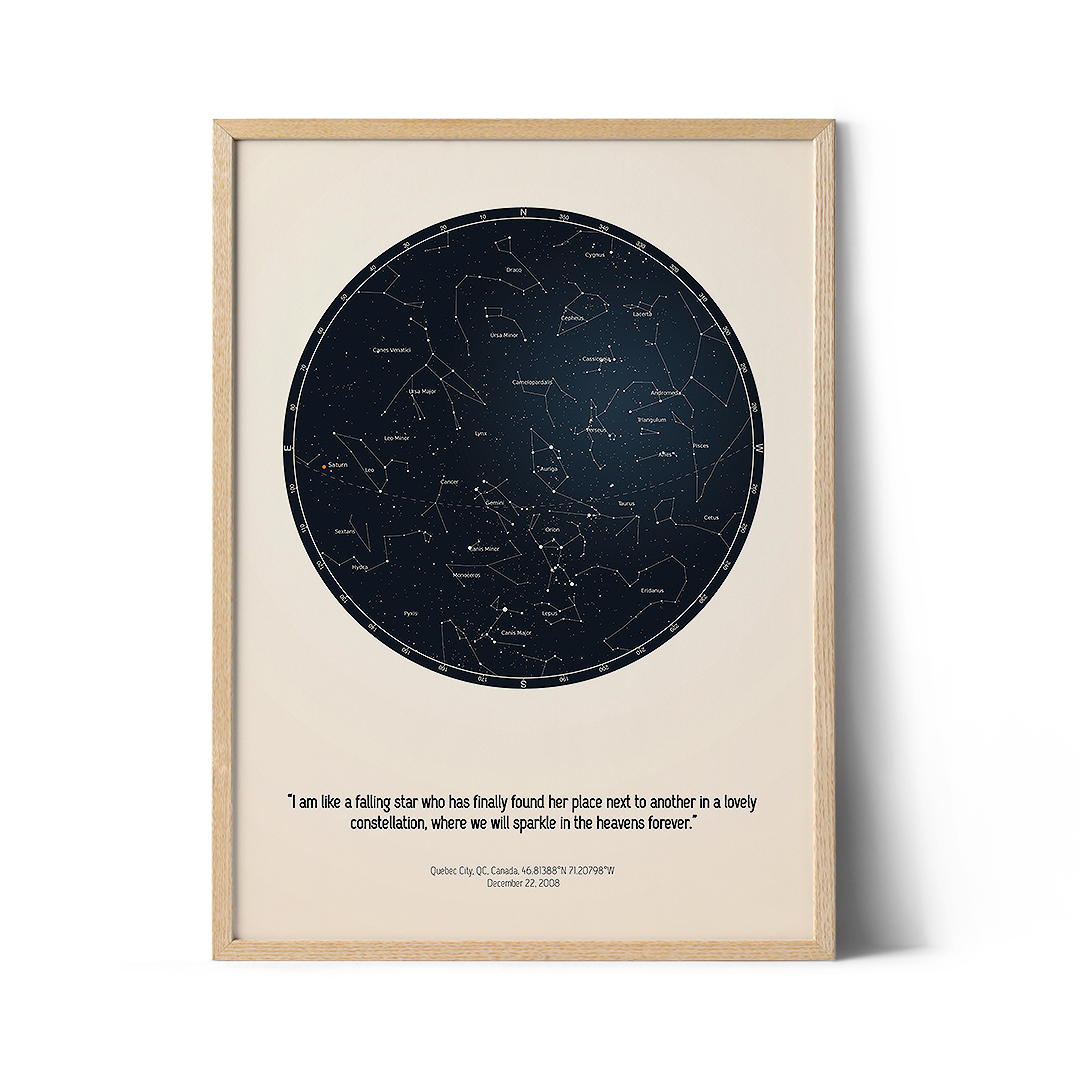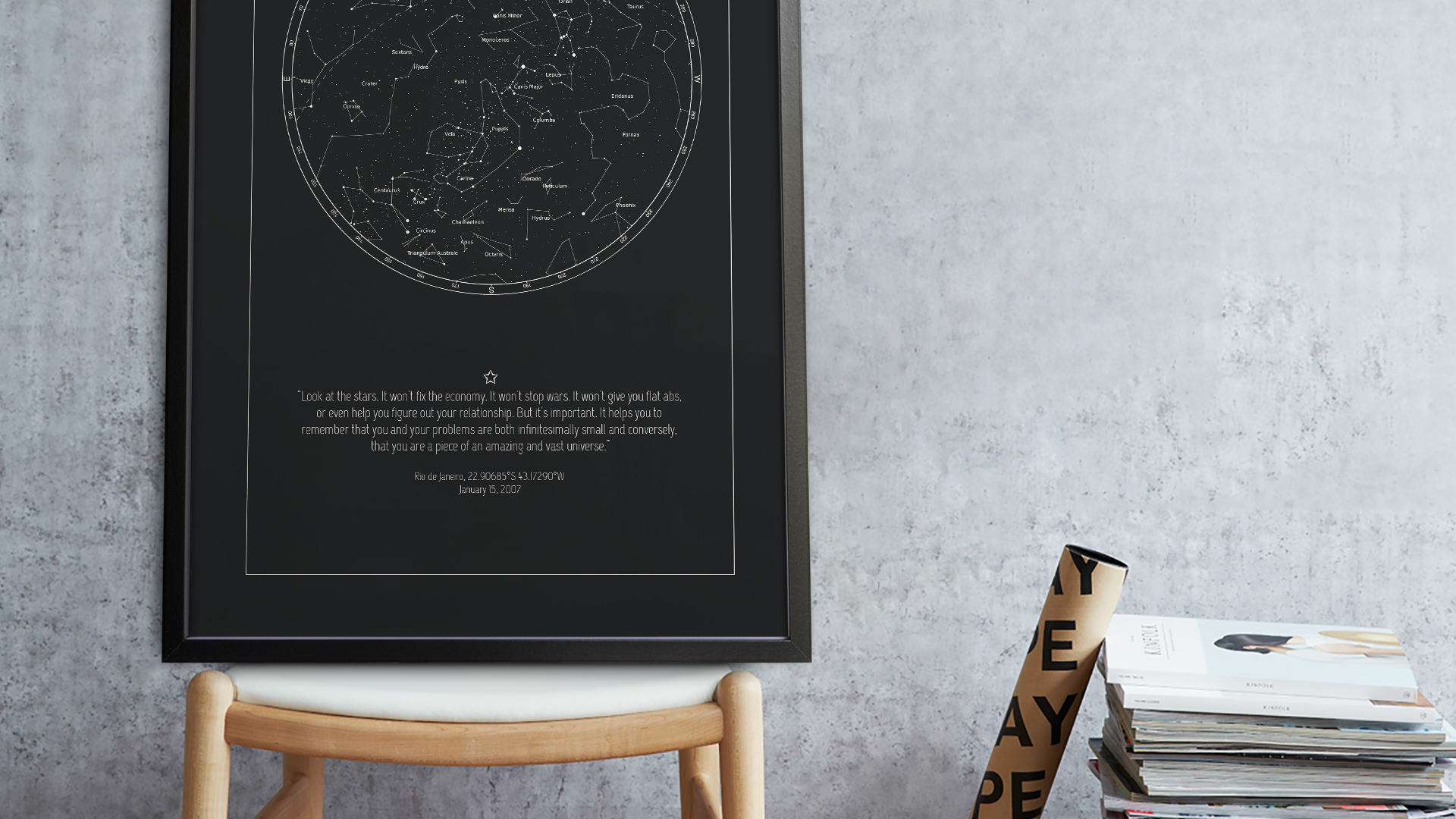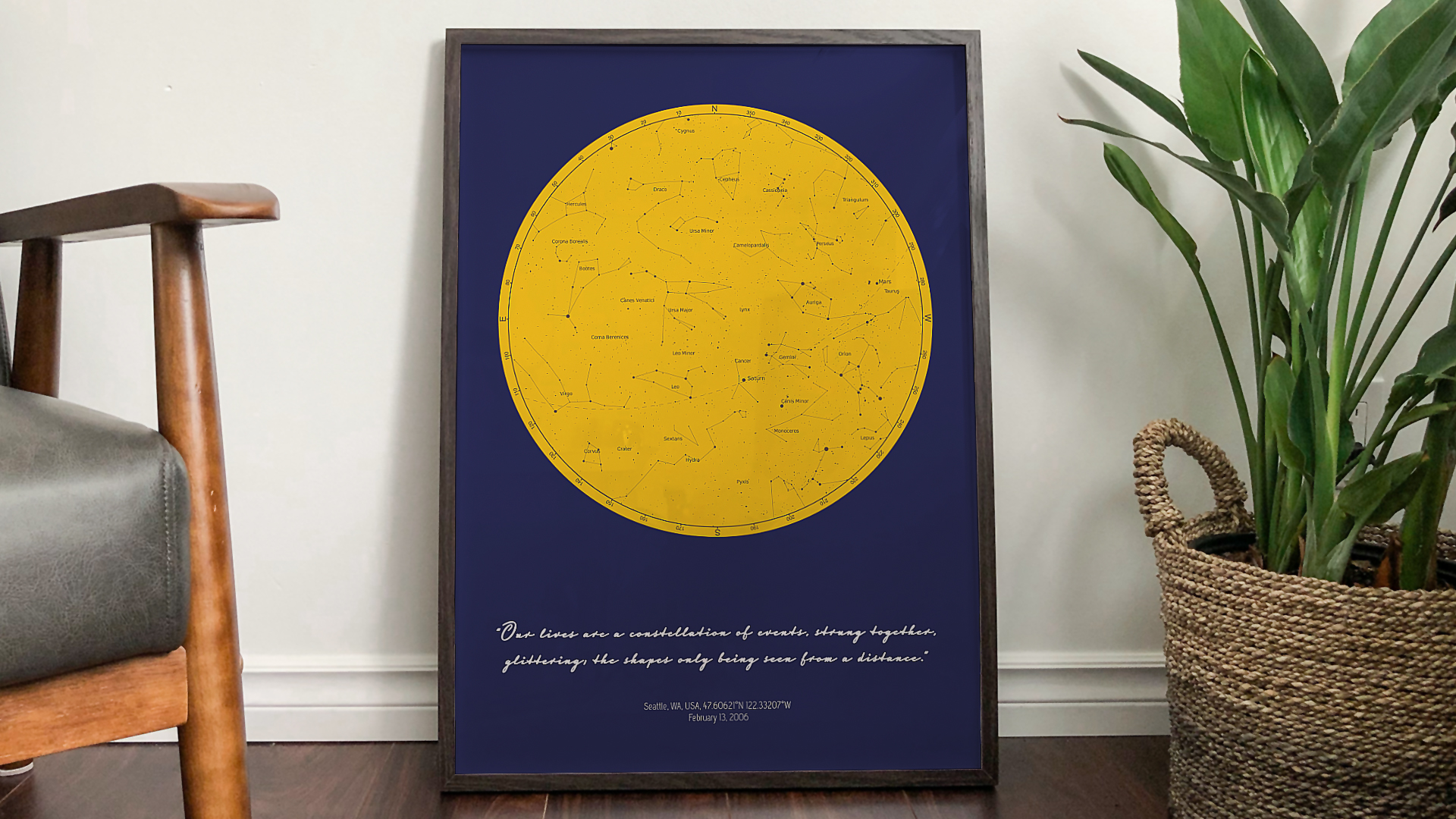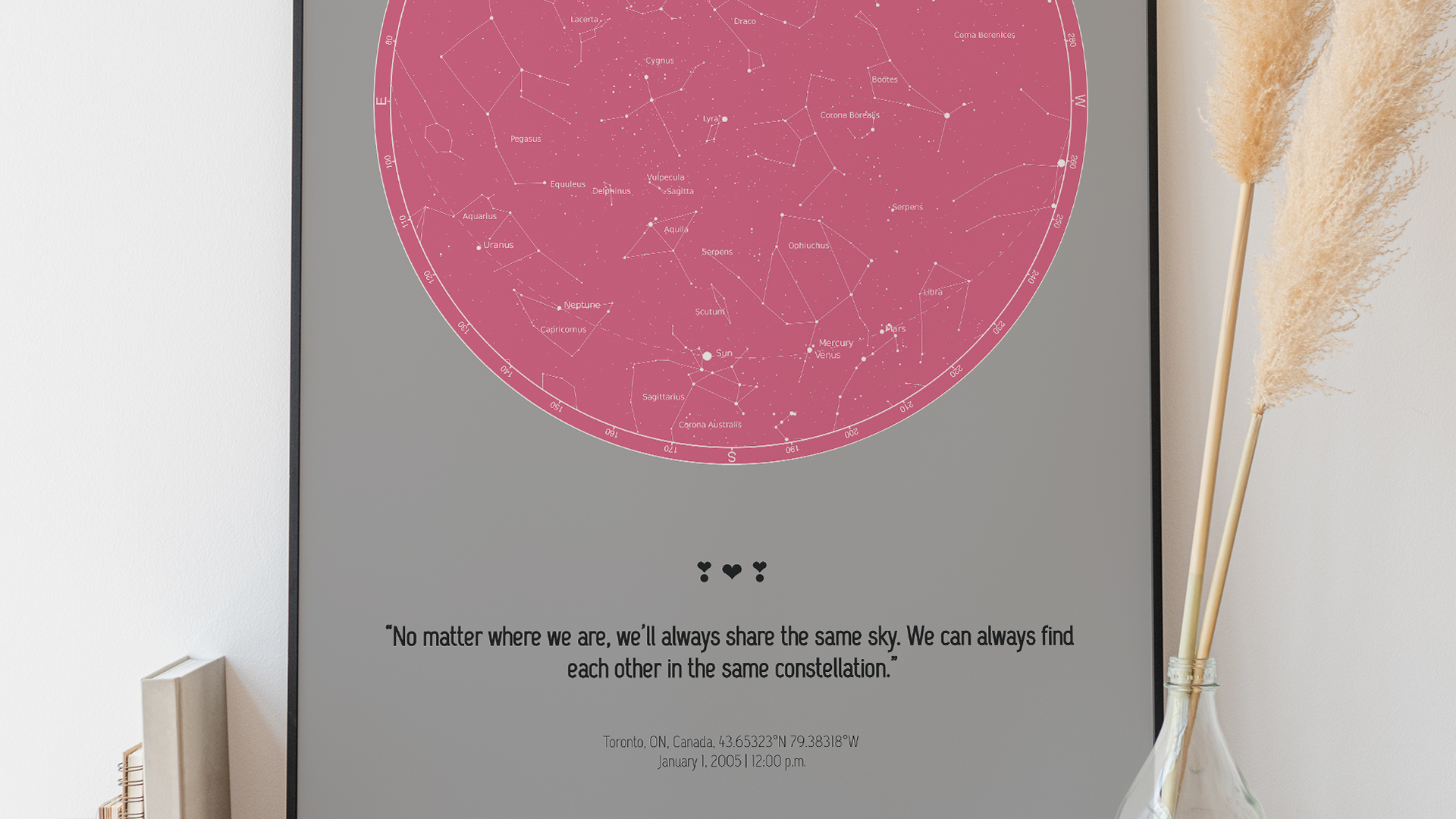 ⭐ Exact View Of The Starry Sky From Any Location
✨ Detailed Constellations Map Design Including Planets, Constellation Names And The Milky Way
⭐ Interactive Constellations Map Editor With An Instant Preview
✨ 100% Customizable
⭐ Choose From A Variety Of Printed Sizes Or Instant Digital Download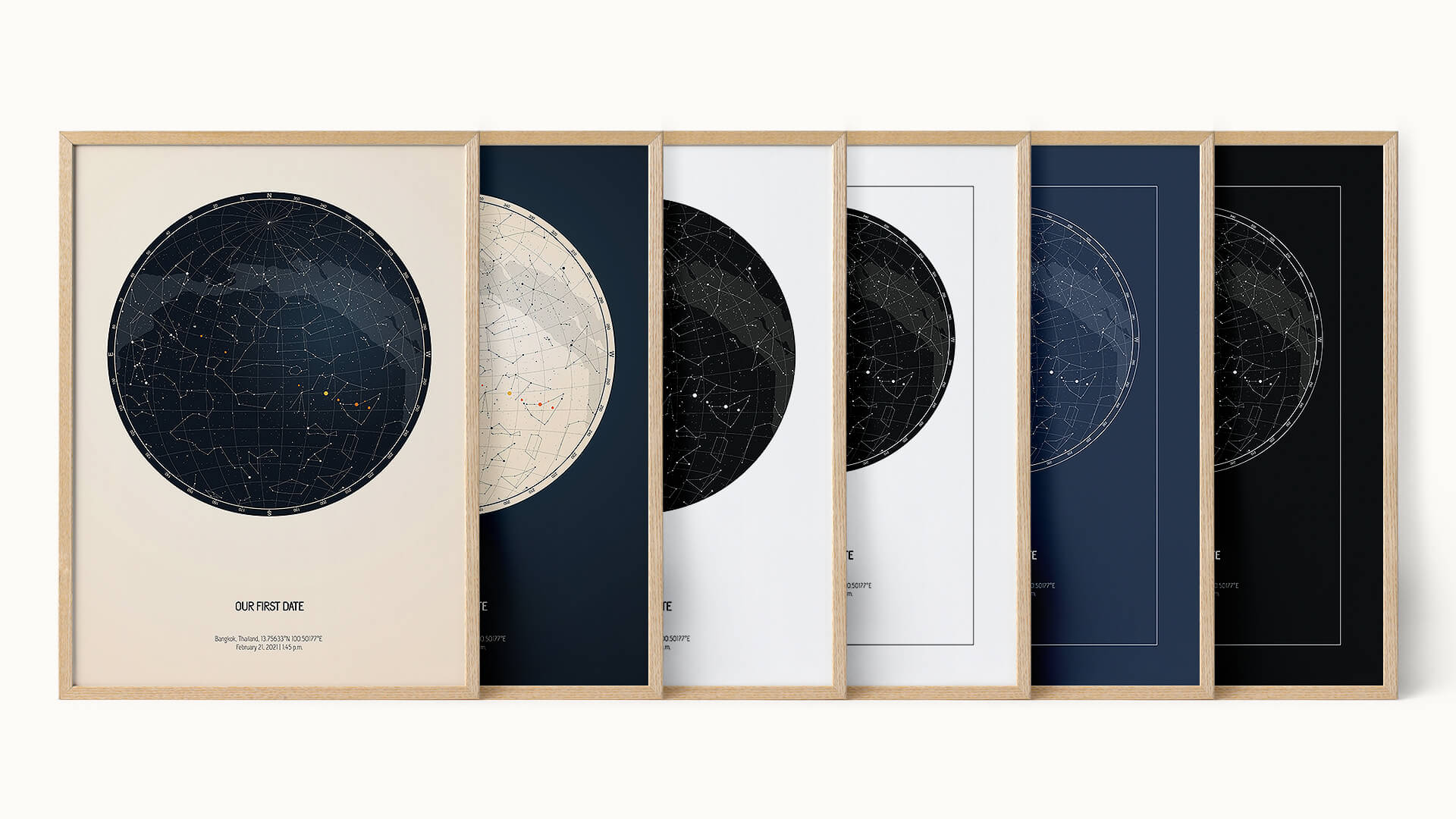 What are constellations?
The sky is a tapestry of art. Look closely at the stars and you can connect them in ways that form pictures and tell stories. At least, this is what early astronomers did thousands of years ago, which is why we now have constellations. To capture and understand this beautiful artwork of nature, let a constellations map be your guide.
In the very early days of man, they didn't have Google Maps or signs like we do today. Instead, they had to rely on the world around them to navigate their course. One of their most valuable tools was the night sky.
Astronomers found that clusters of stars could serve as wayfinding guides. These clusters have become known as constellations, which translates as set of stars.
Groups of stars have become constellations based on how they resemble certain shapes or outlines (usually the zodiac, an animal, or mythological being). That being said, some constellations are easier to see and understand only when the dots have been connected for us. That's where a constellation map can come in handy.
What is a constellations map?
A map of constellations is exactly what it sounds like: a representation of all the constellations on a single map. Because not all constellations are obvious when you are looking into the night sky, a constellations map can help you discern what exactly you're looking for.
Imagine the ability to take a pen and connect the stars to form your own images. That's very similar to how early astronomers created constellations in the first place! Now, with a highly accurate constellations map, you can start to see some of the shapes and patterns that star enthusiasts saw hundreds, even thousands of years ago.
Knowing what you're looking at can give you a whole new appreciation for the heavens. What's more, when you choose a personalized constellations map, the constellations will be oriented in a way that aligns with how you would see them in the sky standing from your precise location on Earth.
How many constellations are there?
The
International Astronomical Union
(or IAU) recognizes 88 different constellations. Some of the most popular constellations include:
Orion
Ursa Major (the Big Dipper is part of this constellation)
Ursa Minor (the Little Dipper is part of this constellation)
Cassiopeia
Scorpius
Lyra
Gemini
Aries
Pegasus
All of these and more will be visible on a map of the constellations. When you know where to start looking and what you're looking for, you may be better able to identify constellations in the night sky according to your hemisphere and the time of year.
What makes a map of constellations a unique gift?
There's no doubt that a constellations map can make for an amazing gift, especially if someone special in your life is constantly looking skyward. This map can open up a whole new world of adventure and opportunity as they try to discern various shapes and patterns in the sky.
But the benefits go well beyond appreciating the world's sky art. A custom constellation map can also be made to represent how the night sky looked on a particular day and time in your life, such as a birthday, wedding night, engagement, and more.
Custom night sky maps are becoming a favorite treasured gift because of the level of personalization they offer. These beautiful illustrations use authentic astrometry data to ensure the most accurate depiction of how the sky appeared based on a date, time, and location. This means that your map is unlikely to look like any other person's map, making it truly one of a kind.
When you create a custom star map, your image will show how the constellations appeared on a special moment in your life. Think of it as a single page in your life story, one that everyone can read and enjoy.
Our constellation maps at Positive Prints are stunning works of art that you'll be proud to display in your home. We give you the flexibility to customize your print in many ways, including:
Color scheme
Map layout
Personal lines of text
Date, time, and location
Presence of planets, constellation names, and more
Best of all, our easy-to-use tool is super intuitive and takes the guesswork out of creating your constellations map. All images are automatically generated in real time so you can watch your custom print come to.
Give a unique constellations map gift today!
A map of the star constellations makes an excellent gift for anyone of any age or occasion. Because every map is personalized to a unique event, your recipient will be able to relive the magic of the night sky in a way that's meaningful to them.
Looking for a unique gift your loved one will cherish for the ages? Let the stars be your gift-giving guide! Start creating your custom map of constellations today!
Customer Reviews
Write a Review
Ask a Question
10/05/2021
YASMIN M.

JP
A really lovely gift that is so easy to customise! Delivery was as stated and arrived without a scratch.
08/05/2021
Kinga B.

PL
Zamówiłam plakat z okazji narodzin bratanka. Niesamowita niespodzianka i pamiątkana lata. Produkt bardzo wysokiej jakości, szybka dostawa.
08/05/2021
Stéphanie T.

CH
06/05/2021
Agata G.

PL
Fantastyczna obsługa klienta, szybka dostawa, bardzo gorąco polecam. Buziaki dla całego zespołu!!!!!
05/05/2021
Thérèse B.

FR
Magnifique c'est un superbe cadeau !
05/05/2021
Gabriela P.

PL
Piękny design, obraz wygląda wspaniale w rzeczywistości! Jako prezent sprawdził się idealnie! Piękna pamiątka pierwszego spotkania czy innego romantycznego wydarzenia :)
04/05/2021
MORGANE R.

FR
Un magnifique poster ! Tout de suite affiché ! Notre maman était ravie. Envoi rapide et de très bonne qualité
04/05/2021
Kamil C.

PL
Najładniejszy układ mapy nieba. Sprawna realizacja.
02/05/2021
Lisette F.

AT
Sehr schöner Druck. Schönes Geschenk!
02/05/2021
Hector S.

ES
Si. me pido llego satisfactoriamente temprano, es precioso y esta todo correcto. muchas gracias.
01/05/2021
Elżbieta Z.

PL
Jestem bardzo zadowolona z produktu. Przesyłka dotarła w bardzo krótkim czasie. Polecam!
30/04/2021
Klaudia G.

PL
Realizacja zamówienia bardzo szybka. Jakość wydruku na płótnie świetna, na pewno będzie pamiątką na lata. Strona internetowa i proces personalizowania projektu bardzo prosty i intuicyjny. Z ręką na sercu polecam! 😎❤️
30/04/2021
Karel D.

BE
Fast service (I used the pdf generator) - especially loved the editor too, which has many options.
29/04/2021
Amelia

PL
Świetny pomysł na prezent
Zamówiłam tą mapę gwiazd dla mojego chłopaka i jest t naprawdę cudowny prezent, jakość wykonania jest idealna i bardzo szybka dostawa także polecam każdemu!
27/04/2021
Georg S.

DE
Es ist angekommen, aber wäre es auch möglich die PDF zu bekommen?
28/04/2021
Positive Prints
Hallo Georg, Es tut mir leid, aber wir haben keine PDF-Dateien. Vielleicht werden wir diese Funktion in Zukunft implementieren :)