Mapa Białegostoku ze złotymi elementami
Złoty plakat z mapą Białegostoku to gratka dla osób, które pochodzą z tego miasta, choć od dawna tam nie mieszkają. Często nachodzą Cię wspomnienia, które chcesz utrwalić na dłużej? Zamów plakat z mapą swojego miasta.
Projekt mapy został wykonany ręcznie przez twórców Positive Prints. Plakaty drukowane są na grubym, matowym papierze wysokiej jakości. Złote oznaczenia to zbiorniki wodne. Złota farba odbija światło sprawiając, że plakat prezentuje się niezwykle elegancko. 
Złoty plakat z mapą Białegostoku to stylowa dekoracja w Twoim mieszkaniu lub przestrzeni biurowej. Przykuje uwagę każdego gościa w Twojej przestrzeni.
Mapa Białegostoku Złoty Plakat dostępny jest w dwóch formatach 50x70cm lub 30x40cm oraz w trzech wersjach kolorystycznych:
biały/złoty
navy/złoty
czarny/złoty
W przypadku złotych map czas dostawy jest dłuższy niż standardowy (podany w naszym FAQ) o 5 dni roboczych.
Customer Reviews
Write a Review
Ask a Question
GC
02/03/2021
Gosia C.

GB
A beautiful map of my birth town. Well packaged and good delivery time despite coming from outside the UK. I can't to show it off. Thank you.
08/02/2021
Alexandra R.

GB
Absolutely love this London map print with gold foil detail, really pleased with the purchase, it seems good quality and looks great framed in my home. I would definitely recommend this to others. One tiny critique would be to make it clear on the delivery details section for this item that it will take longer to arrive than stated due to it being sent to a specialised printers in Poland to do the gold foiling.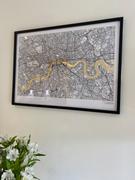 22/01/2021
Mariusz S.

PL
Great quality, looks fantastic!
06/01/2021
Kieran F.

GB
Product was great quality and was shipped in a timeous manner. I was very happy with my map of London.
01/01/2021
Eunika G.

DE
Pure perfection is even better than I thought it would be.🥰